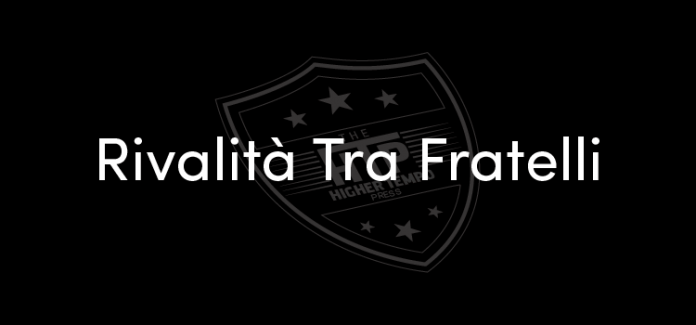 This is the story of two brothers, a modern-day Cain versus Abel if you will, based in the northern powerhouse Italian city of Milan. If you'd like to replicate this challenge, we're using the updated medium database with the following leagues: England (Premier League, Championship, League One & League Two), Italy (Serie A & Serie B), Spain (La Liga & Segunda División), France (Ligue 1 & Ligue 2) and Germany (Bundesliga & 2. Bundesliga).
Rivalità Tra Fratelli – #WeAreTheRivals, Episode 5
MIKE: On one hand, this is a wonderful time to be a manager not only in Serie A and Milan but as part of the FM17 Challenge. AC Milan, my AC Milan, sit top of the league with a three point advantage over Juventus and a four point advantage over Inter Milan, managed by my own flesh and blood; Charlie Tango.
On the other hand, however, we are next to face Juventus… in the uncreatively named Juventus Stadium… in Turin. They are the favourites to win Serie A and to do extremely well in the Champion's League. They have a goal difference of +25 this early in the campaign and have scored 9 more goals than we have. If that wasn't enough, we go into the game without a recognised senior full-back. I can't even draft in Paletta because that would go against every determined inkling I have. Vangioni is suspended following accumulating five cautions and of course Abate got that red card in our last game.
Zapata will have to start with Romagnoli moving over to full-back and young Davide Calabria is coming in. I did set up a three-at-the-back tactic, which is very in vogue at the moment but I held back on using it at the last second of the final hour. Juventus will get around us into those wide areas that FM 17 loves, I just know it. I wobble over moving a midfielder back to sit beside Montolivo but resist. The most I do is switch us to defensive. I'll take a point right now, matter of fact I'll rip your arm off for a point because that would keep them at bay and the closest Inter could get is within two points.
This game, this bloody game!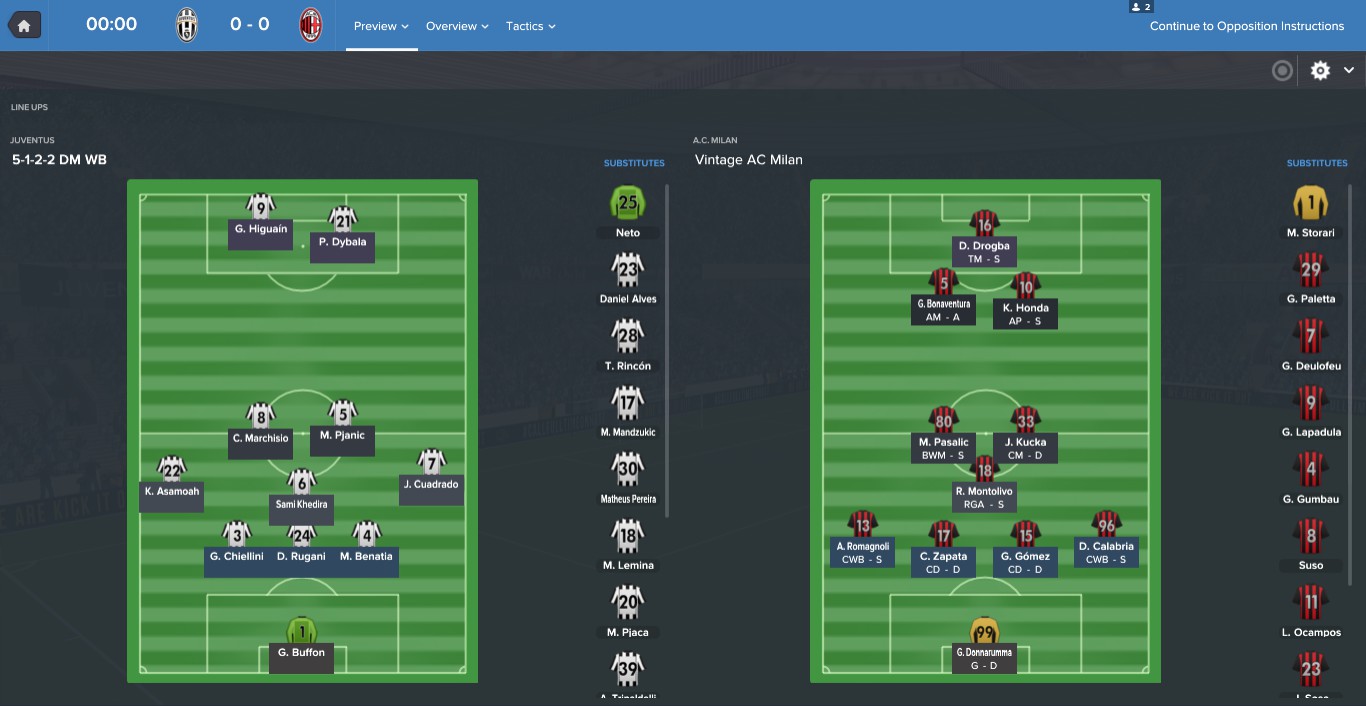 I repeat, this bloody game!
I was *this* close. I know you can't see that but my forefinger is millimetres away from my thumb. We ALMOST did it. Within seconds. SECONDS! Within seconds of not just a point but all three. Vindication for everything I have said, vindication for Drogba, for my treatment of Bacca, for permanently benching Paletta and Lapadula.
I know this is just a game. I know this is a chance for Charlie to fulfil his dream of writing to a mass audience. I know that I am the protagonist, the Cain to his Abel. I know I don't play this game properly. I know that our rivalry will resonate with siblings across the world. I know that only one of us can win the league, if at all. But for one glorious moment, there was a shared bond. A bond of absolute devastation as Paulo De Ceglie scored a 92nd minute equaliser for Juventus. I looked up from behind my hands covering my face to feel a hand on my shoulder and two kind words; "Sorry, mate."
It had started so well. Going toe-to-toe with the Old Lady in the early exchanges saw my confidence grow slightly. It then only became stronger as Sami Khedira absolutely hacked down Bonaventura from behind and deservedly got his marching orders. I thought I'd never get a better chance than this as they bring off Higuaín. Bonaventura smashed us into the lead before half time and we went into the break not only holding our lead but holding our nerve.
The second half was a horrible experience. Watching but wanting to watch. Looking but not wanting to look. Begging and pleading for the final whistle to come. Only it didn't come. Not until De Ceglie popped up from nowhere to bring Juventus level.
I watch as Charlie takes over. He grabs the screenshot and saves, I have no choice but to walk away. I walk out of the house, up the road to a gate which leads into a park. I wander off the beaten path into a dense wood of trees so I can scream.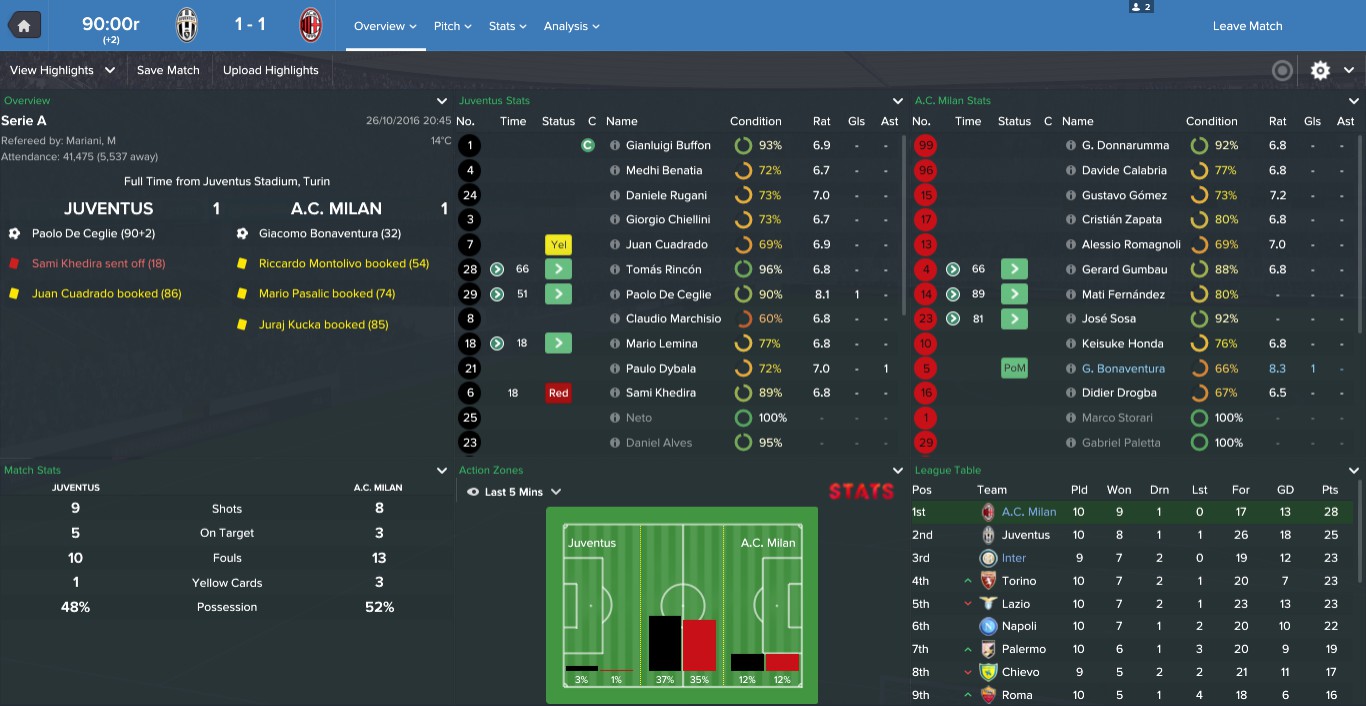 CHARLIE: Thanks to AC Milan holding Juventus, there's a real opportunity for Inter to get back into the mix. That means there's massive pressure on our home fixture against Chievo. If we can win then we move back above Juventus and we're just two points off AC Milan, who top the league.
I've found playing the last three incarnations of Football Manager that there are three phases during the opening season – the first consisting of freshness and positivity, followed by that lovely period of gloating as your signings come good and tactics bed in, then the worry and the stress as you find yourself in an insecure managerial status due to a series of devastating losses. Currently I'm just coming out of that first stage after some early success, which I put mostly down to Inter Milan as a team than my own abilities, and the second phase will arrive in a big way should we get all three points against Chievo because we only have three league engagements until the big one against Mike's AC Milan.
As much as I don't think Chievo will house a stern challenge, I'm not taking any chances. My only real bone of contention is Ivan Perisic or João Mário. I've chosen the Croatian on the basis that his stats have increased since the beginning of the term.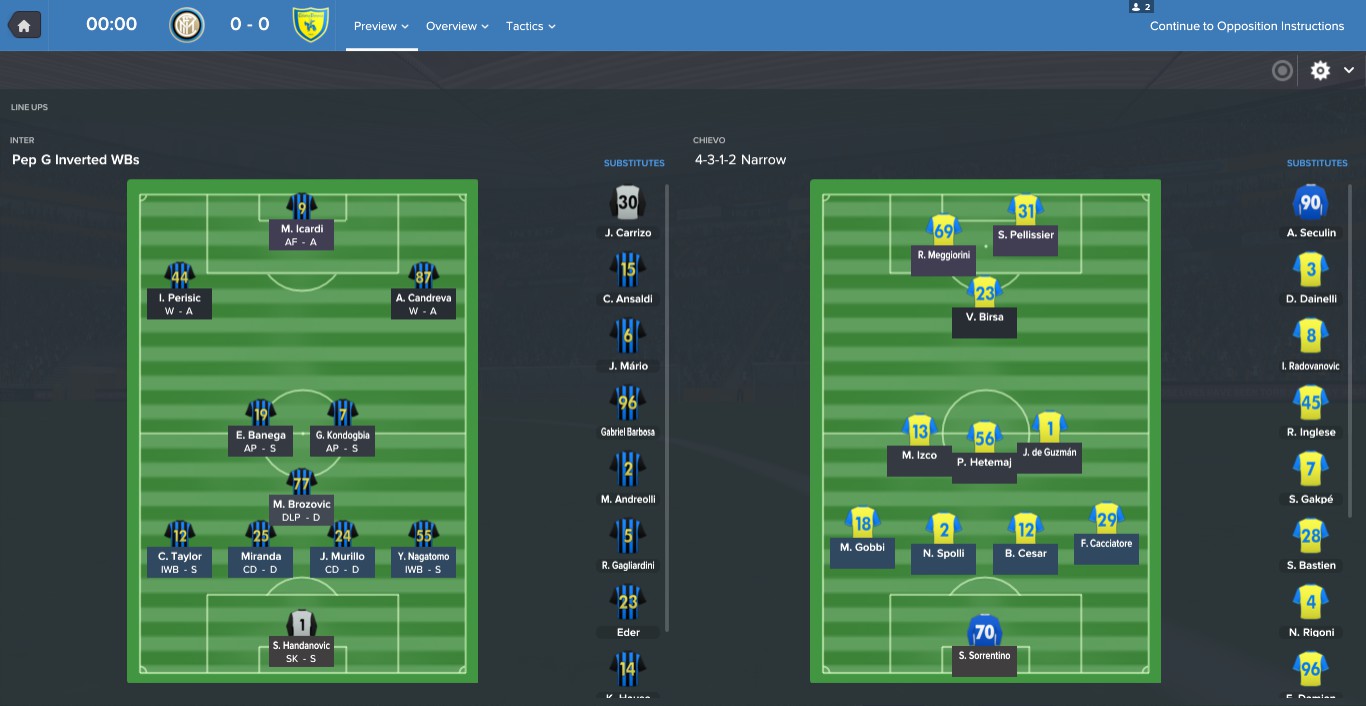 How did it go, I hear you ask?
Every highlight there's a booking. Chievo have turned up to boot my team off the park! I've got Mike returning to sit behind me giving his best Michael Sheen as Brian Clough impersonation; "You are a bloody disgrace! They don't deserve to be on the same pitch as your lads!" Blocking him out, I see an absolutely ridiculous four-minute spell play out in front of me. Chievo have Izco cautioned on 19 minutes, Perparim Hetemaj (great name) booked on 20 minutes, Spolli booked on 22 minutes and Hetemaj receives a second yellow on 23 minutes.
I should say, this all comes after Icardi had the temerity to miss a penalty on 12 minutes. Marcelo Brozovic spares Mauro's blushes with a goal on the half hour. I'm genuinely worried about the second half. All I can see are images of Cagliari and Torino dancing across my sweating face. I make a couple of changes and then start the second half before stepping out of the room. I'm not serving a touchline ban or anything, I just don't want to be there if Chievo equalise. I don't want to say anything to jinx it. This matters.
I think it all came from the reference to The Damned United, during one Derby vs. Leeds match Brian Clough stays in the hallways under the stand and only learns of the result when Peter Taylor returns. My luck holds and Icardi atones for his earlier error with our second before Ever Banega seals the win on 64 minutes. Brian Clough had Peter Taylor to illuminate him as to the score, I had Mike, sauntering away from the laptop. "3 – 0", he says. But there's an unmissable smirk on his face. I ask him what he's done, assuming he's changed the names of my staff to swear words and slurs. He just shrugs and comments that "I had a look at Erik Sviatchenko too but you've got no chance of signing Daniel Bentley". He hasn't changed any names, he's been reading my transfer shortlist.
B*****d.
I ask Mike if he would like to join me for the Inter Milan U20s vs. AC Milan U20s fixture. He barely looks up from his phone to scoff and wave me away. Our bond has been broken. He's busy tweeting to Phoenix Rising FC in the real world, who have brought in a certain D. Drogba. I watch AC Milan decimate us 3 – 0. The following day AC Milan's U18's defeat Inter U18's 2 – 0. I'm glad he didn't want to watch the youth teams. Let's move on.
MIKE: And move on we do to AC Milan hosting Sassuolo, a team that Inter beat by three goals on the opening day. That should mean we have far too much for them so it's Dogs of War once more. This 4-1-4-1 is set up to get the best out of Deulofeu so I'm expecting big things from him.
I've been adding some nicknames. Keisuke Honda is now rechristened 'Honda Jazz' for no other reason than I have a fondness for small cars and the two bench warmers, Lapadula & Paletta are exactly that. Bench Warmer 1 & Bench Warmer 2.
Not quite the dominant victory I expected but three points is three points.
The formation is set up to play to the strengths of Gerard Deulofeu and the on-loan winger is the difference maker, his goal from just outside the area flew in like an arrow and earns us the victory.  Not enough quality on the pitch despite dominating the main stats. I'm still annoyed that Drogba is getting scores like 6.7 but I can see with my own eyes how much he's holding up the ball and playing teammates in.
CHARLIE: Continuing the good success of AC Milan teams are the first eleven, who were comfortable in that win over Sassuolo. The other side of the coin sees us away from the San Siro and we have fifth-placed Lazio, the only conquerors of Juventus this season.
Tactically, we go back to the 'Classic Jose', which served us so well at the start of the season before I experimented with Pep Guardiola's Inverted Wing-Back formation.
After defeating Juventus, Lazio have a record of two wins and one draw from the following three fixtures. The one I'm most interested is Pescara at home, Lazio ended the match with a 7.99 average rating for a 4 – 0 stroll. Mike takes great pleasure in informing me that only one team have beaten Lazio this season and that's AC Milan.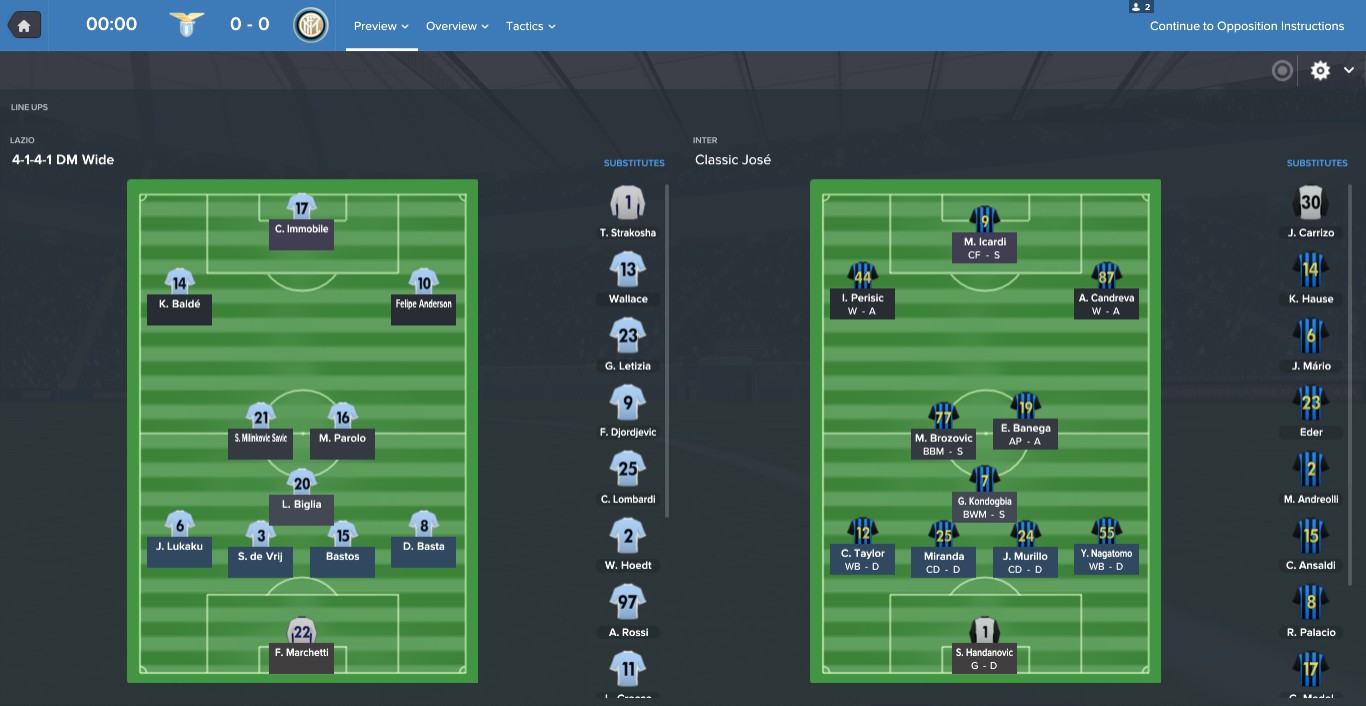 Comeback, thy name is Inter Milan. The first half was one of the most enjoyable I've watched as both teams had good opportunities but nothing found the back of the net. Immobile, supposedly being tightly marked, escaped the attentions of our defence in a counter attack to hammer the ball home.
We come back initially through an Icardi goal from a corner but it was cruelly ruled out for a close offside. Ever Banega's effort clipped Icardi on the way through and it was one of those sad moments where the team celebrate having not noticed the linesman's flag. Just seconds later a Perisic corner finds Icardi and Serie A's top scorer does not miss those chances.
Seven minutes to go on the clock to find a winner. With 86 minutes showing, Miranda clears from the feet of Immobile out wide to Candreva. He plays forward to Icardi, who starts to motor towards goal before playing a long ball over the top for Perisic. It looks for all the world like he's going to pull back for João Mário but instead swivels to unleash an unstoppable strike into the roof of the net.
I channel Arsène Wenger in my post-match press conference. All about fighting spirit and character. I love these guys.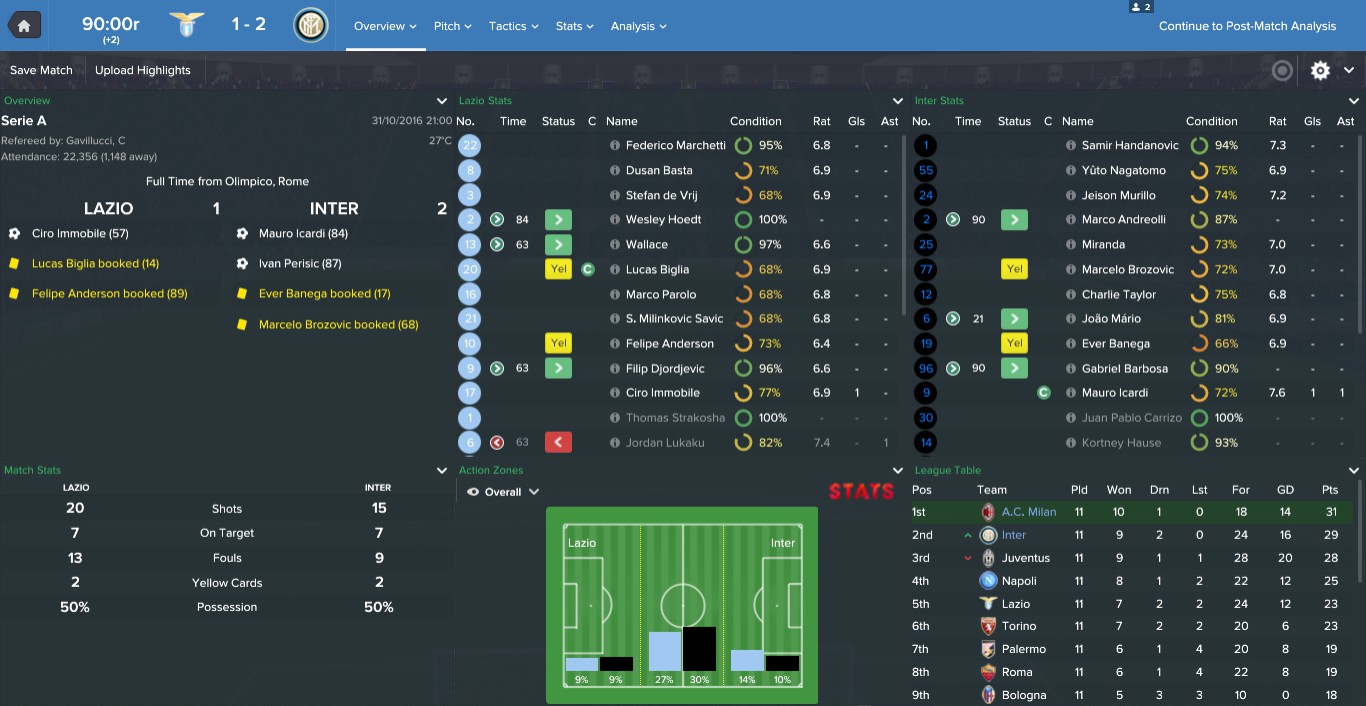 The winner of the Serie A Goal of the Month competition is our very own Marcelo Brozovic for his strike against Chievo from 23 metres out. Mauro Parolo is second followed by AC Milan's Bonaventura for that magnificent hit against Juventus. Mike is busy preparing for his appearance on the Italian equivalent of Match of the Day to protest that his man should have been a clear winner. I do worry about him sometimes, especially because he keeps wanting to check local second hand car dealers for something he refers to as a 'cheap run around'. Donnarumma did at least win the LGI Player of the Month award for the third month in succession.
We then play our fourth Europa League group stage fixture at home against Feyenoord. As usual I'm experimenting with tactics and rotating wildly, this time a 4-4-1-1 inspired by the current Manchester United set up.
You could say, it went well. Gabriel Barbosa scores four (!) goals in the first half and João Mário chips in with one of his own. 5 – 0 at half time becomes the full-time score. The fact we only had 33% possession just makes me even more proud. That's certainly given me food for thought as we head towards our next league game but I have been here before, persuaded by own insecurity to continue with a European formation and we did go on to only draw.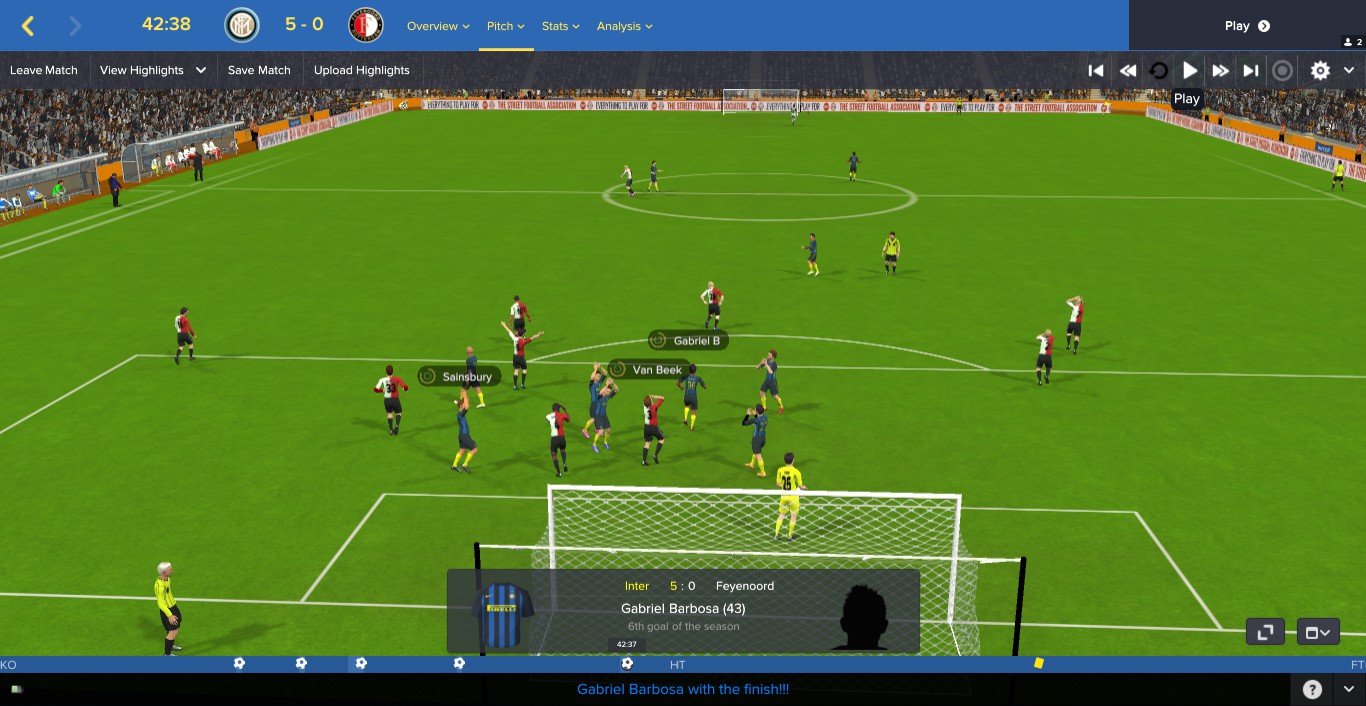 After a good amount of soul searching and a drive to Bolton and back, I have to do it. I have to know if this formation is gold or not, whether Feyenoord were just weak. If we can win 5 – 0 with half a first team, imagine what we can do with Icardi and Miranda back! At least, that's the thinking…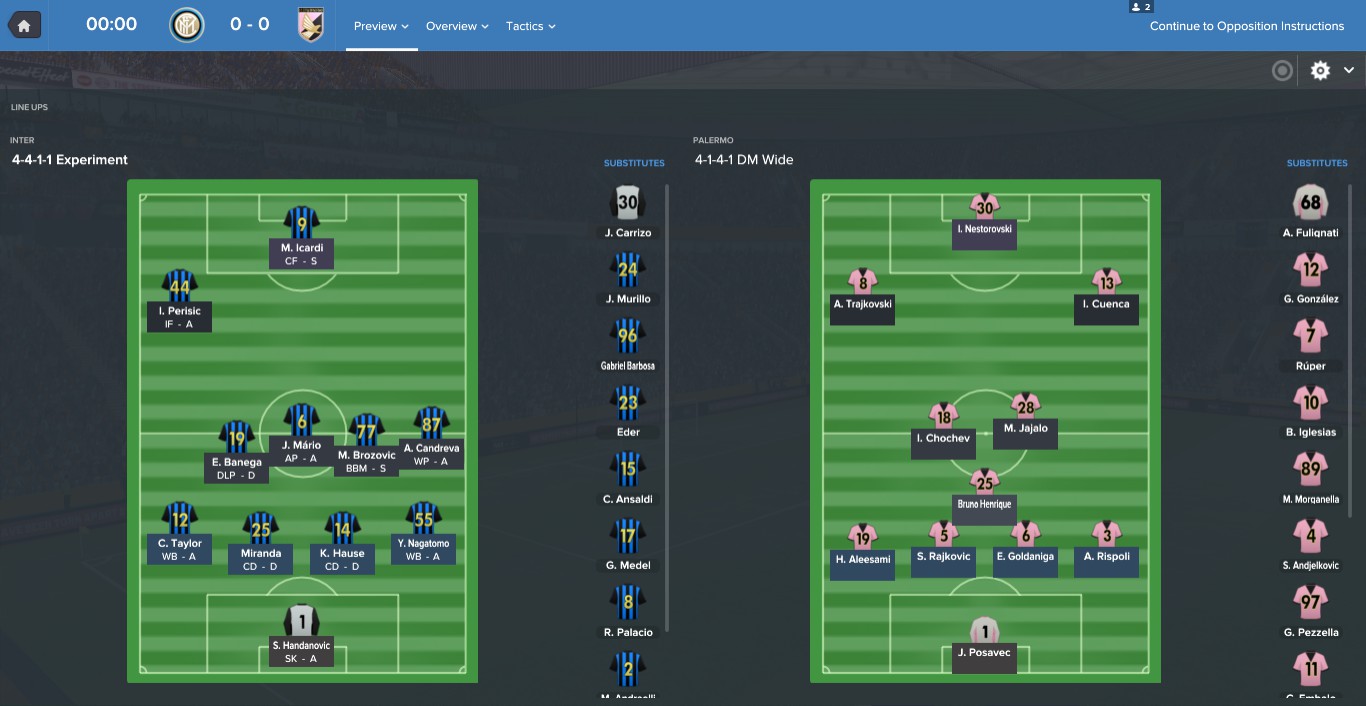 I apologise to myself to my failure to believe. We don't score five this time. We score six. Six of the best from Inter Milan put Palermo to the sword. We did concede two goals, Palermo's Roland Sallai hit us with the quickest of one-two's in true Anthony Joshua style but our sheer quality overwrought them. João Mário has two, Candreva scores a late free-kick but the real star of the show is the wonderful Marcelo Brozovic. He notches a hat-trick of the highest order. Three identical scintillating strikes from 25 yards, just beyond the 'D'.
No goal for Icardi but he had a good game and we now have scored 30 goals, only one shy of Juventus as top scorers in the division. Everything is good in the world of Charlie Tango and Inter Milan.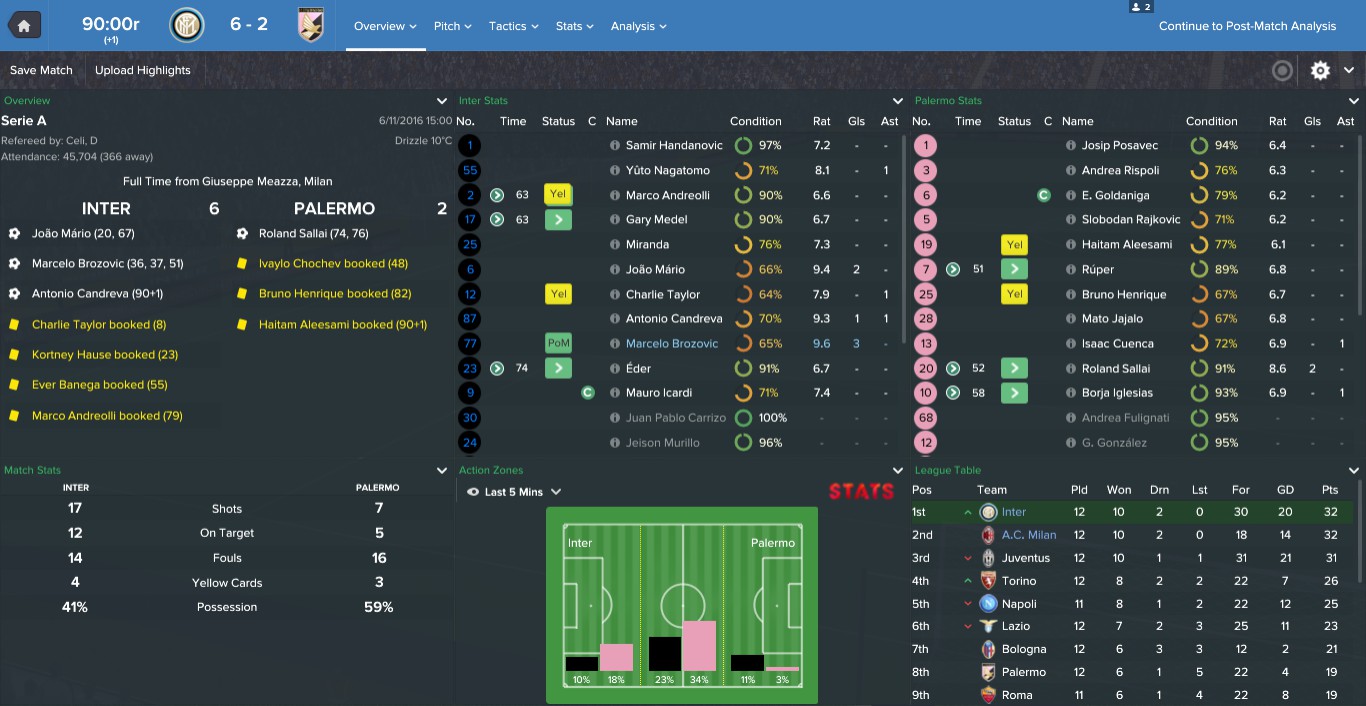 MIKE: Enough of that, the focus should be back where it belongs on the Rossoneri. While Inter had a tricky tie against Palermo this weekend, we play at the same time against bottom of the league Pescara. Not only are they bottom but they've won one game all season and conceded 32 goals…  in 11 games. That's a rate of 2.91 a game. Inter beat them 3 – 1 earlier in the season but I have my eye on Cagliari's 8 – 2 victory over them. I think we could at least match it.
I will be selecting the Vintage AC Milan formation, wing backs attack as we flood the middle of the field. Honda Jazz, Sosa, Kucka, Pasalic and Montolivo form the five in midfield with Didier Drogba the supporting target man. Deulofeu regretfully finds himself back on the bench beside Bench Warmers 1 & 2.
In the build up I am asked about Zdenek Zeman's status as Pescara manager. Apparently he's looking less secure in his role by the day. I stick the boot in. No manager loyalty from me, get rid I say or be condemned to relegation. I mean, who wants to be a manager in Serie B? Or even worse Serie C? I can't think of anything worse. Just imagine being the boss at somewhere like Venezia? I shudder at the very thought, don't we all… @registafm?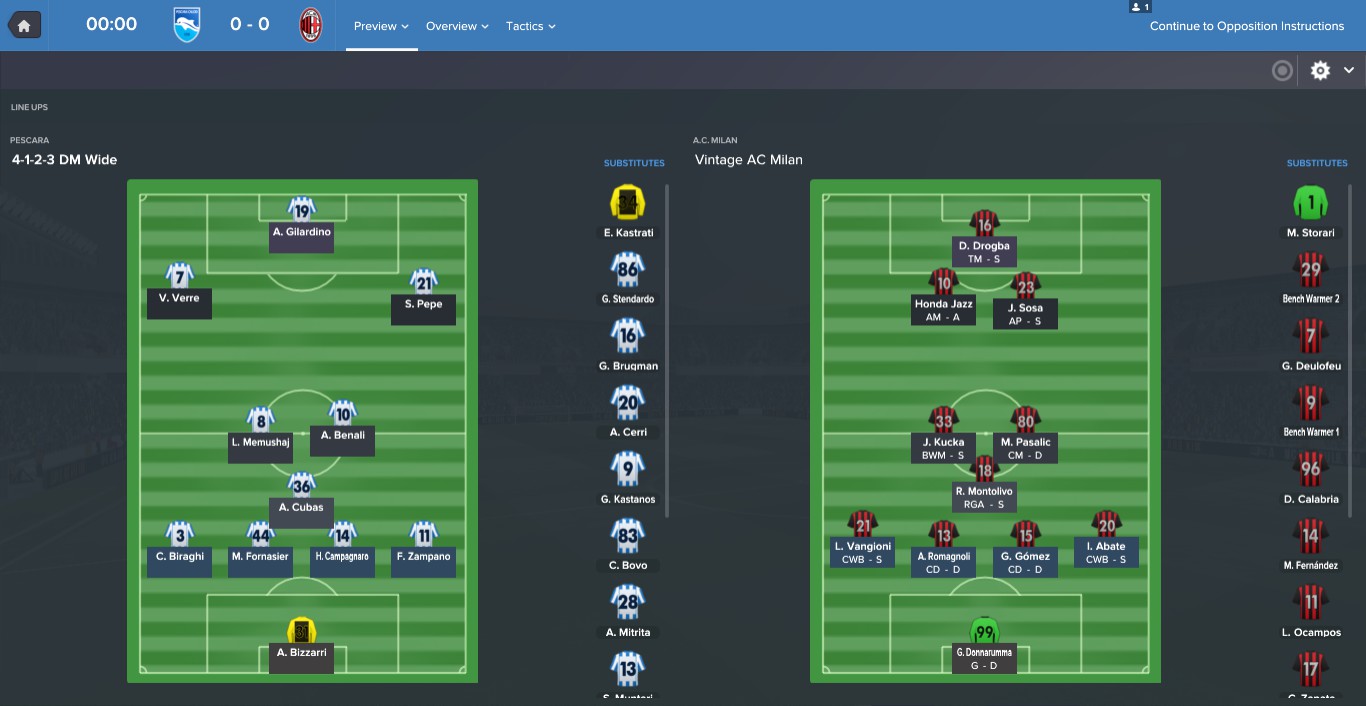 I suggest you get to know Zdenek Zeman, get to know him well, he is not long for this world.
It might not have been the destruction I had anticipated but it was as safe a victory as you'll ever see. A Montolivo penalty in in the first half is dispatched with an inevitability you'd expect from my Captain. Andrés Cubas of Pescara makes their task so much more difficult as he takes a booking just prior to half time, then on 69 minutes he blatantly handles the ball for the red, giving Pescara a snowball's chance in hell of overcoming what is by that time a two goal lead as Honda Jazz is on the scoresheet.
I'm asked about his future following the game. I can't begin to describe how delicious my reply is; "It was a gutless performance from Zeman's side, if that's all he can offer when he's fighting for his job then he deserves to lose it." I then added a little comment of my own; "I just want to wish him the best of luck at Novara."
Excellent.
CHARLIE: Everything seems to be content in our worlds. We're first and second ahead of Juventus, a Milan Derby a couple of games away… oh, wait, what's this? Mauro Icardi wants to leave for a bigger club? OH FOR F…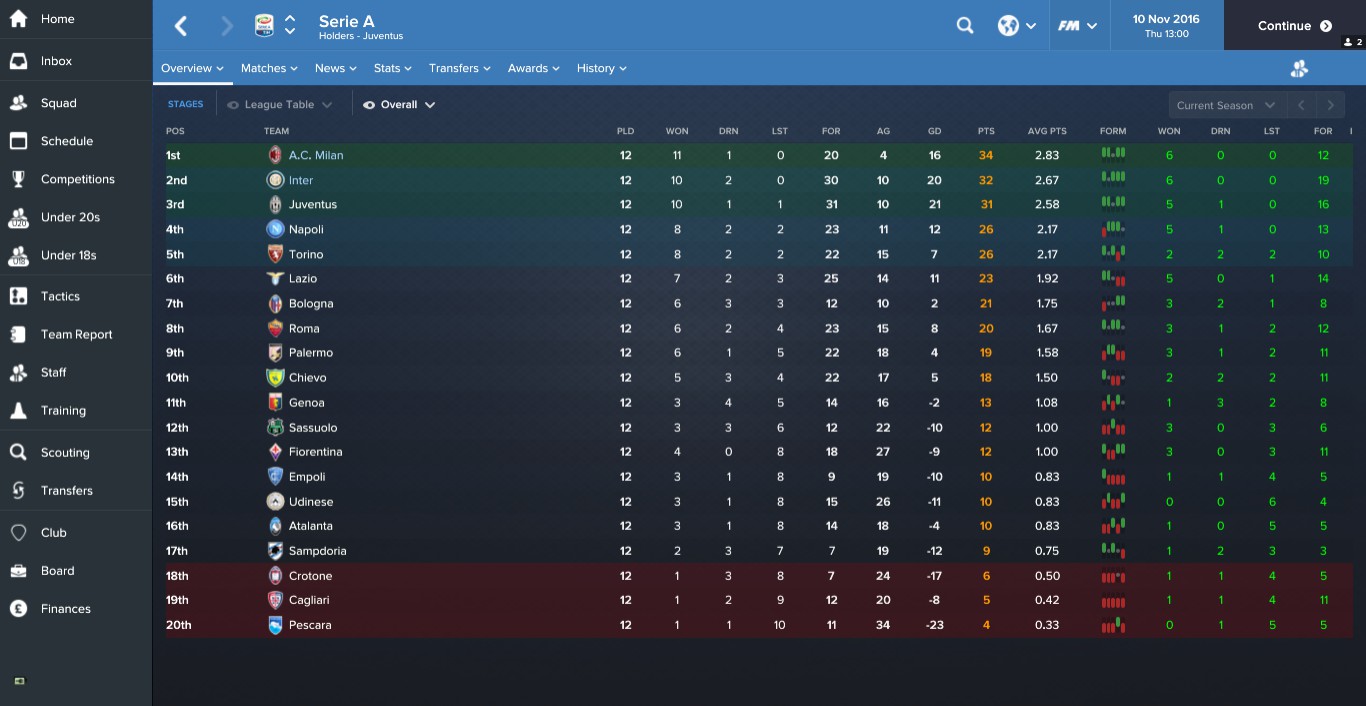 Thank you for reading, join us on twitter at @FM17Challenge, @CharlieTangoFM & @MikeTangoFM for excusive comments, developments prior to episodes and reaction afterwards. Continued thanks to Chris and everyone at Tempo for the opportunity to share this with the readers.