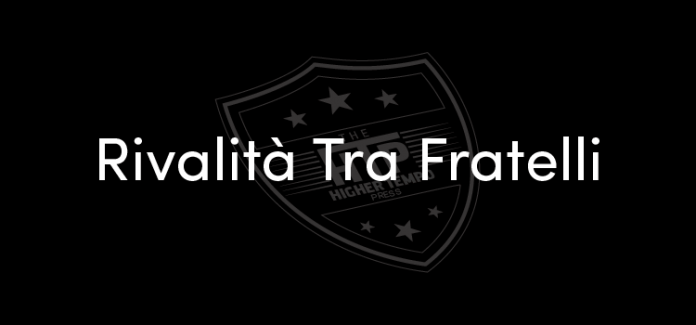 This is the story of two brothers, a modern-day Cain versus Abel if you will, based in the northern powerhouse Italian city of Milan. If you'd like to replicate this challenge, we're using the updated medium database with the following leagues: England (Premier League, Championship, League One & League Two), Italy (Serie A & Serie B), Spain (La Liga & Segunda División), France (Ligue 1 & Ligue 2) and Germany (Bundesliga & 2. Bundesliga).
Rivalità Tra Fratelli – #WeAreTheRivals, Episode 3
CHARLIE: I just want to begin with a gripe, and I am very much aware I'm verging into Mike territory here. Handanovic picks up a knock, he'll be out for 3-4 weeks. That's fine, but the press are all over it like a [insert your own joke here, I wouldn't want to offend anybody]. I was worried for a moment until I checked out our substitute custodian, Juan Pablo Carrizo. He's 32 and he's an international. 12 caps for ARGENTINA. Hardly Luxembourg or San Marino, is it?!
Attitudes towards the Europa League fascinate me. There appears to be three schools of thought. Those that genuinely could win want to do well, those that have qualified off the back of a better campaign than they expected see it as an 'adventure' and those that qualified off the back of a worse campaign than they expected consider it a burden. Personally I think we'll travel through those emotions as the season goes on. As a little 'Brucie bonus', we kick this episode off against Hertha Berlin. They qualified by virtue of ending 15/16 in seventh place in the Bundesliga and in fact are in an impressive fifth place this season (in real life). Every credit to them considering they survived from a relegation play-off the season before on goal difference alone. Sometimes you hear about teams struggling with the additional fixtures but not these chaps from Berlin. Just be pleased that Inter are in Europe and not AC Milan, as I doubt you'd be getting this kind of in-depth analysis from the other half of the San Siro.
Rotation is in force. Icardi and Charlie Taylor have been completely left behind, Ener Banega is our senior man in midfield with Gary Medel in his preferred defensive midfield position and Kortney Hause continues in defence. Ever Banega proves to be an inspired choice to start, leaving the likes of Brozovic, Kondogbia and João Mário on the bench. After a steady first period, we turn the screw in the second half and its game over for Hertha when Perisic scrambles the ball home from a corner thanks to a certain Mr. K Hause after Banega put us ahead. Speaking of our lucky charm, he was absolutely immense and deservedly won PoM honours.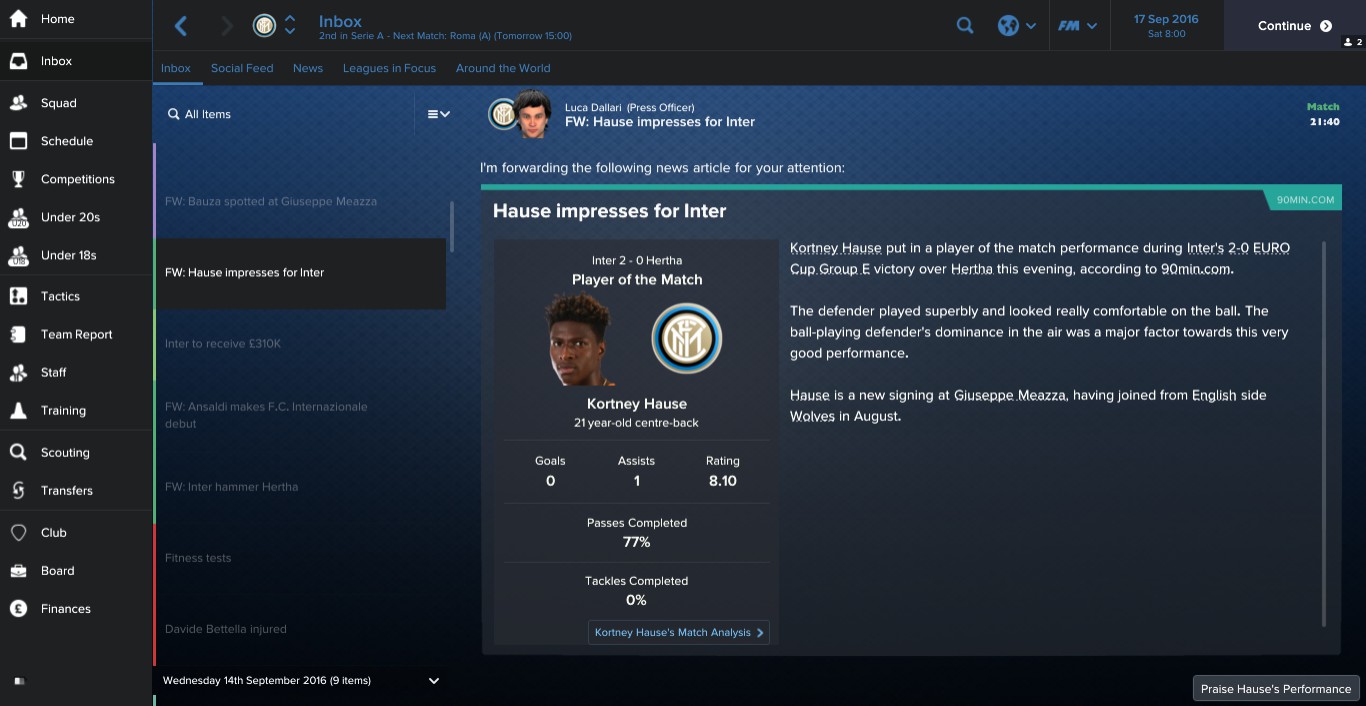 Keeping up the momentum and earning our third sheet in succession will be tough against Roma, who I'm sure I mentioned were predicted by the media to end the season in the top four but find themselves down in fourteenth.
I have to admit, I don't like playing the sides expected to be around us. One mistake, you go behind and it's so hard on FM to come back. It often requires a complete tactical reshuffle, which could come via substitutes, the caveat being that if by some miracle you manage to go ahead, you're boxed in by having no more subs to make and players end up wildly out of positon.
Roma away is one of those fixtures you look for at the start of the campaign. It's a big one, one of the biggest. There's quality running through the squad, never mind the first team. Szczęsny has his critics but remains a quality shot-stopper, Juan Jesus is on loan from ourselves, Nainggolan, Strootman, Džeko, De Rossi, Vermaelen, Salah, Totti, El Shaarawy. All internationals, all big names and you know the saying, you need the big names for the big games. I'm sticking with our counter attacking 4-3-3 for away games, all of our first choices are back. The only real decisions I have to make are whether to continue with Kortney Hause and Ever Banega, who led the team in Europe. They both stay in after some careful deliberation.
It's very tight and even more tense. Roma are set up with two central midfielders and four attacking players, which is designed I assume to pen us back and even worse it looks to be working as we are frustrated in the early going.
Lots of little fouls and two yellow cards for Roma players as both sides look break up any attempted play, leaving the likes of Candreva and Icardi with nothing to feed off. It's Icardi (who else?) who makes the breakthrough, Charlie Taylor wins the ball just inside our own half and sends Perisic on the chase. He gets to the byline and hits a cross at the perfect height for Icardi to head in without even jumping off the ground. His pose was more like a 100m sprinter going across the line.
Icardi has seven goals for the season already, no doubting his significance to the Inter side. After another half hour across both periods, the game pretty much ends as a contest both in terms of scoreline and a spectacle as Juan Jesus is sent off for Roma. Interesting, since he's technically our player until January. Having made all their substitutions, including a player I had myself on FM15 with Schalke – El Shaarawy, Roma move square pegs into round holes. Kortney Hause picks up his second PoM award in succession, which is fairly impressive for a new signing and marks our third clean sheet in a row. I believe the term is #solid.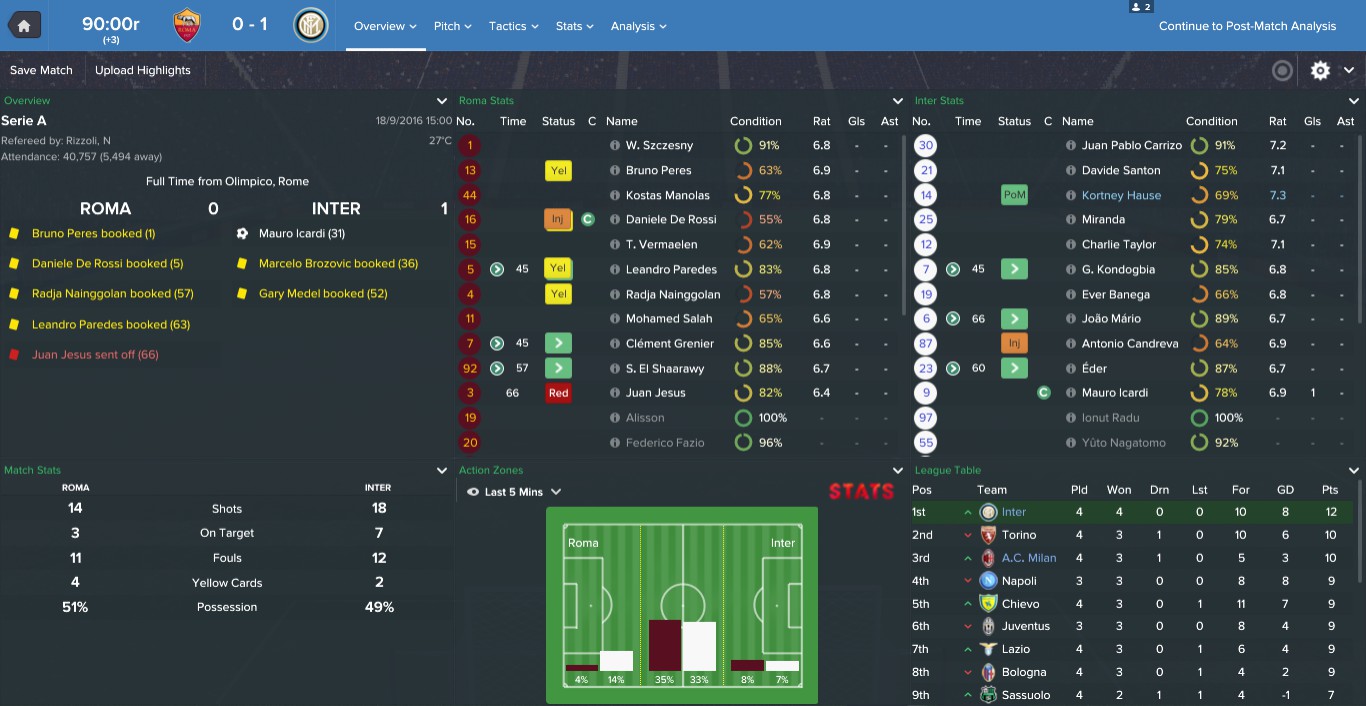 MIKE: Secretly, I'm fairly pleased that Inter Milan have the torturous EURO Cup to contend with and we are free of European obligations because it means that Charlie will have the rigours of European competition straining his squad to the limit, which will hopefully allow me to capitalise. It worked for Chelsea (not so much for Liverpool) as their best chance of winning the league, it's also mine. It's the Rangers/Celtic principle. They come back from a big European game late Thursday night, a game in which they will generally be chasing shadows for 90 minutes but because of sheer commitment, energy and the demands of the fans to get a positive result. Then they get Friday off and travel to Genoa or Chievo on Saturday to play against a team who are fired up beyond belief. It's one of their biggest games of the season, the stadium is sold out and it's probably on TV. It will be draining for them to come back from playing a huge European side and see that they're playing Torino away on Sunday. It'll be mentally tough, not only on the players but the manager who has to pick a strong side each time.
In shock news, Donnarumma did not win his assured La Giovane Italia U19 Player of the Week – Serie A award. Our other youngster Davide Calabria did. Gigio is not a happy bunny. I want him to be a happy bunny so I send my personal assistant around to his house with an armful of Cadbury's Crème Eggs. I hate my assistant. He's useless. When somebody asks a stupid question in a press conference there should be an option where he steps in with a wagging finger and even bundles them out the door thanks to a WWE-style hammerlock.
As Inter play Roma and I have my fingers crossed they drop points, we welcome Empoli to the San Siro. Relegation fodder as far as I'm concerned, this should be a procession. Abate makes his first start of the season, as does Gumbau.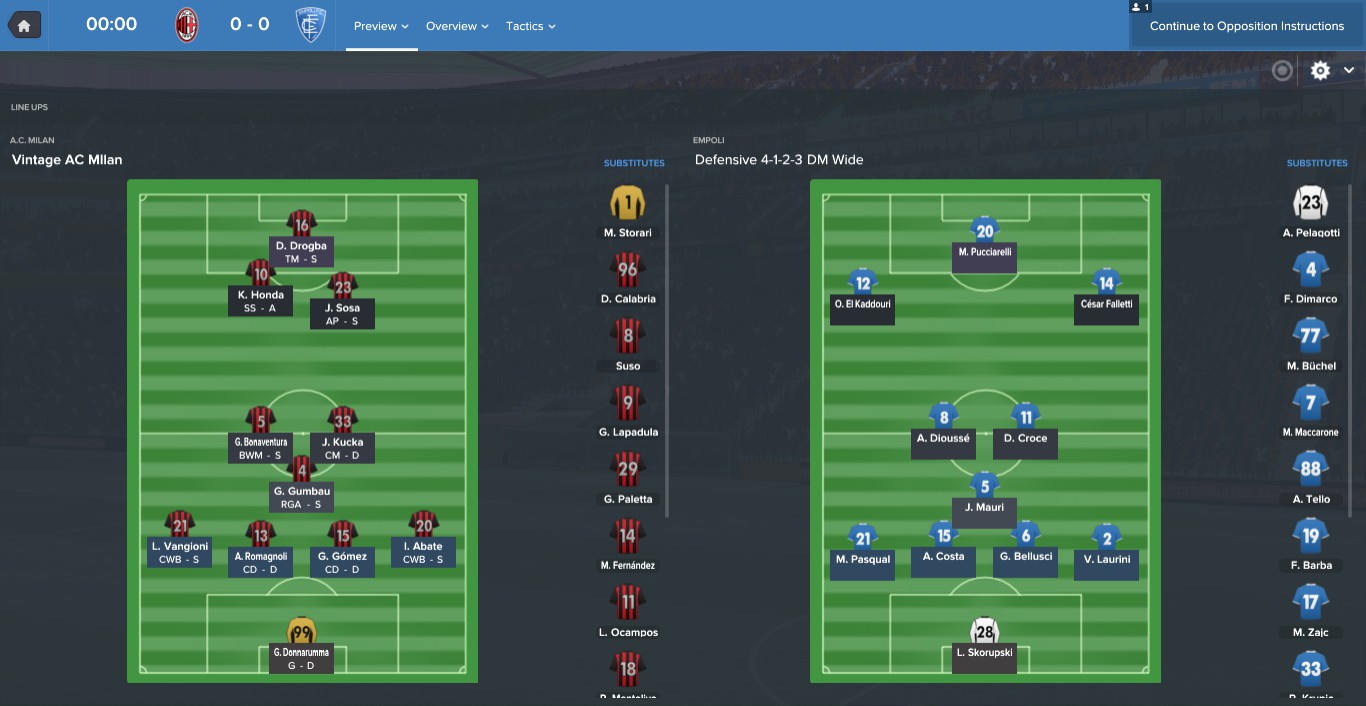 Not quite a procession but something close. Didier Drogba opens the scoring after Vangioni (Aogo's replacement) intercepts a long ball and drives at the Empoli defence. They look startled and back off, allowing him to cross and Drogba loops a header over the despairing 'keeper. That's his 200th league goal of his career and encouragement for us to go on to win in style.
Just as I'm whispering for Ray Wilkins to cut the oranges in half for the break, Falletti pops up to score from a rare Empoli attack. Seriously, their heat map was effectively a bus parked in front of the goal. It takes a second from Didier late on as he escapes his marker at the near post to prod in off the inside of the post. That's three 2 – 1 wins in a row, no crowing about clean sheets here, just smugness that I was right about Dids.
CHARLIE: What's really upsetting both of us is that following our respective wins, maintaining a joint 100% record thus far we sit down to watch Juventus play Napoli on something of a Milan city scouting mission. We take our seats, sign a few autographs, have a bit of banter with the punters… then watch Napoli get absolutely gubbed 5 – 0.
MIKE: We're back at the San Siro for our game against Roma, just days after the other side of the stadium took on the same opposition. I'm left with the great intangible. Stick to our Vintage AC Milan formation and master our courage or switch to something resembling the 4-3-3 that saw Inter get the three points? I find my courage. Sort of.
I really do want to bring in Gerard Deulofeu for his movement in behind big Dids but I just can't find him a place in a narrow formation. Pasalic, the Chelsea lad, comes in alongside Honda with Bonaventura and Kucka marshalling the midfield.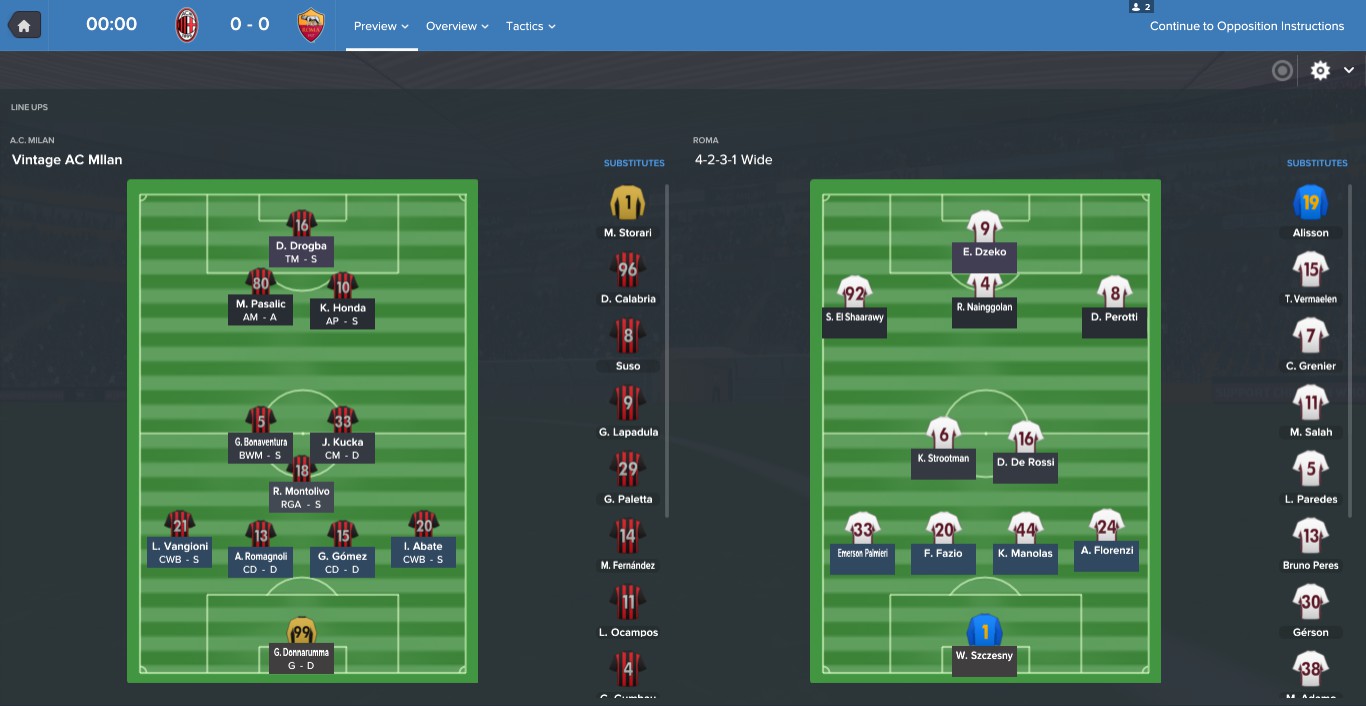 It's one of those games where you're begging somebody to score two quick goals and take the sting out of proceedings. Thankfully Pasalic proves to be the difference maker as he opens the scoring, albeit with a mighty deflection off a free kick which left everybody looking the wrong direction, most of all Szczesny.
Roma appear like to be a team like Tottenham, making tactical fouls shared around. Masters of the dark arts. I'm envious of that. Strootman, De Rossi, Nainggolan, El Shaarawy, Dzeko… just didn't show up. Our second puts us in the debt of Romagnoli, who profits from slack defending at a corner. Three more points in the bag.
I take a leering look at the live league table to see Juventus strolling to another win and another 5 – 0 destruction, this time of Torino and Joe Hart. I can picture it now, us both defeated to the title by Juventus and we'll be left scrambling between us for second.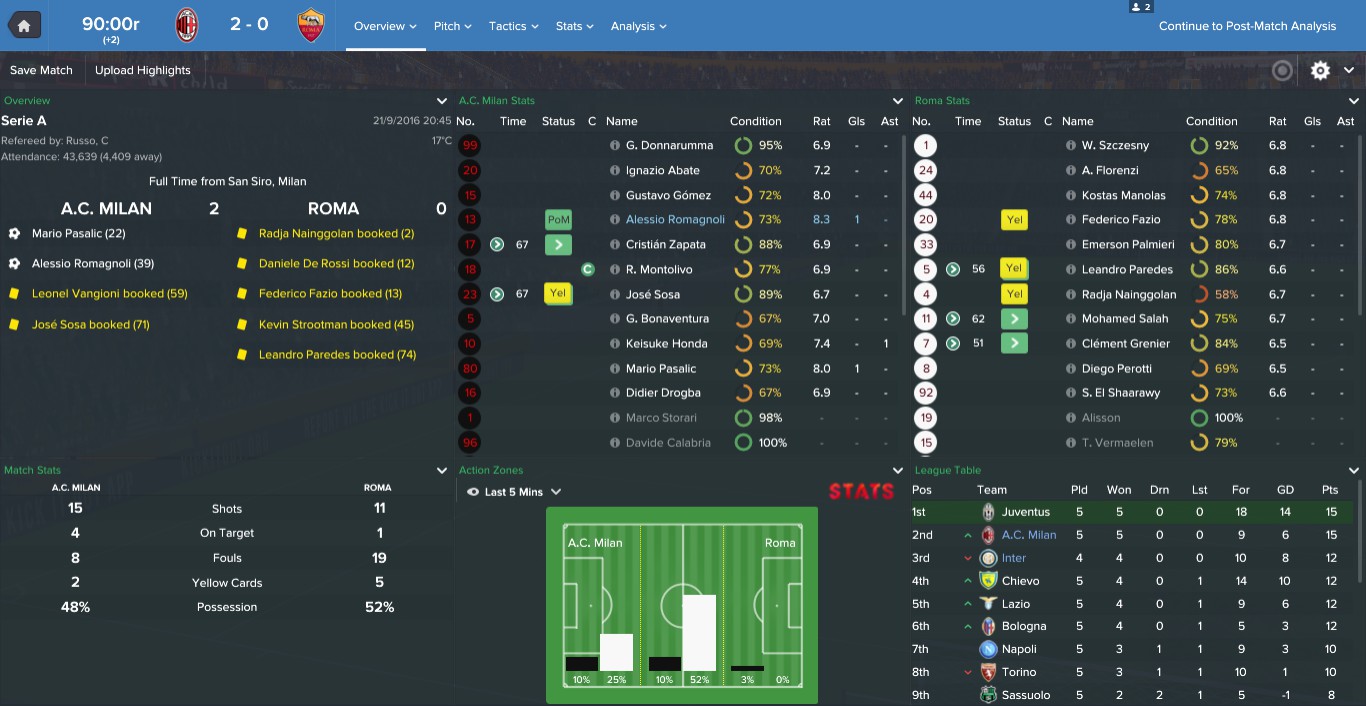 CHARLIE: I'm resting Charlie Taylor, he's been an ever-present since signing from Leeds United but I'm giving Ansaldi an opportunity. Miranda and Kortney Hause continue in central defence. I'm hovering over Gary Medel, mostly his role. Ball winning midfielder seems a tad too aggressive away from home, that's just asking the referee to book him but what to turn him into… half back? Anchor man? I do have some experience in this area. Leading Bolton Wanderers in FM16 I had Jay Spearing, who was just a liability. I moved him forward a position and suddenly wasn't even getting booked. I'll give Gary one more game to see how it goes. Candreva picked up a slight knock during the last game and has only just returned to full fitness so he sits beside Taylor on our bench.
We have Fiorentina, who finished fifth last season in Serie A and was part of that epic 5 – 4 with Juventus on the opening day. That's at least three times the Old Lady have blasted in a five-goal haul.
We need to keep up the pressure on Juventus, who are absolutely unstoppable. I daren't even take a look at their squad for fear of envy.
I'm starting to worry about the entertainment value of this save. I expected one of us to go through a really bad spell and that would provide lots of anecdotes or hilarious comments of woe but no, both AC and Inter Milan are winning consistently.
Ivan Perisic rivals Pasalic (AC Milan) for set piece of the weekend with a lovely clipped free-kick over the Fiorentina wall. Icardi adds his customary goal before half time, Brozovic keeps the ball moving to Icardi on the edge of the area. He holds up the ball a treat, welcoming four purple defenders around him before turning and unleashing an unstoppable strike from outside the area. The in-game commentary calls it genius and I tip my hat to the Argentinian. I then remove my hat completely to Bernardeschi for a similar strike, an absolute howitzer apparently. Another Perisic free-kick is blocked by the wall and it rather embarrassingly falls for João Mário to stab into an empty net.
This game was actually extremely even, as evidenced by the fact we ended within 19 attempted passes of each other. The only area Inter were vastly superior was average rating, 7.45 – 6.73.
MIKE: Juventus were one of the teams to open the weekend's football at home to Chievo, although this time neither of us particularly wanted to watch the massacre. In actuality it turned out to be a routine 2 – 0 victory for Juve.
I've made the bold decision not to change anything, same formation, same instructions and same personnel. It worked so well against Roma that I'm supremely confident.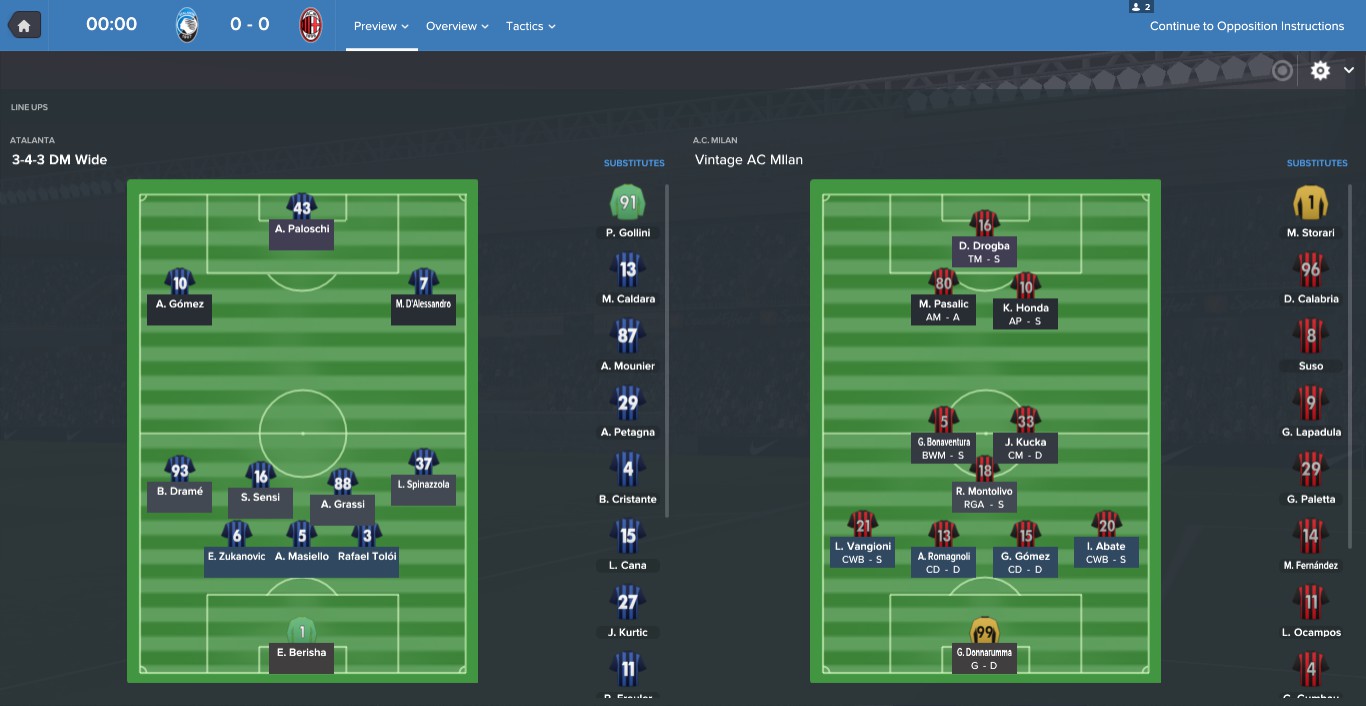 At 90 minutes, I was ready to throw the laptop out of the window and would have done had somebody's hand not have been resting on it to make sure it remained in pristine condition. Luckily for this laptop and for you as a reader, Dramé made a similarly rash decision to foul Gustavo Gómez in the box as Deulofeu floated over a late free-kick. Time slows down to a crawl as referee Daniele Doveri looks over to his assistant and he blows to signal a penalty! Thank the Lord for that! Atalanta protest with the usual calls to check with the linesman but the official stands firm.
I hit pause. I hit pause on my own breathing. The captain, Montolivo, places the ball down carefully. He steps back and waits for what seems like an age. He then rocks forward into action and SLOTS HOME EMPHATICALLY! The keeper couldn't get there! Get in my son!
As soon as Atalanta take the kick-off, the referee blows. I now remember to breathe.
CHARLIE: Well, so much for lack of entertainment. A penalty winner in injury time? That'll do it. I only wish you'd have seen the looks on our faces transmit from despair on his face and happiness on mine to happiness on his face and despair on mine all in the space of one refereeing decision.
The outcome of all this is that Juventus have a 100% record, as do our Milan rivals. We are the last of the three to play but the good news is that we have Genoa at home, who are seventeenth. They have a record of three draws and two losses from their five games. In the words of a betting tipster, the home win looks an absolute mortgage job.
Gary Medel is dropped for on-field disciplinary issues, Charlie Taylor waltzes back into the starting eleven but in other news I have just seen that Roma finally got it right with a 4 – 1 victory in the day's early fixture.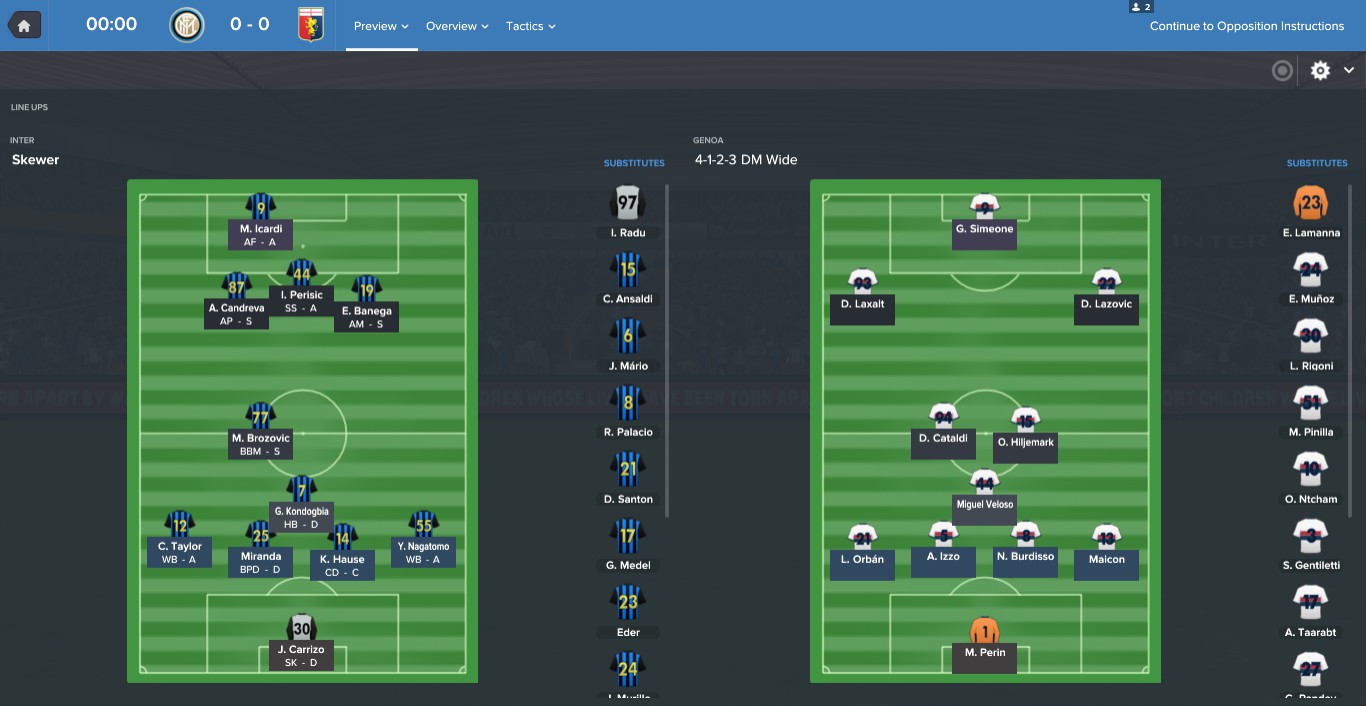 I would like to officially apologise. I did enjoy the frustration as Atalanta kept the score at 0 – 0 in that last game.
In what is clearly Football Manager karma, Genoa keep the score level until just after the break, when they go ahead. I'll say that again, Genoa go ahead. Somebody has not read the script.
I know I have made some jabs about Bacca's injury but I honestly don't know where I would be without Mauro Icardi and his goals. Icardi hits the post from a Charlie Taylor cross before just stabbing home the rebound to draw us level. We then go overload and I demand so much more from the players. They respond, Gagliardini races after the ball and Rigoni shoves him over savagely. Much like Montolivo earlier, it's agony waiting as Icardi runs up to take the kick and he scores with supreme accuracy.
There's now clear breathing space between the trio of Juventus, AC and Inter Milan with four teams including Lazio five points back.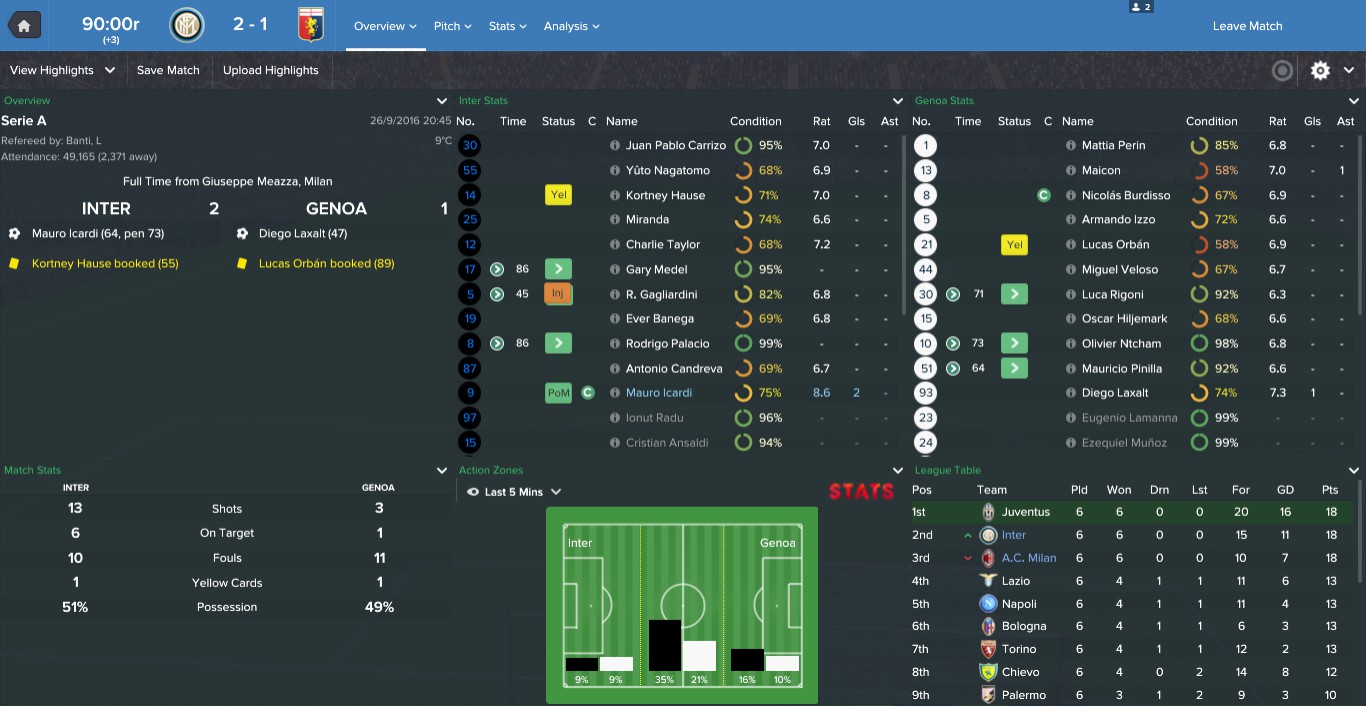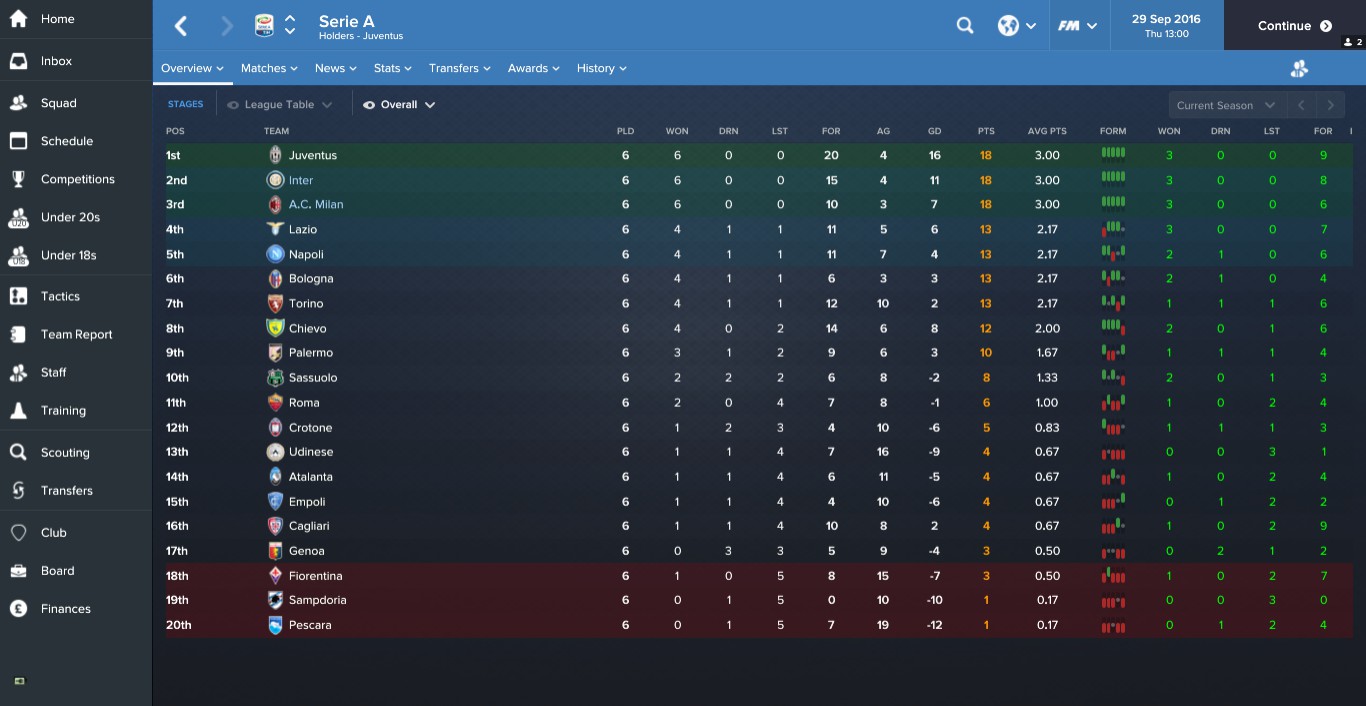 Thank you for reading, join us on twitter at @FM17Challenge, @CharlieTangoFM & @MikeTangoFM for excusive comments, developments prior to episodes and reaction afterwards. Continued thanks to Chris and everyone at Tempo for the opportunity to share this with the readers.