After three years at Celtic building an all-British squad, finding success both domestically and in Europe along the way, it was time to move on. With the United Kingdom on the cusp of leaving the European Union, let's find out what happened next…
Handing in my resignation at Celtic left me with mixed emotions. I was bored of the restrictions I had placed upon myself, but I didn't want to tarnish what I had accomplished by reneging on that rule while I was still at the club. On the other hand, leaving would almost be an acceptance of failure; that building an all-British squad that could dominate in Europe was impossible. In the end, having analysed what I had accomplished in comparison with what was left to achieve, given the strength of the league and the resources at my disposal, I was at peace with my decision. I even said as much in an interview with ESPNFC's Jason Neubronner… whoever he is.
I wasn't the only one to leave Celtic – four members of the backroom team left with me:

After leaving, I had no idea where I wanted to go next. I had options; AS Monaco were reportedly interested in talking to me. They had finished 3rd in Ligue 1 and were about to move into a new 27,397-seater stadium named after Monaco legend Delio Onnis. They were a club with vast resources and a good squad which included Thomas Lemar and Kylian Mbappé, but I had virtually on interest in joining them.
I realised that the one thing I wanted from my next job was to continue along the Brexit journey. I had three good years at Celtic, leading up to the departure from the European Union, where I had prepared the club for what was to come next and left them in good shape to continue dominating Scottish football. With Brexit now imminent, the next challenge would need to be closer to home, so that I could guide my next club through the fallout of leaving the EU.
So, when this dropped into my inbox, it immediately caught my attention: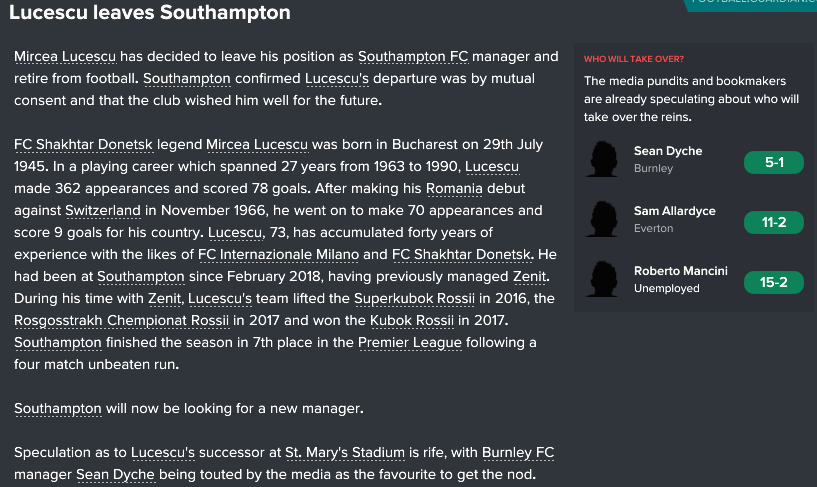 Southampton had finished 7th in the league, which was enough to earn them European football next season. They had been taken over by a consortium just 6 months earlier and were described as a rich club. They had a healthy mixture of English and foreign players, which included Fraser Forster, Ryan Bertrand, James Ward-Prowse, Charlie Austin and Troy Deeney.
I declared my interest in the job, then waited a few days to apply. I was offered an interview, in which I requested an improvement to the Training and Youth Facilities, as well as Youth Coaching. The club agreed only to improve the Youth Coaching setup, but I was happy to continue on those grounds because the facilities were already superb.
A few days later, I was asked to propose changes to the backroom staff. I wanted to make wholesale changes, because the existing staff was not good enough for a top Premier League squad. I requested that some of the staff I had at Celtic came along with me, but for the most part I wanted to leave the support teams threadbare – I wanted to bring in new people to work with.
Southampton agreed to my requested changes and offered me a contract. I was happy with the terms, aside from the contract length – I wanted four years, but the Saints were only offering two. Everntually, we reached a compromise at three years and I was announced as the new manager of Southampton on June 26th, 2019 – just 24 days after leaving Celtic: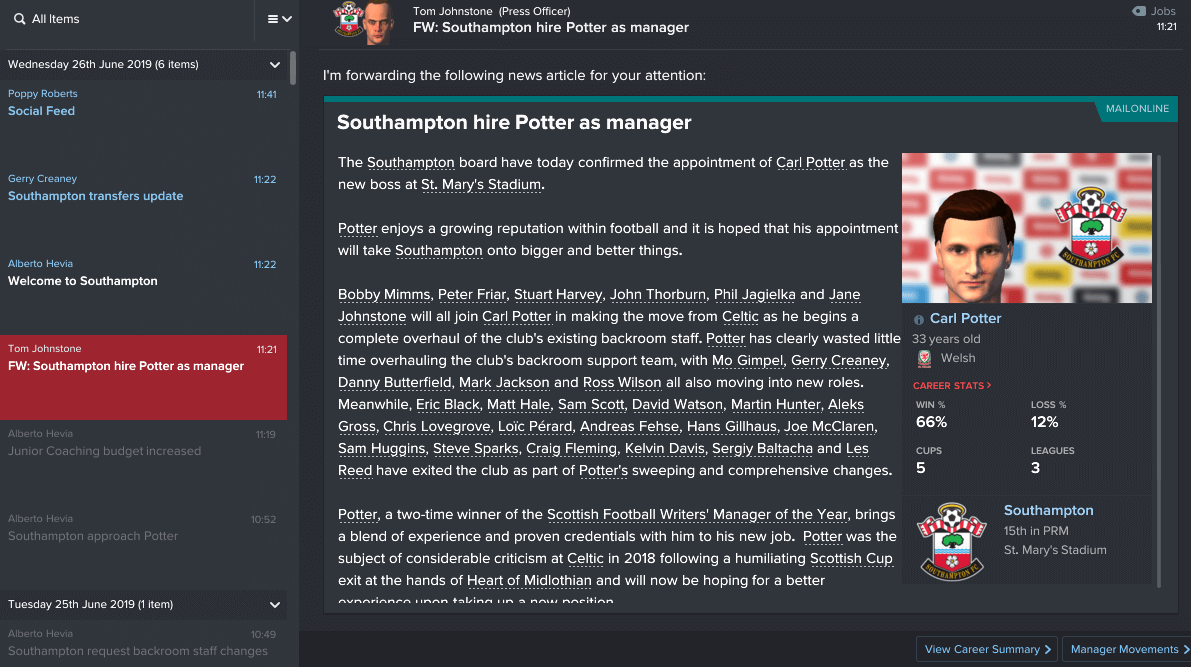 I was handed a £21m transfer budget and £2m wage budget, of which £500k was available. There was plenty of work to do: The coaching and support staff overhaul had begun, but I needed to act quickly to bring it up to standard. First and foremost, an Assistant Manager was required. Emilio De Leo, a 41-year old Italian coach that counted Milan, Sampdoria and Torino among his former clubs, was my preferred choice: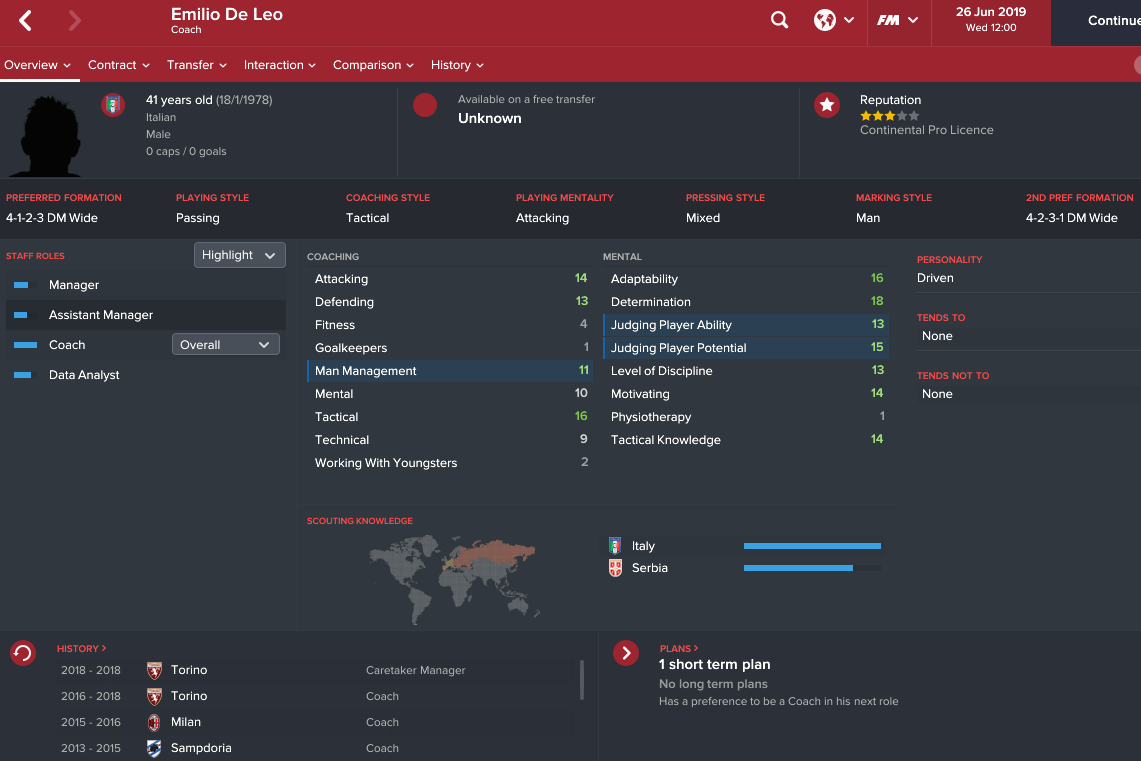 He had reasonably good skills in the areas that interested me: Judging player ability and potential, tactical knowledge, and an ability to coach both defending and attacking – he was versatile.
I also looked to add a former Manchester United man from the Sir Alex Ferguson era to my team: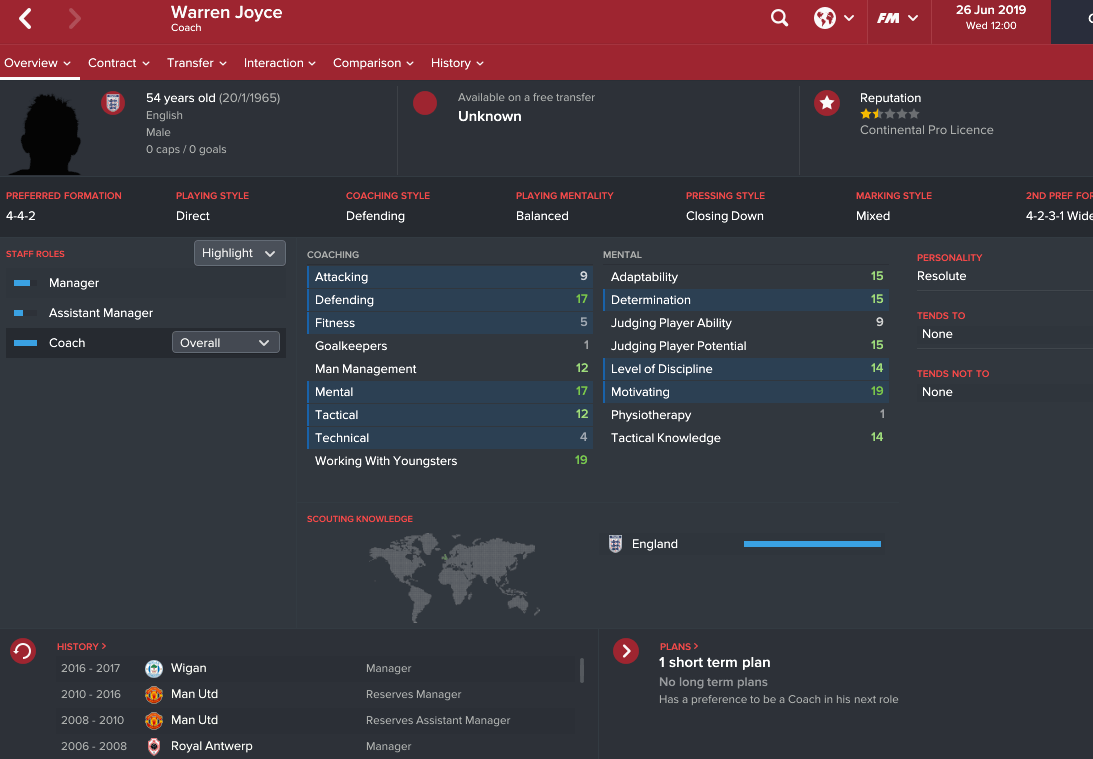 Warren Joyce had been out of the game for a while, after an unsuccessful reign as manager of Wigan, but his ability as a coach was undeniable. If I could bring him in as a defensive coach, I would have a strong platform to build from.
Unsurprisingly for a club with a reputation for developing players, Southampton's youth squads were full of potential: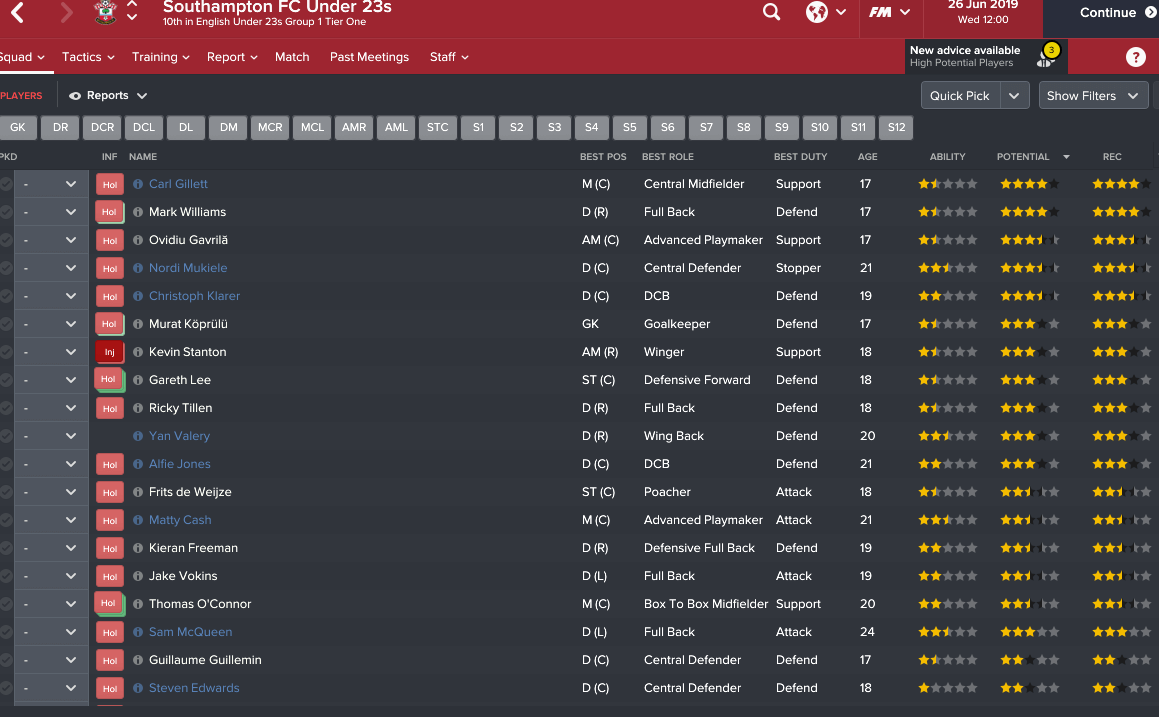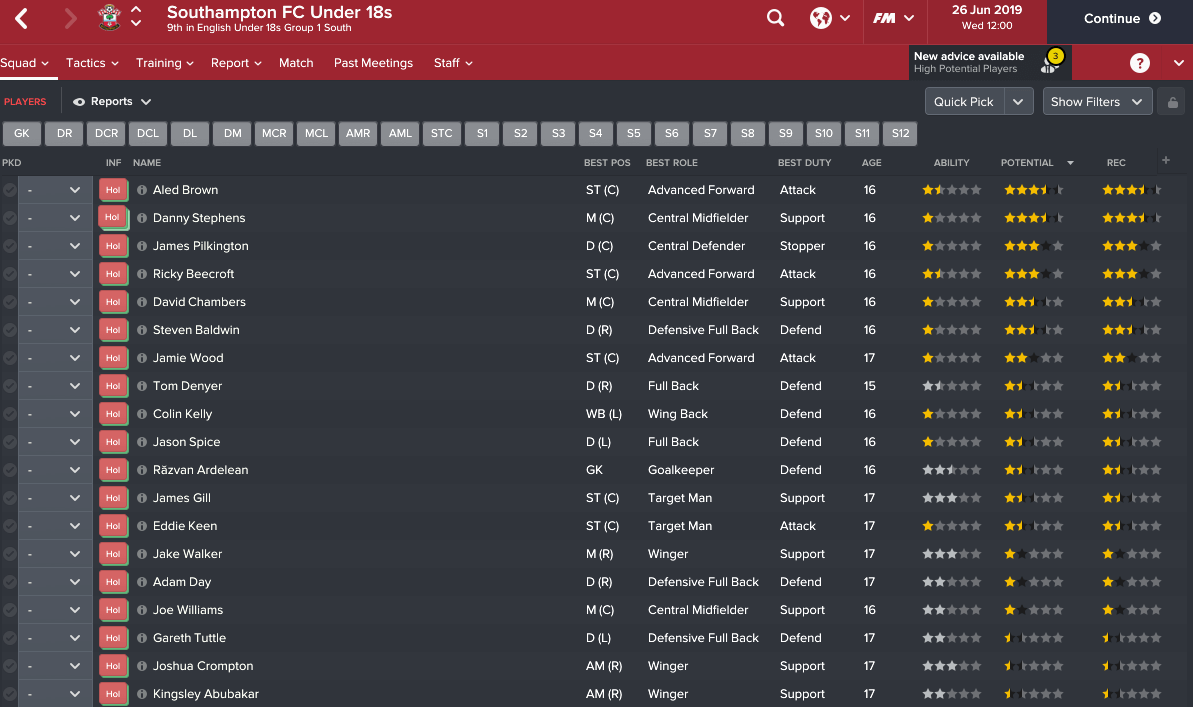 The Under-23 squad in particular is loaded with young, talented players. Four of them look ready to be introduced to the first team – Nordi Mukiele was immediately promoted due to a lack of adequate cover at the back, but for Matty Cash, Josh Sims and Sam McQueen, the strength of the first team squad means that their game time would be limited. I will have to think long and hard about what to do with them before the new season.
I was impressed with what we had available in the first team squad. There were gaps that needed to be filled, certainly, but as a starting point, the players available were of a high standard.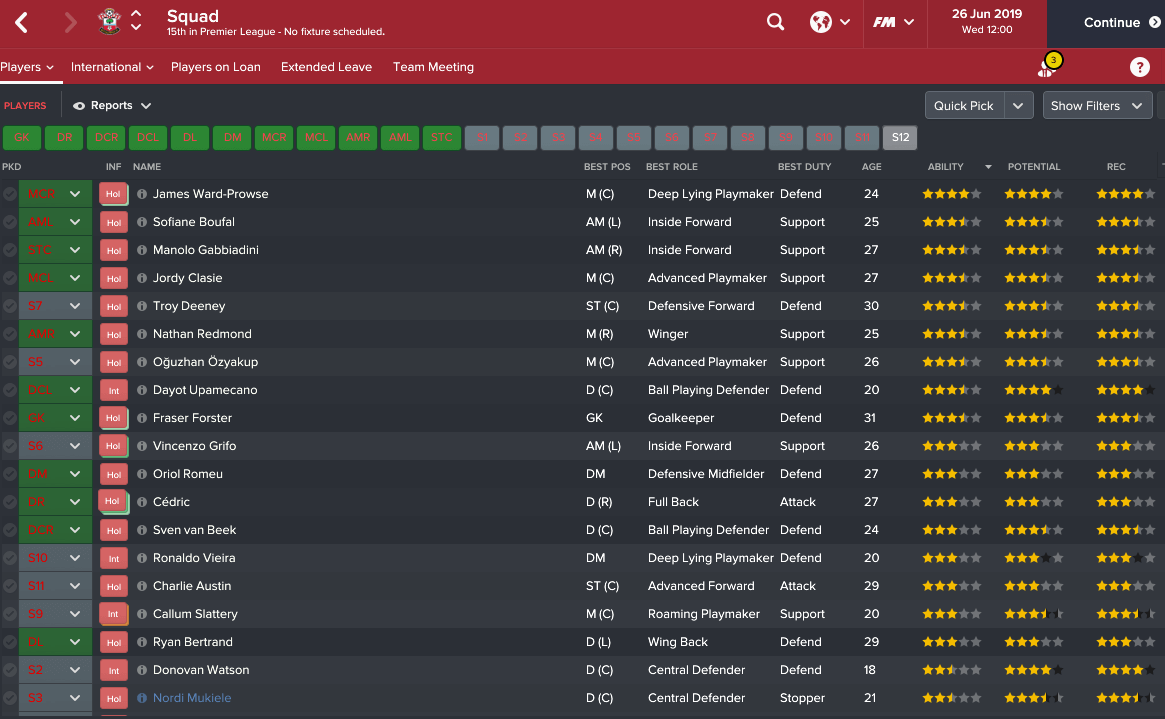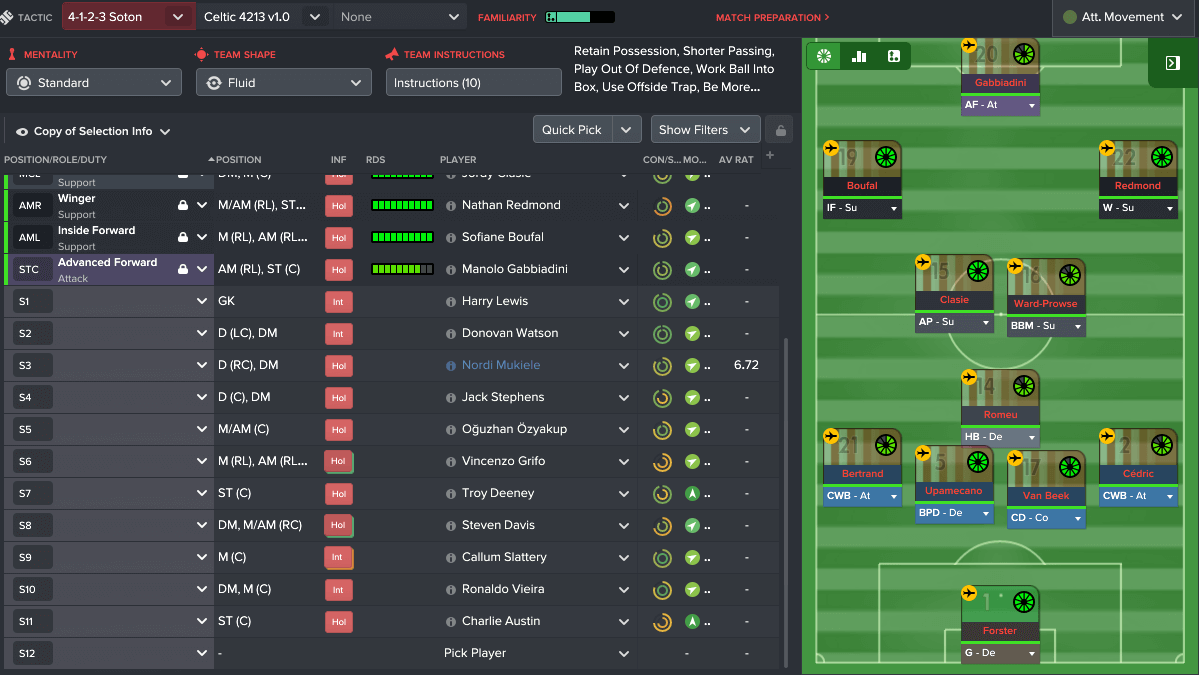 The players available mean that I can continue with the tactic I used at Celtic, with some minor adjustments to suit individual players. We will be playing a high-tempo, high-pressing style with the aim of dominating possession and creating chances. I will start with a Standard mentality, but I expect this will eventually become a Control or Attacking mentality. With the desired style of play, I believe that the players need to contribute in all areas, so a fluid shape will encourage them to get involved in all aspects of the game.
There are some strengths in the squad – we have one of the better goalkeepers in the league and strong options up front. Ryan Bertrand is also an excellent fullback and I expect he will chip in with assists in the same way that Charlie Taylor did for me at Celtic.
The weaknesses are at right-back. Cedric is the only right-back in the squad and he simply isn't good enough to play the fullback role that I want him to. That is likely to be a priority in the transfer window, along with a central midfielder that can play the Box-to-Box role in the manner that I like. James Ward-Prowse will be playing that role for the time being, but nobody else in the squad can successfully play that role. Having another option there would mean that I could utilise Ward-Prowse either as the BBM or as a playmaker, alongside the BBM.
The biggest concern is the poor work rate throughout the team. I like my fullbacks, strikers and wide players to close down often in an attempt to regain possession quickly, but none of my attacking midfielders possess great strength in these areas.
So, I need a right back, central midfielder and at least one AMR/L before I will be happy with my squad. I have a decent transfer budget, but there are also players that I can move on to generate funds:
Ozyakup has some great qualities and would be an excellent advanced playmaker or Trequarista in the AMC role, but his lack of strength and poor work rate mean he will be bullied off the ball in my team, and won't put much effort into winning it back. At £12.75m, there are additional transfer funds to be generated by moving him on.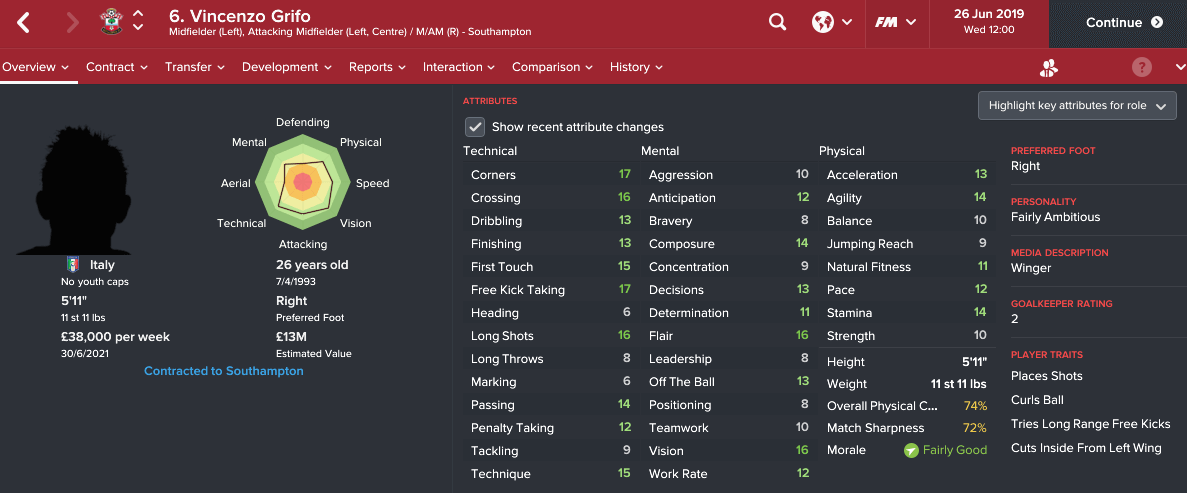 Grifo is a good option on either flank, so I might still keep hold of him, depending on what players I can bring in. He is valued at £13m and I believe I can find someone that can do a better job for me, so he could be moved on.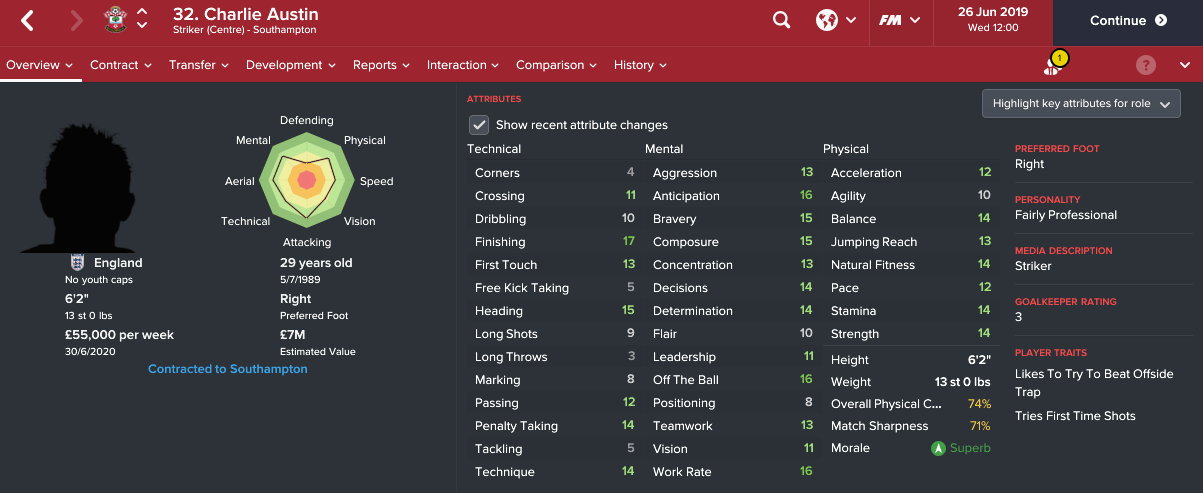 Charlie Austin is a good forward – and he is the type of striker I like – so selling him seems like an odd decision on the face of it. A quick look at his injury history, however, gives some credence to selling him.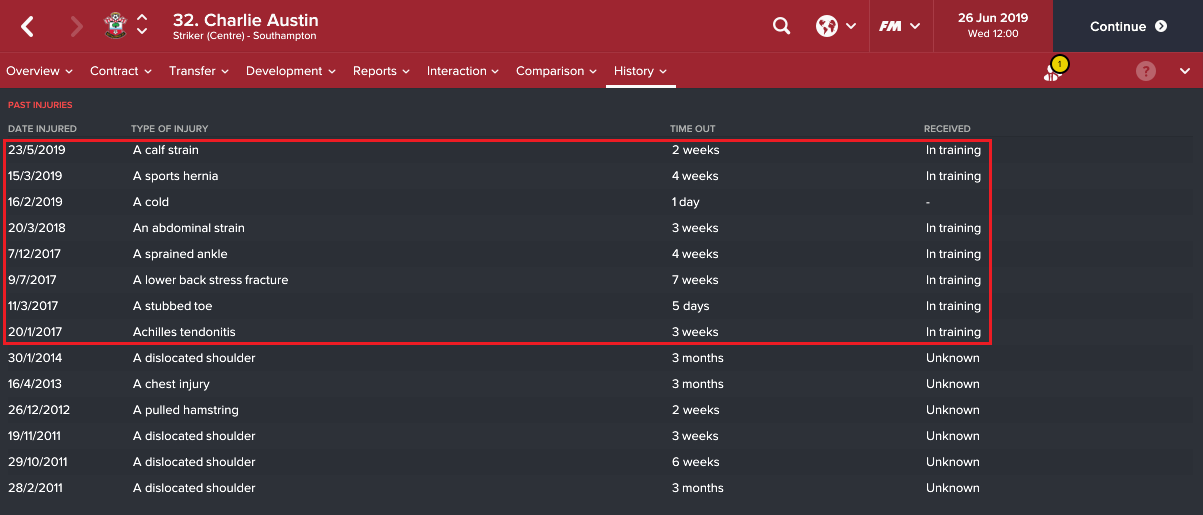 He's been injured regularly over the past couple of years, on top of a poor injury record previously, so I don't want to be lumbered with a player that's constantly going to be unavailable. At £7m and with 2 other players available to fill the lone striker position, there is good value in selling him.
So, who do I want to bring in? Well, let's first of all take a look at my old club, shall we?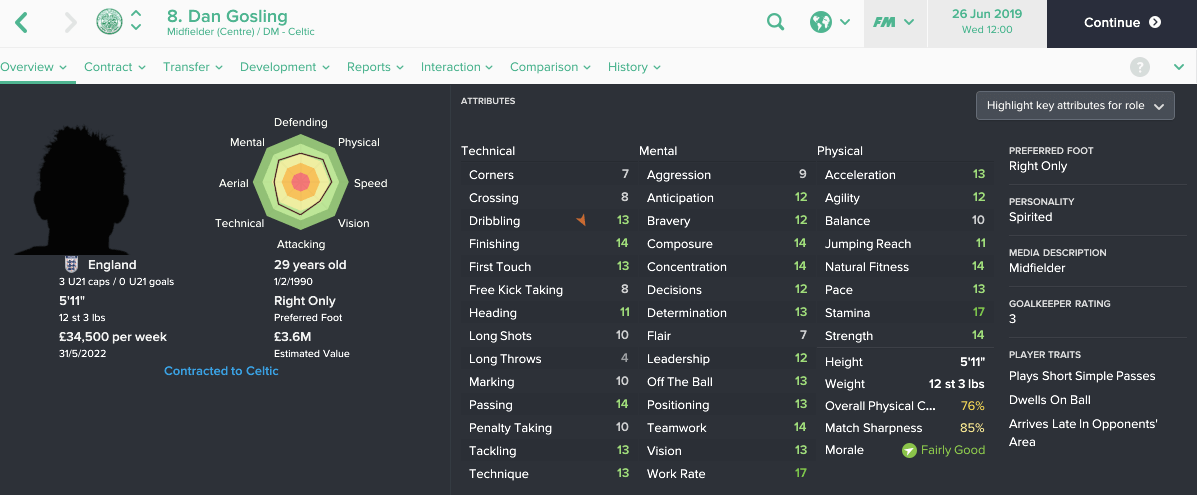 Easily my favourite player to put in the BBM role, Dan Gosling would bring experience, work rate and Premier League ability to the midfield. Having retrained him at Celtic to play as a DMC as well, he would bring cover for that position as well. If it weren't for a more pressing requirement for a right back, Dan Gosling would be my top target.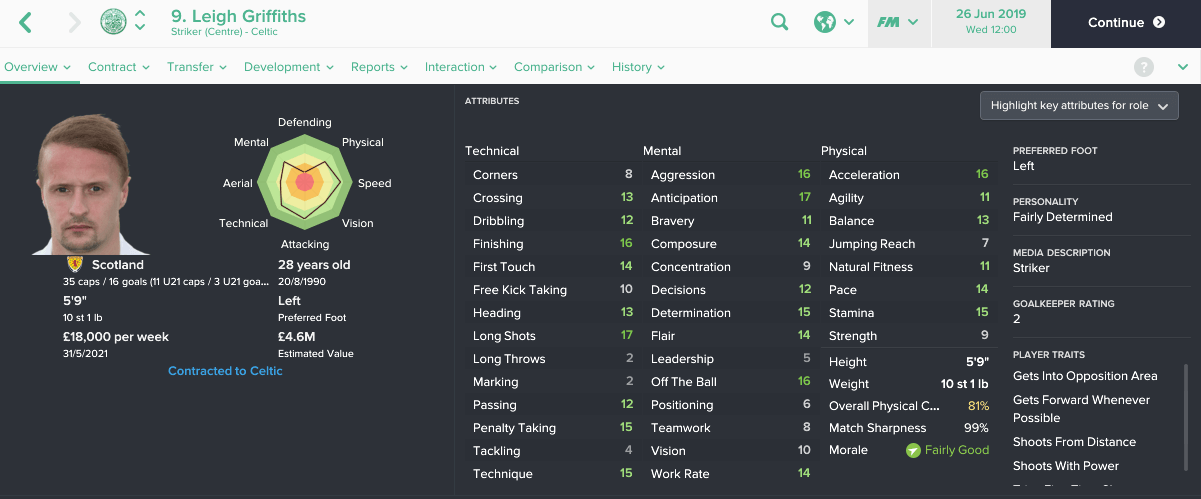 Leigh Griffiths is a player that I know can do the job I want from him in the Advanced Forward role. The only thing that could work against him is that the quality of football in Scotland is nowhere near the Premier League level. I might revisit this option towards the end of the window, if we identify a need for a new striker.
Other than those two, there are no real stand-out players at Celtic, which makes our achievement in Europe over the past two seasons even more remarkable. Charlie Taylor is a quality left back, but I have no need for him at this moment in time. Having said that, I will keep an eye on him, as well.
So, who else is available that could interest me?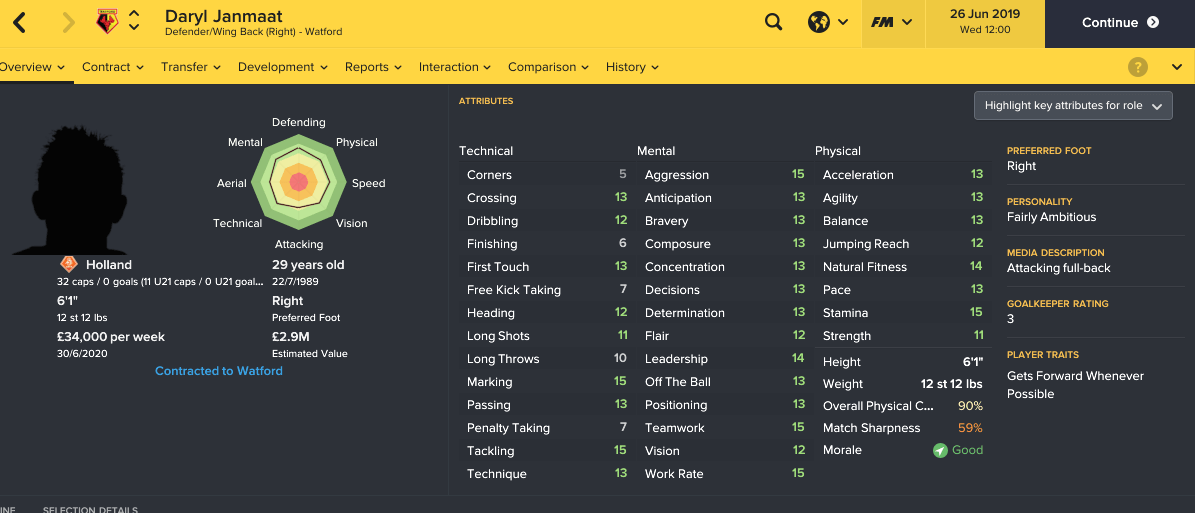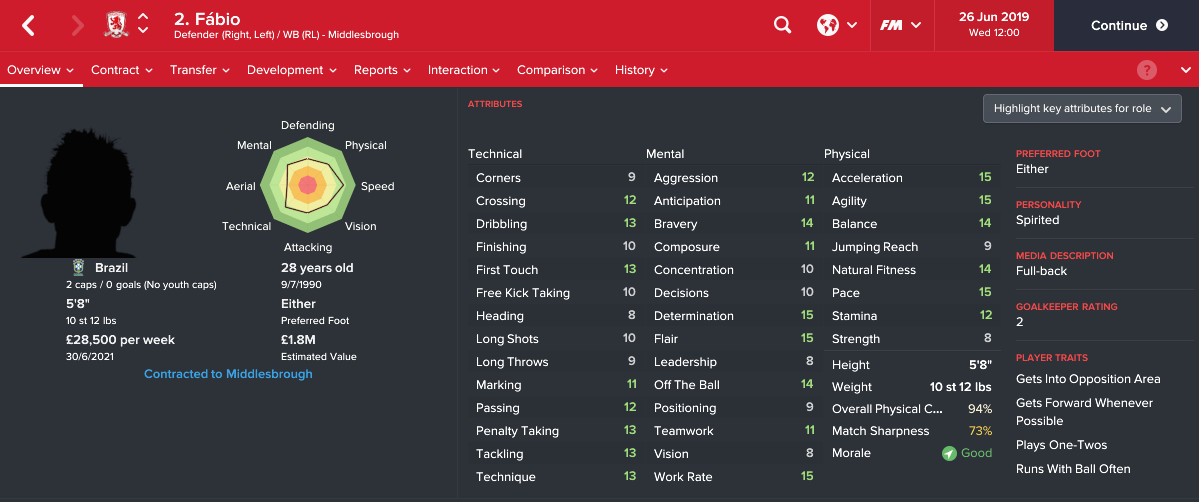 Daryl Janmaat looks like the perfect player for what I need from my fullbacks. First and foremost, he is a solid defender, but he also possesses decent crossing ability and a high work rate. These are important attributes in my system, so he is likely to be my top priority in the window. Failing that, Fabio is an option – and he may well end up coming in anyway, as he is versatile and capable. If I can't get Janmaat, I will be concentrating on Fabio.
Ahead of them on the flanks, Robert Snodgrass could be an option. He's getting on a little bit, but he still possesses quality and is a useful option for set pieces. He could be an option for the attacking flanks, but not if I can get this man: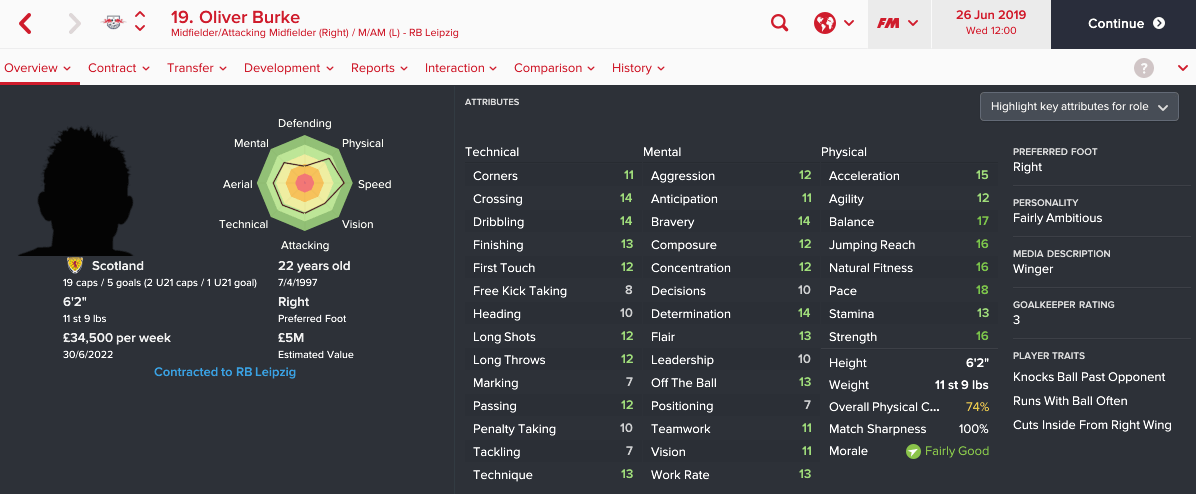 I watched him for 6 months at Celtic, but we could never afford him. At Southampton, however, we might be able to bring him in to add some quality to the side.
So, that's where we are at the moment – at the beginning of a new challenge to navigate English football during the fallout of Brexit. Next time, I will cover how we get on in the transfer market and adding to the staff, as well as pre-season and possibly the first half of the season.
Until then…