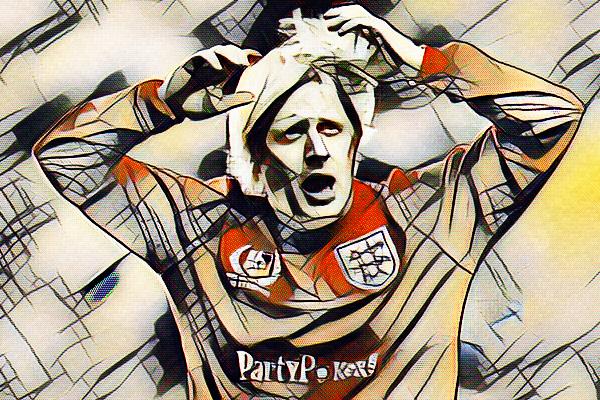 It is news you possibly could not have missed, with June 2016 referendum results, the United Kingdom will soon leave the European Union. If you are a European national residing in the UK, be aware that this article would not give answers to your questions. But, for how complex can Football Manager be at times, at least regarding Brexit, there are a couple of simple tips that can help you to face changing rules in British football and how to best deal with them in FM17.

Brexit is programmed to start at any date between 2018 and 2026, with an increased probability each passing year. Given the uncertainty that still surrounds the issue of the divorce negotiations between the UK and EU, SI developers have come up with various possible scenarios that are randomly triggered in FM17 saves.
NO BREXIT or SOFT BREXIT
This is the best-case scenario, in either of those cases the rules regarding foreigners will not change and EU & EEA nationals will still be allowed to move to British clubs without applying for a work permit or will be given the same status as "entertainers" with no real effects on you signings players.
NORMAL BREXIT
This is the most commonly triggered scenario, in this case, the UK leaves the EU and the European Economic Area. All non-British players, regardless of their nationality, will need to apply and be granted a work permit before playing for the club. Europeans footballers already in the UK will be given a special status and won't need to apply for a work permit.
There is also the possibility that League rules change completely and a limit on non-British players is introduced.
HARSH BREXIT
This is a rare scenario and the worst one. It can vary a little but it could include the possibility that even European players already signed to a British club will have to apply for a work permit. Moreover, there are some cases in which the Bosman rule is no longer applied and hence you will not be able to sign players on a free before their contracts actually end.
INDEPENDENCE SCENARIO
In this scenario, once Brexit hits, Scotland, Northern Ireland or Gibraltar can declare independence and remain in the EU. In such case, the change in rules will obviously apply only for Nations that remained in the UK, while the newly independent Country will continue to follow EU rules.
HOW WORK-PERMITS WILL BE GRANTED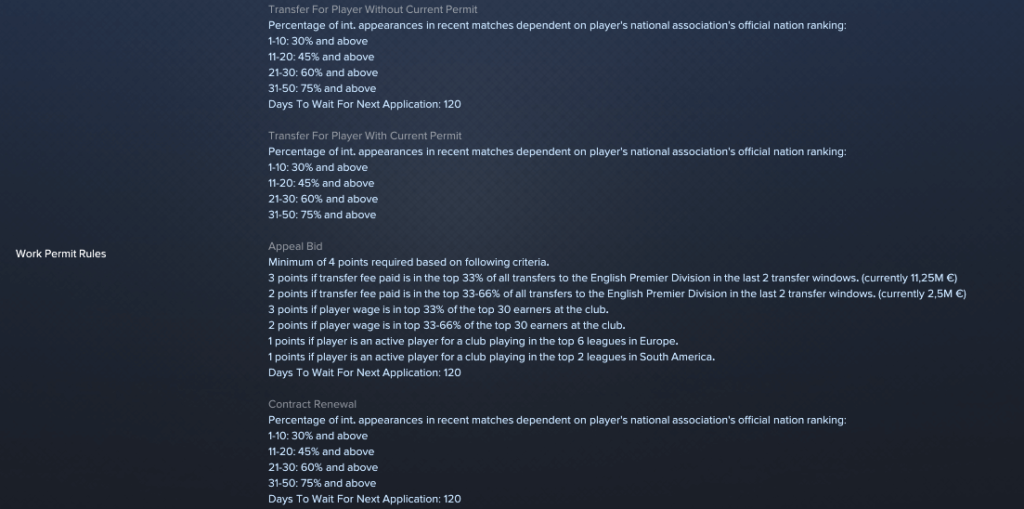 As you can see in the image above, the main factor for granting a work-permit is the number of international senior caps a player has. It means therefore that if you are signing an established player, there is no reason why a permit shouldn't be granted. Things can become more tricky, especially for younger players who, regardless their talent, still don't have enough, if any international appearances.
An immediate appeal can be made and there is a points system based on two factors, the financial impact of the players – more point are given to big transfers or to players who would become top earners. And the fact that the player is coming from one of the top 6 leagues in Europe or top 2 leagues in South America – Note that leagues in top 6, especially in Europe, are likely to vary a little in time.
Further appeal can be requested only after 120 days, so take that in mind you if you decide to go through a signing of a player with no work-permit.
HOW TO BEST PREPARE FOR BREXIT
Youth Development – Beef up your youth academy:
That is an obvious answer. An improvement to the level of your facilities and youth coaching will allow you having more and better regens coming out of your academy. Depending on which Brexit scenario you are facing, there is also the possibility that British footballers will increase in value. Youth development can be thus become a solid investment in and off the pitch.
Scouting – start looking for depth instead of width
Instead of sending many scouts abroad, why don't you start scouting English leagues and other British leagues like Scotland or Northern Ireland? England has 4 professional leagues – plenty of clubs and players – and many big clubs outside the EPL. Take advantage of that and you can find some gems. The Championship especially is a league where a lot of young talent is waiting for their big opportunity.
A little help from your friends – Look for & use affiliates
Taking into account how work-permits application works, you will be able to field only players that have already a solid International career (at least 10 caps) or that are playing in one of the top 6 leagues in Europe or top 2 leagues in South America. To have an affiliate in one of those leagues can result vital to get a work-permit. Imagine you signed a young Chilean player whose work permit is refused. The transfer can go through, but he will be ineligible to play in your league. You can send him on loan to a European club in order to increase the possibility that his work permit application is granted at the next appeal.
Some interesting evolutions can present themselves, like a change in the market value of British players or more wide-spread investment into youth development. Leagues like the Scottish Premiership or the English Championship can also see an increase in the influx of money from EPL clubs in search for eligible players.
As you could have already guessed, these rules changes and the work-permit system are surely to impact on smaller clubs much more than on a top six EPL side, as it is unlikely that a League 1 club could sign an established international player. On the other hand, smaller clubs aren't generally packed with foreigners and even in the case of a harsh Brexit, their squad building shouldn't change much.
Many Championship sides look particularly vulnerable though, as they are packed with non-British players but lack the reputation (in most cases) or the financial ability to attract players who are surely be granted a work permit.
At the end though, it is all about planning ahead and having a long-term vision for your club. As anything, Brexit can actually become an opportunity to spice up your save and for you to be confronted with a changing scenario – isn't it what managing is all about?
You can also check the great series here on the Tempo on Brexit Bournemouth & Celtic to see how they're coping with this twist in British football.
Thanks for reading! If you want to continue the discussion, I invite you all to comment the article. And while you are there, check my profile and hit me on Twitter to keep in touch and see what else I've been up to recently!
A special thanks to Keysi Rensie and FMcmp1985 for sharing their experiences and views on Brexit in FM.