THE OBJECTIVE: TO MANAGE MY HOME TOWN CLUB, DOVER ATHLETIC, IN THE NATIONAL LEAGUE. DOVER HAVE NEVER PLAYED LEAGUE FOOTBALL. I AM GOING TO TRY AND CHANGE THAT.
August
Bleep Bleep Bleep. The early morning alarm awakens me from my slumber. North Wales is the destination of todays opening game. Wrexham, who were a Football League side not so long ago, will provide stiff opposition no doubt. The drive is a long tedious one, with plenty of roadworks disrupting our journey, a sign perhaps? The lads seem relaxed as there is plenty of banter going on behind us. Some of the boys have now got nicknames, I think it helps with the camaraderie. I send Jake back there to find out whats going on. Ricky Miller has fallen asleep and Ricky Modeste has stolen his favourite red hat. They have hidden it in the toilet, much to the delight of his team mates. We arrive in Wrexham, the place is buzzing with activity. People lining the streets, shouting, hollering and what not. Hey Jake, look at this. They must have heard about me from Sky Sports News. Jake shakes his head and points to a sign which reads " Wrexham Carnival, Roads closed " Turned out the driver had taken us down the wrong road.
My first team sheet read as follows: Walker, Magri, N'Gala, Grimes, Sterling, Modeste, Richards, Parkinson, Pinnock, Miller, Lafayette.
We get off to a cracking start. Miller was unlucky not to score, lashing the ball onto the bar from 18 yards out, then Ross Lafayette works the keeper from a neatly worked drive. Then it happens, 38 minutes on the clock, Magri drives down the right, swings in a deep cross for Lafayette to Head home. Boom! I tell the boys at half time to keep doing what they are doing. A minute after the restart and Lafayette again is foiled by the keeper, this time though he spills it and Mitchell Pinnock is on hand to tuck away the rebound. I'm off down the touch line, Mourinho like, arm in the air, then bang! the linesman's flag is up. Cue fifteen hundred Welsh supporters telling me to sit back down…or something along those lines?! Its all going well till the sucker punch, 81 minutes on the clock and with their first meaningful attack, Wrexham score from a well worked move. A minute later and we are losing. A quick free kick catches us out and before you can say " Newyn Cefyn Druids" we are 2-1 down. The ref blows for full time, we have our debrief and board the coach.
The good thing about football is for every bad result you may have, there is always a game just around the corner, in which you can put it right. In this case its three days later, a Home match against Boredom Wood. Or should I say "Boring Wood". A 0-0 draw with very little to get excited over. 962 fans turned up to see my first league game at home, I would imagine they wished they had stayed at home! Onto the next and again we are hosting. North Ferriby were recently promoted and come to Crabble. After two games in which the same eleven started, it was time for a change. Aswad Thomas comes in to replace Tyrone Sterling at left full back and Jim Stevenson comes in for Jack Parkinson. Parky took a little knock against Boreham. At last, a resounding victory to get our season underway. Matt Richards, getting both goals from the penalty spot. Miller and Lafayette both hitting the woodwork, in what was a very one sided contest. On a positive note its also two clean sheets in a row. Progress if I do say so.
Sitting in my office, I notice that there are mountain of player reports on my desk. Players released from clubs all over the country, young and old. I like the look of a David Fitzpatrick from AFC Wimbledon, right midfielder who looks like he would fit right into this team. I send George Rooney over to go suss him out. Jake comes in, wants to know if I've picked the team yet for Eastleigh away. Moses Emmanuel has been making noises about not starting. Ill have a chat with him tomorrow.
Off to Hampshire to face Eastleigh, a club hated by Dover's supporters due to their throwing many around ways. Ross Lafayette has a cold so in comes Moses, while James Caton replaces Modeste. Eastleigh start like a house on fire. Two absolute world class saves from Mitch Walker, keeps the scores level. The second half begins with us on the front foot. A long ball into the channel for Moses to chase, is laid back into the path of the oncoming Ricky Miller, who fires a 20 yarder into the bottom left corner. We are in the ascendancy and soon double our lead with a neat finish from close range by Moses. From theses early games in the season I can see that my team struggle to see out games. Two late goals from James Constable ensures we only leave Hampshire with a point.
I decide that the portacabin needs a make over. Down go the old black and white pictures of footballs greats, Pele, Best and Ade Akinbiyi. Up in their place will go the great Johan Cruyff. My management philosophy would definitely be similar to the great Dutchman. As I'm perched on my swivel chair, hammer in hand, my phone rings. Hello? The voice on the other end is a very strong Welsh accent. TNS have dominated Welsh football over recent years and are in the qualifying rounds of the Champions League. Richard Orlu, the janitor, as the Dover fans like to call him, is the subject of the call. They offer me 14k hard cash. Orlu is called into the office. I can't compete with Champions League football at this level so I wish Richard all the best and tell him he's always welcome back if things don't work out. Sitting in the office reminds me, I must get some febreze.
Barrow come to Crabble and yet again we score by a penalty. Richards again tucking the ball past the opposition keeper. Now there is a recurring theme here. With only fifteen minutes to go, we collapse again. Two long balls over the top are our undoing and we go home suffering a 2-1 defeat. I let the boys know in no uncertain terms that I am far from happy from that performance.
The last time I was down the South West, I was on a jolly with the boys in Newquay. This trip to Torquay was anything but jolly. Ricky Modeste sees red after 32 minutes and its an uphill battle there after. We manage to hold out to the last ten minutes, when fatigue kicks in and we concede two soft goals. I praise the team for there near heroic effort, playing an hour with ten men. Modeste is called into the office on Monday Morning. Ricky, you cant go clattering into people two mins after getting a yellow, you let me down, your team mates and yourself. Sorry Boss, won't happen again. Your right it won't, otherwise it will be hitting you in the pocket.
Peter Meads rings me, turns out David Fitzpatrick is interested in coming to Dover. I make the call to AFC Wimbledon and we get the deal over the line for 3k. Welcome to Dover, Fitz.

The seventh game of a gruelling first month. Two long trips across Britain to boot! Aldershot come to town, with play off hopes of their own. What a start! Lafayette returns for Moses and is on fire. First, his neat link up play with Miller, sees Ricky smash a half volley into the top right corner. Miller then turns provider for Lafayette, who finishes with aplomb. A corner from Richards is powered in by Ross. 3-0 at half time. Ricky Miller scores a neat finish early in the second half to put any nerves of a collapse to bed. Aldershot manage to grab a couple of late goals but all in all I am over the moon with the performance, specially the front two.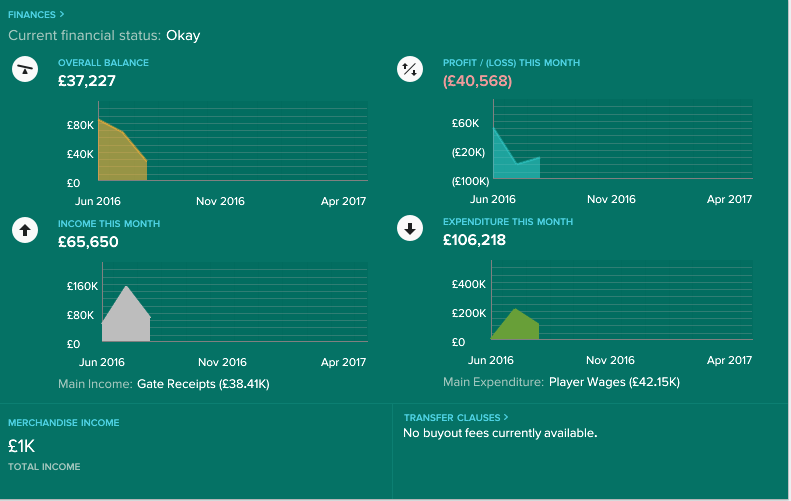 End of the month means one thing, I'm to visit Mr Chairman's office. Walking through the door I notice no Jammy Dodgers this week, which is no surprise. The club is leaking money like a sieve. Not a spectacular start to the season, but not a bad one either. We are yet to win away, which we need to address, sooner rather than later. Overall, Jim is pleased with the start with have made.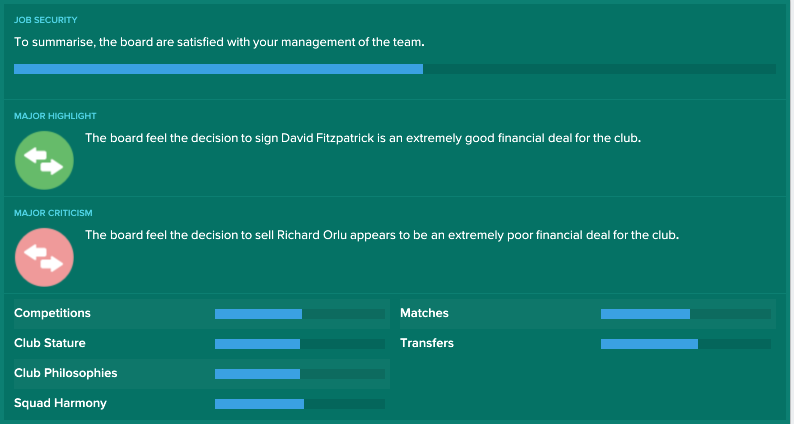 Leaning back in my chair at home I notice a message on my phone from Ricky Miller. Hi Boss, just a quick one. Have you seen my red hat? Those boys, love a wind up. Seven games down, Sitting in mid table, long, long way to go yet. I am optimistic.