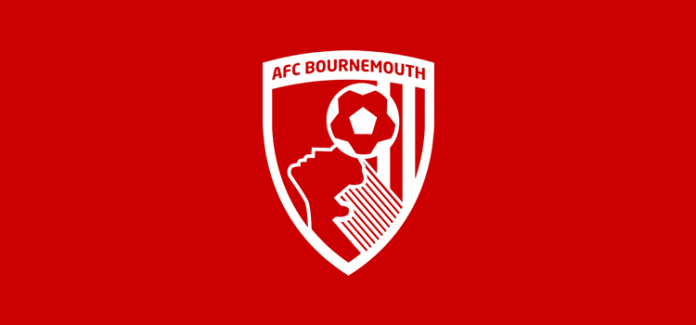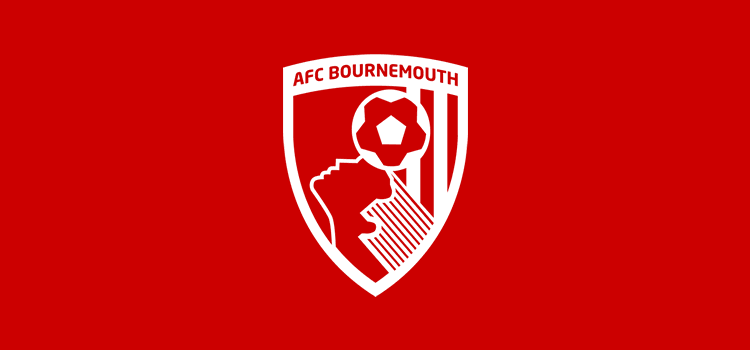 José's Manchester United side might have left us for dead in the title race in each of the last two seasons, but they're no match for us on the grandest stage of them all: the Community Shield at Wembley.
A 1-1 draw after Barkley cancelled out Dybala's opener extended our unbeaten run against United to three games and, when the extra half an hour couldn't separate us, the game went to penalties. Jack Butland stood up tall to deny Dybala and James Rodríguez from 12-yards, leaving Calum Chambers with the opportunity to score the winning penalty – an opportunity he clasped with both hands.
With our inaugural piece of silverware for the season safely secured, we ventured the entire length of the country to Newcastle, where we faced off against an old friend. Paul Scholes left our coaching staff to become manager of Cardiff City and it looks like he's moved onto bigger and better things since then.
Well, better for him, but not necessarily better for Newcastle United based on this performance. We stuff them 4-0: Brendan Galloway, filling in for a suspended Charlie Taylor, gets us started by overlapping and rifling home a shot into the near post from an acute angle and then it turned into the Saido Berahino show, as he netted himself an opening day hat-trick. We finished with 35 shots and 67% of possession. Best of luck for the rest of the season, Scholesy.
While that was a nice way to ease ourselves into the new campaign, our next game represented our first proper test: Man City at home. We pass the test with flying colours. The game is decided by our midfielders, who display a level of dynamism that City just couldn't keep up with. Lewis Cook slides the ball between centre-back and full-back for Ross Barkley to prod past Joe Hart; Jack Wilshere tickles in a direct free kick from the centre of the pitch; James Ward-Prowse jumps off the bench to provide an assist for Cook's first time shot across the face of goal and then curls a corner onto the head of fellow substitute Danny Ings to make it four.
It wasn't all one way as Michael Keane foolishly gave away a penalty which Butland managed to save, and Christian Pulisic hit the post from a one-on-one before going on to find the back of the net five minutes later. Still, we walked away with a 4-1 win and it looks like we have goals coming from every area of the pitch.
Two days after I'd sold Giorgian De Arrascaeta to Juventus, the Champions League draw takes place and, surprise surprise…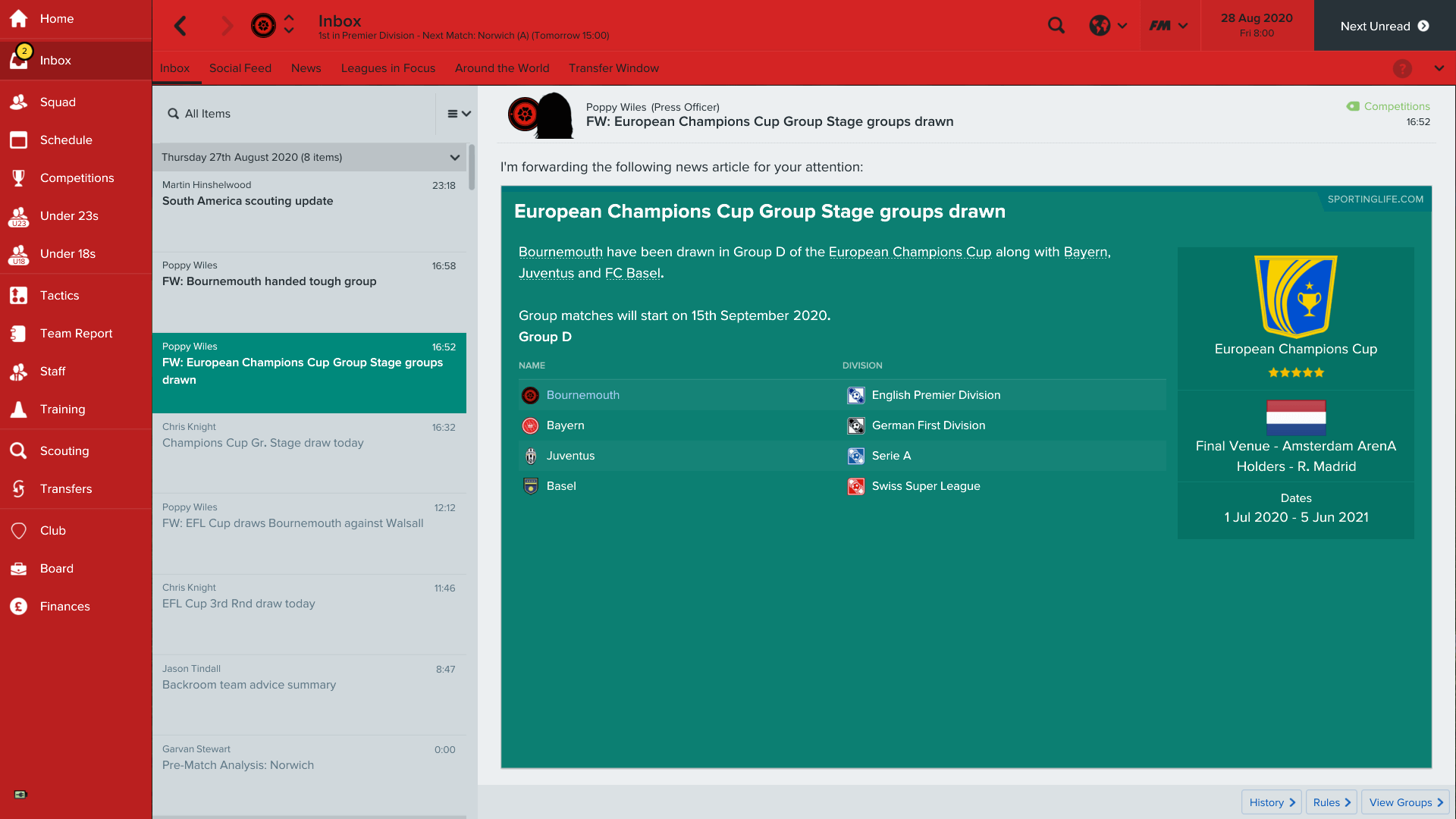 … we draw Juve. Where last season's group was relatively kind to us, this year it's been brutal. We're still in pot 4, despite progressing out of the group stage last season, so this sort of thing was always a possibility, but we're going to have our work cut out here.
Those goals that were flying in from everywhere appeared to dry up when we journeyed to Carrow Road and suffered the first major set back of the season against one of our bogey teams. Raheem Sterling, having made the move to Norfolk, dribbled in from the left wing and spooned a right-footed shot into the far corner, Thierry Henry style, to give Norwich the lead. Michael Keane then contrived to give away a penalty for the second consecutive game and this time Butland couldn't bail him out, as Naismith doubled his side's advantage. A desperate switch to Overload yields a debut goal for Tammy Abraham after some diligent work by Danny Ings, but it's no more than a consolation as we lose 2-1.
It's a frustrating result and losing unnecessarily to weaker teams was a real hindrance for us last season. We need to cut that out immediately. A resilient performance against Southampton helped to get things back on track and although there was only one goal in the game – a tidy Ravel Morrison finish at the end of a marvellous passing move – Saints never truly threatened us.
Next up is our first European game of the season against Juventus at home. Thankfully they start without De Arrascaeta in the squad, allowing us to avoid an inevitable goal for him. That relief doesn't last long as it only takes Gonzalo Higuaín twelve seconds to barrel his way through our defence and put his team in front.
Remarkably, rather than crumbling to a heavy defeat after such an early set back, we showed a bit of spine for a change and turned the game around before half time. Adam Smith teed up Berahino for a tap in with a cross from the right wing and Saido's half-hearted strike from the edge of the box slipped through the fingers of Ron-Robert Zieler to make it two – the post-Buffon era is obviously a dark one for Juve. We eventually ploughed through a bit of a slog of a second half to cling on to an important win.
The Juventus connection continued in our next match, as we travelled to Burnley who have, somewhat incongruously, just appointed Fabio Grosso as their manager. Fabio had obviously managed to instil some catenaccio into his lot already because they choked our attack for almost an hour. Berahino picked up a knock and as I'm weighing up options to replace him, he nicks in front of Ben Mee to poke home a cross.
A defensive substitution fails to kill the game for us and Ezequiel Ponce clouted a shot home from twenty yard to seal a draw for his new manager and we head back south having dropped another two points.
The 3rd round of the EFL Cup set us up with an away tie against Walsall, who are managed by none other than John Terry. Unlike Grosso, Terry has failed to impress his own defensive abilities on his team as we slaughtered them. It's only 1-0 to us at half time, but we have 18 shots to their 0. In the second, we add two more goals from Abraham and Rossiter and come away with a 3-0 victory.
The confidence boost from such a comprehensive win doesn't last long as Felipe Caicedo's left-footed curler from the edge of the box put us on the back foot early on against Stoke City. Tammy Abraham played a key role in getting us back in the game – hitting a shot against the post that Berahino gobbled up on the rebound, followed by scoring a goal for himself shortly after – but Caicedo grabs his second to level it up again.
The game is played at supersonic speed and our frontline looked terrifying whenever they ran in behind. We eventually steal a winner when Adam Smith's overhit cross deflects into the path of Saido Berahino, who was practically standing on the goal line when the ball hit his chest, much to my relief.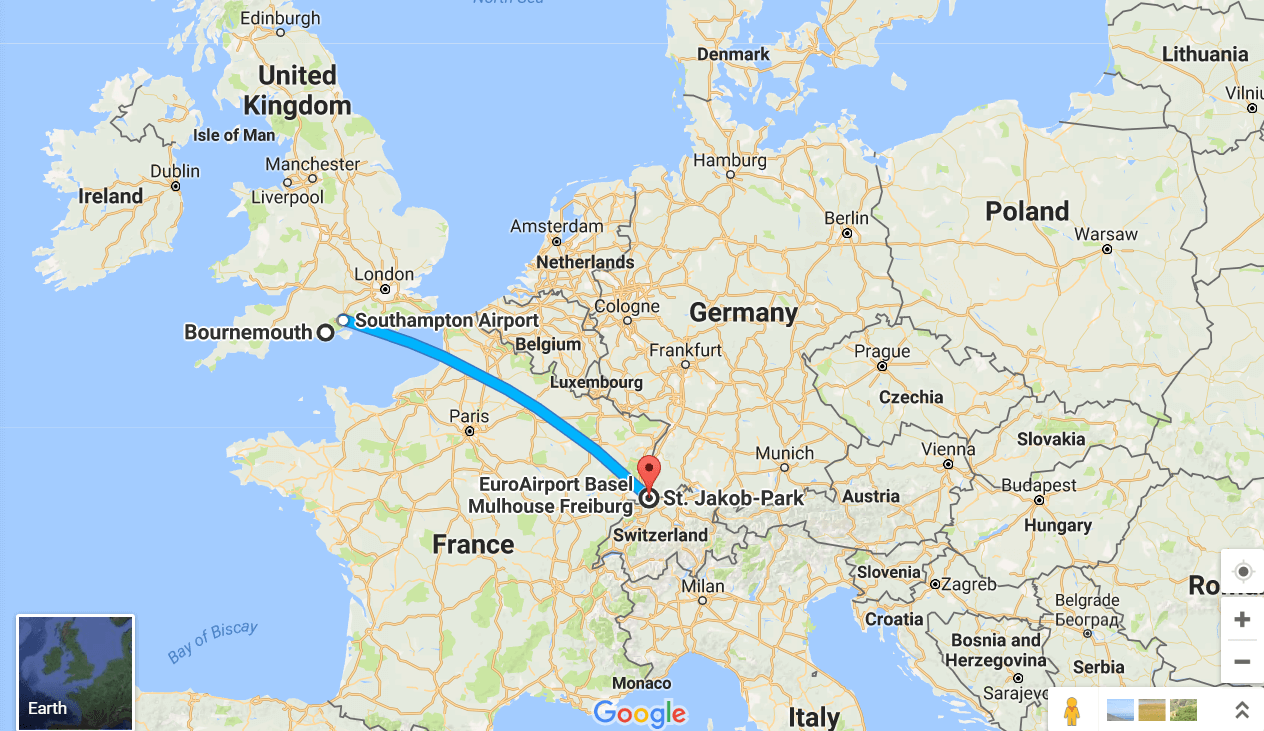 That electrifying pace is the difference in our next Champions League fixture as we proceeded to destroy Basel on their own patch in one of the more memorable 45 minutes of football ever played.
We may have let Higuaín score early against us last time round, but this time it's our turn to start quickly as Berahino chases onto a lofted pass from Tammy Abraham inside the first minute. Fifteen minutes later and James Ward-Prowse had another opportunity to cross after his corner was half-cleared and he picked out a lurking Berahino inside the 6-yard box.
A minute after that, Abraham rattled in a blistering drive and then we just go into overdrive: Berahino nicks his hat-trick when just over a quarter of the match has been played; Galloway glances in a header at the near post; Wilshere taps in at the back post from an Abraham flicked header; and Berahino takes advantage of an awfully organised defensive line to score his fourth.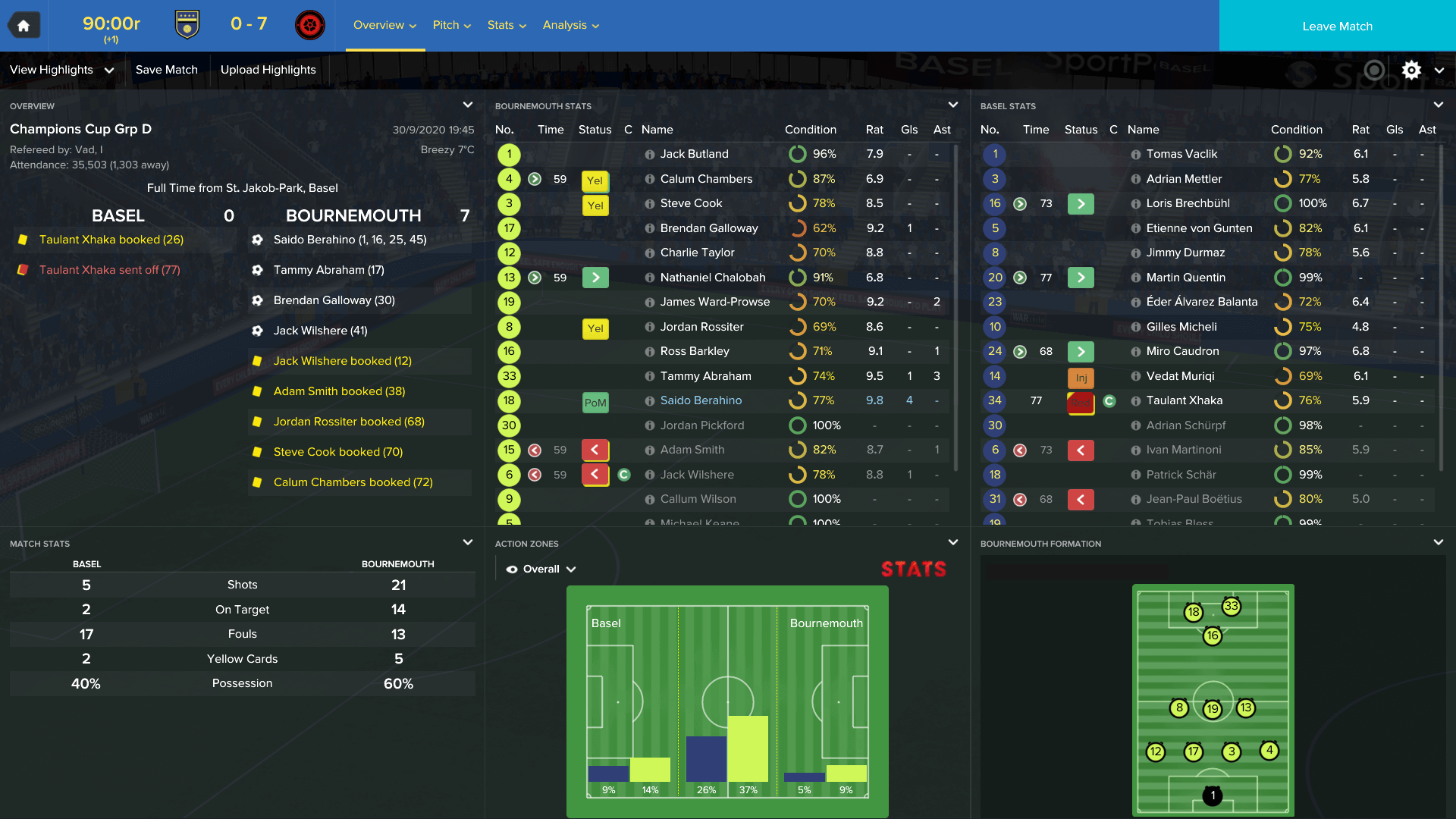 Taulant Xhaka takes the shine off it a bit by picking up a second booking with ten minutes left, but the damage had well and truly been done by that point. It's a ludicrous result and performance: four goals for Berahino (13 in 7 for the season now) and three assists for Abraham.
But rather than being a platform for further success, that comprehensive win heralds the start of a terrible run of form that sees us lose five games on the spin.
First is an agonising defeat at home to Spurs. After keeping them at bay for almost the entire game, Dele Alli breaks our hearts by arriving late onto a cutback in the 87th minute to win the game 1-0.
The next game against Brighton should have been a foregone conclusion given our outstanding record against them, but we conspired to lose 2-1. Lingard's deflected cross fell kindly for Anthony Knockaert to make it 1-0. We equalised when JWP's free kick thumped the bar, dropped into the area, hit Kondogbia's knee, and trickled over the line. Brighton went on to score the winner with a free kick of their own from the right boot of Oliver Norwood.
Even more damaging than those back-to-back league defeats is the Champions League loss to Bayern at home. Staggeringly, we raced into a two goal lead inside the first ten minutes thanks to Rossiter and Berahino. A spell of Cherry domination ensued until Bayern caught us on the break from a corner and Lewandowski scored their first shot of the game.
The rest of the match seemed to be a collision of all of the worst aspects of my management in this file: throwing away a comfortable lead, an inability to defend properly, a lack of a cutting edge, and being undone by my opposition's attacking efficiency.
Despite trying to close the game out, Kingsley Coman equalised and Douglas Costa stepped inside Charlie Taylor and bent a left-footed shot into the opposite top corner to win the game 3-2. Bayern had three shots on target.
The lads were deflated after squandering such a brilliant opportunity, and it showed in our next game at 19th placed Everton.
Ross Barkley reminded his boyhood club what they've been missing out on with a close range effort to give us the lead, but Gerard Deulofeu wreaked havoc down their left wing, providing assists for Roberto Pereyra (also their first shot of the game) and then, after bamboozling Chambers, he rolled one square for Milik to emphatically finish.
While we were losing three consecutive league matches, United continued to steamroller everyone in their path, which means the gap to 1st place is now nine points.
The EFL Cup fourth round offered a bit of respite and Oakwell was our port in the storm. In a slightly desperate attempt to freshen things up, I chucked in Dario Cantarelli (already suffering from male patterns baldness at just 16 ,it seems) and he ran Barnsley ragged. Cantarelli tapped in the opener from a Chambers cut back and then turned provider for the full back by slipping him through to make it two. In the aftermath, Dario is called up to the Italy under-19 squad, but I withdraw him; he's still English… for now.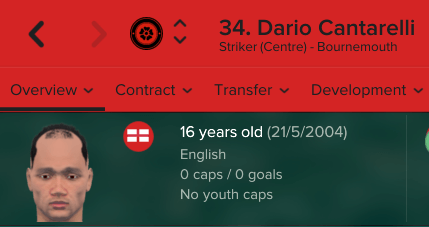 A comfortable win was just what the doctor ordered and it seemed it did plenty to restore our confidence; we see off Chelsea in our next league game, courtesy of a Taylor cross for Chambers and a powerful Berahino shot at the near post.
In a bid to keep this positive run going in a tricky away game against Bayern, I set up in the deep-lying 3-4-3 and pray that we can throttle their attacking prowess. It works like a charm, even if Coman caused us all sorts of problems once again. We even catch them on the break when Morrison backheels the ball past Mats Hummels and Wilshere rushes onto the pass and stabs it in. A commanding display from Keane kept the Germans' offensive threat to a minimum and we jumped back on the plane with a massive 3 points in the bag.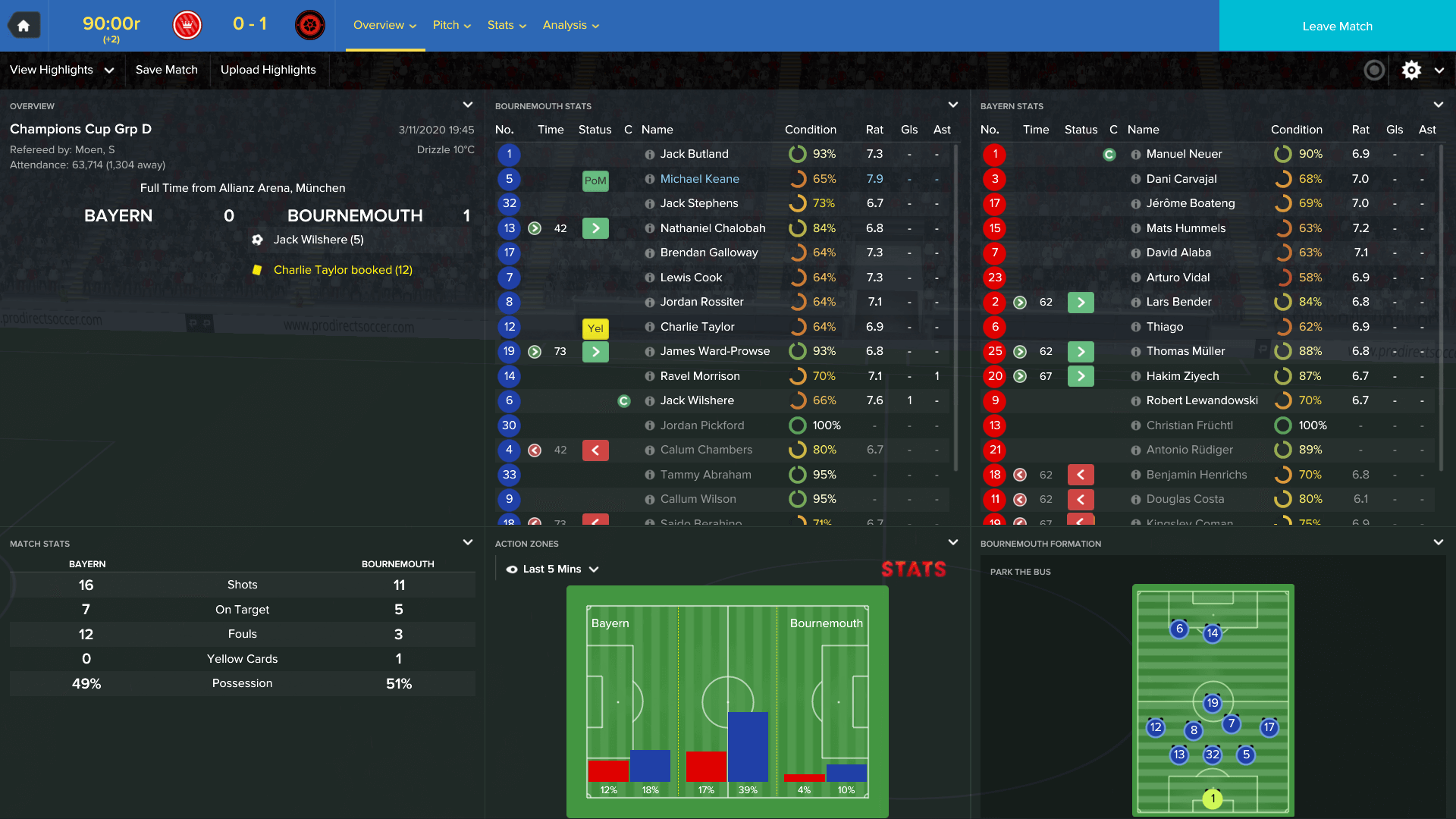 That gives us a real chance to progress from an exceptionally tough group. It'll still come down to the last game against Juventus in Turin, but at least it's in our hands.
With that match looming on the horizon, the next two league games seem to shrink into insignificance. Luckily we managed to navigate them with ease. Sunderland are dispatched 2-0 with goals from Barkley and Wilson and the two of them team up to help demolish Leicester: two early left-footed efforts from Barkley are followed by a clever spin and shot from Wilson and then Berahino rounds things off as we win 4-0. (As an aside, Michael Keane gave away yet *another* penalty, but Shelvey hit his effort straight at Butland. I have no idea why this is happening or how to stop it).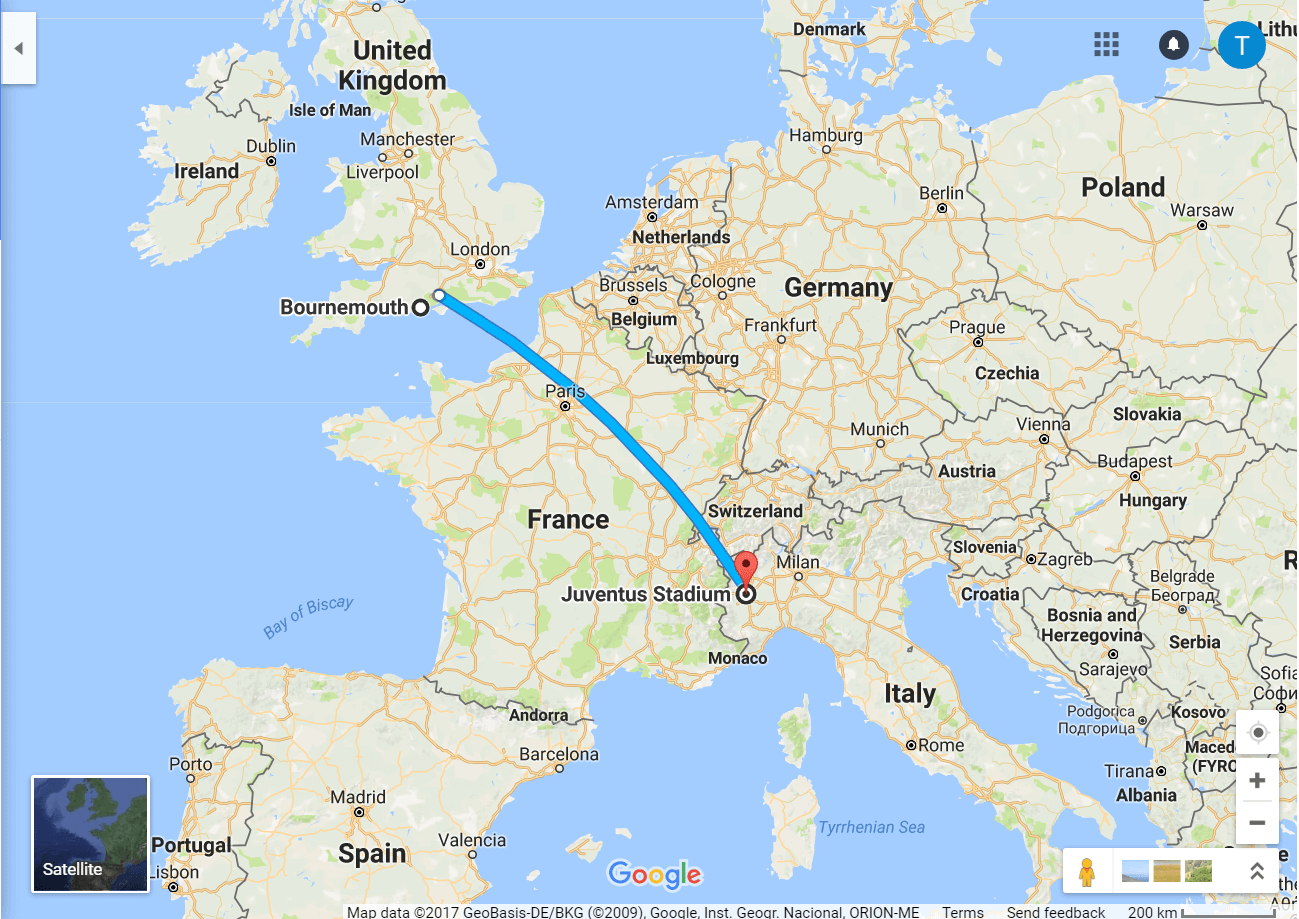 The away game against Juve is an unmitigated disaster. As soon as I saw that De Arrascaeta was starting, we were effectively 1-0 down already and, sure enough, it only took him fifteen minutes to do the damage. Butland then let Alberto Cerri's long range ping slip through his grasp as the Italians doubled their lead, but Butters quickly redeemed himself by saving Cerri's penalty when Keane gave away his fifth penalty of the season. That defeat means that the group will go down to the final round of fixtures – if we can beat Basel, we'll qualify. At least we are in control of our own destiny.
We pick ourselves up, dust ourselves off, and pull off a potentially monumental result in the next game. United turn up at the Bournemouth Stadium as the runaway league leaders for the third year on the spin, but we drag them back down to our level with an impressive 2-0 win.
Dybala's attempts at replicating the Hand of God are thwarted when his near post 'header' is ruled out for offside – finally some justice for Englishmen when it comes to hand-related atrocities committed by diminutive Argentine forwards – and from the resulting free kick, we broke forward at speed and Berahino put us in front. Soon after, Wilson is granted an identical opportunity to the one Berahino scored, but hits the posts. With the minutes trickling away, Wilson finally managed to get himself on the score sheet with a curling shot from the left side of the box.
The gap is now 6 points, which is still a decent cushion for United, but we're in with a shout if they slip. That victory launched a wonderful run of form in the league for us, although the EFL Cup was another story.
We're knocked out at the quarter final stage by Norwich. The game finishes 1-1 after Berahino and Barkley are brought off the bench and link up to equalise but we're undone on penalties – Chalobah misses our fourth and Norwich score all of theirs.
Never mind, it wasn't a major priority for us this season and hopefully we'll reap the rewards of a lighter schedule.
Any frustrations we may have had at being eliminated from the cup are taken out on West Ham. Barkley lays on a pair of goals for Berahino – a double act which is fast becoming one of the most prolific in the league – and Wilson grabbed one for himself before Berahino sealed yet another hat-trick in a one-sided 4-0 victory.
We go one better against Basel in our final group game, though. Chambers and Smith are both injured before the game, so Steve Cook fills in at right back and has an absolute stormer, grabbing assists for Rossiter and Berahino and then scoring one of his own with a scorcher from just inside the box. That 5-0 win means we finished 2nd, a solitary point behind Bayern and sets up a tie against PSG in the next round of the competition.
Wolves are the victims of a second consecutive 4-0 victory in the league and Steve Cook got another assist before blemishing his recent good form with a pair of bookings collected in the final twenty minutes of the game.
The clean sheet run continued in a tedious 0-0 draw with Arsenal. I set us up to asphyxiate the game and Arsenal could find no way through our defence and when they eventually did, Jack Butland put in a man of the match performance to shut them out.
That just left us with three matches against relegation-threatened sides over the Christmas period. While it may look like a favourable run of games on paper, these are the sorts of matches where we've traditionally dropped points so they might provide a decent indication of how the rest of this season will pan out.
If that's the case, then the rest of the season is going to go well. We sauntered through these games with a two-goal winning margin in each. Leeds and Newcastle are beaten 3-1, with usual suspects Berahino and Barkley providing most of the goals, and we dominate Fulham on Boxing Day to the extent that they fail to register a single shot on goal throughout the entire ninety minutes: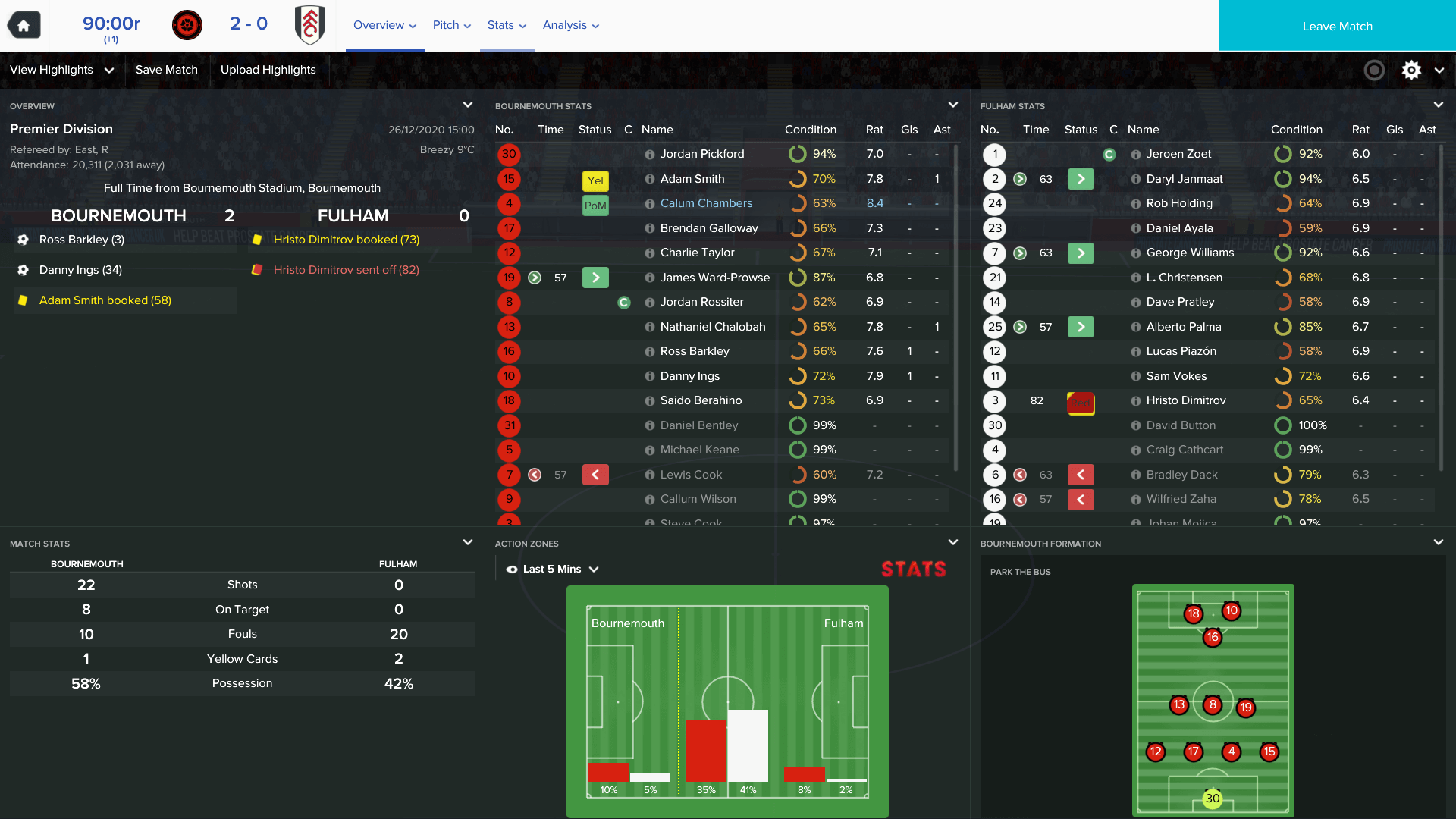 Which left the table looking like this at the halfway point: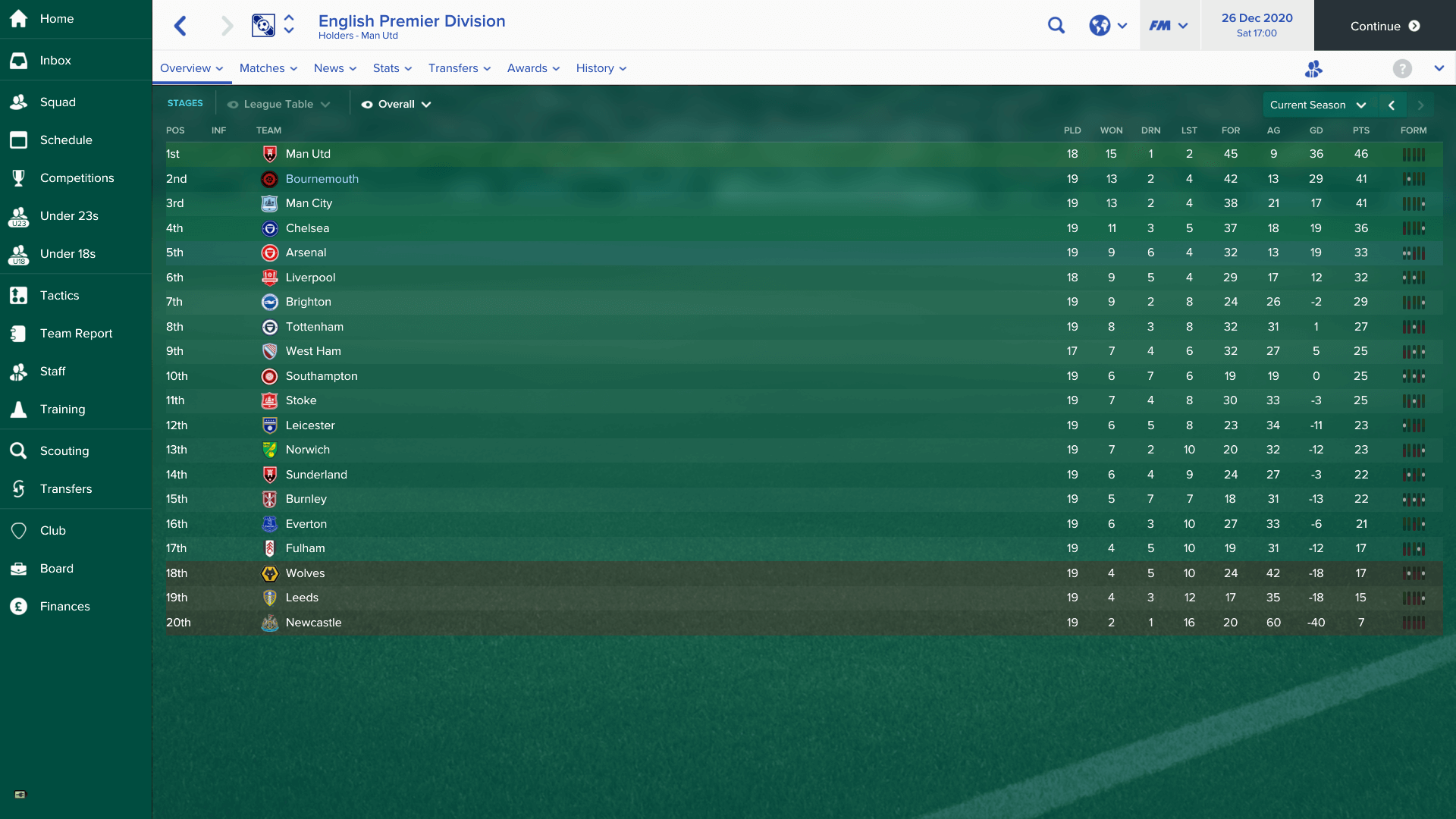 United are still bossing it and José's got them back to conceding just once every other game. It's going to be tough, but all we can do is continue to put points on the board and hope that they go through a rough patch. At least we're where we are on merit – we have both the second best defensive record and the second most prolific attack.
Essentially, we need some of the other top teams to do us a bit of a favour in their games against United if we're to stand any chance. We also realistically need to go through the rest of the season unbeaten. In their last two title winning seasons, United have lost four and five games; we've already lost four. It's not out of the question, but something fairly radical is going to have to happen for us to get our hands on the trophy.
Perhaps a better bet would be to focus our attention on the Champions League – it would, after all, be extremely Brexit to conquer Europe. PSG are a formidable team but, if we play our cards right, they're certainly beatable.
After four and a half seasons of toil and turmoil, it's down to this: we're into the final stretch. It's all going to come down to these next few months. Let's be 'avin' you.