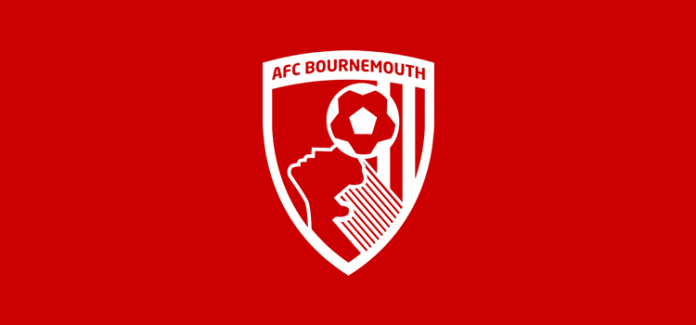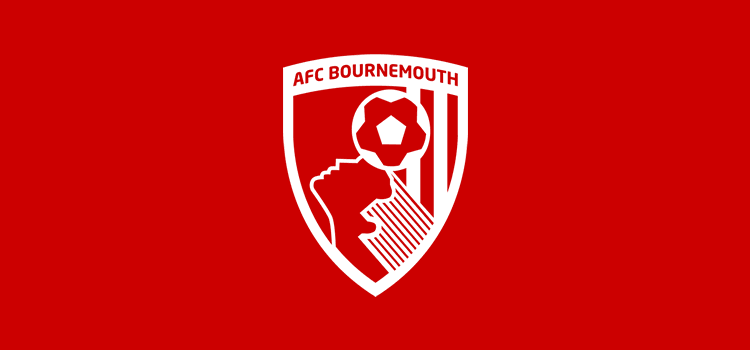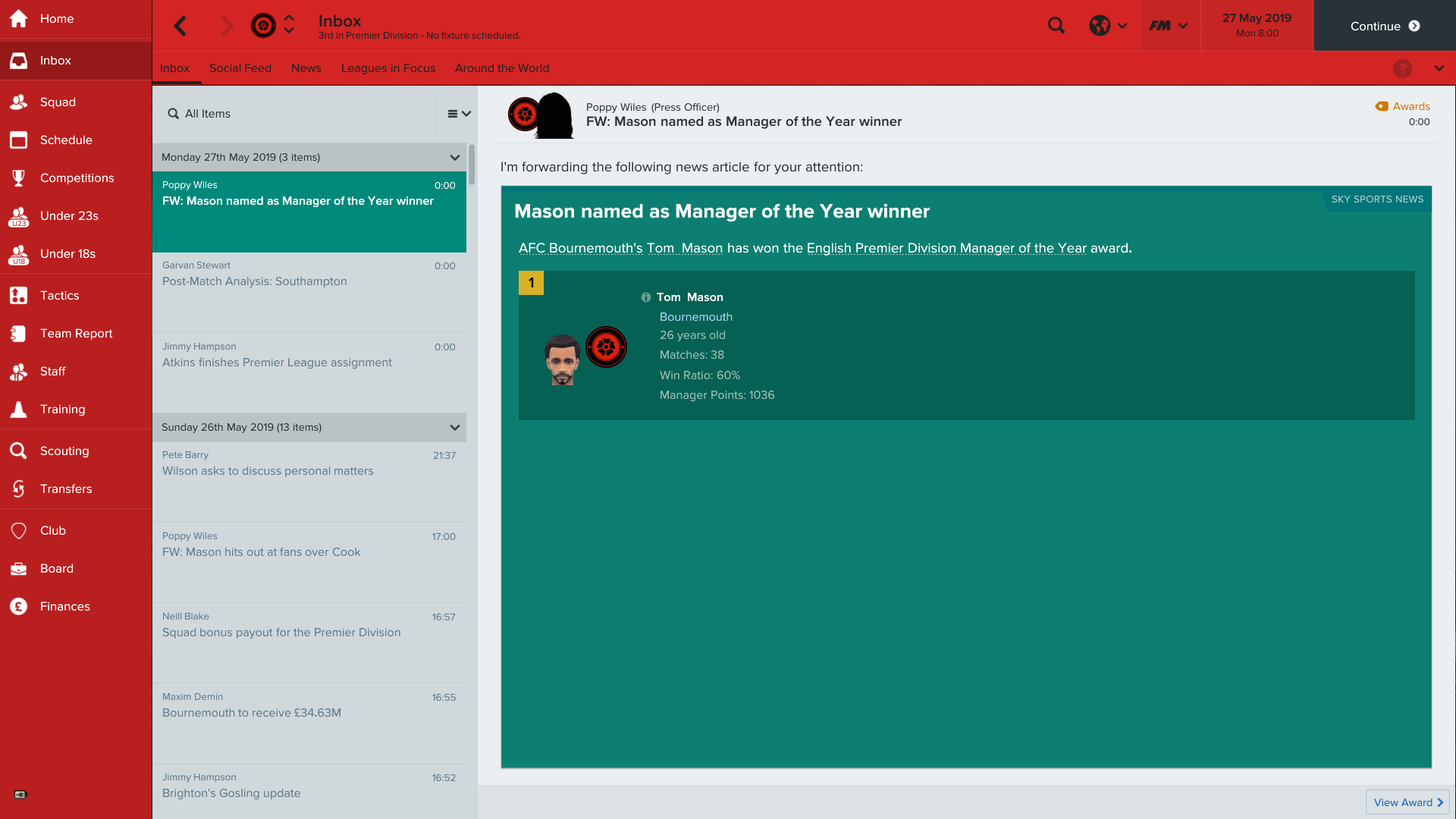 With the third season put to bed, it's time to do some analysis to inform our business over the summer so we can build on that third place finish last time out.
Before we get into the nitty gritty, let's assess how we stacked up against our guiding principles:
1. Only scout, sign and use players and staff from the United Kingdom and Ireland, with a bias towards Englishmen wherever possible.
Success: Daniels Sturridge and Welbeck, Reece Oxford, Charlie Taylor and big Jack Wilshere all fulfil this criteria on the playing front, while the additions of Steve Bould and Terry Connor replenished our coaching staff, ensuring our English-only policy was met on all fronts.
2. Sign players aged 19-24 on permanent transfers, with loan signings only being used in exceptional circumstances.
Failure: Charlie Taylor was fine under these guidelines. Oxford would have been ok on the age front but was only a loanee. Wilshere, Welbeck and Sturridge all exceeded the upper limit to varying degrees, so they count as failures. I'm not going to be too harsh on myself here, though – the talent pool in my age range is becoming increasingly shallow. Besides, it's not as though I'm chucking five-year contracts at 35-year olds.
3. Invest in the club's training facilities and youth academy to develop players for the first team, with the eventual aim of having a fully home-grown squad.
Partial Failure: the training and youth facilities have both been improved over the course of the season, and the new stadium will be ready for the start of the next campaign. The academy is still churning out poor quality players though. Baily Cargill isn't up to standard so he'll be moved on and Corey Jordan looks like he might be ok as a back up, but I'll be loaning him out again. After that, there's nothing.
4. Be profitable.
Success: the cost of the new ground has meant that our balance was in the red for most of the season, but the club was still turning a monthly profit of around £2 mil. At the end of the year, the board announced a profit of £18,707,619, which left our balance at ~£40 mil come the start of the 2019/2020 season.  As a result, we jump up to just outside of the top 20 on the Rich List. With the additional revenue that Champions League football will garner, Maxim Demin is laughing all the way to the bank.
5. When recruiting players, show a preference for those with strong Bravery, Decisions and First Touch attributes.
Success: All of the new boys are brilliant in almost every category, with perhaps a little bit of bravery lacking. Other than that, the signings last season were a hearty bunch of properly Brexit lads.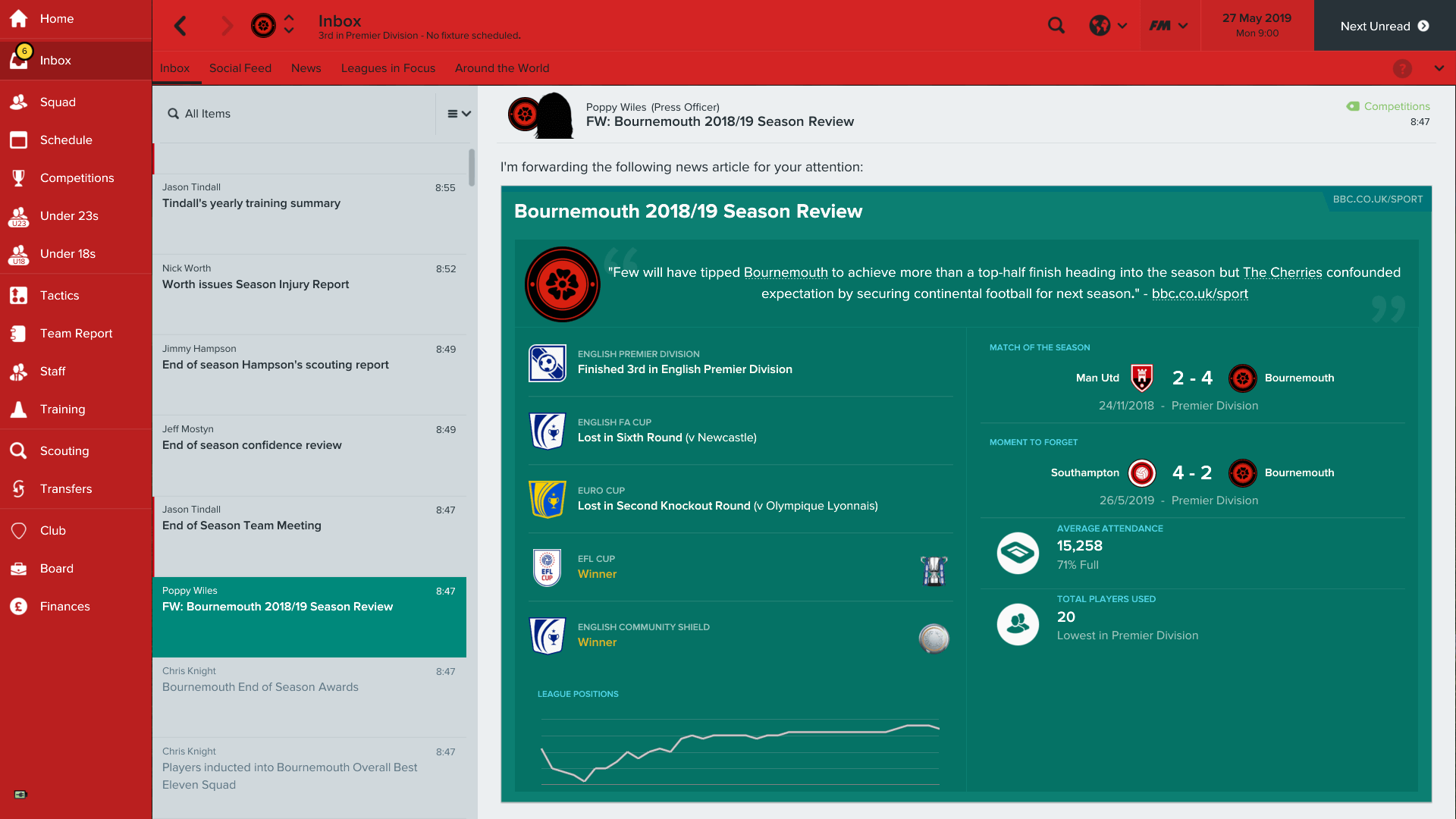 We've exceeded our targets in the five year plan as well:
"Season Three: I'm looking for European qualification, a cup final, multiple players in the England Squad and 75% of squad players being English.
Season Four: Champions League football, cup win, 5+ England players"
As you can see, season three's aims were comfortably met and we actually surpassed them and achieved the next season's goals ahead of schedule. I regularly get 6 or 7 players in the senior England squad (towards the end of the season Charlie Taylor picked up his first cap) and I still have a few that are selected for the u-21s.
I'm hopeful of getting into double figures over the course of the next season. Frankly Steve Cook has been deserving of a call up but can't seem to get a look in and it's my personal mission to get Ravel Morrison a cap. He's probably been my favourite signing so far and it would be gratifying to see his redemption recognised by the national team.
Things are going pretty well all round, then, but the aim of this is to win a title using only English players. I feel like that is a real possibility next season, but to do that we need to have an objective look at last year to find areas where we can improve.
A few themes emerge from the season overview screen. Saido's 29 goal haul is impressive, considering how frequently I rotated my front pairing and Sturridge's 13 assists is superb for a player who I really wasn't expecting creative output from. Taylor's overall rating of 7.41 is staggering, as is his five man of the match awards. On the slightly more negative side of things, a ridiculous 15 yellow cards collected by Jordan Rossiter is a cause for concern and is certainly something I'll have to keep my eye on.
The average ratings of my squad underline some of those themes:
Taylor and Sturridge are unsurprisingly right at the top. I'm especially pleased with DS, who I was quite apprehensive about but I managed to squeeze 40+ appearances out of him over the whole season and he contributed loads of goals and assists. That £11 million looks money well spent now.
Honestly, there's very little I'd complain about here under usual circumstances. Every player (with the exclusion of Reece Oxford who was thoroughly underwhelming for us) registers over a 7.0 rating. But these aren't usual circumstances. We're aspiring to play at the highest level, to mix it with the elite teams, so we need to be cut throat about this.
My first choice central midfield trio, a pair of my strikers and my wing backs are all right at the very top of the order. Generally speaking my central defenders fair a little worse, so that's an area I need to look at, but with the departure of Simon Francis to California, we knew that anyway. Elsewhere, Wilshere and Morrison are towards the lower end of the average rating rankings, but put up good figures for assists (two of six players to get into double figures for assists) and for goals, especially for players who aren't necessarily natural goalscorers. I'm not too bothered about their rating then, but perhaps a little more depth in the centre of the park wouldn't go amiss.
My worst rated players are my goalkeepers so, with Butland the only senior player I have in that position on a permanent contract, that's the area of the squad most desperately in need of attention. Butland's rating is disappointing. That said,  it is at least partially explained by the fact that the general improvement in our performances have meant that he's been called upon less frequently; having fewer saves to make means having fewer opportunities to boost your rating. Still, a few mistakes did start to creep into his game, so I'll be doing some thorough scouting to provide ample competition for our incumbent goal tender.
Which brings us nicely onto our summer recruitment. As the end of June approaches and the transfer window starts to slowly edge its way open again, I'm already mentally spending my transfer kitty. James Ward-Prowse for certain. Ross Barkley if I can afford him. Joe Hart if he fancies it. At least one more centre half.
Then, I receive the message from the board outlining their expectations and the budget for the season ahead. They tell me that they're offering me a grand total of… £7 million.
Erm, excuse me? What?! I know we've just built a new stadium, but, jfc lads, come on. The club is turning a sizeable profit every month. I've guided the club to easily their highest ever finish and won only the second major trophy in their history. We've just got ourselves into the Champions League. You've backed me with a decent chunk of cash in the previous two summer windows, so why stop now? Now, when we've got glory within our clutches?
It's baffling. I beg for more but they're having absolutely none of it. I shift expectations as high as I can (which is qualify for the Champions League and reach the semis of the cups) and nudge it up to about £8.5 million and an additional £70k p/w in the wage budget. I don't even have any players I can sell without significantly weakening my squad.
Time to get creative then. With my hands severely tied by the parsimonious Demin and Mostyn, I've got to prioritise and try to stretch my money as far as I can. A goalkeeper is, appropriately enough, my number one priority, and I'm torn between two: Daniel Bentley of Brentford and Jordan Pickford of Sunderland. When Joe Hart decided to sign a new contract at City, much to my chagrin, I decided that Butland was to remain my number one choice. That meant picking up a back up.
There's very little to choose between Bentley and Pickford – Pickford's the better distributor; Bentley the better communicator and better in the air – so I eventually decide to get both of them and stockpile the talent to potentially save me money further down the line. Bentley joins for £3.6 mil and £7k p/w, while Pickford is signed for £2.4 mil and £30k p/w, both on "Back Up" squad status.
Elsewhere, West Ham sign Emerson Hyndman and due to a sell-on clause I receive a slice of the fee. I then sell one of Marc Pugh's clauses for about £500k because he's currently rotting in their reserves and as such is unlikely to make enough appearances for me to get the full sum. There's a few more clauses from various deals I made last season that are close to being triggered so a few more pennies should arrive to fill the coffers in drips and drabs over the coming season.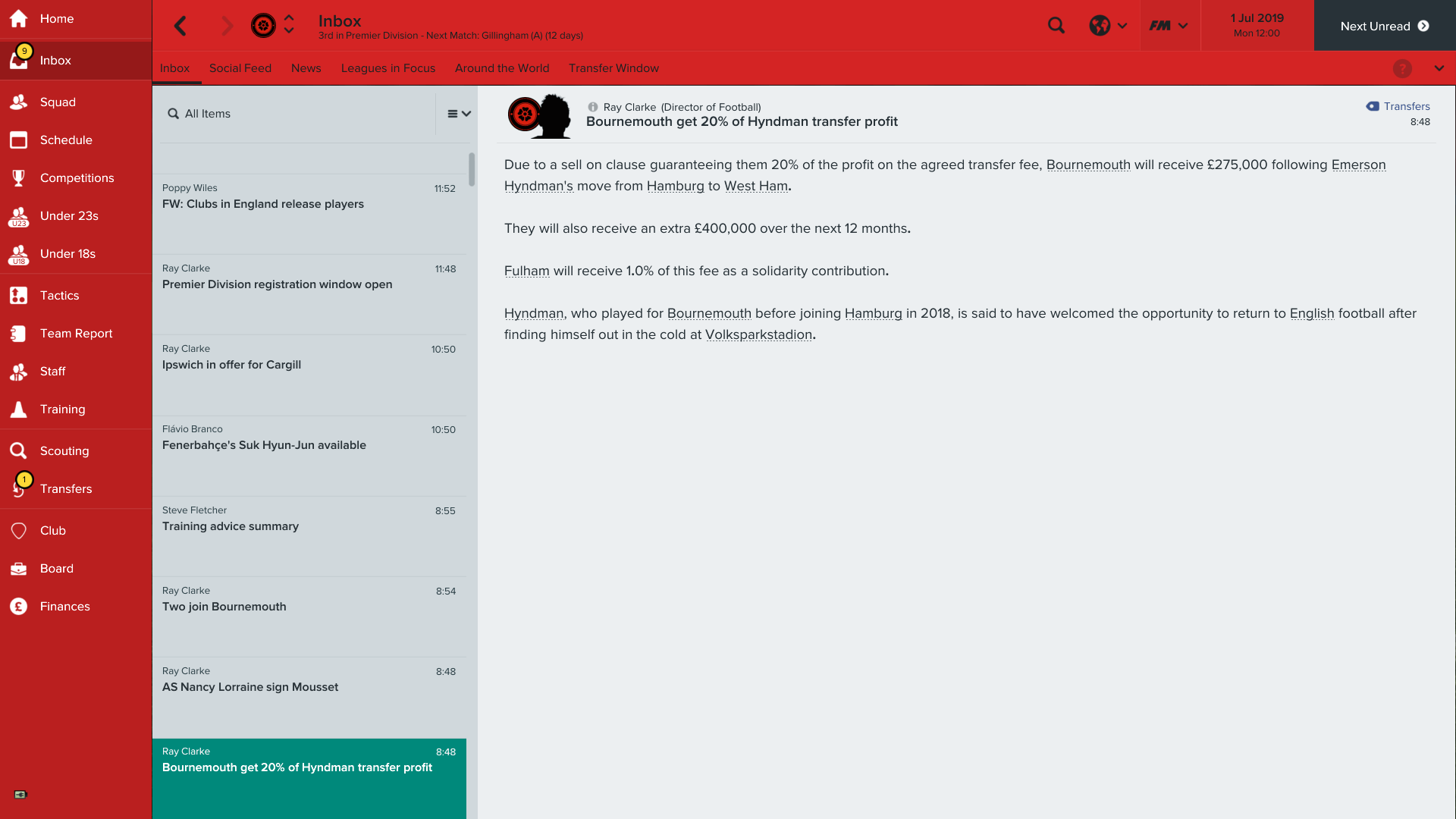 That's the majority of my budget already gone and, with Francis in the States and Oxford back in east London, I'm still desperately in need of another central defender. I scout Joe Gomez, Andre Wisdom, Calum Chambers and Brendan Galloway. I'm told that Gomez is only Championship standard, so he's out, and I'm quoted at between £18-£25 million for the other three, which is hugely out of our price range.
Just when I think my hopes have been dashed, Arsenal once again do me a big favour – they stick Calum Chambers on the transfer list. What's more, they're only asking a measly £6 million for him. I then stick in a cheeky bid of £4 mil upfront, with another £1.5mil in add-ons, which they accept. I'm more than happy with that; a week ago I thought he was going to cost me four times as much. I stick him on a £70k p/w contract and tie him down for four years.
The fact he can cover at Right Back makes him ideal to fill the shoes of our departed skipper. I manage to scrape together an extra few quid by selling Cargill and Brad Smith and loaning out Dan Gosling and Tyrone Mings again – and I finally get shot of Lys Mousset, as well as getting Andrew Surman's £37k p/w wages off the books – but it's not enough to buy anyone else.
But, if my board aren't going to give me money to spend, I'm just going to have to find away to finance any future transfers myself. Let me introduce you to Plan B: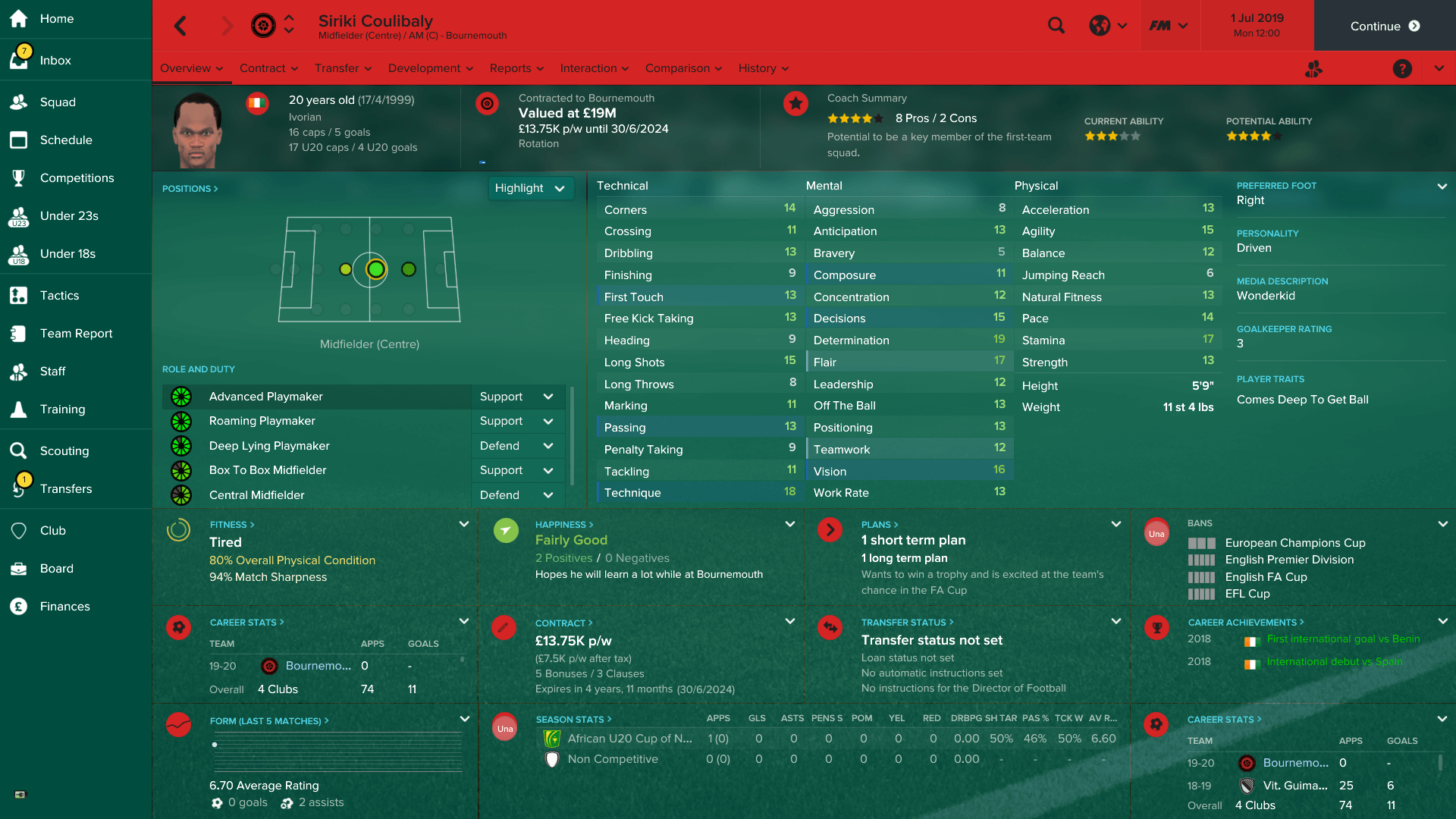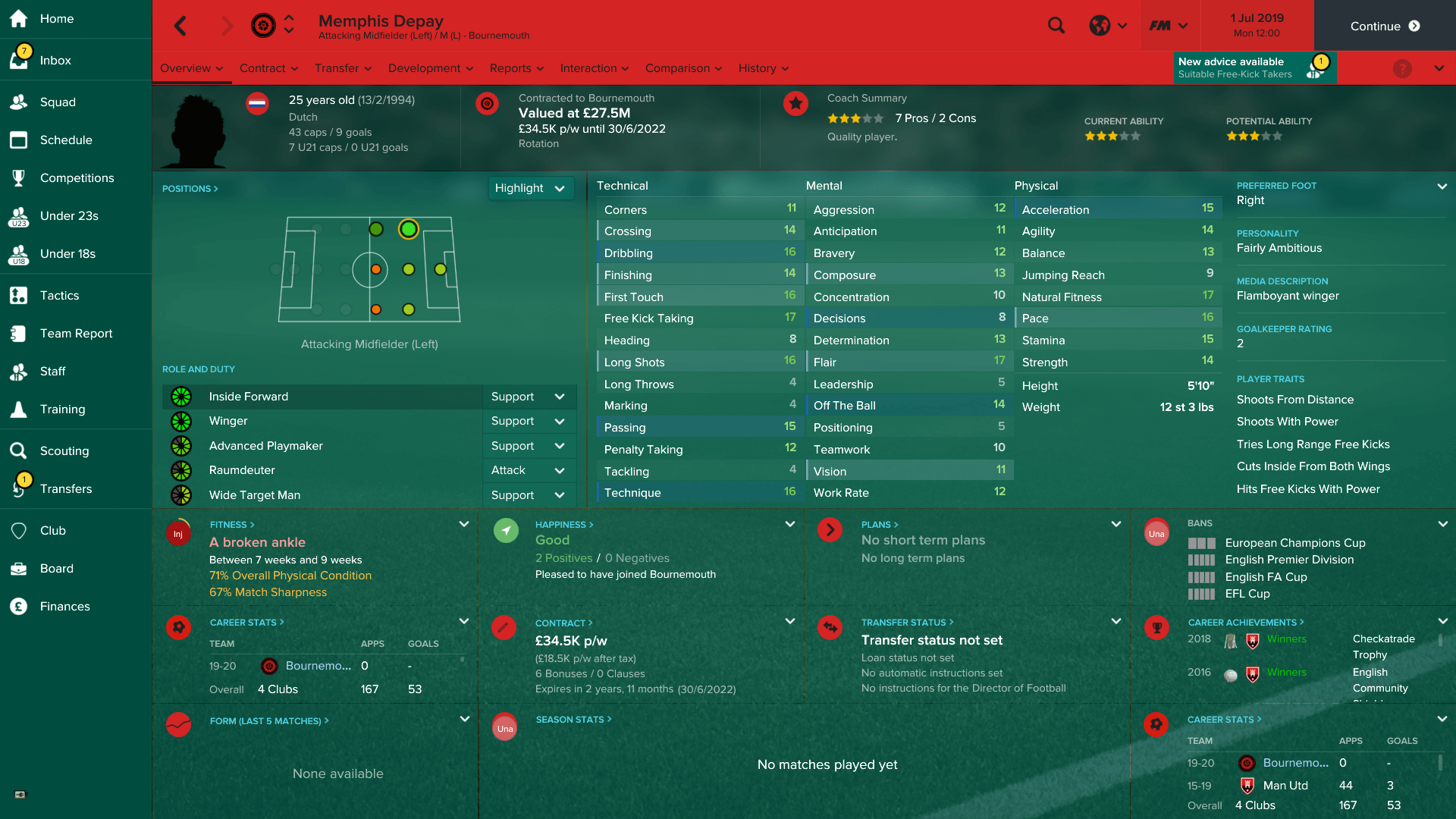 Now, I know what you're thinking: "this moron has failed his own stupid challenge by signing foreign players and therefore totally contradicted himself". To which I would say: yes. However, not even I am stupid enough to think that a Dutchman and an Ivorian are eligible to play for my sweet, brave Brexit boys. Oh no. This is me getting into the import and export business.
Think about it – isn't that what Brexit was all about? Freeing ourselves from the adamantine shackles of the common market so we're free to seek more advantageous trade agreements with the rest of the world. Isn't that its true spirit? (no, it was about a barely concealed hatred of the Other stirred up by an unscrupulous right-wing media and the embrace of neo-fascism by the general populace, but still.)
Anyway, I signed these two lads on free transfers and just look at their market value: £19mil and £27.5mil. The plan is this: don't play them and hopefully they'll be so annoyed that they'll request transfers so I can sell them for pure profit in January. To this end I've signed them on a low basic wage, with huge appearance, goal and unused substitute bonuses. Which of course they'll never receive as I have no intentions of playing them. Coulibaly is tied down to a £13.75k p/w wage and check out the dreamy contract I got Depay on: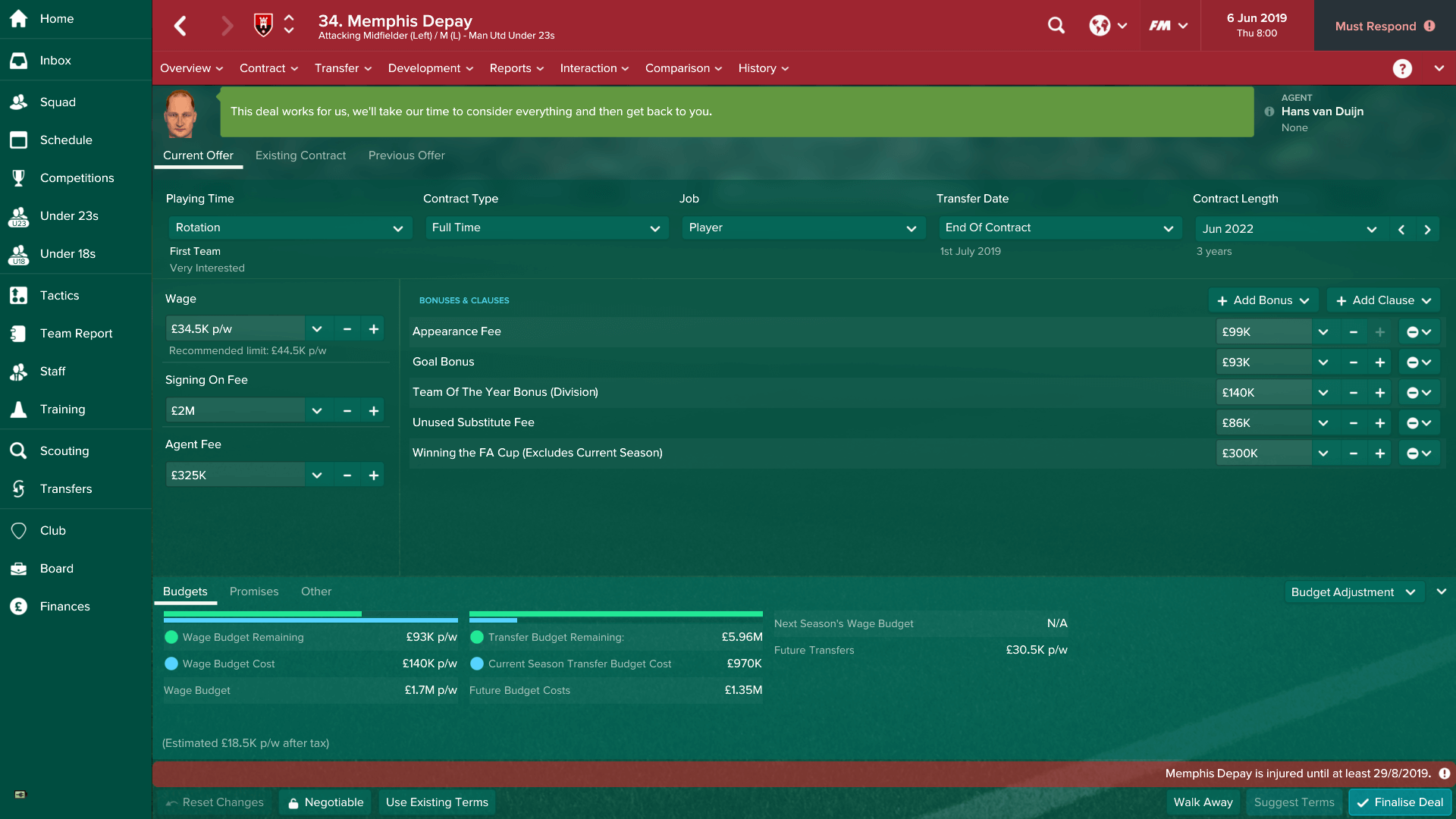 Of course, this is something of a gamble. There's a very real possibility that having two players in the squad who are unhappy with their playing time could seriously disrupt our team cohesion and squad morale. However, I'm hoping that if things are going well then the rest of the lads will overlook that and if I can rake in some cash by doing this, I should be able to dip into the transfer market in January to pick up some of the players I actually want.
This is a bit of a trial run and, if it's successful, I'll probably do more of it in the future to help with my aim of running a profitable football club. We'll have to see how it goes.
An injury to Jack Wilshere towards the end of September leaves me extremely short in central midfield so, on deadline day, I do a bit of panic shopping and sign a couple of players on loan. I'd previously relied upon naming Matt Butcher from my reserves on the bench to pad out my matchday squad so this was simply a case of getting as many bodies in as I could.
I plucked Isaac Hayden, who can helpfully fill in at CB if needs be, from Watford for 100% of his £7.25k p/w wages and a £9k per month loan fee: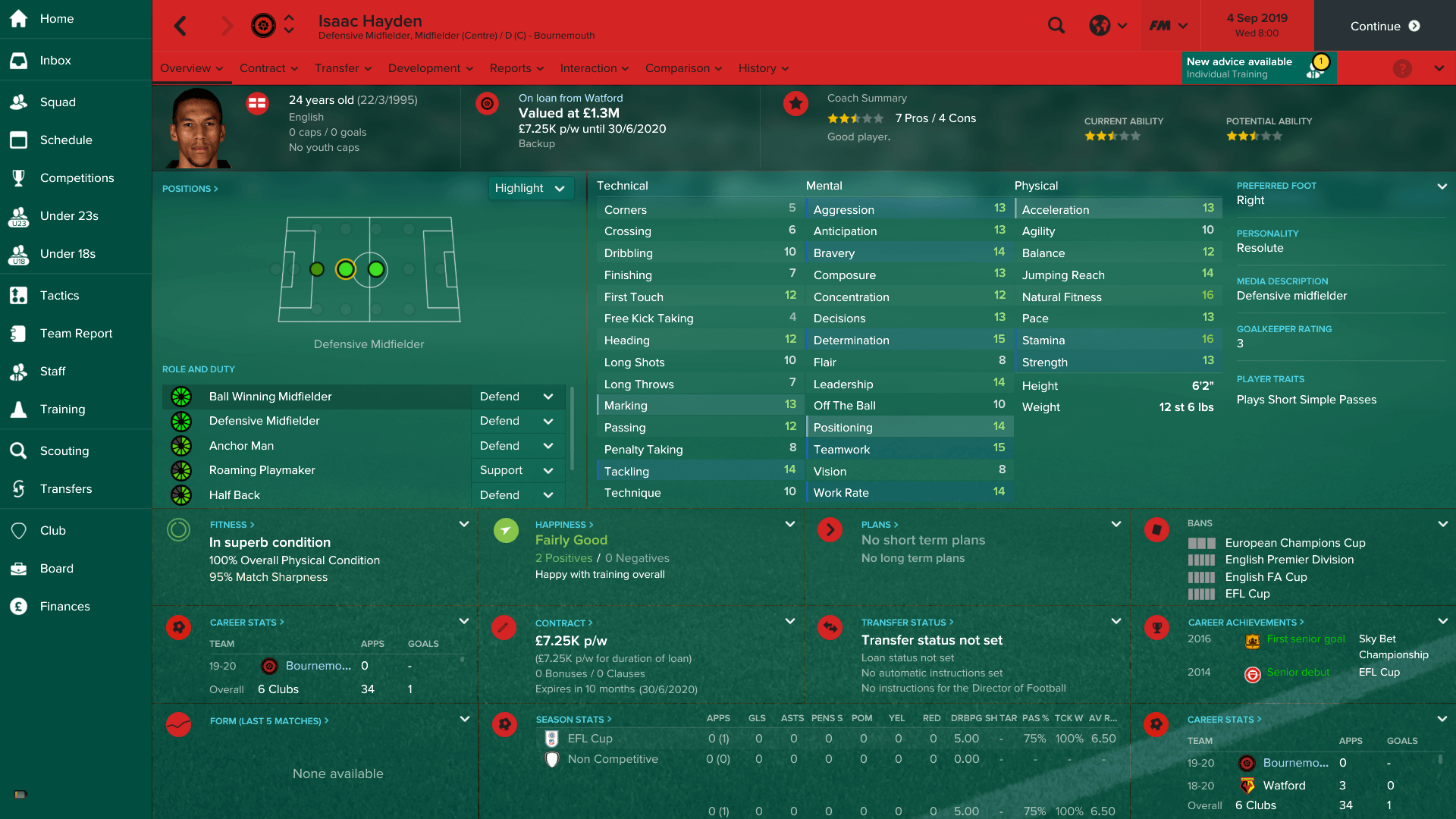 … as well as picking up young Marcus Edwards from Spurs for no fee and 100% of his £4.8 k p/w wage packet: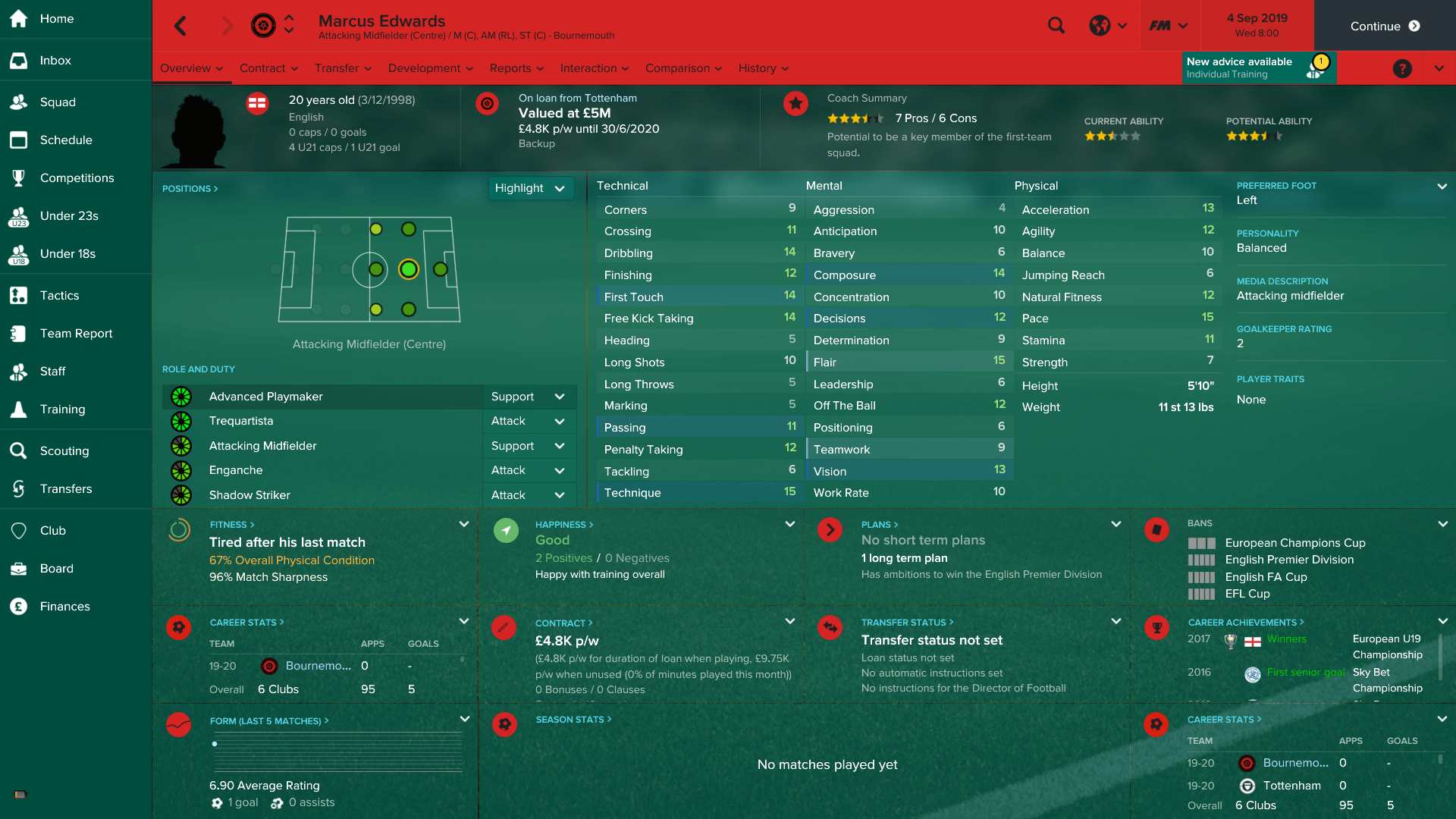 And that's that. As you may have gathered from the fact that I've reached the end of September, I've actually skimmed over the start of the season here. How perceptive of you. Let me fill you in on what's been happening…