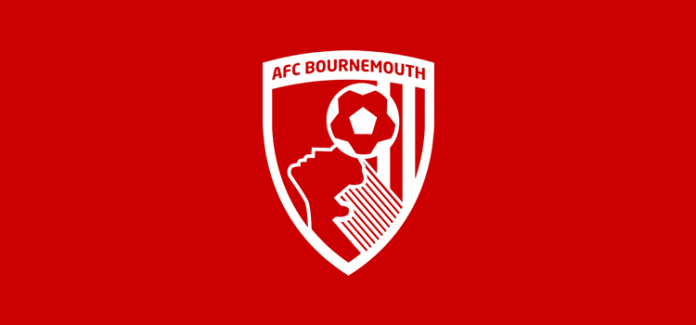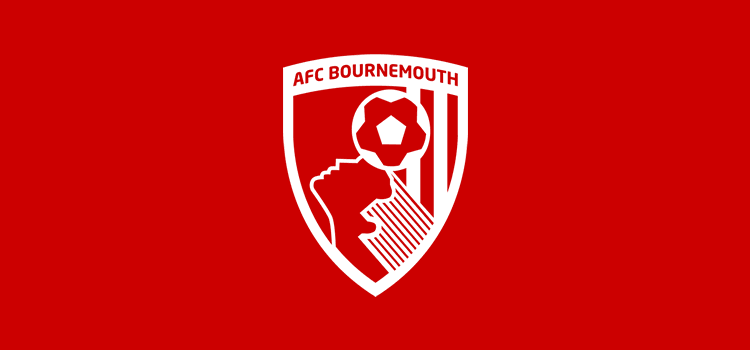 We may have claimed another trophy for our ever-expanding collection of delightfully pure English silverware after that EFL Cup final win against Palace, but there's plenty to play for in the rest of the season. With three months, and three competitions, still to go, it's shaping up to be a hectic run-in. There truly is no rest for the wicked.
And it's difficult not to feel as though we've been wicked, and are being punished for it, as we're "treated" to a visit to Hull in the first game since our WEM-BER-LEY triumph.
We show no signs of relenting and sweep Hull away effortlessly. A big pump over the top sets Callum Wilson away after ten minutes and he contrives to smash the ball against the bar unchallenged. He doesn't let that get the better of him though as he finds the back of the net from an almost identical chance minutes later. A second comes soon after – another long ball dumped over Harry Maguire, but it's Chalobah this time with the goal – and then a third when Wilson shapes one from the left-hand side of the box into the opposite top corner. Their late consolation comes from Bueno, who scores an admittedly bueno goal, which ruins the cleanliness of our sheet.
With another three points in the bag, that now means the 1-2 result against Real Sociedad is the only game we've lost in the last sixteen games. SIXTEEN. We're on a rampage and there's every reason to get excited.
What comes next is a masterclass in how to ruin your season in the space of three weeks.
First up in the grand derailing tour is Tottenham Hotspur. Spurs were 2nd, 3 points ahead of us before kick off and there to be taken. Charlie Taylor pulls a hamstring inside five minutes which is a real blow – he's been superb all season at both ends of the pitch. Daniels comes on in his pace and has to get up to speed quickly as we do *a lot* of defending in the first half.
That said, we do emerge with a fortuitous lead after forty minutes. Adam Smith uncharacteristically shanks a cross which strikes the foot of Lloris' near post. The French goalkeeper had committed himself and was still on the deck when the ball bounced out right to the feet of Saido Berahino. Saido staggeringly managed to hit his shot straight at the supine Lloris, much to my bemusement. He's lucky it comes straight back to him and he manages to actually select a shot that ends up in the back of an entirely gaping net.
In the changing room I beg my team to keep their heads, to remain focused and to not get carried away. The equaliser comes practically before I've managed to get back to my seat, Felipe Anderson escaping the attention of Michael Keane at the far post to tap in. It's wildly frustrating to witness. They have the better of the rest of the match, but can't find a break through. It ends 1-1.
Not the end of the world, but if we have any serious aspirations to break into the top four, we need to start beating our direct competitors when we have a chance. There's little time to dwell on it as we entertain Olympique Lyonnais in the first leg of the Europa League 2nd knock out round.
In contrast to the tie against Sociedad, the first leg goes very well – we contain their attacking threat fairly comfortably and Berahino nicks a goal on the swivel to give us a 1-0 lead. Importantly, our resolute defending prevents them from scoring an away goal. If we can score in France, they'll have to score three times to knock us out.
Then the wheels properly come off. We lose our FA Cup quarter final 2-1 against Newcastle. Newcastle, who are going to get relegated. Simon Francis scores an OG and then lets Mitrović mug him off to score the winner. We were so poor that I can't even bring myself to read them the riot act after the game.
Things go from bad to worse in Lyon though. Five minutes in and our lead is erased by Pablo Sarabia. Our outlook briefly looks brighter when Antony Lopes spills a shot out to Berahino and our man nudges it over the line for that valuable away goal. It doesn't end up coming down to that, though, because now it's Lacazette time.
A quickfire brace, both assisted by Nabil Fekir – a low cross from the right; a one-two on the edge of the box – wipes out any advantage that away goal conferred on us. Corentin Tolisso makes it four on the night when he takes advantage of a poor headed clearance from a free kick and Laca made sure he took the matchball home by stinging us on the counter while we made a futile effort to get back in the game. 5-1 on the night, 5-2 on aggregate. We're out and we exit Europe. At least it's very on brand for our Brexit-inspired guiding principles.
The nightmare run continues – three days after being knocked out and while we're still licking our wounds, we have to host United, who are still top of the league. When Dybala makes a mockery of our backline and hits the outside of the post after thirty seconds, I fear the worst. I bury my head in my hands and watch the rest of the game through my fingers.
Fortunately, there isn't much to watch – it finishes 0-0. Again, not disastrous, but not good enough if we want to really play with the big boys.
So, in the space of five games, we've dropped points to two top four rivals, been knocked out of the FA Cup by a relegation-threatened side, and then thrown away a 1-0 lead to get dumped out of Europe. God damn it.
Even a 4-1 drubbing of set piece merchants West Brom can't raise my spirits. It all just feels like a hugely wasted opportunity. Anyway, Berahino really excels against his former employers, bagging a goal and getting two assists for Daniel Sturridge. Lewis Cook gets the other. FM has really nailed the whole coming-back-to-haunt-your-old-club thing, as almost all of my forward players have scored against their old teams. Either that or my players are petty, vengeful little creatures, which is entirely possible.
What does eventually perk me back up is our game against Arsenal. Although first it makes me want to scream until my lungs burst. That's the beauty of this all and this match in particular is a distillation of what makes FM such a special experience.
Adam Smith pops up at the far post to tap the ball for his first goal of the season in mid-April. 1-0 us. Berahino's close range shot is saved and he gobbles up his own rebound. 2-0 us. Half time, happy days.
Mesut Özil cut back finish. 2-1 us. Clumsy Simon Francis tackle = penalty. Adrien Silva's effort from 12-yards is batted away by Jack Butland. Still 2-1 us. Five minutes left on the clock and there's yet another free kick that we just can't properly clear. Jorge Meré pounces. 2-2.
At which point, I've gone full-on Miguel Herrera. Fists filled with clumps of hair. Face crimson, eyes manic, blood pressure through the roof. I've reached a level of fury usually only attained by the impotent, middle-aged xenophobes who call TalkSport. A level of ire you only really see from right-wing Question Time audience members from Stevenage.
Then: salvation. From the kick-off, Saido Berahino – dear, sweet, precious Saido – races past Aaron Ramsey and Meré and smashes the ball across the face of goal and in off the inside of the post.
We've jumped into the jaws of defeat, given its teeth a good flossing, scrubbed its tongue, and snatched victory from it.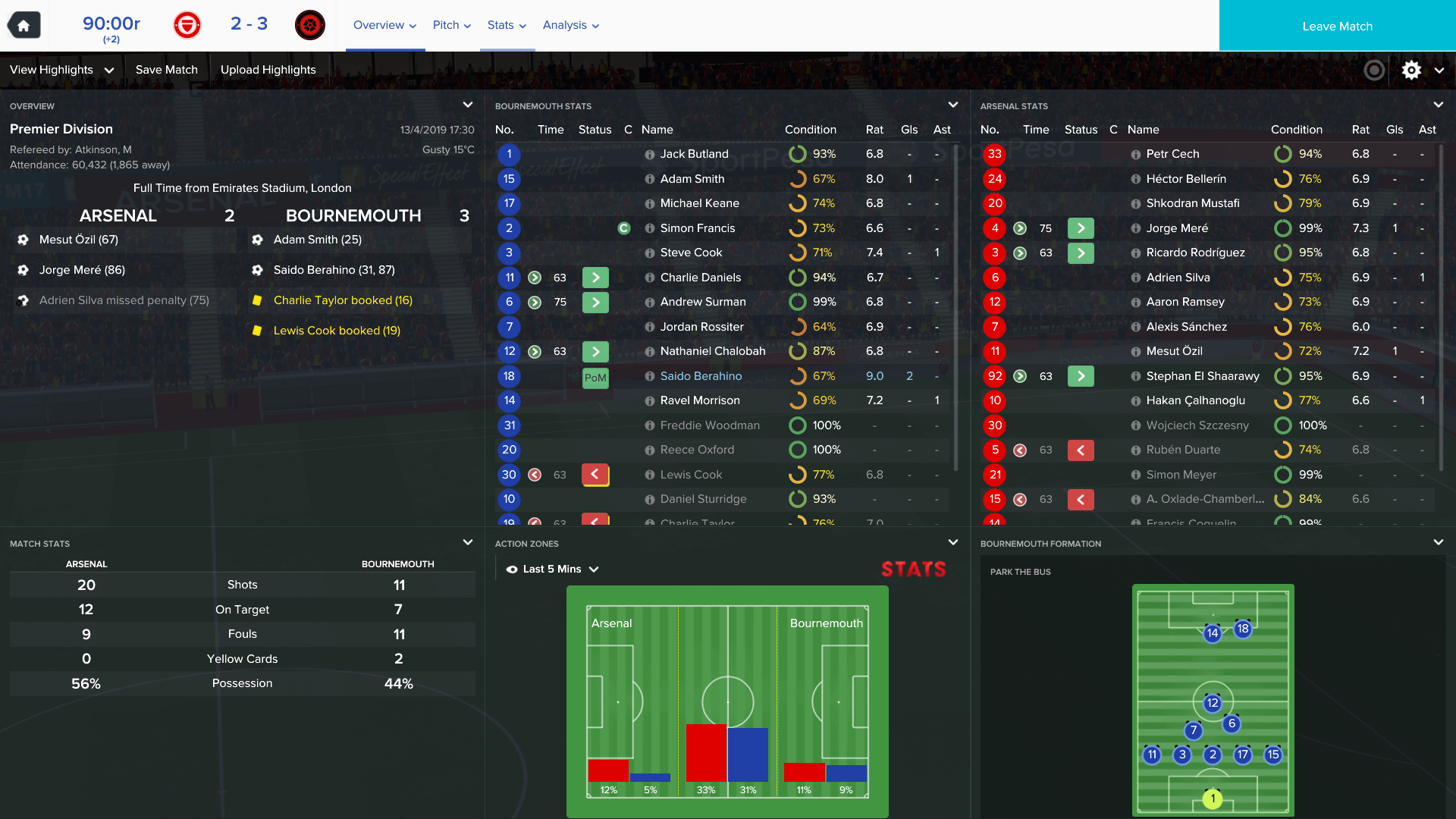 Look at the state of my formation at the end of this game. Shameful, but Bournemouth needed this.
Hold on a minute, though. Are we… are we in a proper title race? This was a huge result, the sort that can really change the complexion of an entire season.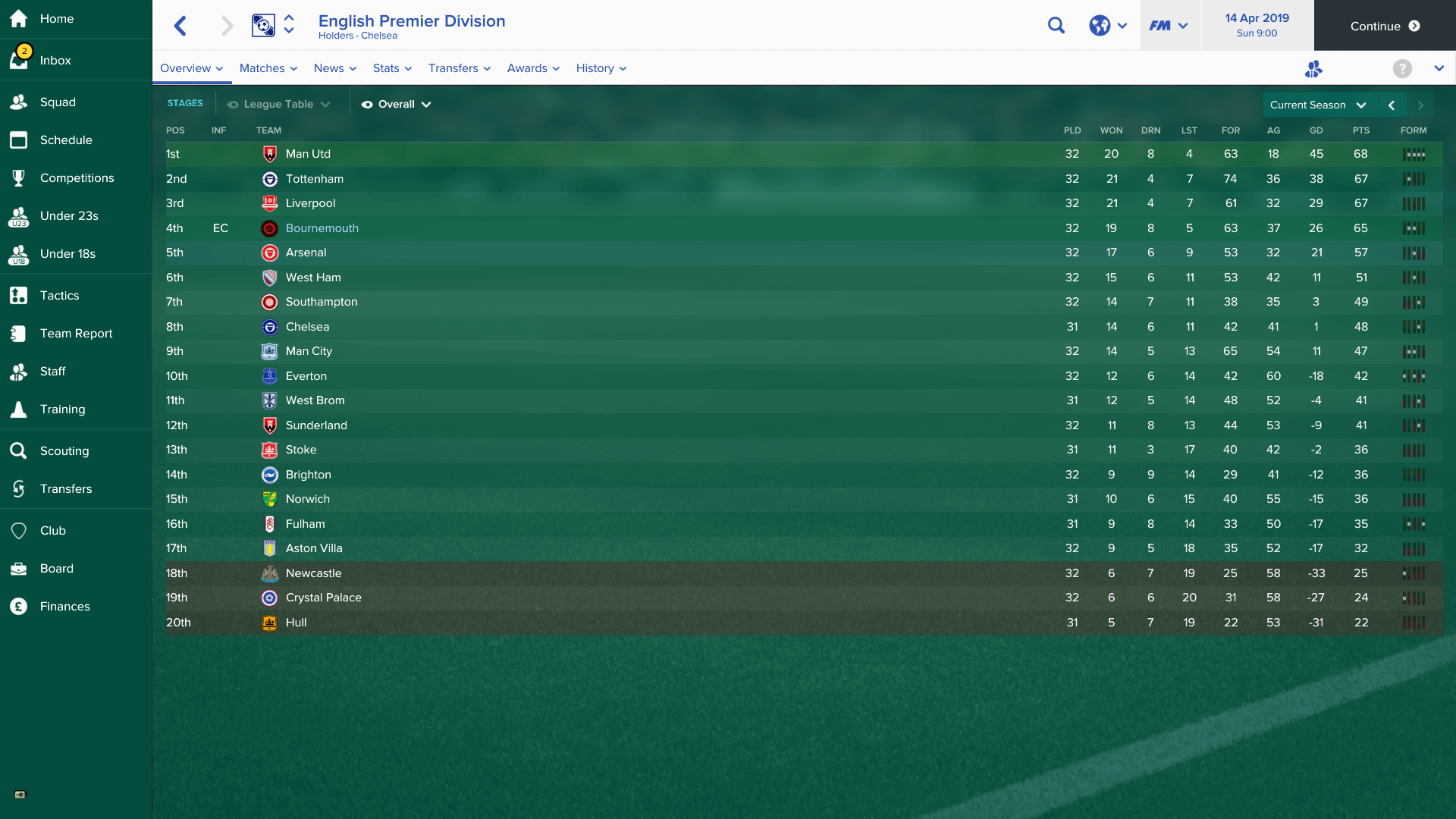 With 6 games to go, we're just three points off top. The only problem is United's defence; we've scored as many goals as United but they've conceded around 50% fewer goals than we have, which obviously grants them a vastly superior goal difference. So, if we're going to win the title, we'll need them to slip up but at least we're in with a shout. All we can do is put points on the board and hope for the best.
We do just that in another tedious 1-0 win against Brighton that is devoid of incident. Even the goal was a bit boring – Charlie Taylor's free kick is pushed into the net by David Stockdale's limp wrists – but I'll take the wins however they come right now.
Then there's a real crunch game. Liverpool. At Anfield. 2nd vs 3rd. They're deep into the Europa League's late stages and beat Roma 2-0 on the Thursday night before our Sunday game, so I'm hoping that we can capitalise on a bit of fatigue.
My hopes became reality when Charlie Taylor bombed on ahead of the ball and Ravel found him on the counter. Taylor cut inside and found himself one-on-one with Karius. To my surprise, he finished confidently – I honestly didn't know he had it in him.
What could have been a defining victory soon slips away from us and any serious ideas I might have been having about lifting the title dissolve in front my eyes thanks to the most likely of sources. Julian Brandt takes it upon himself to mug off Keane and Francis, walking past them like they're not even there, before overhitting a cross beyond the far post. At which point: enter Cavani. The Uruguayan digs out a volley from a preposterous angle and Butland is helpless. That's now Cavani's eighth goal against me. I'm deflated. We've dropped two points. Title challenge is gone.
In a slightly petulant mood, I do something potentially unsavoury: I sell my club captain. Simon Francis has been attracting attention from a variety of MLS clubs and I've been sporadically receiving bids for him. After this game, I accept one from LA Galaxy. The thinking is this: he's 33; his performances and stats have been deteriorating constantly over the course of the year; his contract finishes at the end of the season and I'd pretty much decided that I wasn't going to renew it; with nothing really left to play for, and with a series of fixtures against garbage teams, I'm happy to use Jack Stephens to see me through.
Therefore, I take the £300k from Galaxy and agree to ship off the skipper. There's time for one last game – fittingly, his 300th for the club – against Palace. We do him proud. With the game tied 0-0 at half time, I bring on both Welbeck and Wilson from the bench. Within 15 minutes they'd both scored. Welbz then dispossessed Scott Dann to make it three and when Steve Mandanda fluffs a kick straight to Lewis Cook, the central midfielder dribbles it forward and scoops it over Palace's 'keeper to make it four.
A clean sheet and a comprehensive win seems a fitting send off for our captain and it's a shame to see him go. The fans are livid with me for letting him depart, perhaps understandably, but I've got the best interests of the club at heart here and can't let sentiment get in the way.
He's not the only absentee for our next game. Freddie Woodman picks up a calf strain, so the delightfully named Bradley Stringfellow gets called up from the u-18s to sit on the bench. With Francis gone, I decide to name Jack Wilshere as captain, which goes down a treat with everyone. Well, almost everyone. Lewis Cook isn't happy about it, which potentially has something to do with my ill-advised decision to get Jack to tutor him earlier in the season. It did not end well: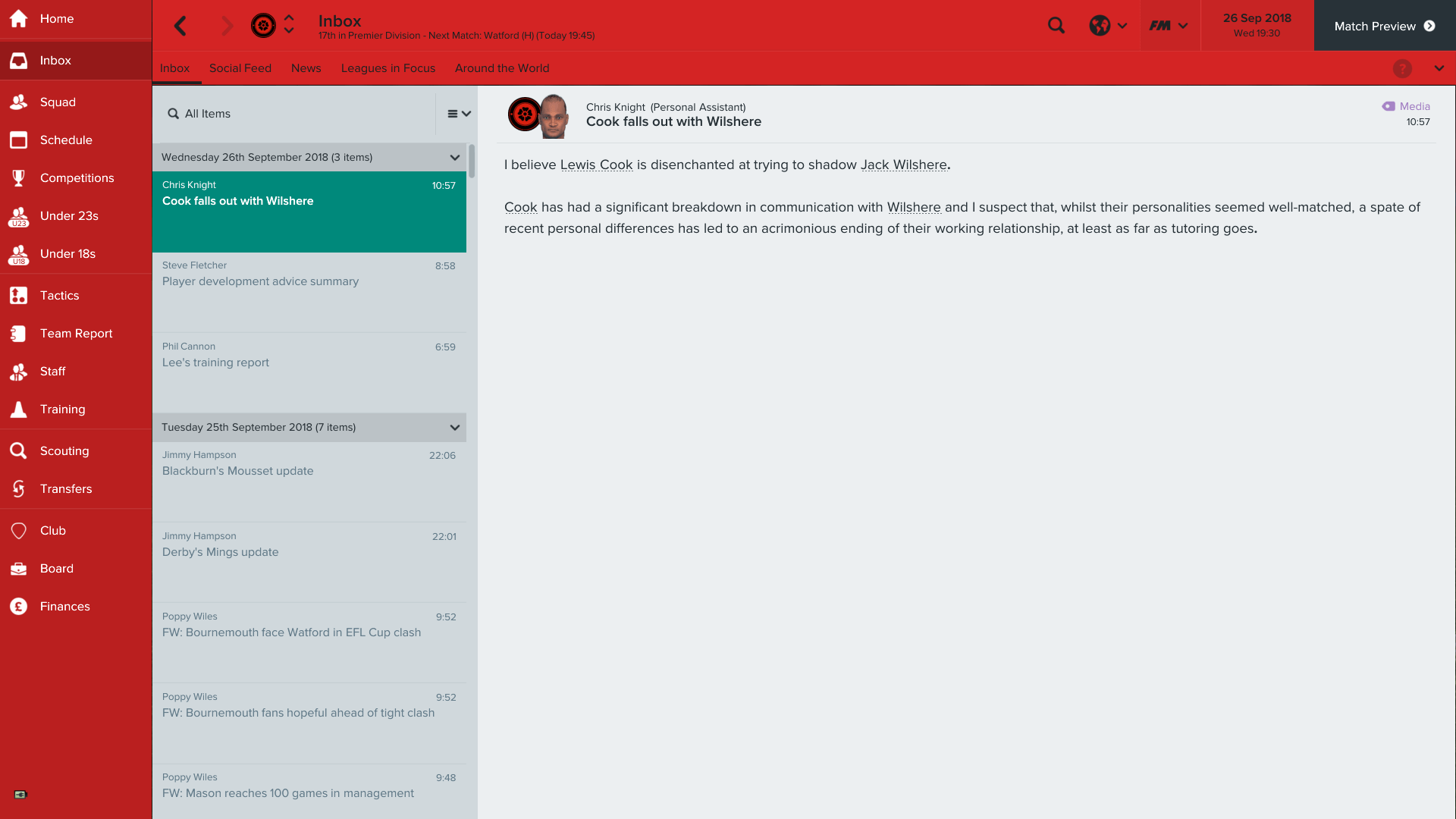 The game at Craven Cottage descends into farce once again. Charlie Taylor scores the opener – a doppelgänger of his one at Anfield – and then Wilshere kicks into gear and steps up to the responsibility of wearing the armband. First he smartly checks his run after initially drifting offside to put us 2-0 ahead, then he measures a beautiful pass into the path of Welbeck for the big man to make it three.
We capitulate in the second half, nearly letting them snatch a draw, but they can't find a third after Lasse Vigen Christiansen and Shane Long put them within touching distance. Our three games against Fulham with season have averaged over five goal per game, which is absurd. If Sky have got any sense they'll get us on TV next year. With that win completed, we mathematically secure a Champions League place.
The penultimate game of the 2018/19 season, and our final game at our temporary home of Vicarage Road, sees us play Sunderland. We see them off with a trio of long range goals; Michael Keane pops up and drills a shot in from twenty yards for some reason, then Ravel chips Mannone from the edge of the box, followed by a thirty yard scorcher from Saido Berahino. A smooth counterattack finished off by Ravel boosts our goal difference slightly.
Not that it matters much. Although United drew 0-0 with WBA – meaning it's now possible for us to draw level with them on points – their GD is still insurmountable, barring a goal swing of monumental proportions.
The final game of the season is the ever-tasty South Coast derby against Southampton. It goes poorly. Very, very poorly. Steve Cook has a complete nightmare, giving away two first half penalties. Troy Deeney scores them both. Deeney completes his hat trick with a thumping back post header and, after Reece Oxford is sent off for a malicious foul, Redmond scores a superb individual goal. There's a pair of Callum Wilson consolation strikes, but that papers over some pretty substantial cracks. This was a big, damaging loss.
If that wound wasn't sore enough, United then dump a massive handful of salt onto it and start rubbing, by losing against Chelsea. Liverpool picked up a win as well, meaning we slip down to third.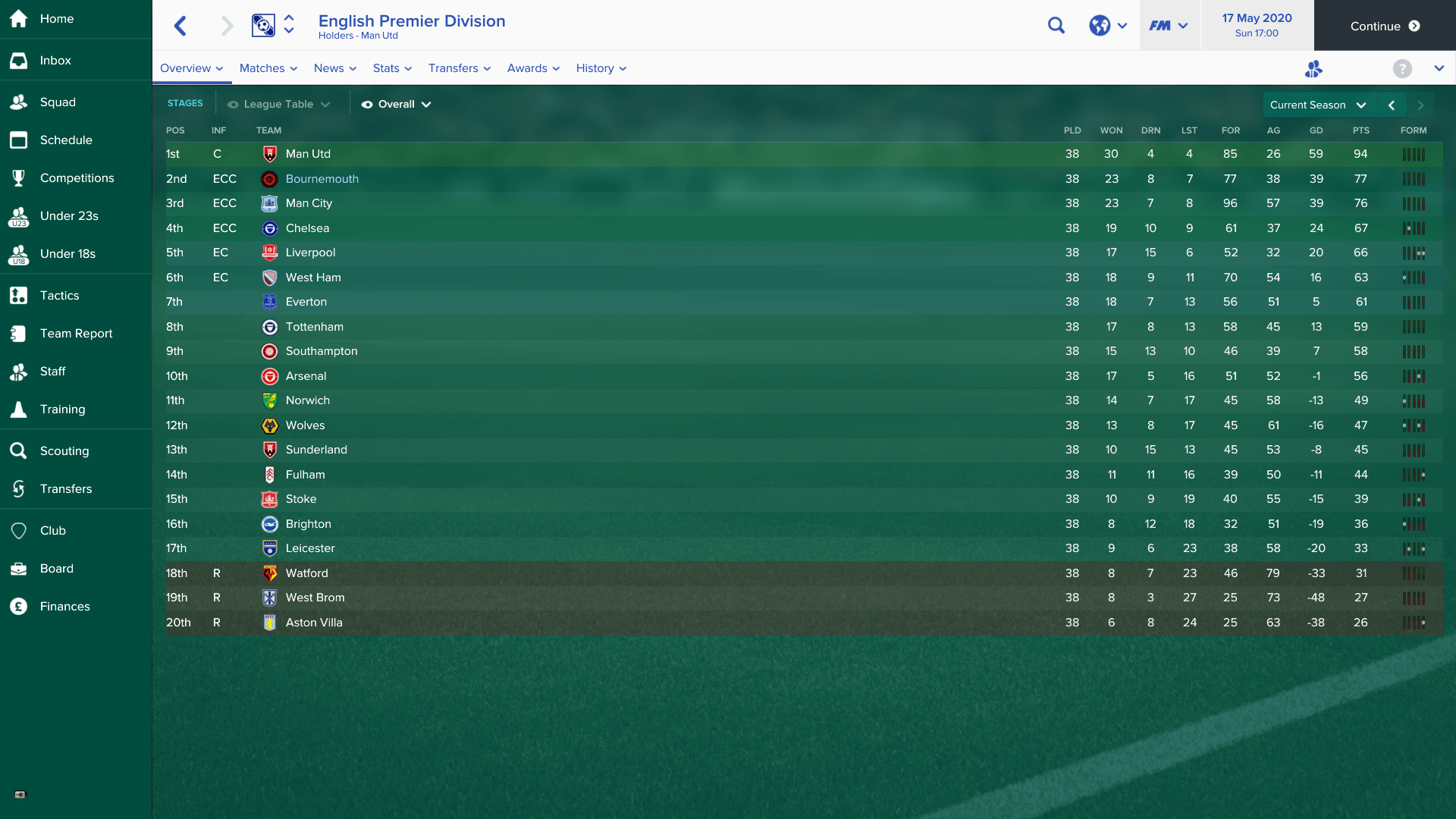 Loathe as I am to praise anyone who doesn't adhere to a strict English-only policy, I've got to hand it to José. Having a defensive record that is only slightly worse than conceding a goal every other game over the course of an entire season is astonishing. They're deserved title winners.
And, as frustrated as I am that this opportunity slipped through our fingers, I can't help but think we've had an incredible season – especially considering that we finished 16th last time. 3rd place, Champions League football and an EFL Cup, using an entirely English squad. There's plenty to be happy about there and it's surely enough to bring a tear to the eye of every Dad angry that Wetherspoons doesn't exclusively serve roast dinners every hour of the day.
Essentially, the difference between winning the league and finishing third was two results. That can be fixed, I'm sure of it. Next season, that trophy is ours and we're going to drape the rest of Europe in the Union flag.
Get hyped.