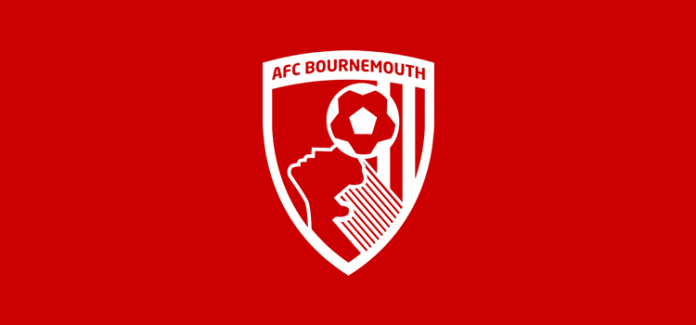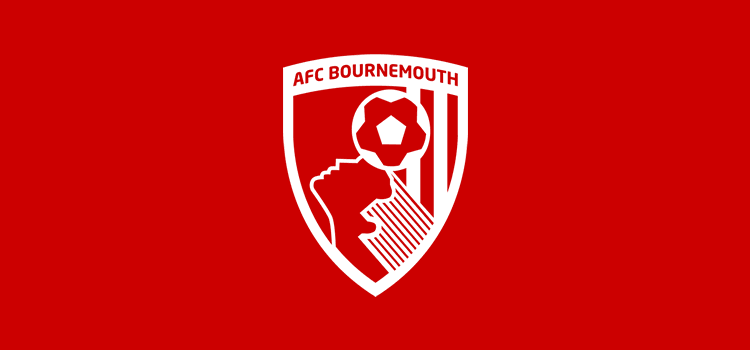 Things were different. Oh boy, were they different. I was brave and decided to stick to my 3-5-2, rather than adjusting to try and combat their superior attacking force, and I was rewarded. Inside half an hour we were 1-0 up, Jordan Rossiter thundering in a half volley when Surman's blocked shot looped off Smalling's back. United level up before half time via a powerful Luke Shaw run down the left and a drilled cross that bobbled off Simon Francis' thigh and trickled into the far corner.
I give some firm, gentle words of encouragement to the lads in the dressing room and we start brilliantly. Within twenty minutes of the restart, we're 3-1 up courtesy of some imaginative wing play from Charlie Taylor. First Rossiter flings himself like a cannonball at a cross to boom a header in, then Sturridge emphatically steers home a low cross from the left. We look pretty comfortable until Payet slips Dybala in for a raucous left-footed finish, but we withstand the wobble and add a bit of gloss to the scoreline when Steve Cook dribbles past De Gea on the line to tap in, after his initial volley from a free kick was saved point blank by the Spanish 'keeper.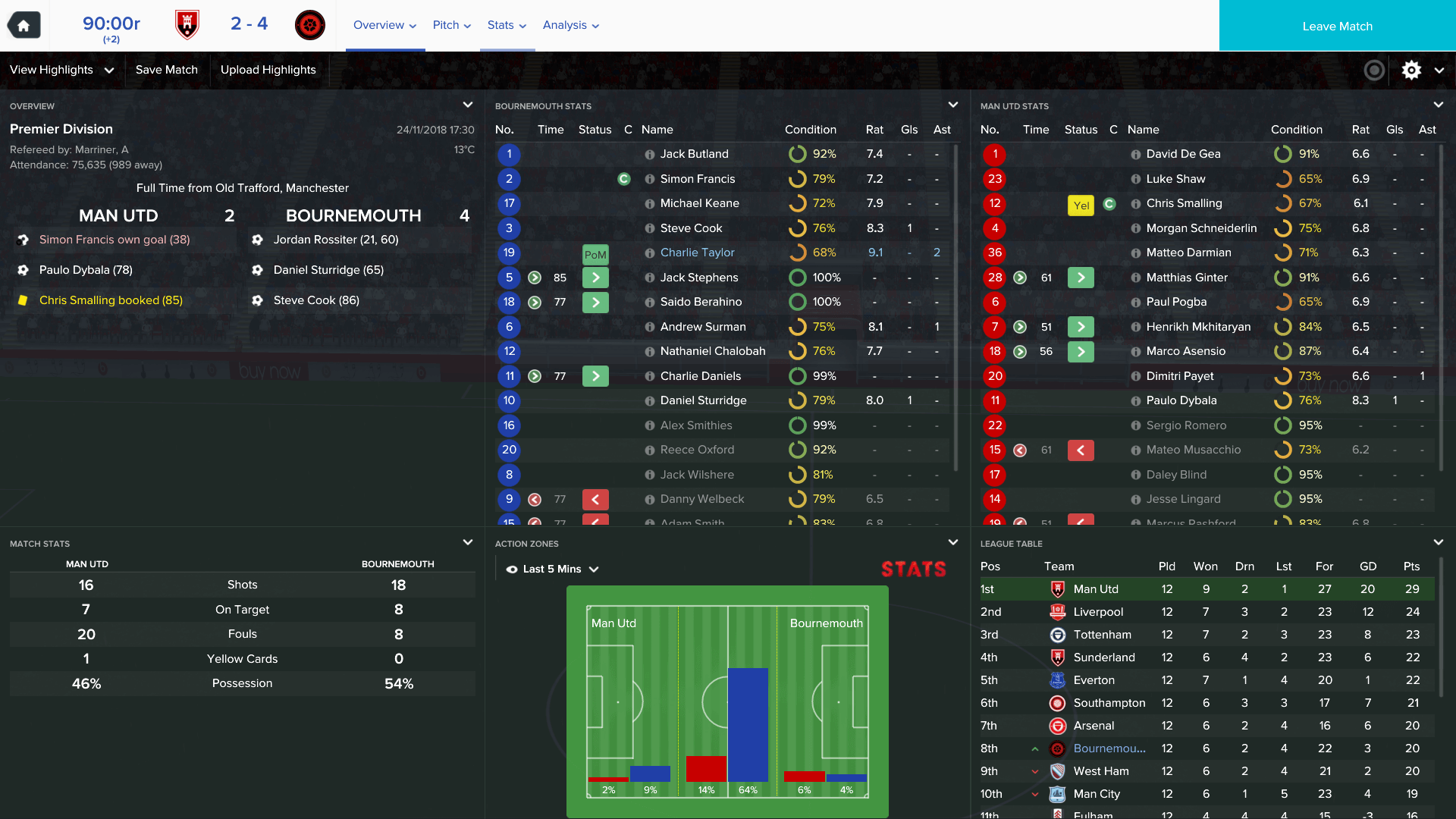 I'm ecstatic with that result; in the space of ninety minutes we've scored more goals against United than they'd conceded in the previous eleven games and inflicted their first loss of the season.
In the aftermath, Paul Scholes – presumably distraught at what we'd done to his old team – jumped ship to become Cardiff City manager. To replace him, I deprive Mick McCarthy of his right hand and steal away Terry Connor to sort out my shooting and then I snap up Steve Bould, adrift in a post-Wenger world, to oversee my defenders. Jordan Rossiter is also named Player of the Month for November, which is satisfying.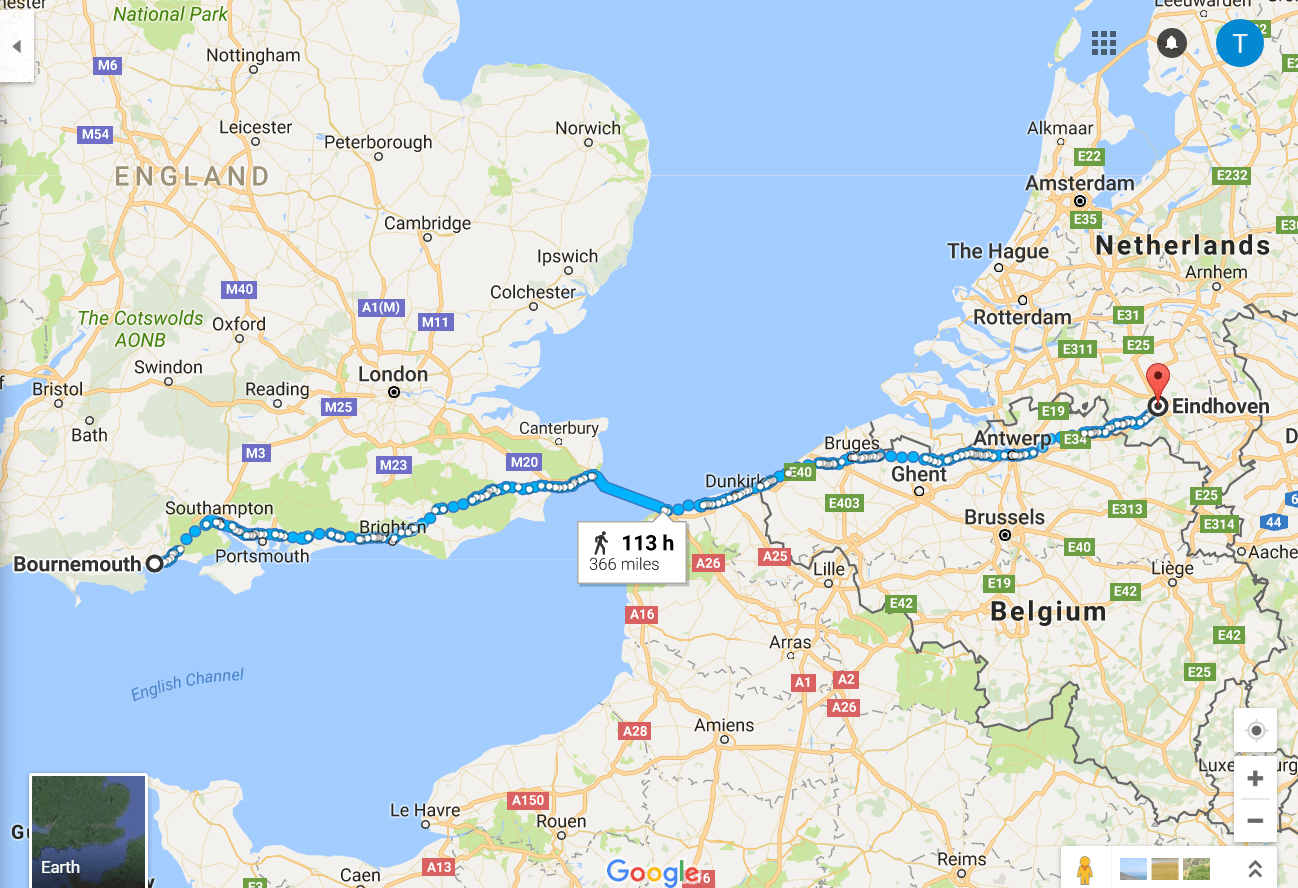 After the euphoria of that result at Old Trafford, the comedown in Eindhoven is pretty brutal. Rotation is kept to a minimum (I want a few of my boys to pick up bookings in this game so they're suspended for the meaningless final group match, so I set their instructions to 'Tackle Harder') but they rip us apart and win 3-0. We concede from a corner, then Luuk De Jong dispossesses Oxford inside our area and scores. Finally, I get regen-ed: Joris Van Oojien, head like a malformed potato, tapped into an empty net after a blocked shot. It's a heavy loss, but our lead at the top of the group is unassailable, so I'm not too fussed.
A home game against Arsenal isn't exactly the easiest fixture to get things back on track, but they've been doddering around in 9th place and a win here would help cement our status as a serious top half proposition. Alexis Sánchez wasn't about to let that happen though.
We didn't lay a glove on them in the first half and were lucky to only be one down. A big, diagonal switch of play from right to left sent the Chilean clear and he stutter-stepped past Michael Keane and lashed one across goal inside the far post. Then, ten minutes after the break, he picked up the ball, went on a mad, looping run, dribbling the ball past four of our players before chipping it up for Hakan Çalhanoğlu to nod in from three yards out.
On the touchline, the vein in my temple is on the cusp of bursting and I nearly bite Jason Tindall's head off his shoulders when he advises me that we should close down Sánchez more. I make a triple change, switch to 4-4-2 and somehow claw us back into the game.
Salvation, as ever, comes from my full-backs. Adam Smith decides to beat Sánchez at his own game, embarking on a mazy dribble that ends with him passing the ball square for Lewis Cook, who smashes a shot from 18-yards that bounces down off the crossbar and over the line in an immensely satisfying fashion. The equaliser was a beautiful move, a sort of blueprint for how I'd like my forwards to always play: little 5-yards passes popped between Welbeck, Berahino and Ravel, tugging the Arsenal defensive line all over the place and eventually working it in for Saido to slot past Petr Čech. Héctor Bellerín tests my blood pressure when his last minute shot from 30-yards rattles the inside of the post, but our second half Lazarus impersonation means we've got another point on the board.
The fixture list is unrelenting, stacking up important game after important game: next up is Hull in the quarter finals of the EFL Cup. It's a predictably tight but surprisingly uneventful match overall. Butland stood tall to deny Abel Hernández one-on-one from a counter attack in the first 45. There's lots of huffing and puffing but we eventually make the break through with about fifteen minutes left. Simon Francis runs himself into a cul-de-sac down the right wing so sweeps a pass into Nathaniel Chalobah just outside the opposition penalty area. He pauses, feints to shoot, and threads in Sturridge who is being played onside by a horribly disorganised backline and the big man does the business. He's now onto double figures for the season and we're through to the semi-finals.
We follow that up with another quiet, largely comfortable win away at Brighton. Studge scored the only goal of the game following a cushioned header by aerial powerhouse Jack Wilshere. Trent Alexander-Arnold, on loan from Liverpool and someone I've very much got my eyes on, picks up a second yellow in injury time and gets himself sent off.
Krasnodar are next, as we wrap up our Europa League group and finish our Thursday night games for the year. I mix the team up, trying to save bodies for more important days ahead, but I still field a decent starting XI. DS and Ravel both strike the woodwork early on, but it's Saido who breaks the deadlock by thumping in a header from the edge of the box, assisted by a deep Smith cross. Three minutes later, Sturridge dinks a ball over the Russian side's defence and Berahino scurries after it. He gets there first, carries it into the box and finds a gap at the near post to double his tally, and our lead, in one fell swoop.
That's the group stage done then and, that minor blip against PSV aside, I'm delighted with how we're progressing: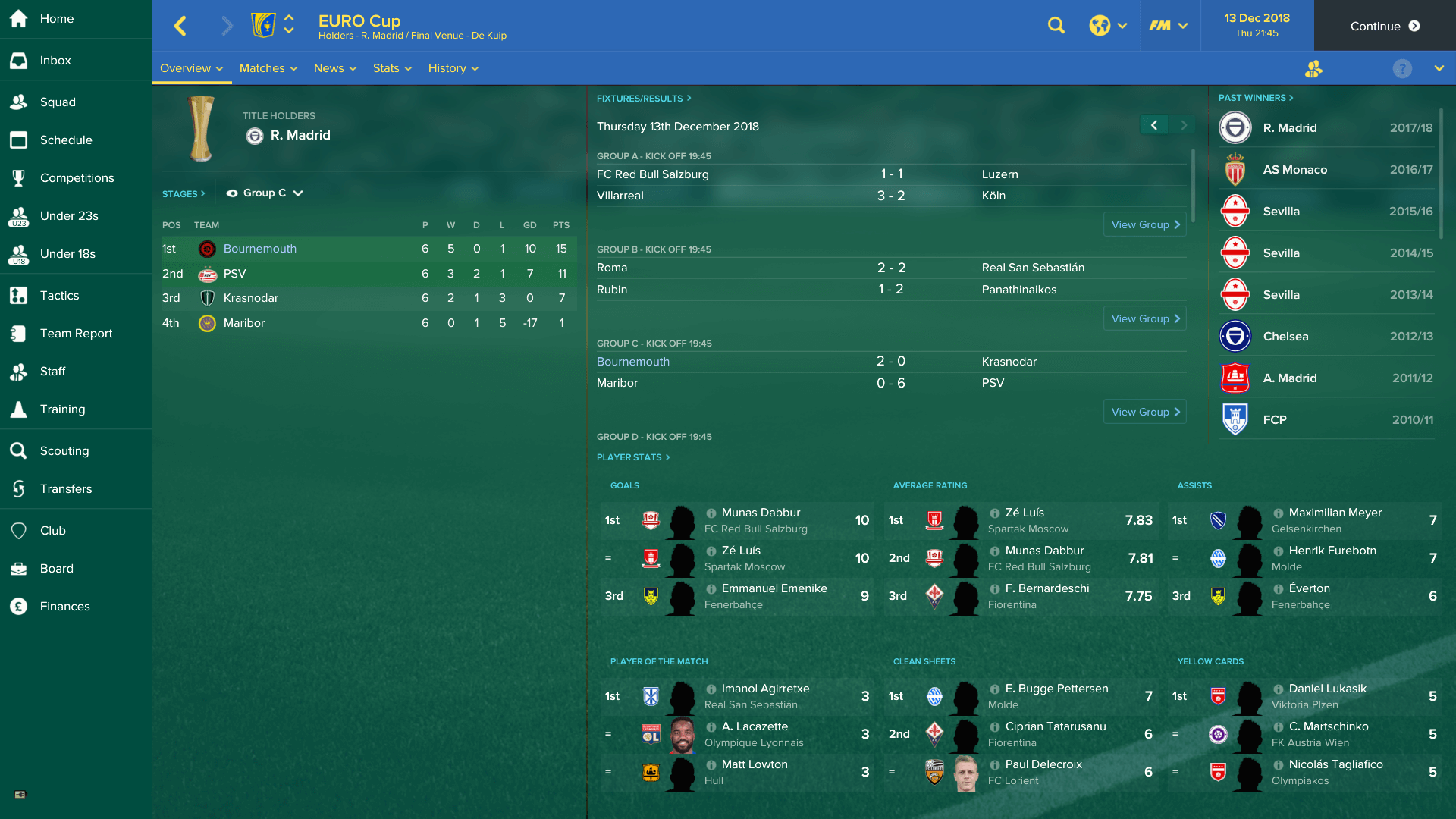 Shortly after, I receive a barrage of cup draws. We've drawn Real Sociedad in the first knock out round of the Europa League (with the first leg away) and a home tie against Crewe Alexandra awaits us in the third round of the FA Cup. Perhaps most excitingly, though, is the EFL Cup semi-final draw: Blackburn Rovers. Rovers are a midtable championship side, so who knows how they've scraped through this far. The other half of the draw reads Crystal Palace vs Sunderland. This should be my trophy to lose.
My excitement is short-lived, as I have to contend with last season's FA Cup final opponents Liverpool in the next game. My record against Klopp is still terrible, even if I did win the one that really matters.
I begin to worry when Julian Brandt chucks his forehead at the ball with his feet practically planted on the goal line to score from a corner in the first five minutes of the game. I needn't have worried though, as we're made of sterner stuff these days.
The fightback begins with Jordan Rossiter reminding his old side what they're missing. Dropping deep to collect the ball from Francis, he measures a brilliant pass over the head of Milner for Berahino to run onto. The striker burns him for pace and delicately scoops the ball over the head of Loris Karius, wheeling off to celebrate before the ball has even crossed the line. He's been at the heart of a lot of our goals recently and it's the case again as we go in front. Once again running the channels for us, he flies down the left to chase a long pass and chops the ball back for Sturridge who punishes his former club for letting him go. For a minute, I thought there was a very real possibility of him launching into a full-on, Adebayor-style full-length pitch sprint and kneeslide. Although given the state of his knees, I'm quite glad he didn't. Saido then makes something out of nothing once more, controlling an awful pass from Chalobah on his chest, turning, dribbling past Lovren and drilling his second goal in to wrap up a 3-1 win.
We're flying at the minute but a visit to Palace tempers our excitement somewhat. They're awful, sitting in 18th place and look like they're sinking. So naturally we chuck them a point. Their goal was a disgrace. Townsend steps up to a free kick on the halfway line and pumps a long straight ball forward onto our penalty spot. You could see the disaster coming before it happened.
Benteke rose and merely helped the ball on, flicking it backwards. Unfortunately for us, Butland had needlessly come rushing out and the aimless header looped over him and left us with a mountain to climb. We squander three clear cut chances in the first half, but only manage to equalise when Berahino catches Scott Dann dwelling on the ball, dispossesses him, and batters a shot home to continue his hot streak. We have to settle for a point. I'm always reluctant to give Pardew points, and he's characteristically smug in his post-match comments, but I refrain from sticking the boot in on him as he's a fellow Englishman.
The first game of the campaign against Southampton is up next. By this point last season we'd played them about four times. This is a crucial one as we're currently 6th and 7th respectively. I sit the lads down and pander to their baser instincts by passionately telling them that the people in the stands are the ones who pay their wages and that they need to go out there and win it for them.
Somehow, it works. We shift the ball inside, drawing in their full-backs and then spread it wide for Taylor, whose cross is headed first by Welbeck, then by Sturridge, and finally ricochets off Gary Cahill to put us a goal to the good. The two Daniels do their thing for the second; Welbz goes on a mad run and cuts back for his partner to place his shot off the inside of the post. With the game dwindling down, Cahill completes a disastrous performance by leaving a pass back to Fraser Forster well short. Callum Wilson is on his toes and gets to it before the goalkeeper to round off a hugely enjoyable 3-0 victory. That makes it seven unbeaten and we're firmly lodged in the top six at this point.
We have a great chance to put some distance between us and the chasing pack in our Boxing Day fixture against a Sunderland side who are inexplicably also in contention for the Champions League places under Moyesy. He's absolutely no match for my tactical genius as we blow his team out of the water while the referee's starting whistle is still ringing in the dour Scotsman's ears.
Welbeck scored his first in the second minute, guiding Smith's violent cross into the back of the net with his right shin. Number two arrived ten minutes later when he headed in a cross from the left by his striker partner. He would have had his hat-trick sewn up inside the first twenty minutes as well, had it not been for the assistant referee's flag. Sunderland offered absolutely nothing going forward until Rossiter needlessly hacked down Demarai Gray and they converted the penalty. Another goal is ruled out for offside – this time Chalobah is denied a trademark curler from range because Welbeck had drifted the last defender. He eventually got his goal – a brilliant bit of third man running beyond Berahino who played him in – and we claimed a win in a game we bossed.
Our final game of the year comes against Fulham, who were promoted via the play-offs and are sitting pretty in twelfth. We race into a 2-0 lead; Ravel scores a free kick which takes about four different deflections, and then Berahino comes wide to collect a throw-in on the right hand side and plays an intricate through ball for Welbeck to rifle home. We were 2-0 up and Fulham had 0 shots in the first half.
The collapse was inevitable. Reece Oxford carelessly underhit a back pass which Danny Pacheco seized upon to fire past Butland and the former Liverpool player was at it again fifteen minutes later when he timed his run perfectly to volley in a poor headed clearance from Oxford. It was a lovely strike in fairness, but appalling defending once again and the West Ham man's rating plummets to 4.5. I haul him off immediately and refuse to look him in the eye.
I thought we'd done enough to nick it when Berahino found the back of the net from an acute angle deep into the second half, but Fulham levelled it up with a left-footed strike from the right side of the box that kissed the inside of the post. We somehow contrived to throw this game away not once, but twice. Fulham had three shots on target in the entire match and scored each of them.
Despite my rage at that result, I shouldn't be too displeased. After all, the start to this season has been very promising: we're through to the semi-finals of the EFL Cup, we qualified for the knock out stages of the Europa League, and just look at the league table at the half-way point: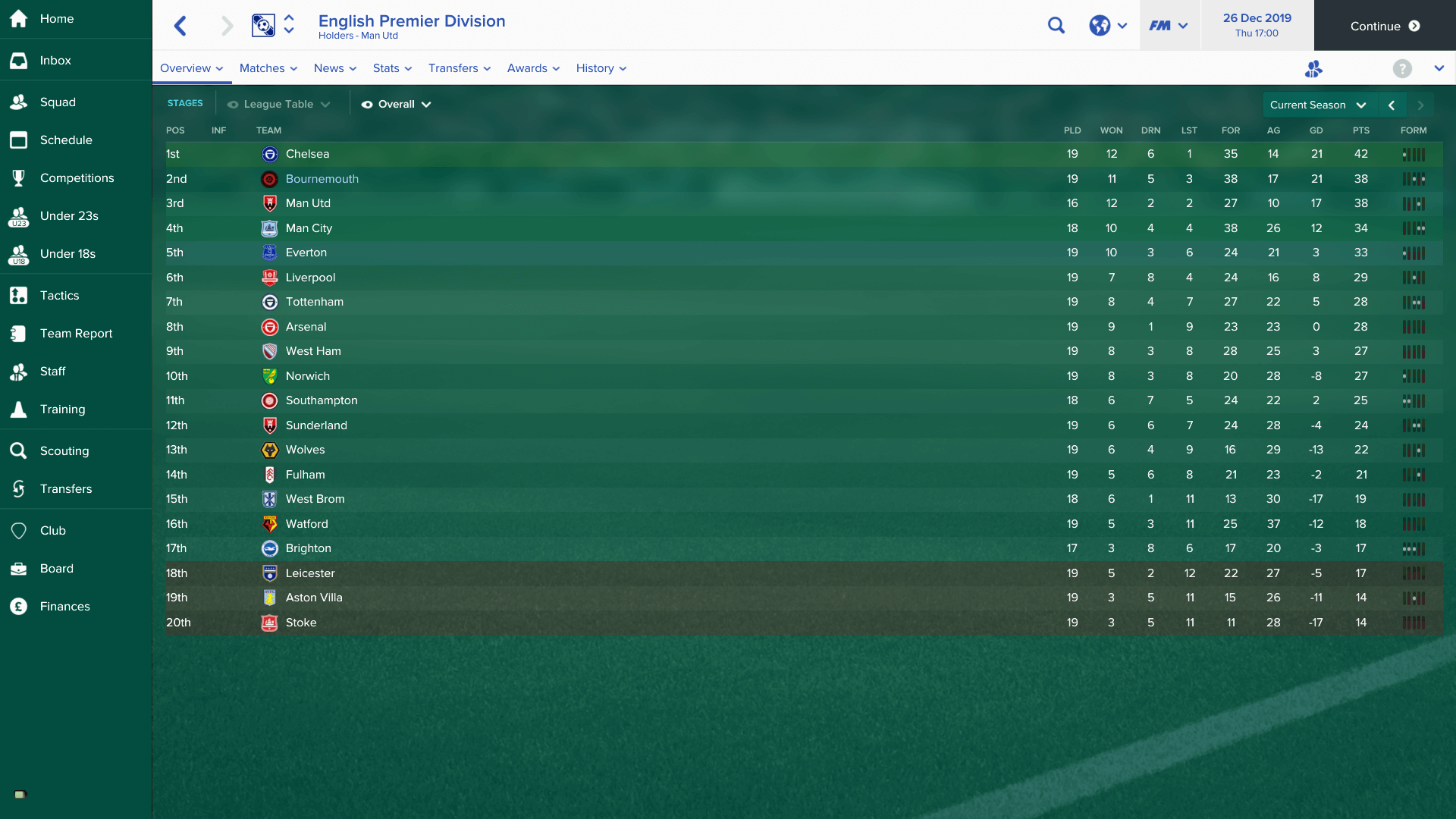 There's a lot of work left to do, of course, but this is a really solid foundation to build upon. We could easily win a couple of trophies and challenge for the title here if everything goes according to plan.
Now what's that phrase about the best laid plans of mice and men?