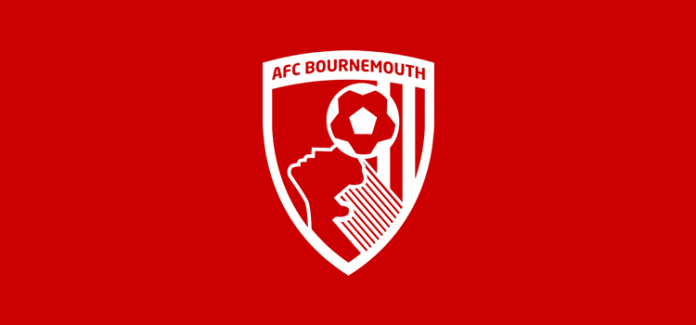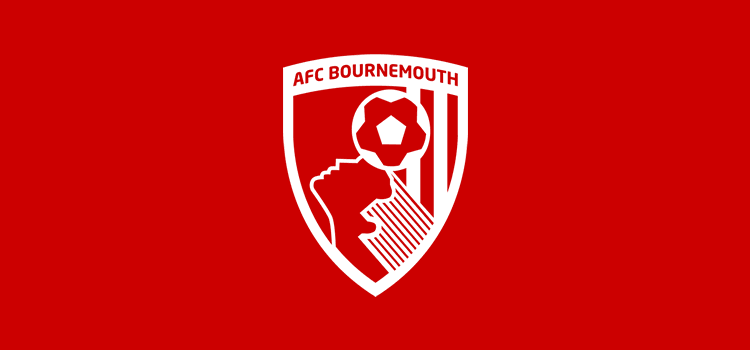 Disregard everything I said about taking a careful, methodical approach to my transfer business. The board gave me another £40 million to spend and I. Went. Wild.
But before we get to all of that, there are a few little things we need to take care of. In all the furore surrounding our historic FA Cup win, I forgot to mention that England's 2018 World Cup squad was announced: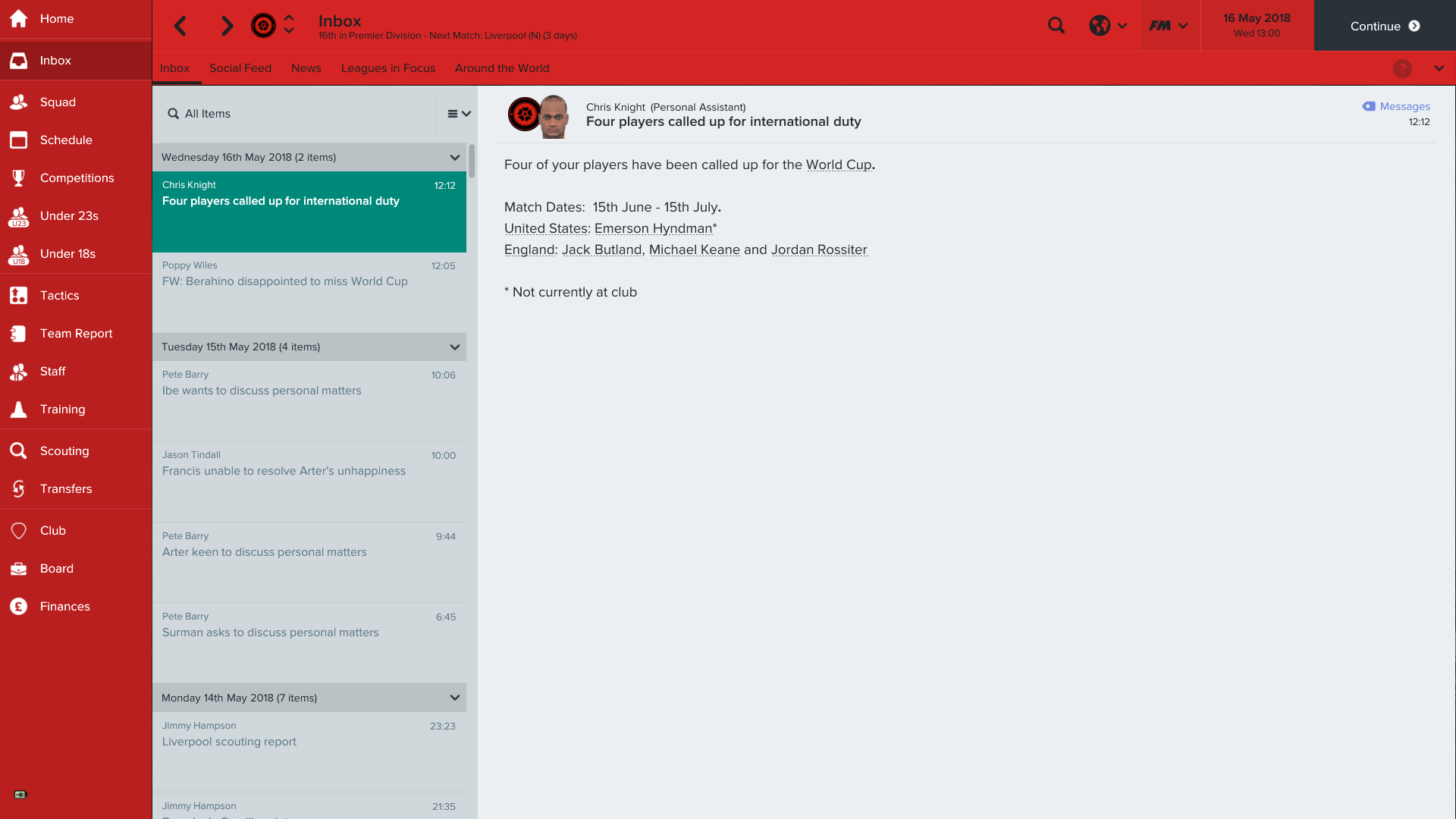 Initially, there were five Bournemouth players named in the provisional 30-man squad, but Saido and Lewis Cook were dropped (despite the fact that Rossiter hadn't yet made his debut for the senior team) and, as you may be able to tell from the message below this one, Berahino wasn't too happy about it. This, coupled with interest from Spurs, unsettled Saido and he came to me demanding a move:
I tried every trick in the book. I begged. I pleaded. I made wild, unkeepable promises. He was having none of it. Eventually, I caved and said that I'd let him go if Tottenham came in for him. Naturally, I instantly went out and started assessing my list of potential striking replacements.
While we're on the topic of international football (and problematic strikers) there is something else I should bring up at this point.
Reader, it is with a heavy heart that I must inform you that there is a traitor in our ranks. Or, at least, there was.
As the days to the World Cup were ticking down, I was busy scouring the land for the hottest eligible prospects, arranging pre-season friendlies, and handling contract renewals when I received the message I had been dreading – one I thought I had managed to avoid yet again:
"DR Congo call-up Afobe as a replacement for Bakambu"
You see, Cedric Bakambu ruptured his achilles tendon while on international duty and, as it occurred before the tournament, DR Congo were able to draft in someone to take his place.
So Florent Ibengé whispered in the ear of Afobe, like the fucking serpent of Eden telling Eve to eat the fruit of the Tree of Knowledge of Good and Evil, and Benik took a big, fat bite out of the fruit. He chewed it up and gobbled it down and accepted the call-up.
Afobe made his debut off the bench in the first group game against Venezuela and that was that. He's Congolese. He's dead to me.
How could you betray me like that, Benik? How could Leyton's favourite son turn his back on Queen and country without a second thought? This is tantamount to treason. If I had my way, his head would be on a spike on London Bridge as we speak.
My backroom staff eventually calm me down, drape a comfy blanket across my shoulders and give me a nice, warm cup of hot chocolate to soothe me. They convince that it would probably be more beneficial to sell him. I reluctantly agree and offer him out to anyone who'll listen.
Incredibly, recently relegated Leicester come in with an offer of roughly £24 million upfront that will rise to a potential £36 million+. It's amazing the sort of spending power Championship clubs have. I bite their hand off, especially considering that one of the clauses is a hefty lump when he scored 30 goals for them; he scored 17 for me last season in the division above.
With that, the fan's player of the year – and objectively my best rated player last season – is gone. The fans are not happy and I've now got to find two centre forwards, as Tottenham are still sniffing around Saido.
After careful assessment of my options, I decide to deviate from my guiding philosophy of only signing 19-24 year olds. The quality just isn't there right now, to be honest.
As you may recall, my aim was primarily to sign a centre-back, maybe a central midfielder and now a couple of strikers.
I also really wanted to strengthen my defence but the list of defenders who were: a) British; b) in the age range c); of requisite quality; and d) willing to sign for me, was a very short list indeed. I made an offer for Jamaal Lascelles (who doesn't even entirely fit the profile of the type of defender I'm looking for) and Newcastle came back and told me they want £60 million for him. I laugh in Rafa's face and refuse to ever contact them again.
The search for a left back goes much more smoothly as I plunder Leicester for Charlie Taylor, giving them back some of that Afobe money. He's technically very sound and an ideal like-for-like replacement for Charlie Daniels. Plus, he's 24 so I've not broken the rules with him.
My Director of Football, Ray Clarke, comes to me with the opportunity to take Reece Oxford on loan from West Ham for the season. I know I stipulated that I'd only sign players on loan under exceptional circumstances, but here's my thinking: I honestly can't find any CBs of sufficient quality elsewhere; Oxford is 19 and this is a good chance to properly assess him as an option for a permanent deal down the line; he fits very nicely with my existing possession style; and there is no fee involved, just his meagre wages. I accept and he'll be worked into the rotation alongside Stephens.
The striker search initially goes quite similarly to my hunt for a central defender. I enquire about Tammy Abraham and they want £40 million for him. He spent last season on loan at Celtic and scored 8 goals. Fuck. That.
It's obviously time to broaden my horizons, so I do just that. 28 year-old Daniel Sturridge, knees held together by duct tape and hope, is transfer listed by request and available for just over £11 million. I figure he's worth a punt and I get him on board for what seems like a reasonable fee (his wages, however, are *not* reasonable by any stretch of the imagination).
Literally the day after his deal is completed, Danny Welbeck is deemed surplus to requirements and is put on the transfer list by Arsenal. I'd spent some time monitoring Welé during his spell at Roma last season. They had the option to buy him for £8mil and it looked like they were going to take Arsenal up on that. Talks broke down between them and I swooped in and grasped him out of the clutches of the Giallorossi for a touch over £9 million.
He's 27, but I feel liked a combined outlay of about £20 million for Sturridge and Welbeck is a good bit of business for all parties. Signing both of them might seem a little gratuitous (and they both contravene my age rule) but I've got Europe to deal with and chances are that at any given time at least one of them will be injured, so I think it's worth doing.
It was also a bit of a preemptive move to cover for Berahino leaving.
Unfortunately for him, Tottenham didn't ever make a bid so he's staying put. He seems happy enough for the mean time but I am now left with an abundance of strikers. I'm not too bothered about that though. Like I said, there'll be plenty of minutes to go around this season and it's nice to have strength in depth. I've sort of written off Callum Wilson at this point, so he's relegated to fourth choice. I'll swap the other three around according to form and fitness.
At that point I was quite happy with my dealings and was willing to leave it there. Then Harry Arter and Jordon Ibe came to me and told me that they were unhappy with the amount of minutes they played last season and want assurances they'll get more this time round.
I agree but then have a change of heart. There's no real place in my system for Ibe. There are far better options than him upfront so, rather than give him the time to learn a new position, I opt to get rid, packing him off to Villarreal for around £18 million – recouping what the club originally paid for him – and slapping on a nice 20% sell-on clause.
I'm sort of reluctant to let Arter go as he's a fixture at the club, but as mentioned previously, he is Irish and ageing so it's time to be ruthless and say goodbye. I manage to receive far more for him than I expected which is great. It leaves me in need of a central midfielder and with a fat wad of cash burning a hole in my pocket.
But who to go for?
Will Hughes? I'm still unconvinced he's enough of an improvement on what we've already got at the club.
I like the look of James Ward-Prowse a lot. He's still only 24, is very well-rounded, and would provide a threat from set pieces – something we're sorely lacking. He's at Leicester and I make a few bids but can't haggle them any lower than £34 million. He's good but if I'm spending that sort of cash on someone, then there's someone else I want to try first.
This is ambitious. He doesn't even appear under the "Realistic Transfers" filter on my scouting screen. He's not transfer listed. He's not loan listed. I have to give it a go though.
I bid for Jack Wilshere.
He *really* does not want to come, but Arsenal accept a bid of £36 million for Jack the lad. I ask Michael Keane to have a word and see if he can't sweet talk his England team mate:
Keano would obviously make a shite diplomat. It's down to me then. I throw cash at him, maxing out virtually every bonus and clause, and I rejig my transfer budget to give him higher wages. I also agree to let him be vice captain.
After several round of intense negotiating, we finally agree a deal and I'm honestly delighted to have him back. And, after surveying my squad, I realise I've quietly had an excellent summer. We've improved in almost every department – not just by bringing in depth, but by adding quality to the starting eleven.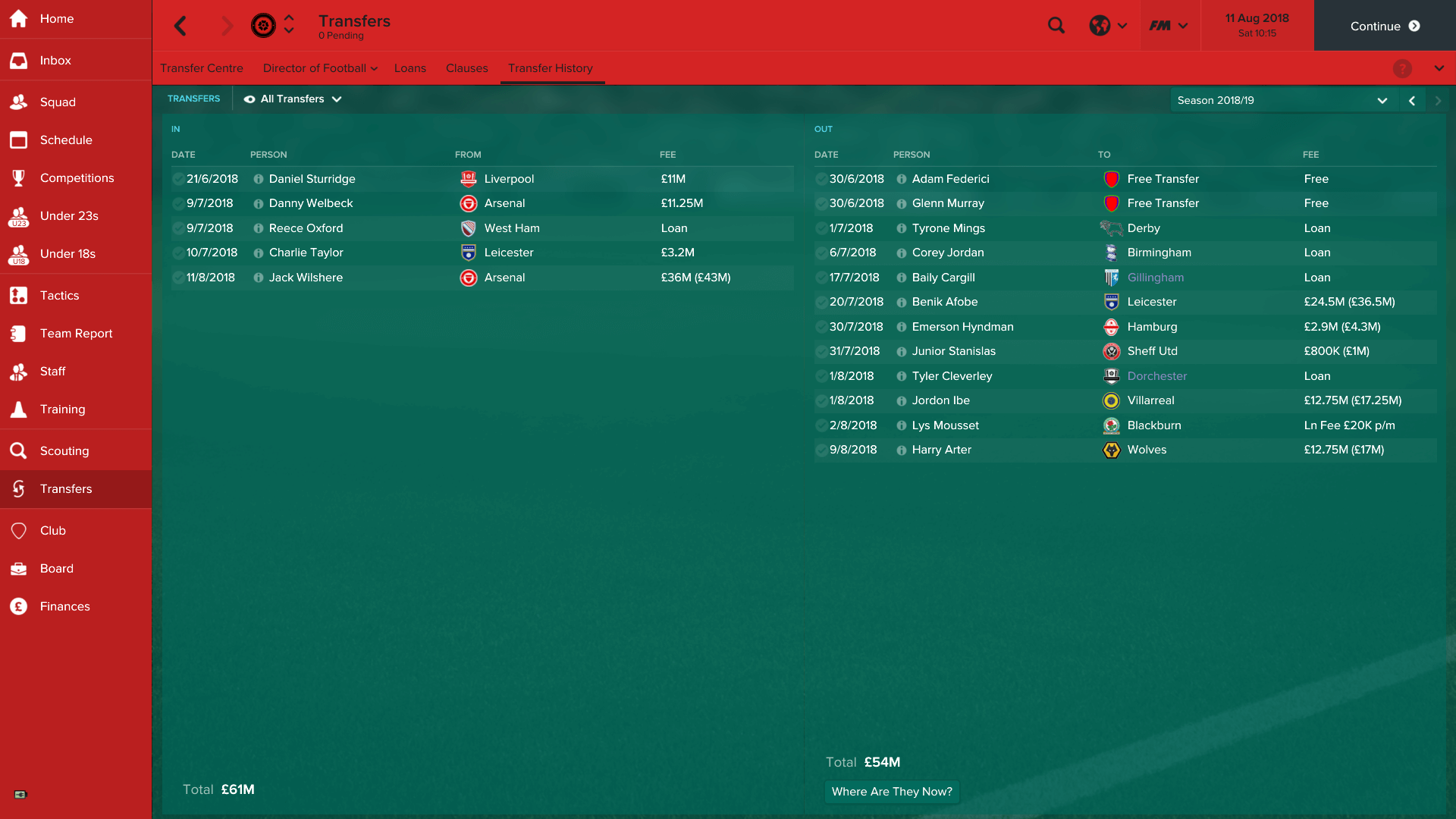 I also shift on Junior Stanislas and get Adam Federici off the wage bill at long last. I loan out some of my fringe players and finally manage to ditch Emerson Hyndman (with a decent sell-on, too).
Pre-season goes well and I'm feeling confident. This could be the one. I feel like we could do something a bit special here.