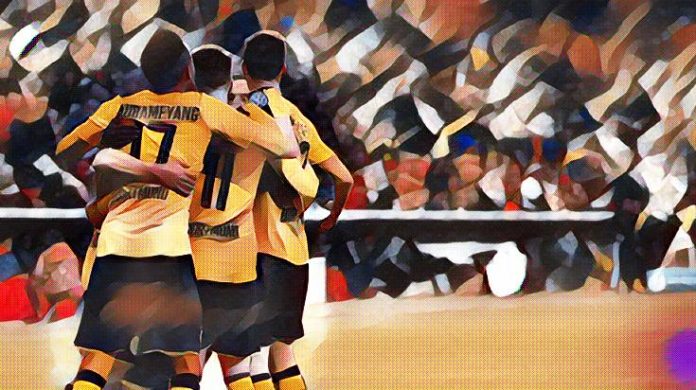 "You what? I've won you three effing titles in a row. You've released players, you've sold players, you've promoted players, you've loaned players out and every single season I have overachieved. And now we've had one bad start to a season you want a meeting? Seriously? I've turned down six bloody Bundesliga jobs to stay with you, and you are telling me my position is under serious threat? You're having a laugh mate. Having a laugh."
Well, er, this is not the expected update.
Yes indeed. The most successful 3.Liga manager ever (I expect, I have no actual proof of this claim) had a bad start to the season so the board wanted to meet. We sat 18th out of 20 at the time of the meeting, one point off the bottom, but also only five points off 12th place. Hardly a disaster and, to be frank, the team this season wasn't up to much as I had been stripped, once again, of all the talent I had. Only this time, there wasn't enough talent available and happy to earn minimum wage to come and play for me. So, understandably, we were not competing at the top of the table.
They wanted me to get nine points from the next five games, otherwise I was done. I don't do ultimatums.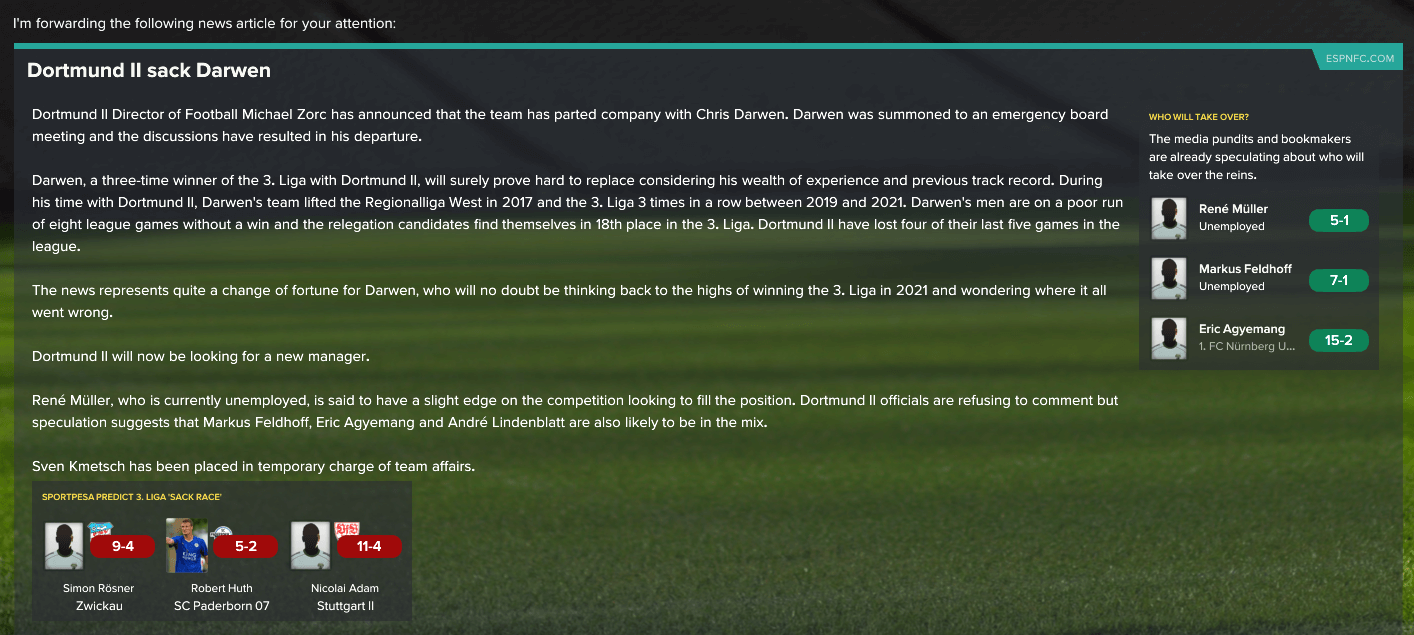 They say they sacked me, I say I told them they could stick their ultimatum up their backside. You can choose where the truth lies.
So, sacked for the second time in my FM life. Both times have been from B sides, incidentally. What was I do to now, considering the whole point of this save was to take over from Tommy T one day.
I had three options…
See what jobs came up in Germany between now and the end of the season
Add in some other leagues and see what comes up if nothing attractive happens in Germany
Call it a day and sulk
I sat tight. I waited for the phone to ring. I mean, I had been offered some brilliant jobs whilst in a job, so surely the phone would ring. It would ring.
December became January. January became February. Argentina, Belgium and Holland were added, you know, just in case. February dragged, still nothing of interest floating around. March came. People got sacked in March!
Suddenly the newspapers were talking to me again, asking how I felt about being linked to two jobs that had just come on the market – Hoffenheim and Hamburg. "Bloody marvellous" I wanted to say as they were both Bundesliga gigs and I was starting to accept that I might have to accept I would be rebuilding my career at a bigger 3.Liga side or, at a push, a mid-table 2.Bundesliga club. Both clubs interviewed me, both clubs offered me their job.
I chose Hamburg, mainly out of respect to Kevin Keegan.
Never been relegated have Hamburg, and this is the situation I am walking into…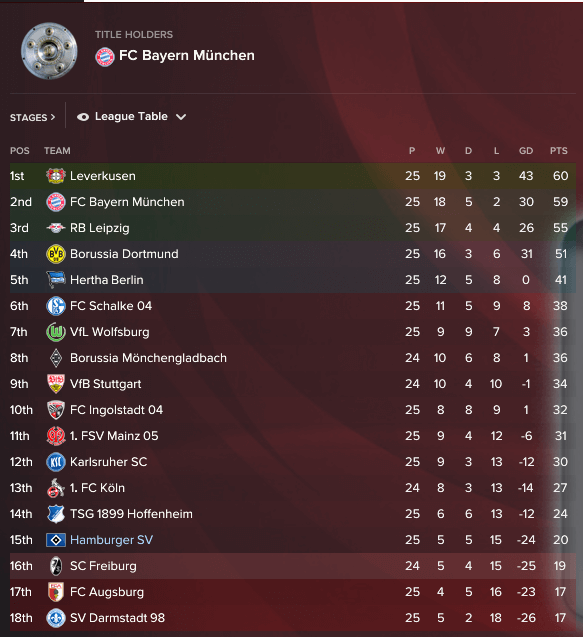 I am actually bricking it. This will make or break the save.
I know I said I would never leave Dortmund, but I have come too far into this journey to give up now.
The plan is revised, we are taking a detour. I will still return to Dortmund, but on my terms now…