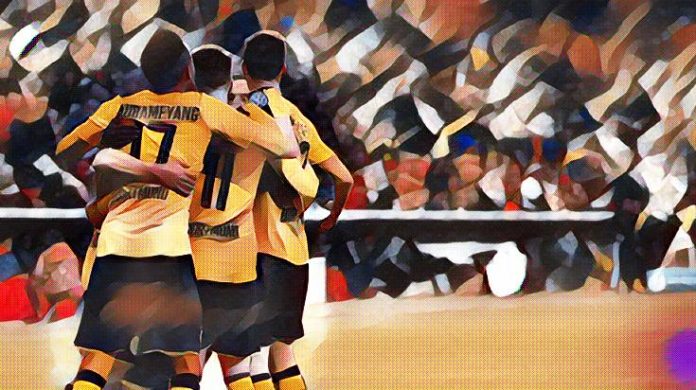 Welcome to an end of season rundown! I know, you are only just getting your heads round the 4th season which saw Dortmund II win their second 3.Liga title in a row against, many including I felt, all the odds.
If you have missed any of the series so far, catch up on it all here!
Buoyed by such success I flew through season five. It was one of those seasons that gripped me, coupled with a couple of quieter days in the office, and before I knew it, it was all over.
Of all the lads that were out of contract, the board decided to retain Bonmann, the goalkeeper. That was pleasing, as he was fast becoming the most experienced player in the side. All the others were released, some were sold, some were loaned out. When I say some, I mean a lot actually. One hell of a lot.
Initially, we had lost Gabby, Kaufmann, Emre and Zylla – all first-team regulars with a lot of minutes under their belts over the two glorious campaigns. Raschl and Schels returned from loan spells and were sold, I resigned Salim and he was instantly loaned out (I hate it when that happens) and the two top talents available to me and our route to actually scoring any goals – Teppers and Freiwald – were also loaned out. Heiland, our excellent anchorman, was flogged, as was Kopacz. On that list above, I started the season having lost eight key squad men. Superb! Jumping ahead, we coped pretty well initially, and then the board took the two remaining stars (and the reasons we were coping) by loaning out Strohmann and Schuster. Yeah, thanks Tommy T.
How on earth did we cope in the first half of the season?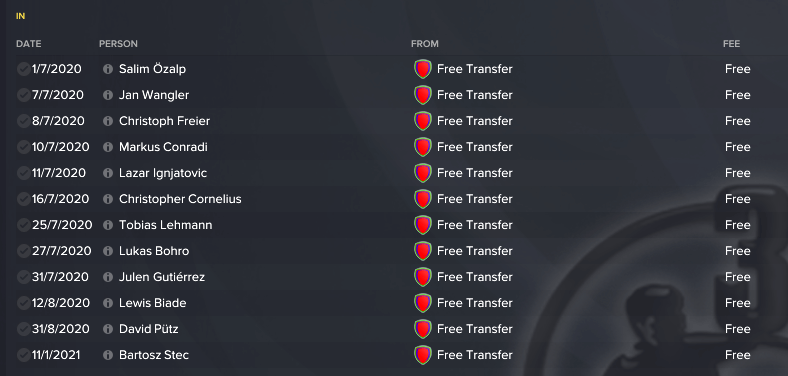 I had to go shopping in the reject bin, that's how. Scouting every single unattached player in the hope they might accept the minimum wage IF they were good enough to play in 3.Liga, I was scrabbling around like Harry Redknapp on deadline day trying to put together a squad that might, if we were lucky, not humiliate ourselves.
Of the boys brought in, Conradi, Cornelius, Lehmann and Biade made an impact, the others had to be content with just being there if needed. Safety in numbers and all that.
Yet, somehow, this bunch of ragtag footballers, many who will never, ever get near the Dortmund first team squad went and did this…
Over the course of the season we managed x 0-0 draws and x 1-0 wins, we utterly ground this title out.

I mean, we only conceded 12 goals. 12 goals! In 38 league matches, and in those 38 games we only conceded in 10 games.
However, we only scored 44 so it was hardly fun to watch a lot of the time. Actually, that is not 100% true. We created shed loads of chances, we were just lacking a top quality duo in the attacking midfield slots.
That was the league table when the title was sealed, incidentally. Magdeburg, relegated from 2.Bundesliga, were strong all season so to beat them to the title was amazing.
This is how the boys fared over the season:

As you can see, some superb performances in there – leading to us achieving this:
Kamps is Mr Versatile, and he has needed to be. He started the season as the roaming playmaker in the DM3, got shunted to right back, sometimes played centre midfield and ended the season as the central defensive partner to Luca Kilian, who had another excellent season.
Although they didn't nail the average ratings, the two Toby's were vital to our success…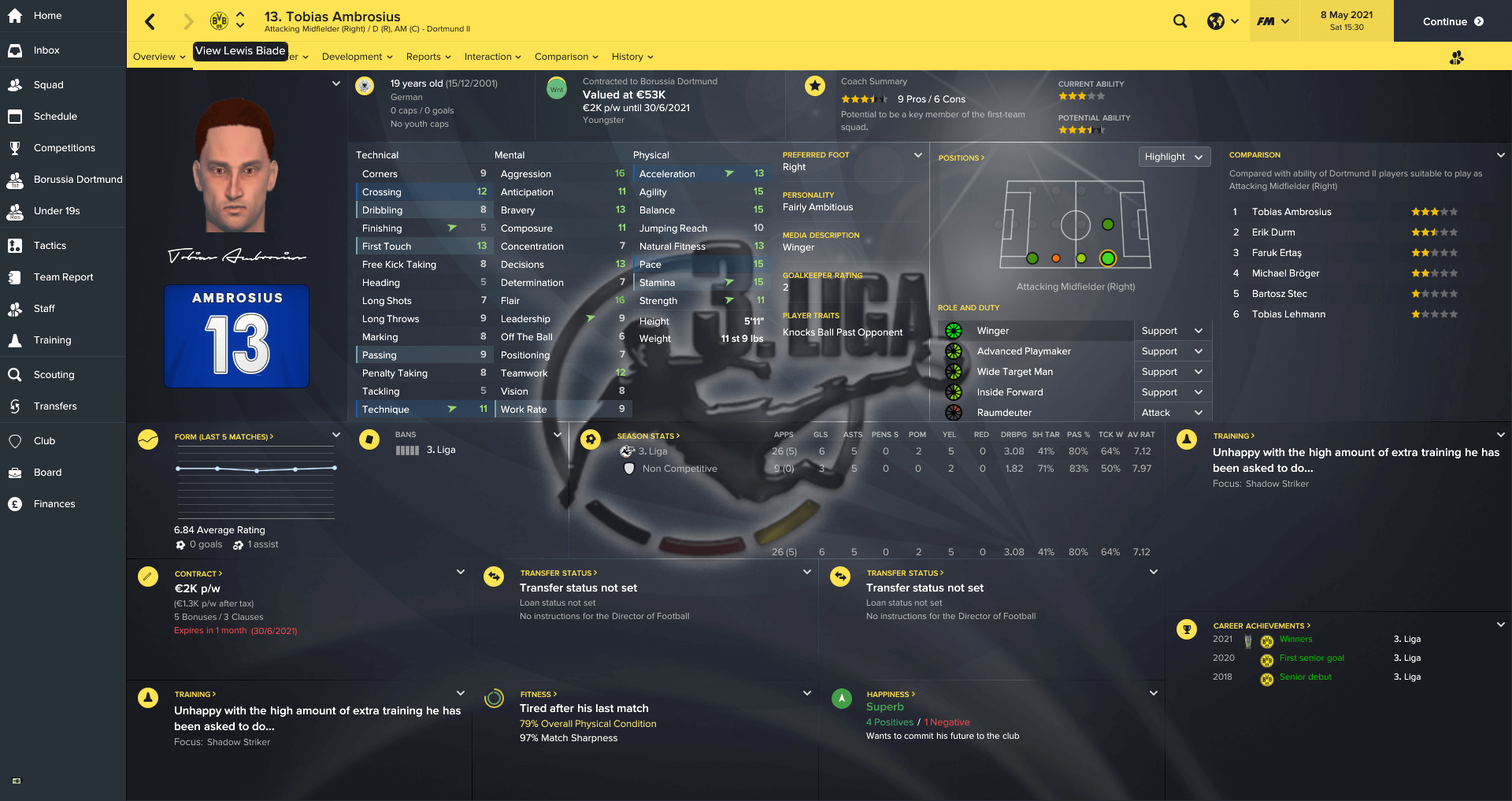 Ambrosia, well he is a right back in my mind. So when my assistant suggested we played him as the shadow striker, I thought he had lost the plot. Mind you, we've had form in converting people into random positions so we gave it a go. His thunderbastard from 25 yards the first time we tried it convinced me to persist and he did OK.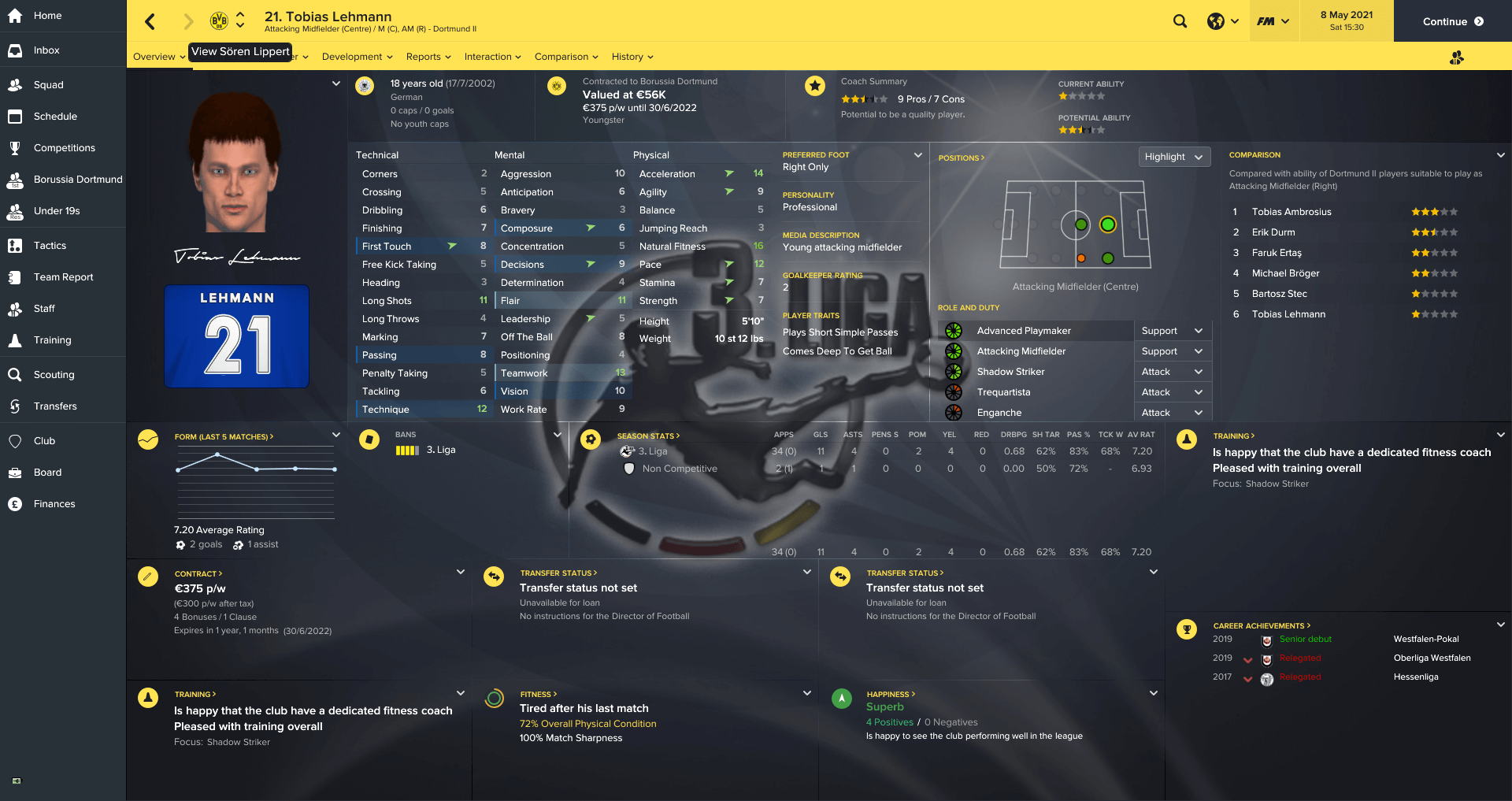 This lad looked like a very low-level replacement for Teppers and Zylla, whose cruciate went. But, to his credit, he was superb. OK, not many assists or goals, but he more than did his bit.
These boys all played their part at the back – Erik Durm was with us for a lot of the season and provided some experience. Rausch is going to be a quality player I think.
And of course, our goalkeeper…
Who wants some end of season stuff? Of course you do…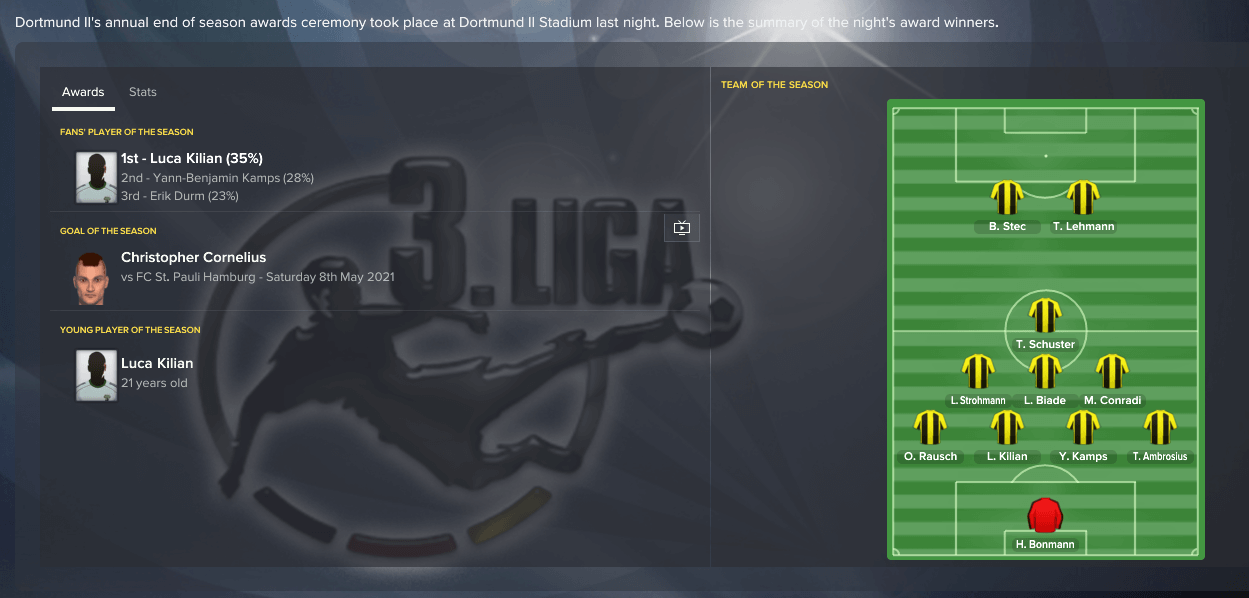 Our average attendance is well on the way up, which is testament to what we are doing.
Personally, this is where I'm at:

I've had three more Bundesliga offers since the season ended. Tommy T has one more year left on his deal, and this was how he did last season…
He's still not won the title, but the cup win has gone a long way to making him popular once again. I am starting to think he'll never leave!
So, we look ahead to next season.
These boys are likely to be released:

That's alright really. If we lose all of them, so be it. I've been scouring the free market once again and I have some replacements lined up if needed.
I know I say this all the time now, but I really cannot see us winning four straight 3.Liga titles. But, as ever, it will depend on what the squad actually looks like when the first window shuts. I have no idea at this early stage, but I am pretty sure I will need a new goalkeeper. Everything else would involve me and my crystal ball.
The longer this continues, the better the chance of me being the clear favourite for the job when it comes up – unless, of course, we become rubbish at some point.
Thanks for reading!