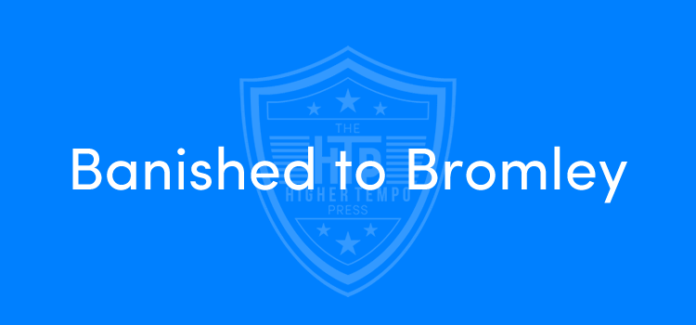 So, it's August 6th and I have my first league game as Bromley manager today against Tranmere Rovers in a 3 o'clock kick off at Hayes Lane, great. Just to remind you I'm aiming to finish at least in the top half this season which everybody at the club believes we can so I'm hoping we can start the campaign with 3 points.
Sadly though it was more of the same from The Lilywhites as we lost our 4th game running, not scoring for the 2nd game in a row. Deciding to stick with the attacking 4-4-2 formation rather than Hammond's favoured 4-1-2-3, I wasn't helped 18 minutes into the game when one of my two central midfielders in Lee Minshull saw red for a trip, for which he received his second yellow. It was only 2 minutes later when Tranmere's Andy Mangan was bundled over in the box as a corner swung in, and with referees apparently looking out for off the ball incidents from set pieces now, a penalty was given which of course they scored.
For the next 70 minutes I felt we defended well with 10 men, keeping the score at 1-0, until Tranmere doubled the score in the 90th minute as the defence let their guards down at yet another corner, allowing Steve McNulty to head the ball home before Andy Cook made it 3-0 only 42 seconds later leaving us 23rd in the VNL after matchday 1 and having me give the players the first hairdryer treatment of the season, I just hope they listened.
Next up was a midweek trek over to Torquay United in search for our first goal and first points of the season. Torquay won their last game 1-0 against Macclesfield but I was confident our guys could do the job, if they took the message on board from the last team talk and if no one was to get sent off. Replacing Minshull in midfield today was Thomas O'Connor who repaid my faith in him with a man of the match performance.
As you've probably guessed after the last sentence we finally got a green circle after exactly a month since our last, winning 2-1. One player that was instrumental in the win was Connor Dymond who picked up 2 assists for Ben Chorley, who smashed the ball in on the turn, and O'Connor who picked up the match winning goal from at least 25 yards to tell me he's good enough to be in the side regularly. After 2 first half goals the game was pretty much won but my heart rate did increase when we conceded late on, but luckily we held on. This post-match team talk was definitely more positive than the last as the Bromley faithful could now enjoy getting some points on the board, moving us up to 12th place after 2 games.
With O'Connor grabbing the headlines in our last game it only seemed right for him to start 4 days later against Solihull Moors. With another away journey I'm looking forward to see if the boys can replicate the performance from our last game. To do that I went with the same starting 11 as the Torquay game.
But much to my frustration we were the first to concede. A goal from Harry White, a player I had instructed my defenders to always close down, was left in enough space to open the scoring. It was time for another assertive team talk, to remind Chorley and Holland to stick to White like glue as well as telling my attacking players that I expected them to be better in front of goal. Luckily their response was almost instant as a quick counter attack resulted in Blair Turgott cutting the ball back for O'Connor to make it 2 goals in 2 games for him. With 10 minutes left I thought we were about to snatch another 3 points on the break but substitute Bradley Goldberg's shot could only go as far as the side netting, seeing us pick up a point but drop a couple places down the table.
So in this 3 game spell the one thing that's stuck out most to me were the wasted opportunities that could've transformed into points, so I think now would be a good time to put the likes on Elford-Alliyu who hit the bar and Goldberg, whose best effort rippled the side netting, on some extra finishing training before we return to Hayes Lane to face Aldershot in a few days. Hopefully that pays off!