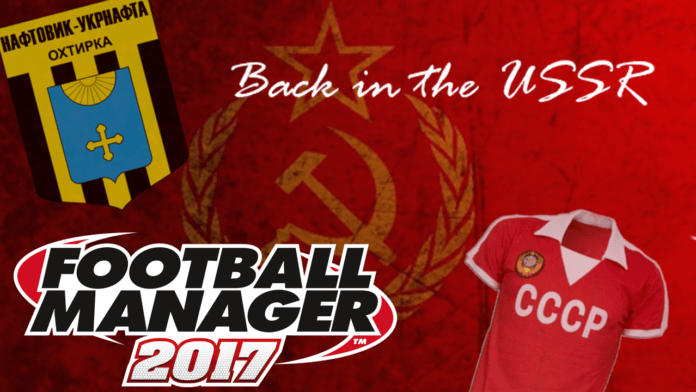 When we last saw Dave, the manager, he was sloping off to his office with too many bottles and a darkening look on his face: he doesn't deal with disappointment well…
It's a week before I rouse myself from my office-den and sift my way through the empty bottles and bodily fluids towards the dressing rooms. That's where I sit, naked, in the shower, for 6 hours, until I realise that we're playing away at Kremin.
Few team talks are as effective as the team arriving to find their manager, half-dressed, soaking wet, visibly shaking and smelling strongly of stale vodka. So when I simply raised a solitary finger and pointed at the door leading out of the dressing room, I'm sure the players understood what was expected of them.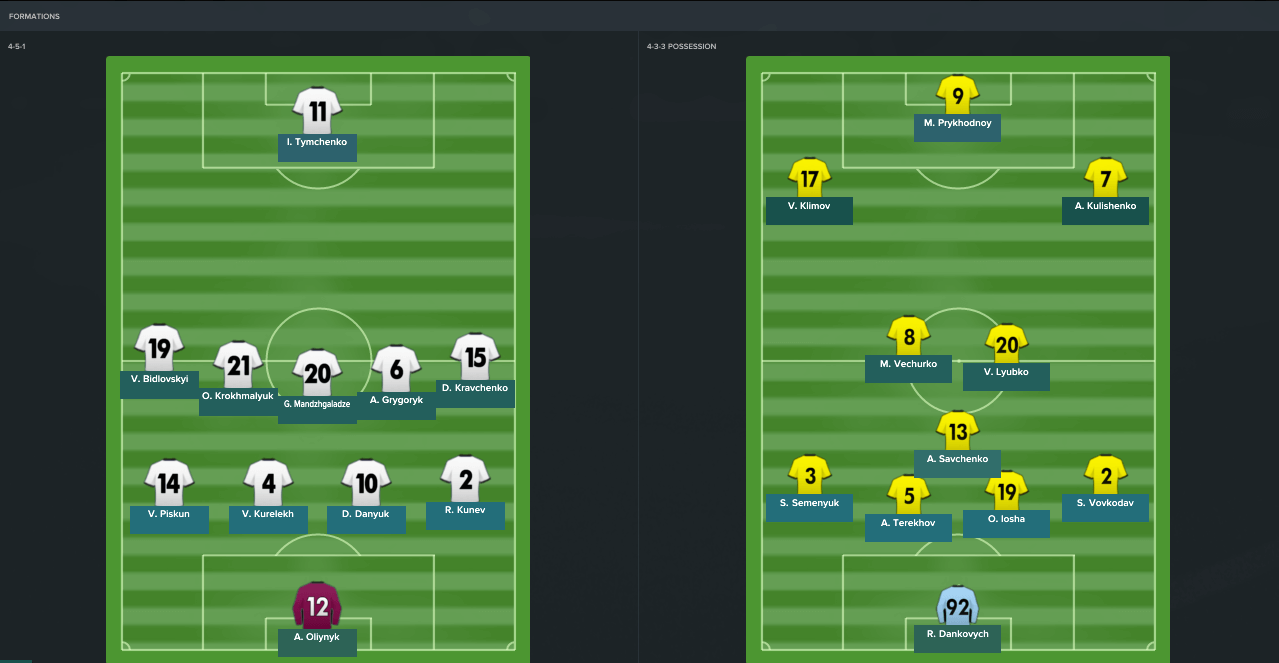 Well, that certainly seemed to do the trick. Either my players were terrified of my appearance or pitied me so much that they thought another bad result might tip me over the edge. Regardless, we romped to victory in an eight goal thriller. Not ideal when you're suffering with a week long hangover, but at least we're on the right side of the result.
Prykhodnoy bagged a brace, Kilmov scored almost as soon as he saw Yuriy Chonka warming up to replace him, Chonks himself then bagged a goal and Kulishenko finished things off with a lovely free kick. We couldn't stop Igor Tymchenko from scoring a hat trick but it's the three points that's important. I head off to have a shower, drink a large glass of Resolve and call all the people I sent some rather vulgar texts to last week.
Things get even better when I hear that Illichivets have lost 5-1 to Cherkaskyi Dnipro, which puts just a point between us and the top spot. What a difference one booze-fuelled week can make.
I'm barely recovered from my hangover when Skala Stryi come to town. We've already beaten them this season, so I'm expecting more of the same from my side. We're struggling a bit with injuries; Savchenko and Sed'ko are out with problems sustained when kicking a ball, which isn't particularly encouraging, considering it's their job. Still I'm sure we can still get the result.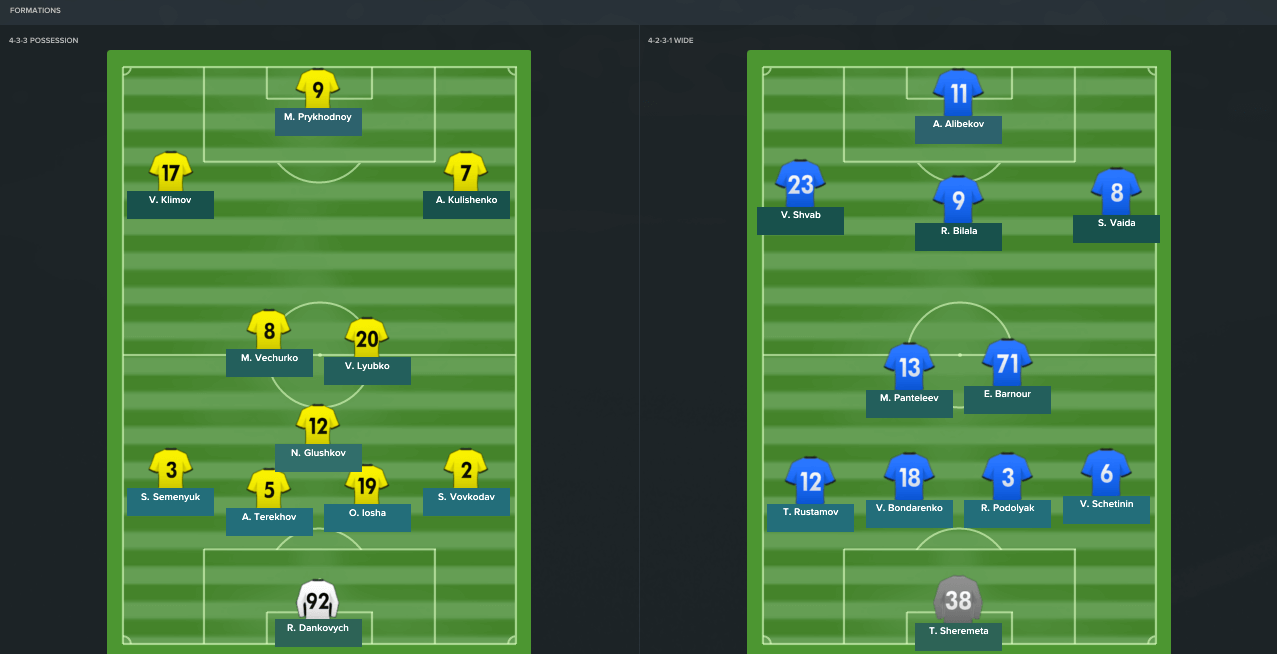 Yes, that'll do very nicely. Another impressive performance and another win to ease the pain of defeat two games ago. Verchurko broke the deadlock after 23 minutes. His shot, from a Prykhodnoy cross, took an enormous deflection and sailed past the keeper. Lyubko then staked his claim for a first team spot by smashing a half volley into the top corner from 20 yards. The game was over as a contest by the 35th minute when Prykhodnoy's shot was saved by the keeper, before rolling onto the post hitting the prone keeper on the head and trickling into the net. Skala pick up a consolation goal late on, which is annoying, but the day is ours.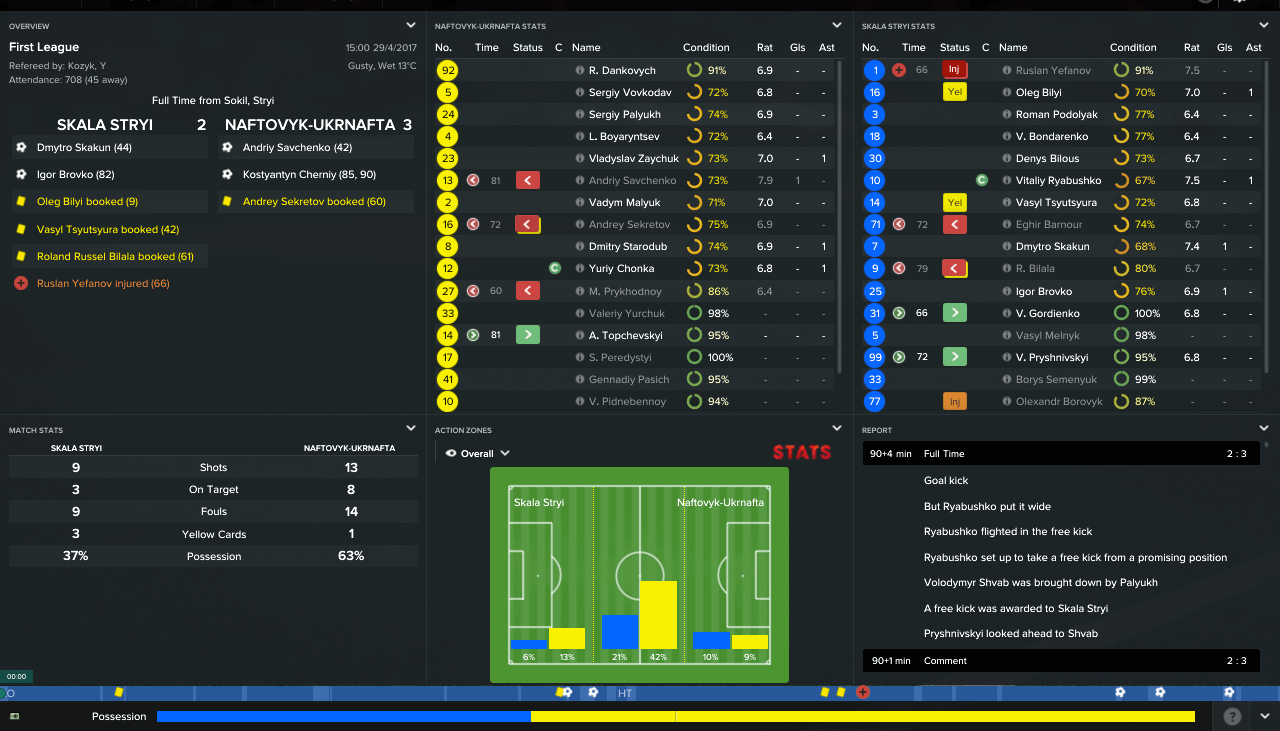 Sumy are next. Sumy who have lost twice to the now almost certainly relegated Bukovyna – the only team to do so. Sumy who beat us 2-1 earlier in the season. Sumy who I can't stop thinking about when everything goes quiet. We need to beat Sumy. Please.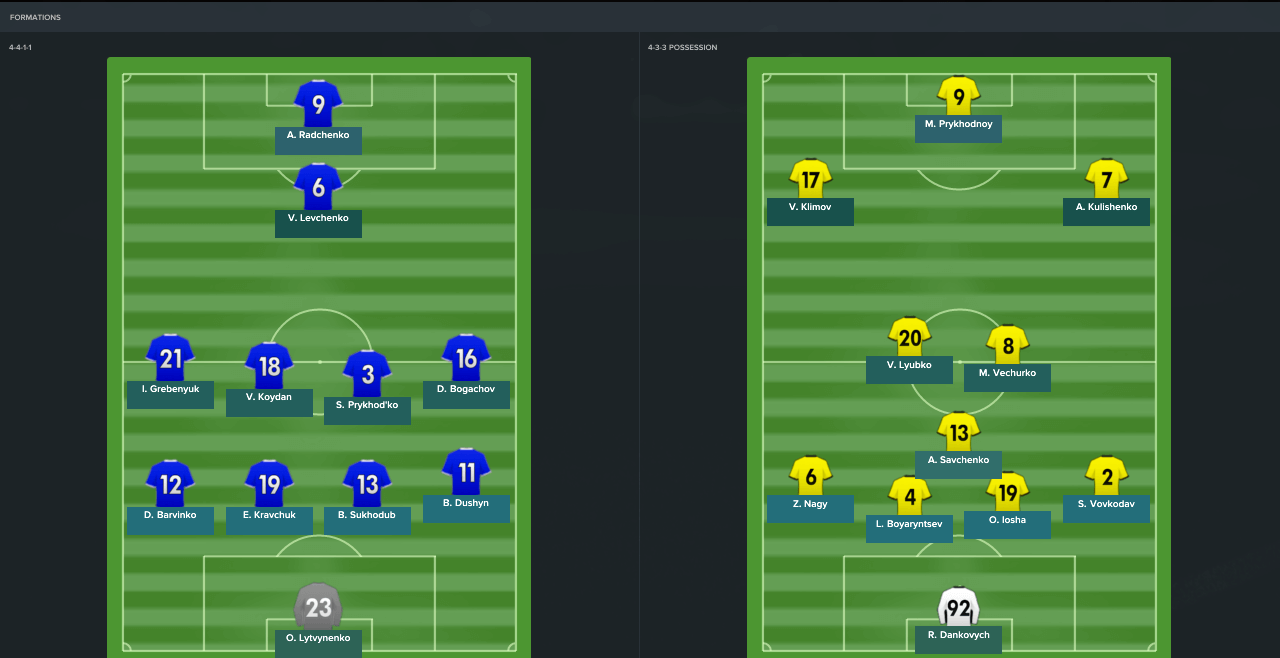 My word, that was tense, I need a lie down and…what do people do to relax if they're not drinking? Play Scrabble? Well then, I need a stiff Scrabble.
Things started well; after 21 minutes the partnership of Kulishenko and Maxym strikes again. The ball from Kulishenko split the defence beautifully and Prykhodnoy did what he's been doing all season. Then, in a worryingly familiar turn of events, we concede just before half time. I spend most of the next half resigning myself to another two points lost and another week of abusing my liver when Maxym gets on the end of a flick on by Chonka to bag us all three points.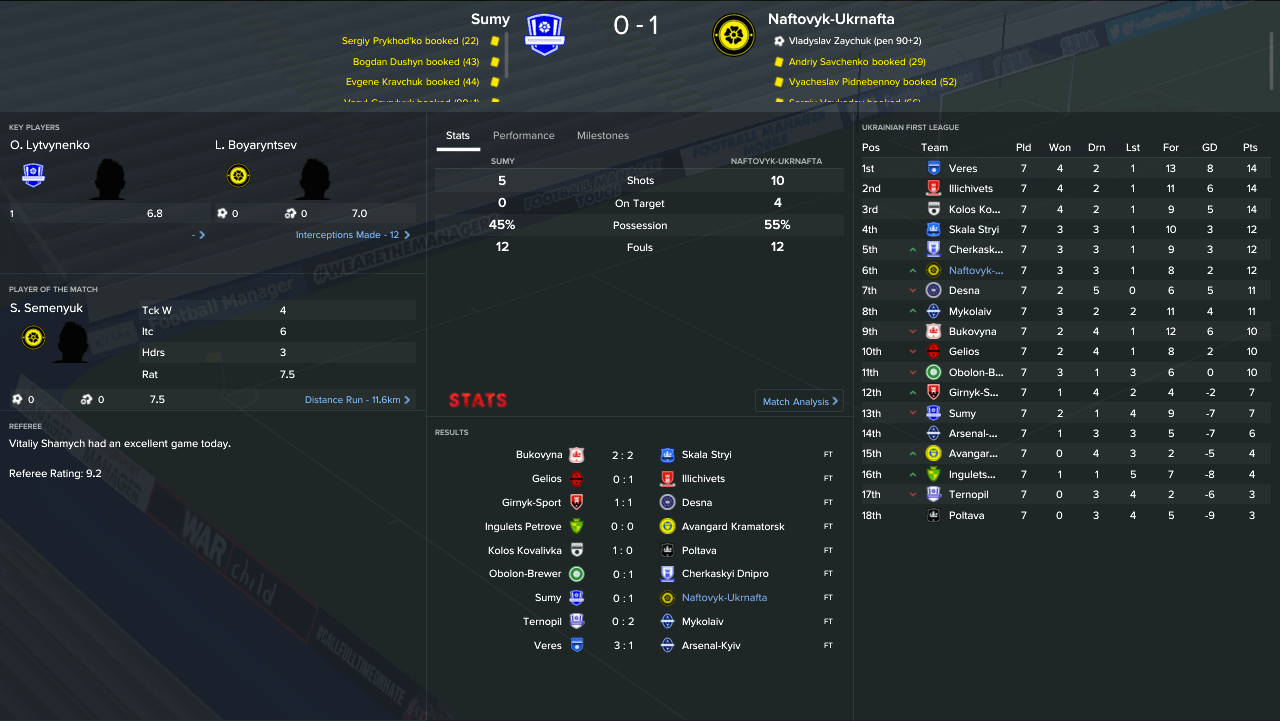 Normally, there would be something ridiculous or amusing to mention between games but not here, my whole team are focused on the task in hand. Either that or they're worried that one slip up will cause me to lock the door of my office and open a bottle again. Whatever the reason, it's working. Volyn are next and we're counting down the points needed to secure promotion.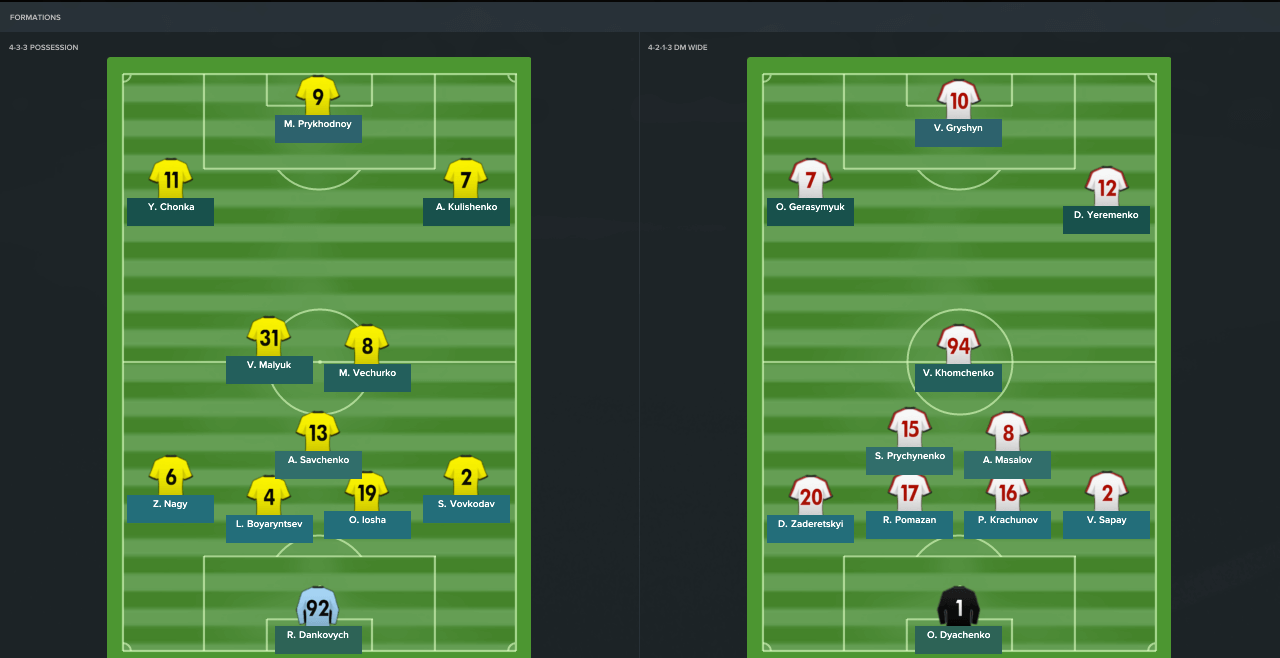 It was always going to be easier against ten men. Krachunov managed to pick up two yellow cards within 36 minutes – an impressive achievement usually reserved for my lot. After that we never really looked like losing. Sure, I was worried when we didn't score in the first half, but two goals in three minutes from my boy Yuiry and Iosha settle the nerves and give us the points.
11 points, that's all we need.
It's quiet at the office, too quiet. I'm used to everything going wrong but because we're finally operating like a professional unit, my assistant manager is reduced to just slagging off players we have out on loan.

We travel to Obolon-Brewer for the last game of the month. We need 11 points to secure promotion, last season I could almost guarantee that we'd lose this one by 4 goals, but this time…there's something different about us.
Since I turned up, stinking of booze and shaking uncontrollably, we've not lost a game. Maxym scores after 20 minutes, which is fast becoming the norm, and then he doubled his tally after getting on the end of Chonka's cross. Midway through the second half they are reduced to ten men before Chonka's 70 yard run and low cross is turned in by Kulishenko.
A perfect record. Five out of five. If I hadn't made my assistant promise to hide the booze, I'd suggest making that my new motivational technique.