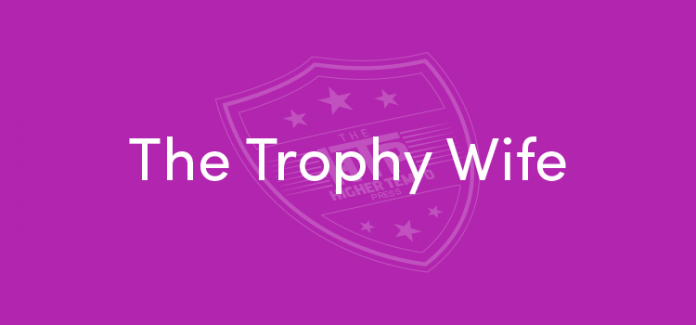 What would happen if you played Football Manager, but someone else signed all the players? There'd be no more 5 star newgens plucked from the Norwegian Second Division, no Lucas Romero and Geronimo Rulli on free transfers, your whole transfer policy is set and carried out by someone else. Now imagine that you have no say whatsoever in the transfer market. You don't know a transfer has happened until they show up at the training ground ready to play. It would be tricky, right? But most people know how to work the market, so odds are you'd get along OK. Now imagine that your new transfer committee is made up of one person, who has barely played FM, has very little idea about the financial state of football, and also happens to be your girlfriend. That's my situation.
This save revolves around using my girlfriend Caryl, as a Director of Football. She has complete control over scouting and transfers, contracts and staff. I have no clue as to what she does until it pops up in my inbox, and I have to hand over control of the club before even reading the news item. I can't make any requests or even hint about what I need, it is solely up to Caryl to judge if the squad needs improving, and how to go about it.
To put this into perspective, this is a woman who last year selected Marouane Fellaini in her top three players alongside Messi and Neymar. So what would happen if I put her in charge of the Glazers' millions at Manchester United?? Will Caryl be the Ed Woodward to my Jose Mourinho? Or will this be more akin to the disaster known as Liverpool's transfer committee under a certain Mr Rodgers?
Let's find out…
I get through the door on my first day at Carrington to a barrage of abuse from club captain Wayne Rooney and centre back Phil Jones. Caryl has already offered out both players for £20,000,000 each on her first day in charge. Our new Director of Football does not hang about. Next to meet the Director is Michael Carrick, who makes the amateur mistake of admitting he's thinking about becoming a Head of Youth Development when he retires. Caryl sets United's legal team to work, searching for a option where Carrick can be released and simultaneously signed as our new Head of Youth Development. Meanwhile, Spurs boss Mauricio Pocchettino emails me privately to say he isn't interested in signing Heimlich Mookitan. Thank heaven Caryl can't pronounce Mkhitaryan properly….
Despite her public affections for Marouane Fellaini, the Belgian beanpole is transfer listed as a result of what Caryl calls an "unbalanced squad". Wide man Antonio Valencia is bemused when Caryl hands him a book entitled "Learn Chinese for the European Footballer", until he's told that Guangzhou and Jiangsu have both had £5,750,000 bids accepted. Phil Jones decides to make an official complaint about being forced out of the club, and is incensed when Caryl, breaking all professional boundaries, bursts into maniacal laughter at the thought of telling him that she plans to "cash in" on him as soon as possible.
After reviewing the scouting staff and instructing them all to find a replacement for Jones, our new Director of Football takes a closer look at the squad. Caryl is unhappy with the depth in our goalkeeper position, with David De Gea, Sergio Romero and Joel Pereira apparently not enough. While her scouts do their due diligence on three handpicked keepers chosen by Caryl, she starts looking at former United players, obviously trying to bring back the success brought by Sir Alex Ferguson. Danny Welbeck, valued at £30,000,000, clearly tempts Caryl, while I just pray that she doesn't see the ageing John O'Shea at the bottom of the list.
In order to help Caryl select appropriate players, I'm asked to begin preparing my tactical shape. I begin with a 3-5-2 system, with a flat 4 in midfield, the spare man moving to either an attacking role, or a defensive regista, depending on the opposition.
After seeing the formation, Caryl realises I'll need a quality defensive midfielder. My ideal player is someone who can play the difficult 'pivot" role espoused by Pep Guardiola, a Carrick, Kroos, Thiago, someone to run the show in midfield, dictate the tempo and protect the ball above everything. Carrick and Schweinsteiger can both do a job there for this season, but they are both ageing. After much deliberation, Caryl puts in an £14,750,000 offer for Swansea's Jack Cork, as well as another £13,250,000 deal on the table for Pedro Obiang of West Ham. There's also news on the goalkeeper front. After scouts have watched both Thibaut Courtois and Bilbao's Kepa, the Director goes for…Jordan Pickford. Sunderland pocket a cool £21,500,000. Joel Pereira, our reserve keeper, pretends to faint in disgust and bruises his head.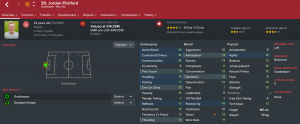 During our preseason tour, I experiment with both registas and advanced playmakers as the spare midfielder, even throwing in a libero here and there. When Juan Mata runs the show in a 5-0 friendly win as an advanced playmaker, the Director decides to pick up another creative player. Caryl looks up at the television, currently playing an AS Monaco match, and immediately offers £30,000,000 for Bernardo Silva. Monaco laugh derisively, and politely refuse to negotiate. I dread to think who she'll pick up instead. I swear, if she thinks Jonjo Shelvey thinks he's getting within a mile of a Manchester United shirt….
My fears are somewhat quelled when young Valencia forward Santi Mina arrives to training, although only on loan. After Mina arrives, Caryl decides to cancel the transfers of West Ham's Obiang and Swansea's Jack Cork as nobody seems interested in taking Marouane Fellaini off her hands, as well as his excessive hairdressing bills. Zlatan Ibrahimovic has his contract extension clause triggered as soon as Caryl sees his agent leaving Manchester.
My inbox is suddenly flooded with messages and news items regarding Kepa, Athletic Bilbao's young keeper. From what I can see, the Director of Football is embarking on the most pointless transfer saga of all time by continually trying to sign Kepa for under £5,000,000. Twelve offers later, Caryl's offer is still £5,000,000.
While Kepa continues to evade the clutches of Caryl, several others can't avoid the axe. A vast revamp of the backroom staff sees the scouting staff halved, while all general coaches and physios are released. So now United have no coaches, only a Head Physio, half a scouting department, and even United legend Nicky Butt is thrown out of his Head of Youth Development role. But as one legend leaves, another is honoured.
I arrange a testimonial for Wayne Rooney against Everton, only to find that Caryl has sent him and Marouane Fellaini away on loan, to Villareal. Wayne Rooney becomes the first player to miss his own testimonial, which ends 2-1 to Everton. In protest at the decision to send away one of England's greatest players, I play an under 21 squad alongside Rooney's pal Darren Fletcher, who comes back specially for the game. As Wayne isn't present to claim the proceeds from the match, Caryl tucks away the charity cheque in her pocket for "a rainy day". Probably to finance the Kepa transfer saga.
It turns out that the testimonial money goes towards a scouting trip to the Netherlands, where Caryl tours the more unsavoury parts of Amsterdam, then signs right back Kenny Tete from Ajax. He costs £15,250,000 and will replace Antonio Valencia, who finally gets the hint that Caryl doesn't like him, and flies off to China. God knows where Tete will fit in a 3-5-2…..
Kenny arrives just in time for the Community Shield opener against Leicester City, but he starts on the bench. I go with what looks like the best lineup I can throw together at the moment. We go attacking with Juan Mata in the playmaker role behind Zlatan and Rashford. Tellingly, none of Caryl's signings feature.
Juan Mata's selection pays off when two goals in two minutes wipe out an early Leicester opener. Rashford gets two as well before a Leicester fightback brings us to 4-3. Vardy misses a penalty with five minutes to go, and we hold out for my first trophy! The fragility of the three man defence is something that worries me though.
After the Community Shield win, I'm immediately heralded as one of the top Welsh managers around…certainly says a lot about the talent pool.
In response to conceding three goals against Leicester, Caryl decides to bring in a new defender. In comes right back Ander Capa from Eibar, for £4,600,000. Another right back…. Am I the only one keeping count here? When am I going to use these full backs? In addition to Capa's arrival, I realise that Phil Jones has disappeared. After two search parties comb Manchester and find nothing, Caryl admits that he has gone on loan to Spurs. Alrighty then! It's not like a spare centre back would have been handy or anything.
Our next two games continue to feature defensive issues, conceding early against both Hull and West Bromwich Albion. We scrape a 2-1 win against Hull thanks to Mata and Rashford, but can only draw at The Hawthorns. With a week to go before the transfer window closes, I'm hoping that reinforcements arrive. With only Zlatan, Rashford and Martial as acknowledged strikers, I'll be using James Wilson and Santi Mina as backup. Timothy Fosu Mensah will be another backup option in defence and midfield until I get some new signings.
Transfer deadline day comes, and there's still no sign of our Director of Football jumping into action. Chelsea and Spurs battle it out for AC Milan striker Carlos Bacca, but Caryl makes no move. At the end of the transfer window, the Director of Football has spent £41,500,000 on Jordan Pickford, Kenny Tete and Ander Capa. Two right backs and a goalkeeper, plus a young forward on loan in Santi Mina. May the FM gods have mercy on us…
With no more transfers coming in, I'm left with this as my first XI, the same side who won the Community Shield.
How will this squad manage to cope with the demands of Premier League and Europa League football?? Will Jordan Pickford ever dislodge David De Gea?? And when will Caryl's fullbacks get a game?? Find out next time…