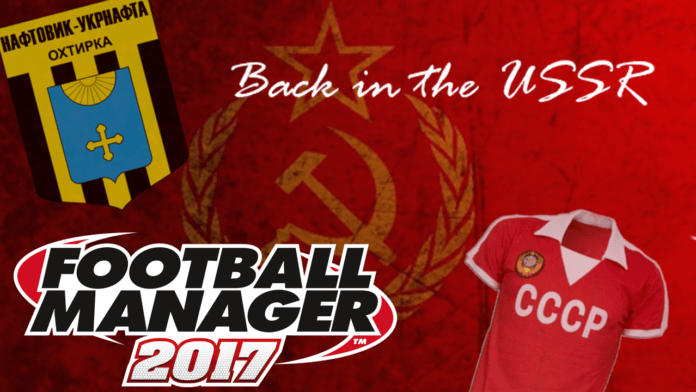 Winter in the Ukraine is cold. It's bleak, lonely and a terrible way to spend 100 days thinking about how you threw the last game away. It's an even more depressing time when you decide to peruse the club's finances and see that you're haemorrhaging money. No wonder the board were so keen to take the cash for Sekretov, I bet they regret splurging on those luxury dressing gowns now though.
I spend quite a long time trying to convince Maxym Prykhodnoy to sign a new deal with the club. He's our top scorer, he's in inspired form, so naturally he's not at all interested in signing an extension to his contract that runs out in six months. It takes all of my charm, charisma and several expensive meals out before eventually he relents and signs a two year deal on a frankly ludicrous £1000 a week.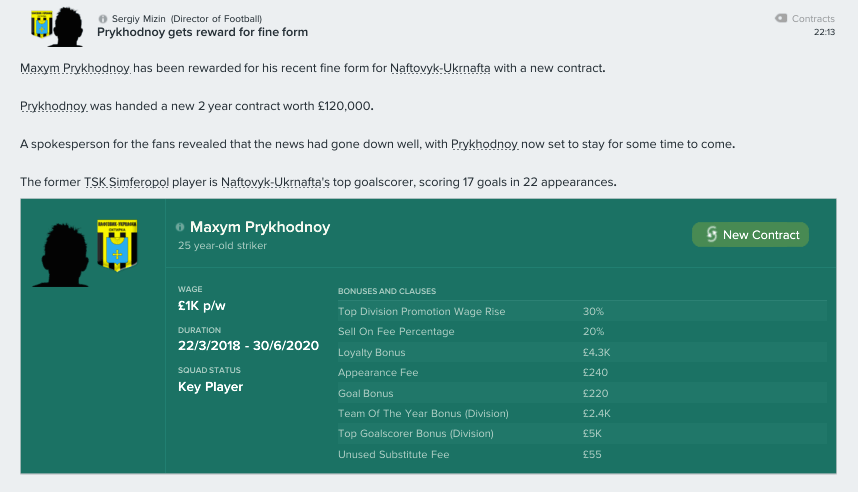 I know the club's finances are dire and I know all those meals out mean Yuriy isn't speaking to me, but it was all for the sake of the club. We need him.
After forking out for Maxym's new deal I've got to let someone go. Kostyantyn Cherniy has been on at me for ages about not playing enough. I kindly point out that he's only scored seven goals in the entire time I've been at the club but he seems to think that's acceptable. He goes for £50k to Sakhalin Yuzhno-Sakhalinsk in the Russian first division.
Our transfer business does not end there either. Two young loanees come in thanks to our agreement with Dnipro. Sed'ko looks to be a very handy attacking midfield option and Kapov arrives to occupy the space on the bench that Cherniy left behind. As well as these two, we also pick up Nikita Glushkov who can provide competition to Savchenko in the defensive midfield spot.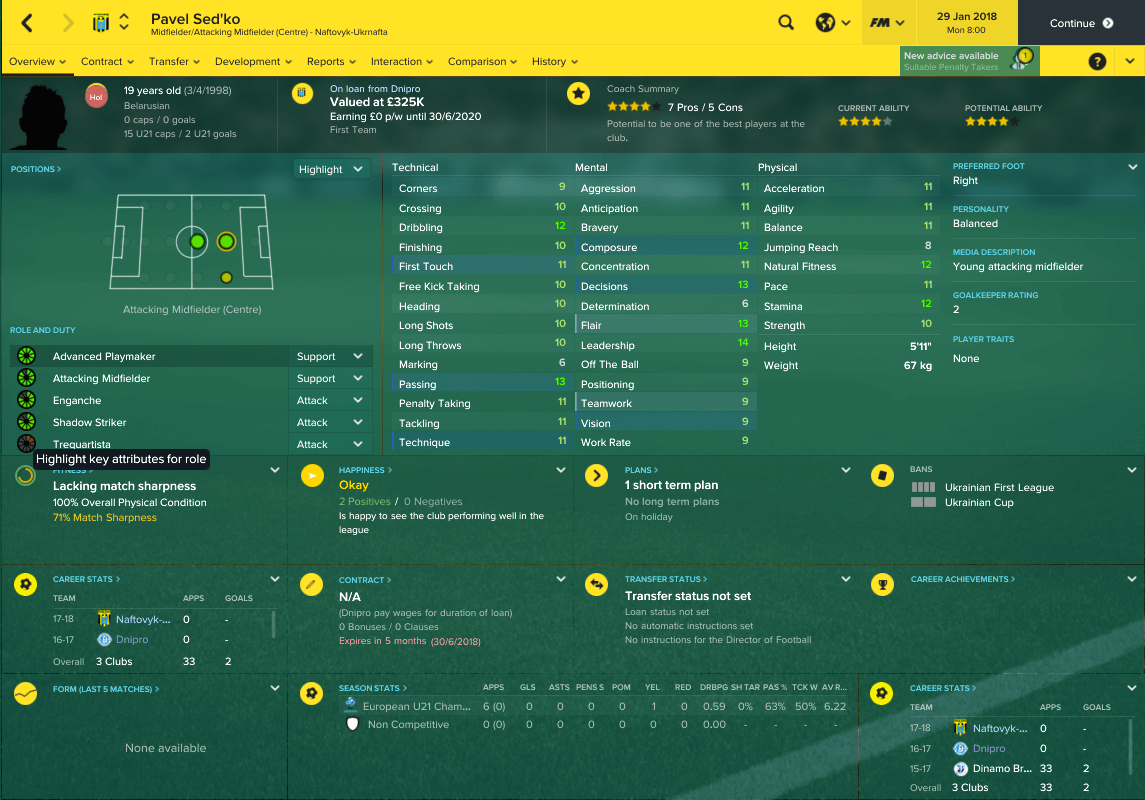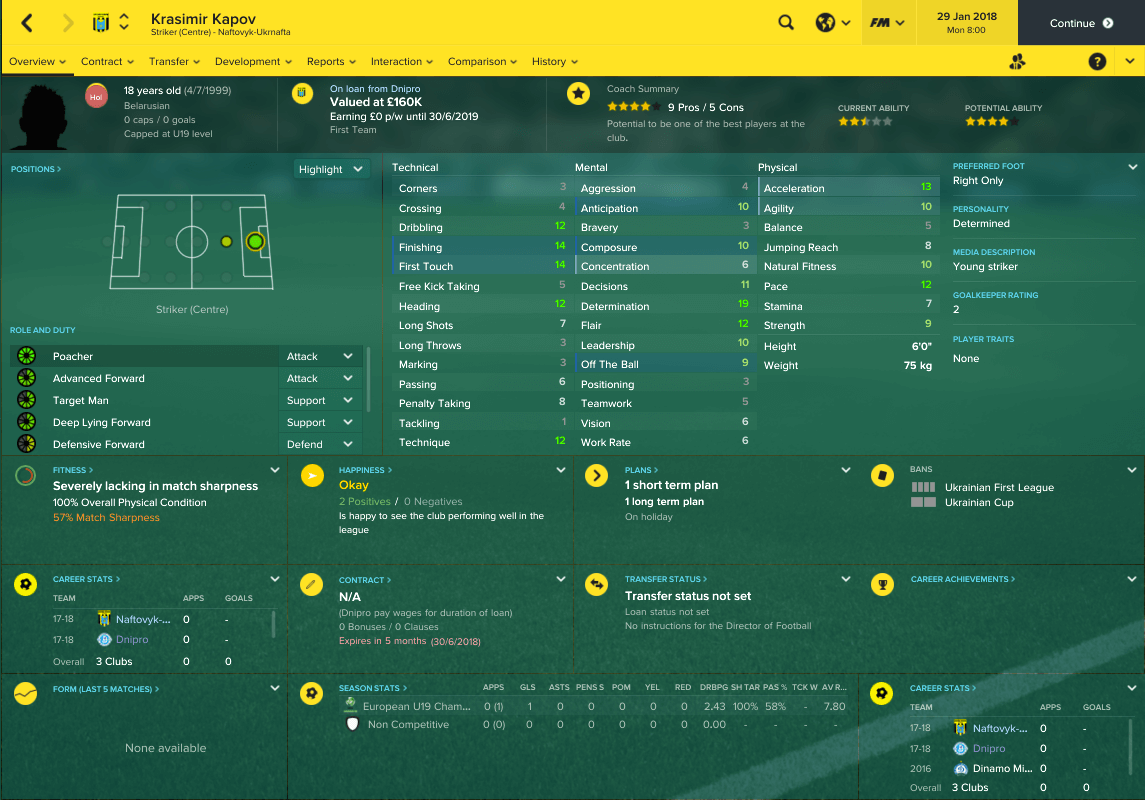 At this point, I'm very much in the denial stage of debt management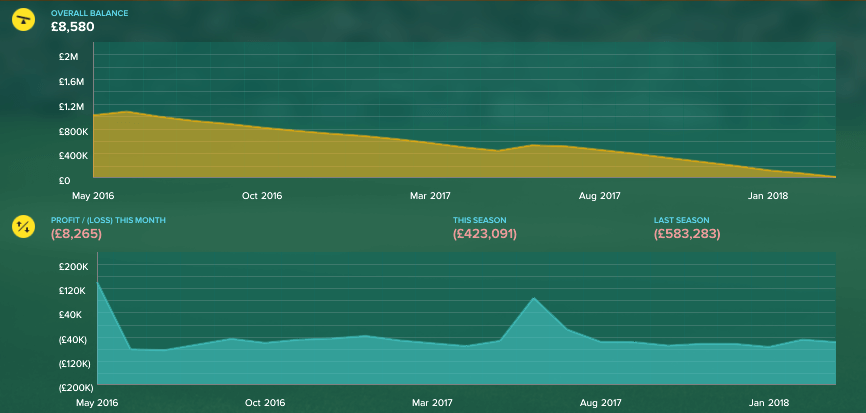 The perfect way to suppress crippling fears over money is to replace them with crippling fears about team performance and a quest for promotion. Our first game back pits us against Arsenal Kiev and I just pray that we've not forgotten how to play football.
I don't know why I was worried, that was as good as it gets. It can always be a worry when you score after 37 seconds, especially with this lot who routinely forget to score again and allow the opposition to score with seconds remaining. Not today though. After Iosha's headed goal within the first minute, Maxym shows us why he's worth all that cash by smashing the ball into the top corner and then does it again, getting on the end of a beautiful Semenyuk cross. After the break, Sed'ko caps off an impressive debut by whalloping one in from 20 yards.
After the game, I'm delighted to see that both Illichivets and Girnyk have lost which puts us 6 points away from third and only one point off the top spot.
With first place well within our grasp, we visit Europop super group, Olympik D to see whether we can continue to stake our claim for the top spot. We're without both Semenyuk and Vovkadov, who, suspiciously, are both suspended. They were seen shopping together for new swimming shorts, so perhaps that sheds some light on it. We'll have to get by without them.
Ah, the sweet, safe embrace of familiarity – how I've missed you. We start brilliantly and waste no time in taking the lead. Kulishenko scampers away down the right wing and cuts the ball back to Verchurko, who was arriving, to slot home. We spend the rest of the game looking comfortable, playing the ball around but never looking like scoring again. This inevitably comes back to bite us when, in the 77th minute, Drachenko rifles one in from 20 yards and two points are thrown away.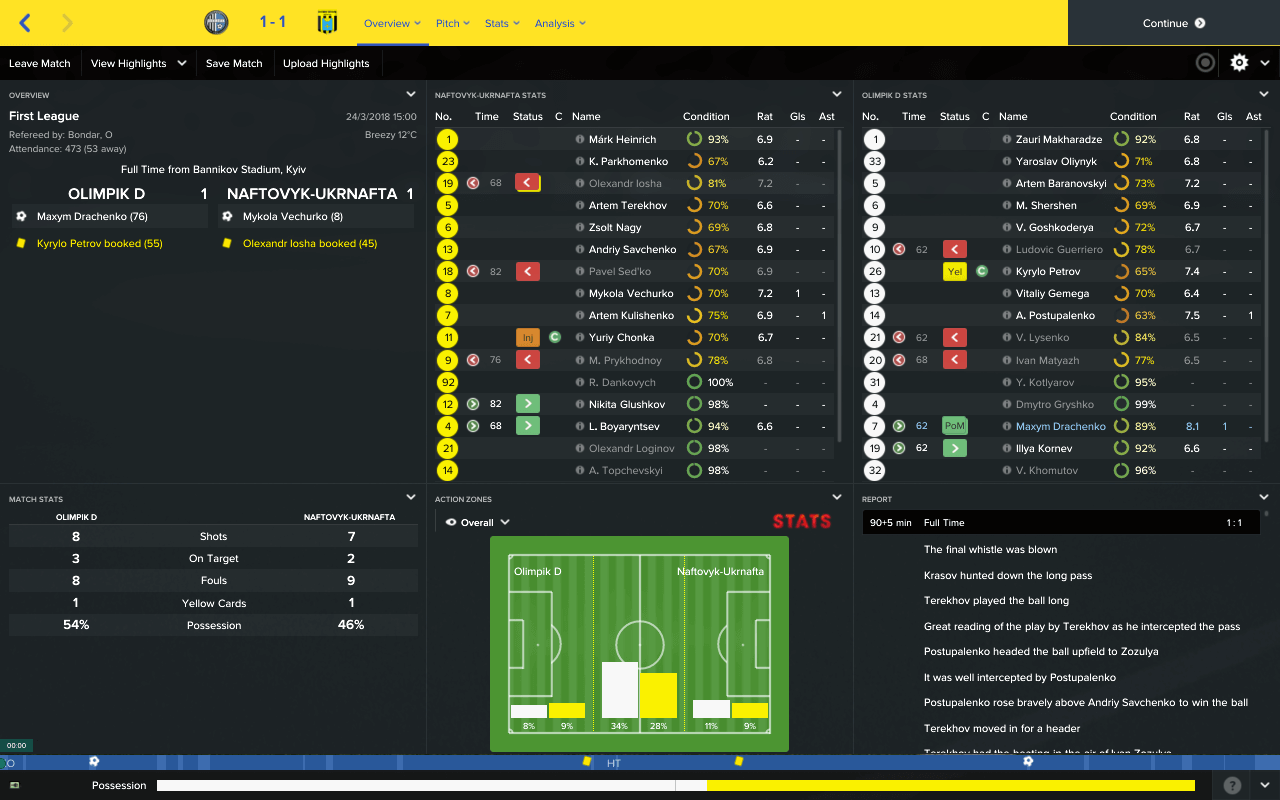 When you think about it, a draw isn't the worst result in the world. It's frustrating to drop points in such a familiar fashion, but we didn't lose and our promotion dreams are still very much alive.
Arsenal Kyivschyna are next and it's a chance for us to put one over on our old assistant manager who swanned off and claimed he was too good for us. Well, mate we're sitting in 2nd place while you're in the relegation zone, so who exactly is winning?
There are no words. I have no words I can use to sum up that shower of utter shite. We had no shots on target. NO SHOTS ON TARGET. I can't be certain that if I walk into that dressing room I won't castrate the first person I lay eyes on, so I remove the laces from my shoes and shuffle off to my office with several bottles of the chairman's home-made vodka.