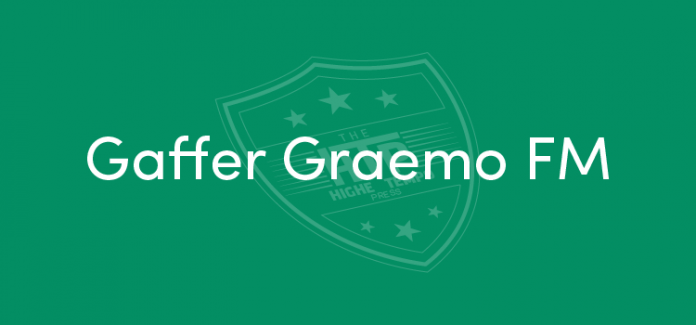 Lessons Learned from Rocky Ground
To follow me on social media, check out my profile at the end of this post and to see what else I have written click on my name.
On the 22nd of March 2017, Ronnie Moran passed away aged 83 following a battle with a short illness. The 83 year old Liverpudlian was a one-club man, first representing his hometown team as a player in 1952, before becoming captain in the late 1950s, a coach in 1965, Caretaker Manager twice in 1991 and again in 1992 before retiring in 1998. Mr. Liverpool, as he was affectionately known, was the last founding member of Liverpool's Boot Room to pass away. The Boot Room, for those unaware, was Liverpool's brain trust, headed by then-manager Bill Shankly who established the principles upon which the foundation of Liverpool's Golden Age of the 1970s & 80s, an era of unprecedented success, were built.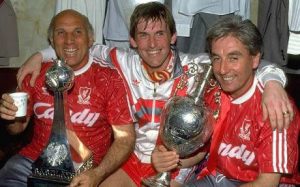 In my time playing Football Management games, stretching all the way back to LMA Manager 1999 on the Playstation, Ronnie Moran never featured as a coach. To be honest, when he retired I was 6 years old and unaware at just who this man was. However, the timing of his death came at a time when I was considering my own (virtual) involvement in the professional ranks of football.
March 2017 was a rocky month for me in Football Manager, unlike any I had really experienced before. My teenage years in FM were spent managing my beloved Liverpool, each version we brought home giving a fresh chance to rewind to the Glory Days of a time before me (sorry if that makes you feel old…) and create Liverpool teams that would dominate for whatever number of seasons I got to manage in that version of the game. In a romantic throwback to the Boot Room era, I always sought to appoint former Liverpool players to keep the heart of the club rooted in the legends who knew what it meant to wear the red shirt.
It was not until I was in my late-teens/early-20s when I started to broaden my management horizons. I've managed a broad variety of teams: Real Valladolid, Sevilla, Valencia, Shelbourne, Sligo Rovers, Liverpool, Reading, Bournemouth, Fulham, Swansea, Borussia Monchengladbach, Schalke, Hamburg, Hansa Rostock, Hertha Berlin, Anzhi Makhachkala, Orlando City. Some teams I managed for a couple of seasons, others months (through resignation or sacking) or a day (thank you Sligo Rovers…). Never though had I had a month in Football Manager like March 2017.
In my primary save with Schalke, I have underwent a significant slump. In the first half of the season we blitzed through the fixtures, winning our Champions' League Group with ease, progressing in the DFB Pokal and opening a 10-point gap at the top of the Bundesliga. However, whether over-reliance on my set of tactics, over-rotation of the squad or whatever, we started leaking goals at one end and unable to score at the other. Wins started to become draws and suddenly facing Real Madrid 2-1 down from the first leg in Spain and Bayern in the Bundesliga could have us out of Europe in the first knockout round and a Bundesliga lead of 3 points. My love of the game was dwindling, my determination and desire to play drooping to all-time lows. I considered ending my save as I felt I could not change the fortunes of the team without compromising the philosophies I was still trying to impose on this club in my second season.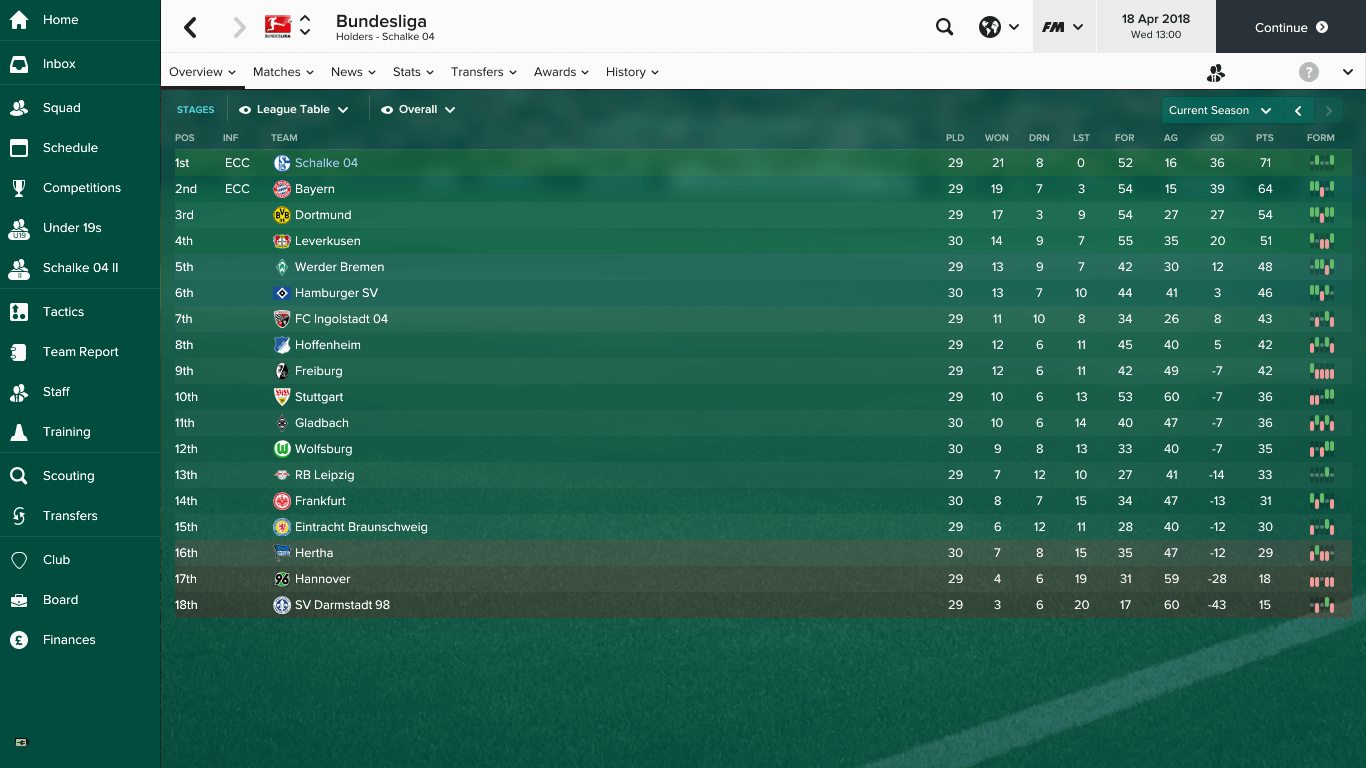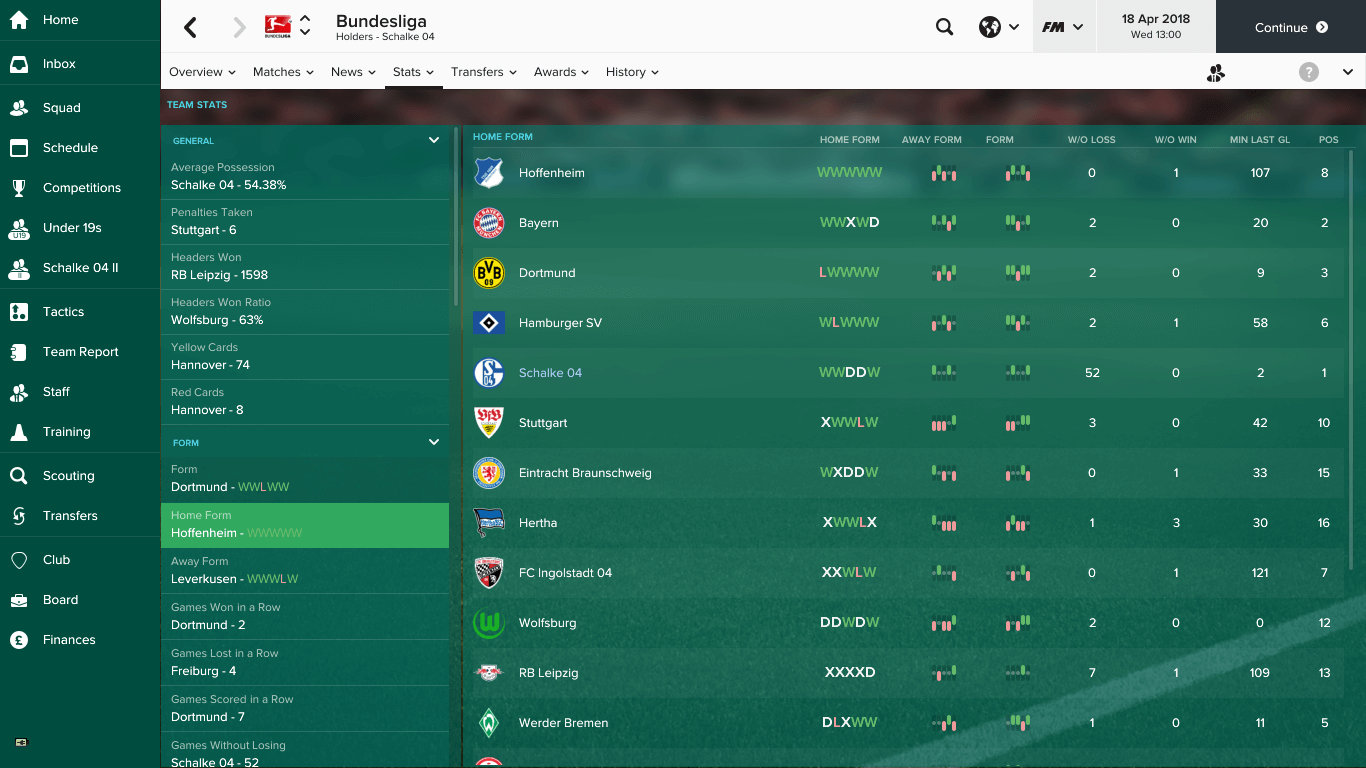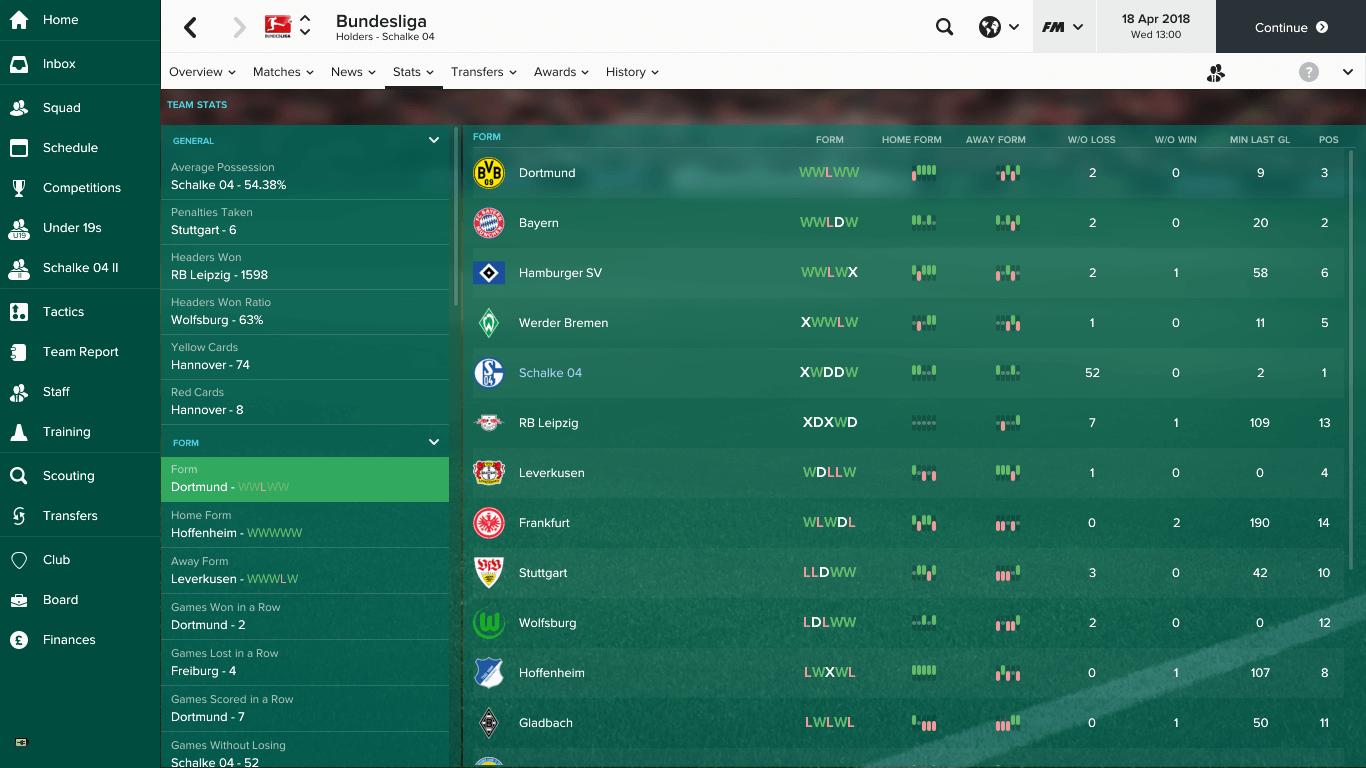 As a result of my last Irish-themed piece on The Higher Temp Press, I started managing Shelbourne on FM Touch. In FM 2010 I took my favoured Irish club to the promised land of the Champions' League Group Stages and although we were knocked out with relative ease in the group stage, it was still an incredible achievement for the club and myself. However, my opening results with Shelbourne in this save were so Jeckyll & Hyde it amazed me that I had not been sacked by the club in such a short space of time.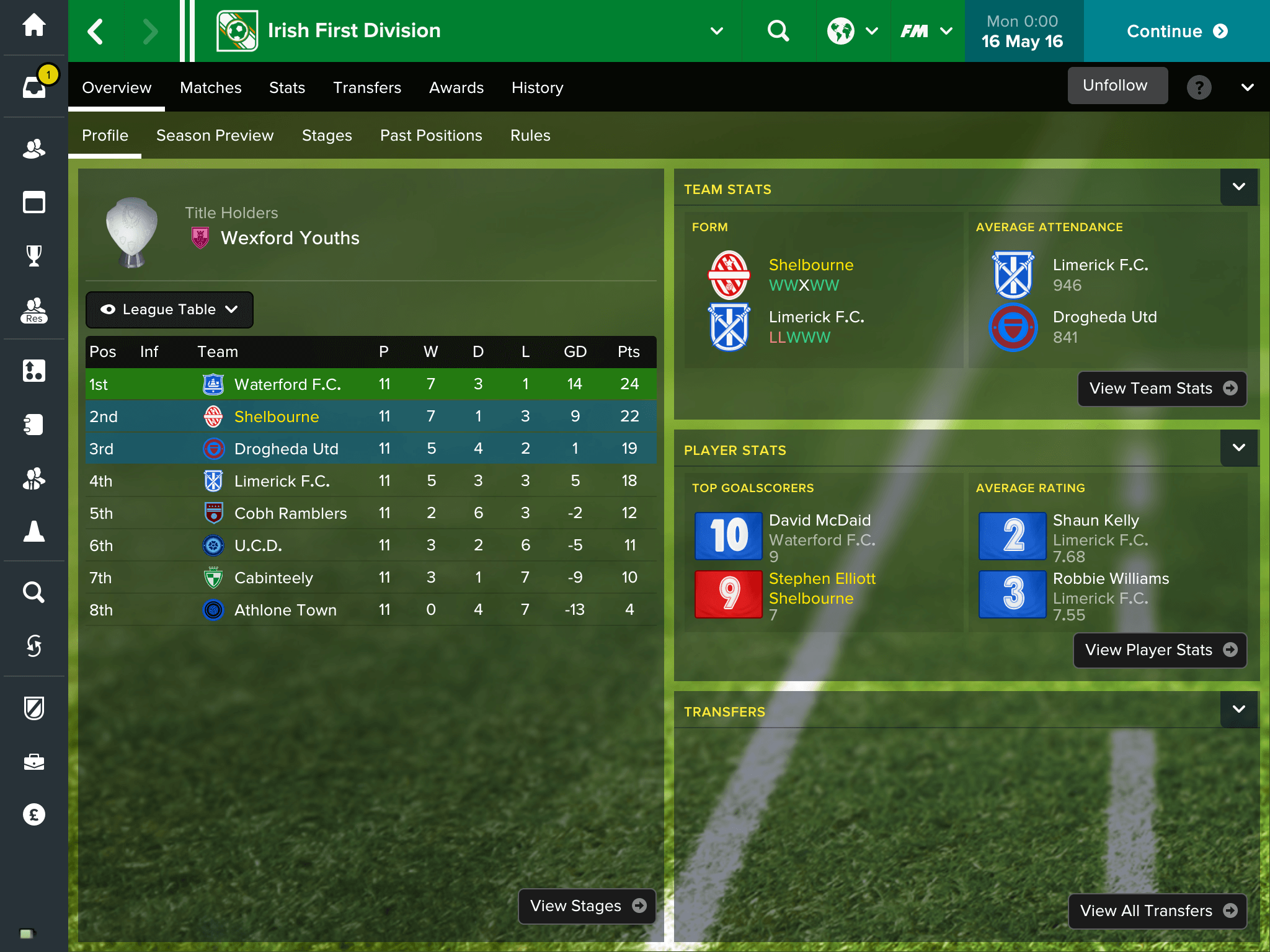 When Ronnie Moran passed, a thought entered my head, and it's taken me 9 days to fully digest and it has left me with a question; Where have all the one-club men gone? Where has lyalty gone in football? In Football Manager, loyal men like Sir Alex Ferguson & Arsene Wenger would be sacked with the calculated coldness a computer programme would have, not the nostalgia tinged, loyalty-infused views clubs & boards have around long-serving managers, much to the chagrin of many Arsenal fans at the moment. Modern football seems to have gone the same way, where slumps in form can result in sackings or resignations. Some say to last 2 years at a club is all a manager should expect at best. Taking Claudio Ranieri as an example, I feared for my own time at Schalke as blowing a 10-point lead in the Bundesliga in 3 months seemed to be a likely occurrence.
As we are all Football Managers, managing a multitude of clubs is much easier than it would be in the real world, and the ability to start wherever we want and build a connection with a club can be done in a living room. Our loyalty to these clubs can grow with time, but is not necessarily something that happens in the game as we can move on without any real difficulty. My schoolboy club is now in Football Manager, albeit unplayable based on current databases. This is down to the hard work of many men who played for the club before eventually moving into management and committee posts. In doing so, these men pushed out the founding men who established the club in 1978 and changed the philosophy to one which I could not bear. I left as a player after 12 years there, and 1 after returning as a coach following the end of my playing career.
For all the love I have for football and Football Manager, March 2017 has taught me a lot. It has taught me that slumps are part and parcel of football, and for some lucky enough they, as managers, do come out of it all the better. It has taught me that one-club men are treasured, though unfortunately like Ronnie Moran seem to a throwback to an era when football was a more forgiving game. Finally, it has taught me that loyalty in football can be to a variety of causes, whether it is a philosophy like Pep Guardiola, circumstances like Steve Bruce seems to be able to bring hope to, a crest like Ronnie Moran, or values like many who have shunned the glamorous lights of the upper echelons. In facing challenges to bring success to their surroundings, these men found ways to challenge themselves, even when they sat at the perceived heights of the game. This was something I needed to do in a way which I could feel successful, enough to motivate me to continue to hit the Continue button.
As a virtual Football Manager, I've said before building a legacy can be influenced by a philosophy like Youth Intake, but a Football Icon can be created by your actions. Sometimes, in the darkness of a slump can the shape of your icon be born.
"At the end of the storm, there's a golden sky,
and the sweet, silver song of a lark."