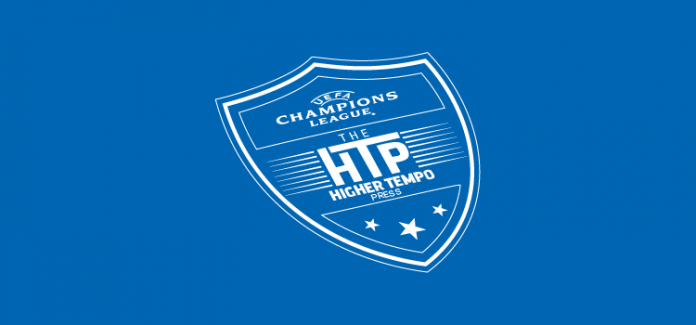 Champions League Quarter Final (Sponsored by The Higher Tempo Press)
Reids (Dortmund) vs FM_Adventure (Monaco)
The Tactics
Reids's Tactics:
This was a very very tough choice and one that took a lot of deliberation on my part. I obviously wanted to play with wingers due the prowess of Dembele and Reus. Aubameyang was the next name on my team-sheet. I'd drawn up countless different formations trying to get a good fit of players and I think this was the 7th different formation I drew up and believed it ticked every box that my game-plan wanted which was:
Contain the Monaco attacking threat as best I can

Dominate the midfield as much as possible

Still have an outlet for attacking
Bender as a half-back would hopefully let him seamlessly drift between defence (if our back were against the wall) and supporting the midfield. Whilst I thought it's potentially a huge gamble only playing with 2 centre-backs the work-rate of the wing-backs and the buffer of Bender should hopefully nullify the Monaco attack. With Gotze as a Trequartista with Reus and Dembele either side of him we have a lot of flair and creativity so hopefully one of them will be able to provide a spark of magic and grab an important goal or 2!
FM_Adventure's tactics:
Taking on Reids, I knew he had a good eye for tactics and a keen interest in set-pieces, particular corners. My thoughts were simple: don't try and outsmart him, just play my own game. As for set-pieces, I aimed to simply flood the danger areas in defence and hope for the best similarly, in attack I wanted to minimise risk by holding a few players back. Tactically our base tactic was a 4-4-2 to take advantage of the skilled wide men at our disposal: Lemar would drift wide and Silva would ghost inside.
First Leg
Reids:
A scrappy few minutes followed by a moment of magic as Thomas Lemar smacked home a free-kick into the top corner after just 5 minutes played. Not the start I wanted! A relatively equal 15 minutes saw plenty of offsides and the odd chance for each team until Gotze found Reus with a ball over the top of Sidibe, Reus crossed the ball which found the head of Aubameyang whose header looped to the back post to meet the onrushing Dembele, 1-1 after 20 played, game-on! Tragedy struck after 35 minutes as the man of the moment, Dembele, had to be taken off due to a dislocated jaw. I switched Reus to the right and moved Guerreiro up to left-wing, bringing on Schmelzer to play in the left wing-back role.
5 minutes after half-time and Bender heads a defensive header out to the half-way to find Gotze who plays a quick 1-2 with Guerreiro before launching a perfect ball over the top of the Monaco defence to find Aubameyang one on one with the keeper, he makes no mistake and slots it home, get in!
Plenty of chances go amiss for each team with Bernardo Silva in particular probably rueful he didn't get on the scoresheet. With around 15 minutes to go a Reus free-kick is whipped into the box to meet the foot of Bartra to hit first time into the roof of the net to make it 3-1 to Dortmund in the first leg!
FM_Adventure:
Things got off to a flying start as Thomas Lemar took advantage of a free kick from a cool 30 yards. The strike was unsavable as it flew across the keeper into his top left-hand corner: 0-1.
The lead lasted a mere 15 minutes as Monaco were powerless to stop a fantastically worked move from making its way across the box to Dembele at the far post: 1-1.
Into the second half and we switched to a 4-3-1-2 Narrow to try and stem the attacks through the middle.
In the 50th minute, Aubameyang took advantage of Glik's lapse in concentration to beat the offside trap via a superb ball from Gotze, a routine finish from Aubameyang gave the home side the lead: 2-1.
On 77 minutes Dortmund won a freekick in a wide area. Reus played a superb ball to the near side of the 6-yard box and Bartra was totally free to fire in a third: 3-1.
A disappointing result given how well Monaco started but we took heart from the away goal and would hope to take the game to Dortmund at home.
1st Leg: Dortmund 3-1 Monaco (Dembele 21', Aubameyang 51', Bartra 77'; Lemar 6')
Second Leg
FM_Adventure:
Dortmund set their stall out early and were dominant from the start. A long free kick from Guerreiro was headed clear by Glik, Dortmund regained possession and a well worked passing move found Aubameyang in space in the box to fire home on 25 minutes: 0-1.
3 minutes later from a Dortmund free-kick the ball found its way to Schurrle wide right. Schurrle was able to lure two defenders away leaving a big gap in the middle for Aubameyang to run into. The clinical striker made no mistake when the ball came his way, smashing home a second of the game: 0-2.
Just as we were approaching half time it was game, set and match to Dortmund. A failed counter-attack lead to Dortmund regaining possession, some good recycling after an unsuccessful cross saw the ball come back into the middle for Aubameyang. Monaco goalkeeper Subasic came racing out but had no chance of getting close to the cross as Aubameyang rose high to complete his hat trick: 0-3.
A half-time switch to Plan C of 4-1-2-2-1 DM Narrow gave some reward as on 53 minutes some neat passing and movement between all players between DM and Striker gave Falcao time and space in the box to fire home off the post: 1-3.
A disheartening aggregate result for us but Reids and his Dortmund team were worthy winners. A rampant first half in the second leg put to bed any notion of a French comeback.
Good luck to Reids and his boys as they progress in the competition.   
Reids:
For the 2nd leg I had to make do without Dembele, so replaced him with Schurrle.
I decided to stick with the formation that worked so well in the first leg, despite knowing that fm_adventure would be throwing everything at me. The tactic worked pretty well defensively in the first leg, and if he's going to attack more than in the first leg then we should be able to pinch a goal on the counter that will surely be enough to see us through into the next round!
My thinking was rewarded after just 24 minutes as a free kick was cleared by the Monaco defence, it came out to Piszczek who found Gotze, who then played a through ball in a huge gap the Monaco defence had left for Aubameyang to slot home!
Just 3 minutes later Piszczek played a ball down the line for Schurrle to square across the face of goal for Aubameyang to smash home, 2-0 and 5-1 on aggregate.
2 minutes before half-time the victory is surely assured when Schurrle again breaks free with some poor defending leaving Aubameyang to grab his hat-trick!
The second half then followed and Monaco attacked relentlessly until Bernardo Silva played a beautiful ball through to Falcao who hit a smashing drive into the top corner past the helpless Burki. We manage to hold on without conceding further and progress with an aggregate score of 6-2! Commiserations to FM_Adventure, the scoreline flattered us really but into the next round we go…
2nd Leg: Monaco 1-3 Dortmund (Falcao 53'; Aubameyang 25', 28', 44')