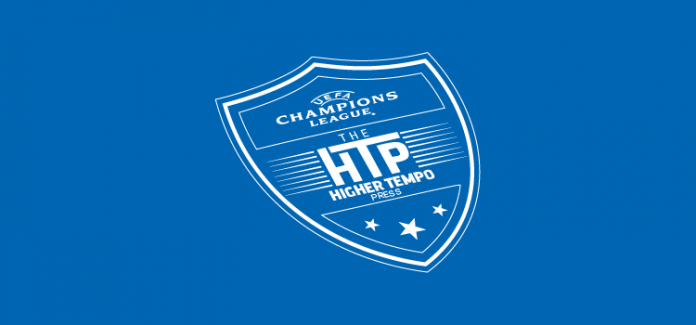 Champions League Quarter Final (Sponsored by The Higher Tempo Press)
Slatham19 (Bayern Munich) vs CMP1985 (Real Madrid)
The Tactics
Slatham19's Tactics:
The starting formation I will be using is a 4-3-3, utilising two attacking wide men and a lone forward up top. The back four is my main priority, putting the two wingbacks on defensive duty so they don't push forward and leave space for the two danger men for Real – Bale and Ronaldo.
A deep lying playmaker on defensive duty will allow the two other midfielders to push on and provide support for the attacks. The right sided winger will be set as an inside forward as I am hoping to put Arjen Robben there to utilise him cutting inside and creating shooting opportunities with his left foot.
My other formations are a 4-1-4-1 and a defensive looking 4-2-3-1. I will use them in phases, if we take a slender lead we then try to hold on to it, slowly adding more players in front of the ball, congesting our half of the pitch and hitting them on the break if we get the chance to.
It is a more negative approach than I would have liked to play but we need to be methodical and try to nullify Real's attacking threat before anything else can happen.
CMP1985's Tactics
I was excited to be drawn as Real Madrid for this. Obviously, Bayern are a great side so I was expecting two tough games, but in Cristiano Ronaldo, Gareth Bale and Karim Benzema, I had one of the greatest attacking units in European football at my disposal.
To make the most of these players, I decided to use Ronaldo and Bale both as Inside Forwards (and also set them to sit narrower), with Benzema up front as an Advanced Forward. The idea was that my fullbacks would bomb forward to cross into Benzema, while Ronaldo and Bale would use their pace to run at the opposition defence whenever we attacked through the middle.
Behind them, Toni Kroos and Luka Modric sat in central midfield. Kroos would be used as a box-to-box midfielder, while Modric would be an advanced playmaker on a support role. Casemiro sat behind them in the DMC position as a Half Back.
In defence, Marcelo and Carvajal were played as Wing Backs on Attack duty – they would be tasked with bombing forward to provide crosses for the attacking players. Varane and Ramos were my choice at centre back, with Keylor Navas in goal.
So this is how we lined up for the first leg:
First Leg
Slatham19:
A game full of chances for both teams with Bayern and Real having a chance each to go ahead, Robben skimming it just wide and Bale smashing a fine strike against the bar. Bayern took the lead late on in the first half, a nice run inside from Robben found Ribery available on the left flank who then lofted the ball on to Robben's head, 1-0 Bayern.
The second half began with Bayern dominating possession for the first twenty minutes, only to let Real back into the game. With Bayern sitting a little deeper trying to hold on to the lead we allowed the opposition midfield to dominate the play and with only a few minutes left, placed a fine ball through to James to tuck home and equalise. The match finished 1-1, all to play for in the second leg.
CMP1985:
The game was a cagey affair. Bayern started well, and had a couple of opportunities early on, before we started to get into the game. We controlled possession and started to press, but Bayern took the lead midway through the first half through Arjen Robben and took control of the game for the rest of the first period.
After the break, we made some changes; pushing Modric into the AMC role and dropping Kroos to sit alongside Casemiro as a Regista. While it seemed to generate more shots on goal, there weren't many real chances to score until we brought on James Rodriguez midway through the second half. He levelled with a tidy finish in the latter stages of the game, and the first leg finished 1-1.
1st leg: Bayern Munich 1-1 Real Madrid (Robben;James Rodriguez)
Second Leg
CMP1985:
For the return leg, we kept the same line-up. Aside from the goal, we hadn't played too badly with that system and although we would need to score to advance, I didn't want to push too much, too soon.
The plan didn't really work. Bayern took control of the game and it became apparent very quickly that something would need to change, so we reverted to the system we used in the 2nd half of the first leg. That didn't work either, and Bayern took the lead with a great goal from Douglas Costa, midway through the first half.
Desperate times called for desperate measures, so we switched to a 5-3-2 system, with Casemiro operating in central defence with Ramos and Varane. Carvajal and Marcelo pushed forward into the wingback position, while Kroos and Modric operated in central midfield. Bale moved into an AMC role as a Shadow Striker, and Ronaldo joined Benzema upfront as an Advanced Forward, with Benzema switching to a Poacher role.
It seemed to work for the rest of the first half, and we gradually grew into the match more and more. We were unlucky to go into the break a goal down, but the superhero goalkeeper in the Bavarian side, Manuel Neuer, was simply unbeatable and pulled off two great saves to deny Bale and Modric.
The second half continued in a similar manner to the latter part of the first half, with Madrid growing in confidence and looking like they could be a threat. Bayern seemed to have switched to a more defensive style, however, making it difficult to break them down. After an hour or so, Bayern started to take control of the game again and pushed further up the pitch. This gave us an opportunity to play a long ball over the top to Ronaldo, and the ball seemed destined to nestle into the bottom corner, but Neuer was there again, and our best chance of the game was gone.
A few minutes later, Bayern were rewarded for their pressing and earned a free kick on the edge of the Madrid box. David Alaba curled a beautiful effort into the top corner on 71 minutes, and the game was effectively over. We made changes, taking off Kroos for Kovacic and in an effort to somehow get back into the game, we switched back to the formation that yielded a goal in the first leg, but it wasn't to be. The 2nd goal had killed off the game, and we played out the final 20 minutes fairly quietly.
Overall, it was hard to argue with the result. Bayern did everything right – when they attacked, they got results, and when they defended, they were excellent. It helped that they had the best keeper in the world to call upon, and if he wasn't playing it's possible that the result could have been different, but ultimately I had no complaints. Congratulations to slatham19 – I hope he wins the whole thing!
Slatham19:
With everything still to play for, we stuck with the same formation but replaced Ribery with Douglas Costa, hoping to add something different out wide. The first half was dominated by Real creating chance after chance only for the magnificent Manuel Neuer to produce several remarkable saves to keep us in it. Bayern's only real attempt in the first half produced a goal, Robert Lewandowski with a sublime through ball to Douglas Costa who beats Carvajal to it and slides it past Navas, 1-0 Bayern, can we keep hold of this lead?
The second half begins with a somewhat dejected Real giving all the possession and chances to Bayern, with our 1-0 lead we start to phase in our more defensive structures the 4-1-4-1 is put in place, with seventy minutes left on the clock Real give up a free kick right on the edge of the penalty area, David Alaba steps up and blasts it into the top left corner, nothing the keeper could have done with that, 2-0 Bayern.
With a two-goal cushion and with twenty minutes left on the clock, we bring on Javi Martinez and revert to a 5-4-1 formation to see out the final few minutes of the game. It ends 2-0 and 3-1 on aggregate Bayern are through to the semi-finals.
2nd leg: Real Madrid 0-2  Bayern Munich (Costa, Alaba)
Bayern Munich win 3-1 on aggregate!