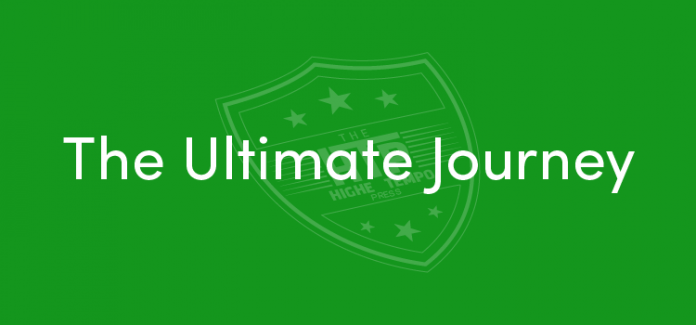 I know it has been a long time since I have updated you guys over The Ultimate Journey and I'm really sorry for keeping you waiting for this long. So what did we get into from last time out? As most of you won't remember, last time out I came to you with a mid-season update where things were all too rosy and we weren't having the best of times taking the Melbourne City job.
League
As you can see we finished 6th! 6th, that in my opinion was quite a shocking season. Though if you did read the last update you could get to know that in the ending I mentioned as to how and why we weren't at our best. It has always been something with the clubs I have managed in this series that the first season at a club I come into doesn't go particularly well though generally in the next season we start putting our act together and performing better. Finishing 6th wasn't a shock to the media somehow? This was probably because most of them had us listed to finish 6th in the league, though this was weird for me as this was a team which had won the league in the previous season and just capitulated in this one.
Finals Series
For those who are unaware of what the Finals Series is, it's basically a competition which is held between teams in the A-League that finish from 1st to 6th. Luckily as we finished 6th on goal difference we were able to leapfrog Perth who occupied a slot in 7th. I have had a good history in this competition as this was the competition we won at Wellington and I was certainly hoping to do the same here.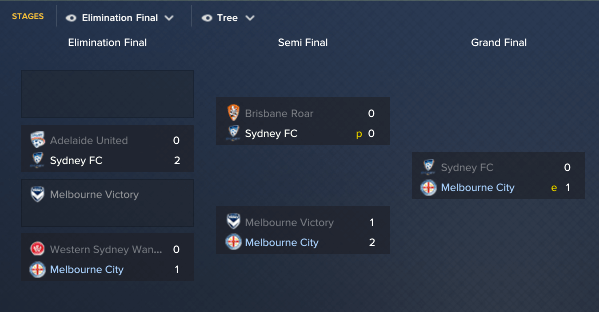 As we finished 6th we would be taking on the side which finished 3rd on the table and it was Western Sydney Wanderers who were are opponents. As you could make out from the tree above we did progress through to the Semis with a cheeky goal to send us through. On to the Semi Final, we went and it was the Melbourne Derby. Melbourne Victory are one of the stronger sides in the division and they certainly did know their way around in the big games. This wasn't to be as we ended the game victorious and booked our place in the final against another Sydney side in Sydney FC. It was a pretty dull affair was the final. The game remained goalless till 90mins. It was all about the nerves which did start to kick in. We were the ones who did keep our calm and scored to secure my second trophy in Australia. Yes, this was all really nice that we did win it and played good football etc though the emphasis will always be on the league and how we get on there as that is the competition which will define our future.
Asian Champions League
Well, we did finish this campaign in 6th we did win the league the previous season. As we were able to do so this put us in the glorious (not really) Asian Champions League. We were given quite a tough group with the likes of Beijing, Okayama FC and FC Seoul. Now, these are three quality sides from their respective nations. All of whom have big squads bolstered with quality. My board only wanted us to reach the group which is a mandate as we were playing in Australia, they didn't want anything more and I thought the same as yes we were a good side but we were nowhere close to competing with the Chinese and Arab sides in the competition.
Funny enough we were able to qualify for the knockout stages with FC Seoul. Now, this came as a major shock to me as we weren't lucky to qualify we certainly played really well in most games and were worthy of the 2nd spot in the group. This run in did see us first match up against Beijing which we lost 1-0. This shattered my confidence and I thought that we were lucky to make it till here now our time is up. Though then we had 3 consecutive home games which we went undefeated against Seoul, Okayama and Beijing. Beating Seoul with a 2 goal deficient being the highlight. We also got our revenge back against Beijing as we were able to beat them 4-0 at home after losing 1-0 away. With these performances, e were thrown in the hat. Now like in the UEFA Champions League the team that finishes 2nd in their group would face a team that won their group. We drew Pohang who are another Korean side. Now we already had experience with one Korean side in Seoul I thought that we could give Pohang a really good match. The fixtures were scheduled and we were handed the home tie first. I usually tend to favor the home game to be second though this time against Pohang it was really comfortable as we ran away 3-0 victors. Surely this couldn't have been for real, but we showed the same resilience in the return fixture against Pohang away from home. We weren't able to keep a clean sheet but we did beat them 4-3 on the night sending us through 7-3 on aggregate.

I was over the moon with our progress! I know the league season didn't go as to plan but the cups were certainly serving me well. We reached the semi finals of the FFA Cup, Won the Finals Series and now are doing wonders in the Champions League.
*The Champions League in Asia is played over two seasons so this season would only cover games till the 2nd Round Leg and in the next season come the games of the later stages. WEIRD!
Squad
The squad did certainly have a mixed year and this was reflected in the performances we had in the league and how good we were on the single game occasions like the cups. Though some of the players who had a good year across the team were Labros Georgiou who had 2 goals and 7 assists from the flank averaging 7.04 in the course of the season. Next up was Brad Nortan was probably was the player of the season he even at the age of 34 was able to pop up with 6 goals and 7 assists from a wide position and averaged 7.15. A player who wasn't particularly a starter but did make several substitute appearances was Fernando Brandan who scored 5 and set up 7 in the few games he played.
Takeover
At the end of the season I got this message that the someone called Cameroon Smith was interested in buying the club and this did take place as he completed the transaction and luckily for me Smith came to me and told me that he wasn't going to fire me and that he was interested in the way the club was being run and wanted it to continue with me.
Follow My Blog
If you have missed me and want to know more about me, follow me on Twitter or Slack- @spiritedklopp