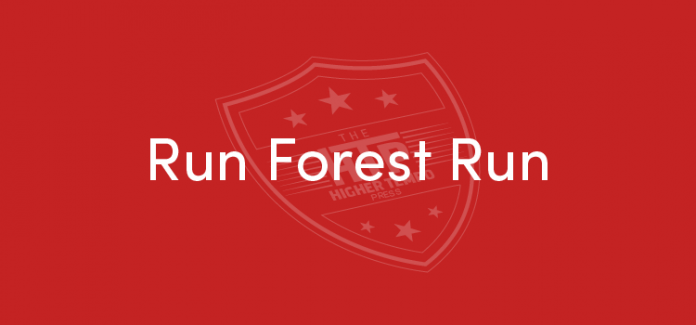 And so it begins. 46 matches stand between us and… and… what? Promotion? Relegation? Mid table obscurity? I gues we'll have to wait and see. We showed fine form in preseason and I hope this well get us a nice, comfortable start of the season.
Right before our first match chief scout Martin Wilkinson informs me that Celebrity Big Brother star Jamie O'Hara is currently available as a free agent. I check his attributes and notice he has sufficient bravery, work rate, and determination. His technical abilities are not bad either and I decide to spend the remaining wage budget on trying to sign him. He takes the bait and we welcome the second acquisition of the season. He's far from match fitness however, and it will be some time before he's ready.
Our first opponent of the season is Burton Albion, arguably the smallest club in the Championship and managed by namesake and fictional half brother uncle Nigel Clough. Because of injuries and suspensions, my choice in who to select is quite limited. Six players are currently injured and one (Fox) is serving a 3 match ban who he carried over from last season. With Traoré, Fox and Pinillos not available, I opt to put Cohen at left back and Osborn in his new role als deep lying playmaker. Licá will replace the injured Carayol.

I like three points. I like to take them out to dinner and kiss them on the mouth, especially when it's the first game of the season. It decreases the chance I rage quit the save and spend hours furiously looking out the window. We start the match very well with two goals in two minutes. First a wonderful combination involving Kasami, Assombalonga and Vellios ends up at the feet of Lansbury, who deftly chips the ball into the far corner. And mere seconds after, Mousinho fouls Vellios and Assombalonga converts the spot kick. Some beautiful work done by Assombalonga sees Vellios score his first goal for Forest just before the half time whistle. We can't however keep a clean sheet, because Mills fouls O'Grady and the latter takes the resultant penalty well.
The convincing win against Burton Albion has caused some further attention to be drawn to the club. According to the BBC, little ol' Nottm Forest could soon be the subject of a takeover bid by a 'mystery foreign tycoon'. To be continued…
Meanwhile, we have to get on with the season and not be distracted by dreams of Messi in a Forest kit. The next game is an EFL Cup tie against League One side Oldham. Preferably, I would like to rest some players but considering the amount of injuries, I won't be able to do that. I do, however, have some players who didn't get any action against Burton. Henderson, Lam, Perquis, Williams, Cash, Pereira, and Dumitru will all get their chance to prove me wrong.

Well, in short: they don't. The game appears to be starting very well with a penalty kick awarded to us within 5 mins. Vellios, however, misses and that is just the beginning of our bad luck. Within 20 mins, Perquis scores an own goal, we lose Cash to injury and Fané makes it 0-2. Dumitru strikes back with 10 minutes to go before half time. I aggressively demand some passion and bring Assombalonga on for the failing Vellios. This doesn't seem to have any effect, until the very last moment. 91 minutes and 58 seconds have been played when Williams fires off one hell of a strike from 20 meters out to make it 2-2. And so we enter the energy draining extra time. At long last, it's Mancienne who prevents a risky penalty series by scoring the 3-2 in the 112th min. And Assombalonga makes it 4-2 in the 120th min to return some semblance of a comfortable win. So, on the positive side: we've advanced to the second round of the EFL Cup. However, after 120 mins everyone involved is dead tired. And we've got an away trip to Brighton coming up.
Brighton & Hove Albion started their season with a 0-1 away loss to Derby County, in the first of the Cloughian derbies they face in their first two matches. As I expected, a lot of players are tired from the 120 mins against Oldham. Williams, Osborn and Lansbury are at around 85% fitness and can't start. This means I have to make us of O'Hara far sooner than I would like. He'll come on for Lansbury and Lam will play as deep-lying playmaker.

My gamble to put O'Hara on predictably ends in injury. After only 13 minutes, the reality tv star has to come off. This forces a smalle reshuffle. Lam shifts to left back, Cohen to ball winning midfielder, Kasami to attacking central midfielder and finally, Williams comes on for O'Hara. Apart from a Hemed strike that ends up against the bar, it's the only notable highlight of the first half. We have the upper hand, but lack real chances. At half time, I replace Vellios with Dumitru and employ Assombalonga as centre forward. I'm forced to use my last substitute in the 48th min when Mills picks up a knock and is replaced by Perquis. This just keeps getting better and better. And suprisingly, it does. In the 72nd min Kasami fires off a long strike that ends up behind Brighton 'keeper Stockdale to make it 0-1. The Seagulls don't manage another real chance and we take the three points home. A wonderful victory with a team selection that seemed to be pulled out of a magician's hat.
The injuries keep piling up. We won't see O'Hara back in action for 2-3 months, Mills for 3-4 weeks and Kasami for 3-5 days. This is giving me a headache. Meanwhile, what could become a long takeover saga continues with reports that a consortium of investors, possibly involving a former footballer, wants to buy the club. Unless they are able to complete the deal before transfer deadline day and give me £50 million to spend, I'm not bothered. The injuries and Brentford-away are all that matter.
The nice part about the Championship is that it doesn't ease you gently into the season. No, it throws matches at you like a fireman throwing water to fire. Four days after the away win at Brighton, we visit Brentford at their iconic Griffin Park. The Bees don't have the best start of the season with losses against Huddersfield Town and Ipswich Town and are bottom of the table. The latest round of injuries give me quite a puzzle to solve. Luckily, I managed to keep Lansbury and Osborn out of action. So they are available. And Fox has served his suspension, so this frees Cohen up for a place on midfield.

Although we dominate the first 45 mins, nothing of any significance happens. I tell the lads in no uncertain terms that I'm not happy with their perfomance out there. They're bottom of the league. We should definitely be winning this. The deadlock is broken at around the hour mark. Assombalonga puts Cohen in front of the Brentford goalie and the captain leads by example: 0-1. Ten minutes before full time, Jack Hobbs makes his long awaited return. Brentford begins to press more, and I switch to defensive. The boys manage to hold the fort and we return triumphantly to Nottingham with another three points. That's 9 out of 3. And… no new injuries! Hoorah!
After away matches in Brighton and London, we finally see our City Ground again. The opponents are Wigan Athletic, who have managed to get a single point in three matches. But they still have Will Grigg, and you know what they say about him… For the first time this season, I don't have to tinker with my team selection. But I am not very satisfied with the return I'm getting from Vellios. Assombalonga takes his place up front, with Dumitru to the left of him as inside forward. This may be the end of The Assombalonga Experiment (sounds like an African thriller with a mad scientist who performs deadly experiments on his patients), but we'll have to wait and see how it goes.

In a repetition of the previous games, the first half ends with us dominating and not creating any clear cut chances. I manage to fire the squad up with my team talk and hope it is enough to get the three points. Five minutes have passed since the resumption of play and Mancienne manages to miss in front of open goal after an expertly taken free kick by Fox. With 15 mins left to play, I switch to attacking. And in typical FM fashion, it's Wigan that takes the lead in injury time. Stojkovic grossly mishandles a corner and Craig Morgan has an easy chance to finish. Not long after, the referee blows his whistle for the final time. I mean, for the final time this match. I don't think it was his final game ever. But anyhow, we were the better side and we've lost. And it hurts. It hurts a lot.
Three days later, the EFL Cup second round tie against Huddersfield Town awaits. They have the same amount of points after 4 matches, but a loss against Newcastle United is a lot more understandable than a loss at home to Wigan. Perquis and Fox become the 8th and 9th player to be unavailable because of injury, but having learned my lesson against Oldham I stick to my team selection. It might just be the EFL Cup, but it's silverware and boy, do the people of Nottingham love shiny things.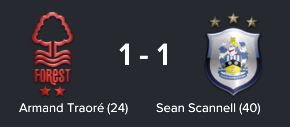 In the 24th min Traoré reacts to a deflected Cohen free kick to put us up: 1-0. The lead does not hold, however. Five minutes before half time, Jack Payne cuts in from the right and crosses to Sean Scannell, who volleys the ball past Stojkovic. We continue the dominate in the second half, but creating chances remains a difficult job for us. So we end 90 mins still looking at 1-1 on the scoreboard. Another period of extra time we don't need, with an important fixture against Leeds just three days away. Licá comes on for the ineffective Dumitru and Vellios replaces Pereira, with Assombalonga moving to the right flank. This doesn't make a difference and the match goes to penalties. Oh Lord, why does everything has to be hard? Heh. Giggity. It is a festival of missed penalties, as only 7 of 16 penalties go in. But it is enough to see Huddersfield through. We're out of the EFL Cup.
Getting knocked out of the EFL Cup is always a bit of a mixed blessing. It's a shame we didn't have a nice cup run, but on the other hand… it's not like we would have won it and besides, we have less matches to play and that could work to our advantage. And so we move on to the last match of August, a home game against 23rd placed Leeds United. Another Cloughian derby. The club where he spend 18 years against the club where he spend 40 days.
The amount of chances created gives me some worry. I guess we are to predictable and not expressive enough. So I give the lads permission to be more expressive in the hope they use their creativity to give us more chances.

Although my objective to create more chances is achieved, the goals do not automatically follow. On the contrary, it's Stuart Dallas who opens the score with a freakish effort from longe range which looks totally manageable for Stojkovic. We have not properly recovered from this set back, when Hadi Sacko puts the United 0-2 up. I change things a bit at half time by making Assombalonga more of an attacking threat as an advanced forward and replacing the ineffectual Licá by Pereira. But it's Leeds who are the most dangerous at the start of the second half. However, it's Dumitru who puts us back in the game with a deflected shot from range. Unfortunately, it is all we can manage.
So we end August with three losses in a row, which makes the first month of the season a mixed bag. Four wins and three losses leaves us out of the EFL Cup and 8th in the Championship. Not good, not bad… just very average.