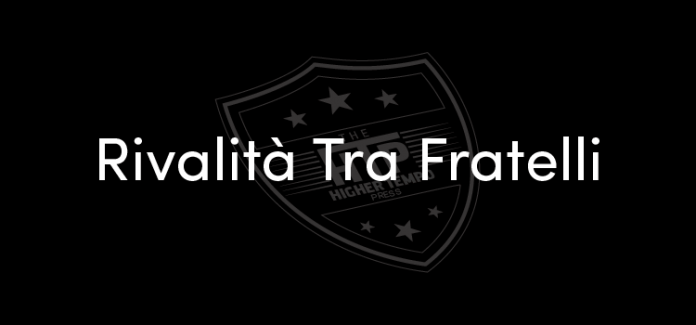 This is the story of two brothers, a modern-day Cain versus Abel if you will, based in the northern powerhouse Italian city of Milan. If you'd like to replicate this challenge, we're using the updated medium database with the following leagues: England (Premier League, Championship, League One & League Two), Italy (Serie A & Serie B), Spain (La Liga & Segunda División), France (Ligue 1 & Ligue 2) and Germany (Bundesliga & 2. Bundesliga).
Rivalità Tra Fratelli – #WeAreTheRivals, Episode 2
CHARLIE: Credit where credit is due and that's not something you hear a lot between us, Gerard Gumbau is a quality signing. But how did he do that? It doesn't make any sense. I haven't even looked at the Barcelona first team never mind the B side. Has he secretly been scouring the Internet for tips and wunderkinds? No, not his style. I've convinced myself that he just got lucky. Didier Drogba though? Really? You have no idea how he close he came to signing Emile Heskey and having him lead the line for three months. I say that knowing full well that big Emile is one of the nicest blokes you could hope to meet in football and I've always liked him. I don't like people making jokes about Emile, you go ask Michael Owen and Wayne Rooney what they think about him… but I'll be the first to admit he's not AC Milan worthy in 2016.
The league season kicks off with Juventus winning 5 – 4 away at Fiorentina, which doesn't bode well for anybody in terms of the result but the sheer sight of Buffon and his fellow stalwarts shipping four goals is something that could give encouragement to the chasing pack. Blackburn Rovers former striker Nikola Kalinic, who couldn't hit a cow's backside with a banjo in England, scored a hat-trick.
MIKE: As is only right, AC Milan kick off the FM17 Challenge with an away fixture against Chievo. The only player I even remotely recognise for them is Dutchman Jonathan de Guzman, who I mistook as Canadian. Vintage AC Milan is our formation, we'll start with a counter strategy and look to build our way into the game. The real discussion to be had is about our ace in the pack, who should start as the shadow striker behind Didier.
Conventional wisdom says that should be Keisuke Honda with either Mati Fernández or Suso acting as Attacking Playmaker beside. Where did conventional wisdom get anybody? It's got Arsenal back in seventh as I write this. Gerard Deulofeu has a nice turn of pace, some craft and trickery to tire out the Chievo defence before somebody like Suso can come on to kill them off. Plus, the Belgian maverick is apparently in line for a return to the Camp Nou so let's harness that positive energy.
All credit to the players, my instructions were followed to the letter. de Guzmán was marked out of the game, keeping their most creative threat (in my mind) quiet. We soaked up some early pressure before hitting Chievo on the counter like a boxer, hiding behind his hands before striking with a sensational jab to the glass jaw. Meggiorini loses the ball in an attacking position to Bonaventura, who plays to Deulofeu and Bonavenura is on his bike. He races to keep up with play like an Italian Usain Bolt as Deulofeu finds Drogba, who holds it up for Honda. Honda finds that man Bonaventura first time and he cuts inside to avoid any defenders, shooting into the net just beside the post to the goalkeeper's right. Start the car.
If that isn't justification for not only the selection of Deulofeu but the signing of Drogba, I don't know what is. What annoys me is that in every highlight I saw where we were attacking, Drogba was holding up the ball superbly but it doesn't reflect in his final score of 6.7.  He's even listed as 'room for improvement', cheeky swines. Into the second half, everything was kept very tight under our now control team instruction and we dug in, in truth we never were in jeopardy. Chievo only had one shot on target in the whole game. There is thing nagging at me, 1 – 0 is a nice scoreline and I'm pleased to pick up the first three points of the season but… was that all? Just one goal?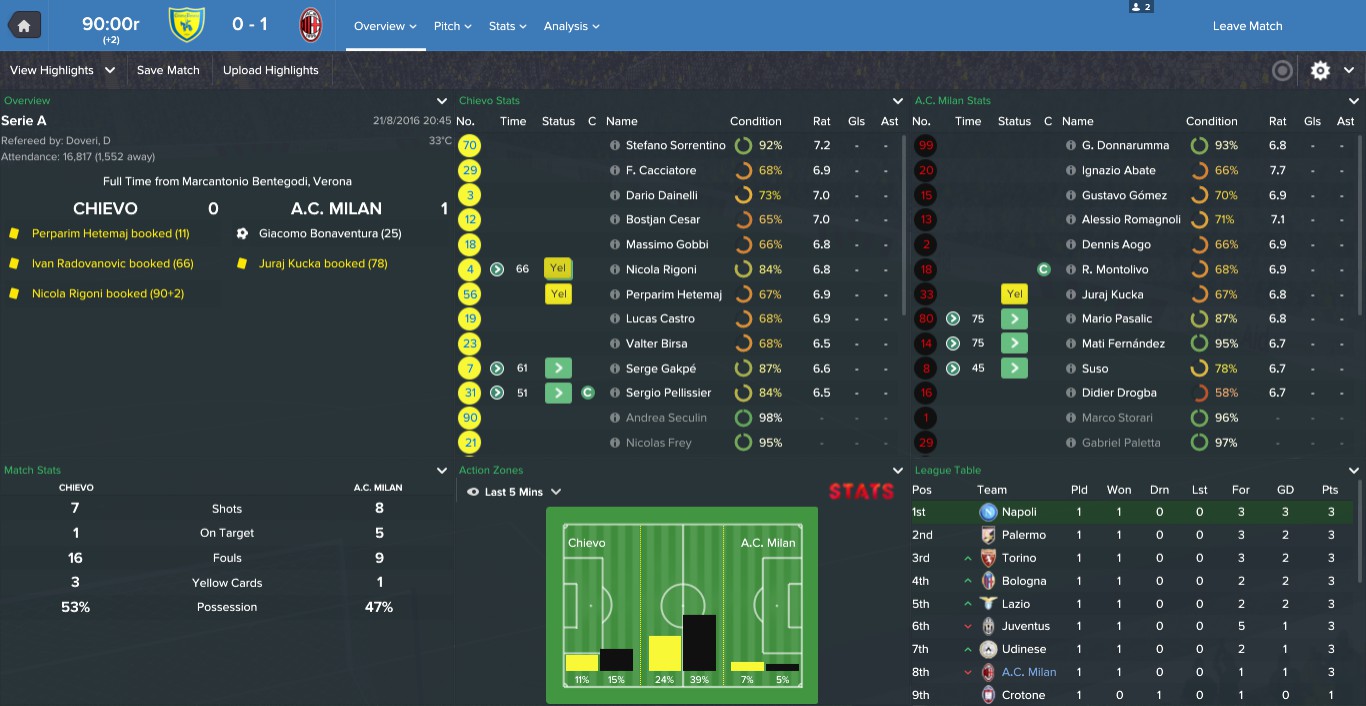 CHARLIE: After watching AC Milan take first stag, we're due to play on what is now the third actual day of the new season. We are at the San Siro, taking the distinction of being the first team to play there in the league and I'm looking to set down a marker. His 1 – 0 was unspectacular, they didn't really impress despite his little glances and winks as the game took place.
The Skewer was our best formation and tactical plan in pre-season so I've brought it to the party, Sassuolo are a wonderful story and join us in the Europa League but we really should dominate this in a way that AC Milan didn't seem to be able to.
No real surprises in my lineup, Mauro Icardi leads the forward line with Ever Banega, Antonio Candreva and João Mário interchanging in behind. There's no place for Ivan Perisic, which is just because there's no room for him. I'm more concerned that the likes of Handanovic, Gary Medel and even Candreva are not exactly brilliant at the role they are being asked to play. I confess to usually following the little green bars but sometimes players have the skills.
After a fairly unspectacular opening 28 minutes, the 29th bursts into life as Mauro Icardi scores what is the peak FM17 goal. Passing amongst the midfielders on the edge of the box, it goes out wide in this case to Charlie Taylor and he crosses for Icardi to head home as he escapes the attention of the defenders. Big shout out to Ali Stewart on the Deep Lying Pod for highlighting Taylor as a prospect.
1 – 0 at half time quickly comes 2 – 0 thanks to a Candreva penalty, supreme coolness as he dispatches into the top bin. Defensive frailties are always a worry, which are only intensified as Peluso crosses for Matri to volley Sassuolo a route back into the match. Handanovic was sent for a cheeseburger, he was still looking in the wrong direction even as we took the resulting kick-off. We restore our two goal lead as Candreva looks up to see Charlie Taylor on the overlap just as he's been told and he scores with a strike hard and low. Mauro Ichardi signs, seals and delivers the first win of the new term with another deft header and I confess his goal prompted a celebration. "Is that another for Icardi?" asks Mike, a loaded question if ever I've heard one. "How's Bacca doing?" I reply.
MIKE: As Donnarumma pockets what I assume will be his weekly La Giovane Italia U19 Player of the Week – Serie A award and Inter smash four goals past Sassuolo, my mind wanders to our next game. Lazio. The nice people in our data analysis department forward me their report, evidently they beat Empoli in their first game.
I'm not even speaking to Carlos Bacca, not until he at least resumes some form of training. That's what José does. Not even eye contact while making a sarcastic enquiry of the club doctor as to the player's health. I stand over Bacca as he lays on the treatment table, club doc Stefano Mazzoni slaps Carlos' leg and mutters something in Italian. I nod, feigning agreement, before striding out onto the training pitch wearing a club tracksuit. Bacca looks on, wounded, not only in the ankle but the heart now too. Just for good measure I make sure the first thing I do is to put my arm around Didier Drogba. He looks completely unmoved by my presence, the cool bugger.
Training is fairly easy this week. I call the players into a circle and say three words; "Stop Marco Parolo". I then stride off into the distance for a caffè latte and an iced finger as Ray Wilkins leads an attacking session. At least there's some hilarity as Simone Inzaghi names Marco Storari as our weakest player. I know he's getting on a bit but come on Simmo, our reserve goalkeeper? You're losing the plot, old mate.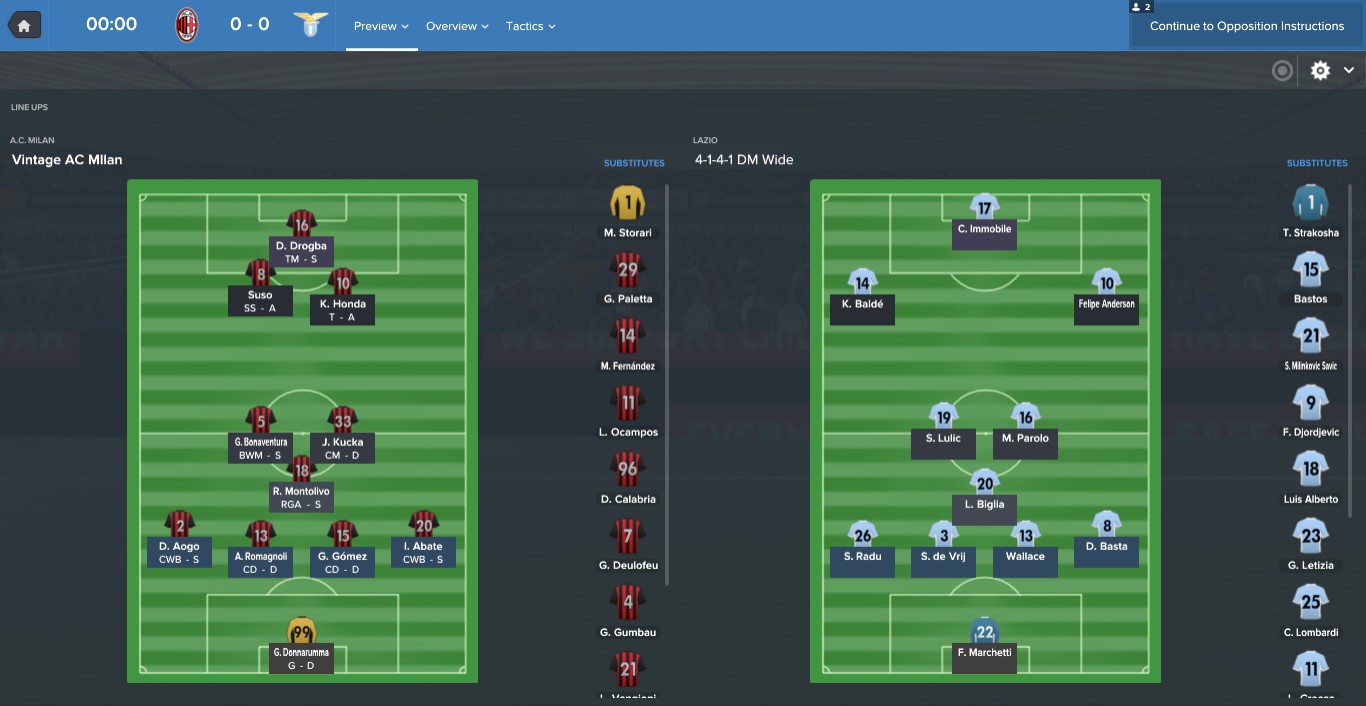 I have never seen such a sorrow excuse for a first half in all my days. Jesus wept, they were shocking. Not one shot in the first half. At home. If I could hook all eleven of them. Such a nice fella as Ray Wilkins is I send him out into the hallway during half time with his fingers in his ears as I channel Mike Bassett to tear them all a new one.
It works too, not only with a screen full of green but a minute into the second half our first shot on target is a goal as Alessio Romagnoli nuts one in from a corner. Montolivo heads Honda's delivery back across the penalty box and Romagnoli heads in at the far stick from what is helpfully described as an acute angle. All of my decisions are then justified yet again as Didier Drogba, my new best mate, rounds off a team move. It goes from one side of the pitch to the other through Kucka, Bonaventura and Honda feeds the rampaging sub Vangioni. The Argentine left-back, on for his debut, crosses low for Drogba to just delicately tap in. I share a high five with Big Dids. I will never wash my hand again.
On 83 minutes Lazio pull one back so I instinctively reach for my Macintosh (see what I did there) and we lock things down to see the game out like the professionals we are. Six out of six, I thank you. In other news, you can add Ignazio Abate to the list of players I'm not talking to after a pulled hamstring.
CHARLIE: While my rival has been sending text messages to what I can only imagine (and hope) is an imaginary Didier Drogba about how brittle Carlos Bacca's ankle is, we've had the draw for the group stage of the Europa League and we're in Group E. Normally I just 'Draw All Teams' and get on with it but in the interest of this story, I stick it on 'Automatic Draw' and put my feet up.
The feet come clattering back down to earth. BATE Borisov from Belarus look to be a safe six points but Feyenoord and Hertha Berlin? Not easy by any stretch of the imagine. It doesn't help that my own press officer thinks that it's an easy group. The part affecting this challenge is that Inter vs. Milan is now rearranged for Monday 28th November as a result.
Our league engagement is with Pescara, who suffered a 2 – 0 loss to Bologna in their opener and were unceremoniously dumped out of the Italian Cup by Serie B's Trapani. I'm tempted to inflict the Skewer on them but our away tactic is the 'Classic José', a 4-3-3 with just about every specialist midfield position employed. Here's hoping Charlie Taylor can replicate that brilliant performance from our first league game.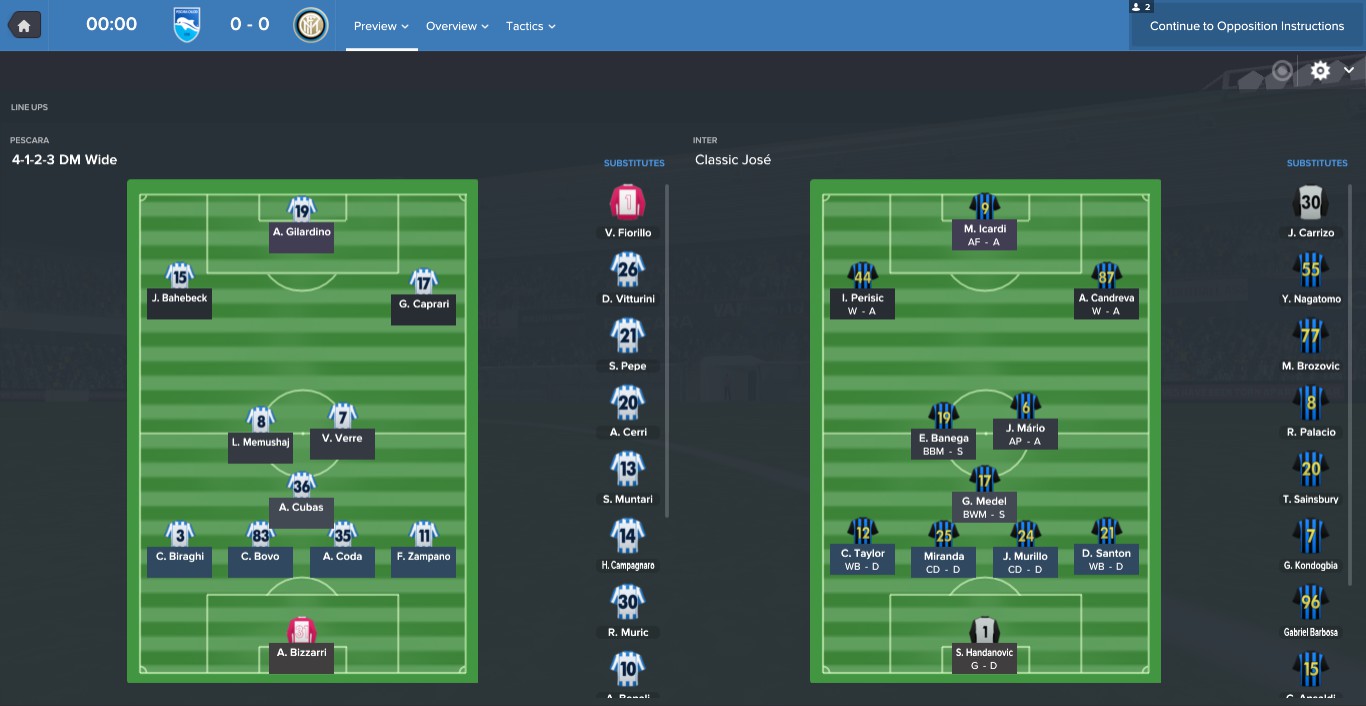 The pressure is on. We're only two games into the season! Juventus have won their second game already, as did our city rivals. Fortunately for Inter fans, there's no waiting 45 minutes for a shot as we score within 15 seconds. Straight from the kick-off (a first for me on FM17) Mauro Icardi settles any nerves after playing a one-two with Candreva down our right. It's his 50th for Internazionale but he's far from done for the evening.
Icardi notches his second ten minutes later, as Pescara are clearing out after defending a corner Gary Medel plays a through ball for Icardi to run onto and he makes no mistake. We're still inside 15 minutes and Pescara get themselves onto the scoresheet, ex-AC Milan player Gilardino profits from a lack of closing down following a corner.
In a blatant and glaring advertisement for having your main striker fit and healthy, Candreva finds our top gun with a low cross and he does the business for his hat-trick. Five goals already this season for the Argentinian. Somebody can only look on with stifled jealousy, embarrassed that he celebrated Didier Drogba's solitary goal.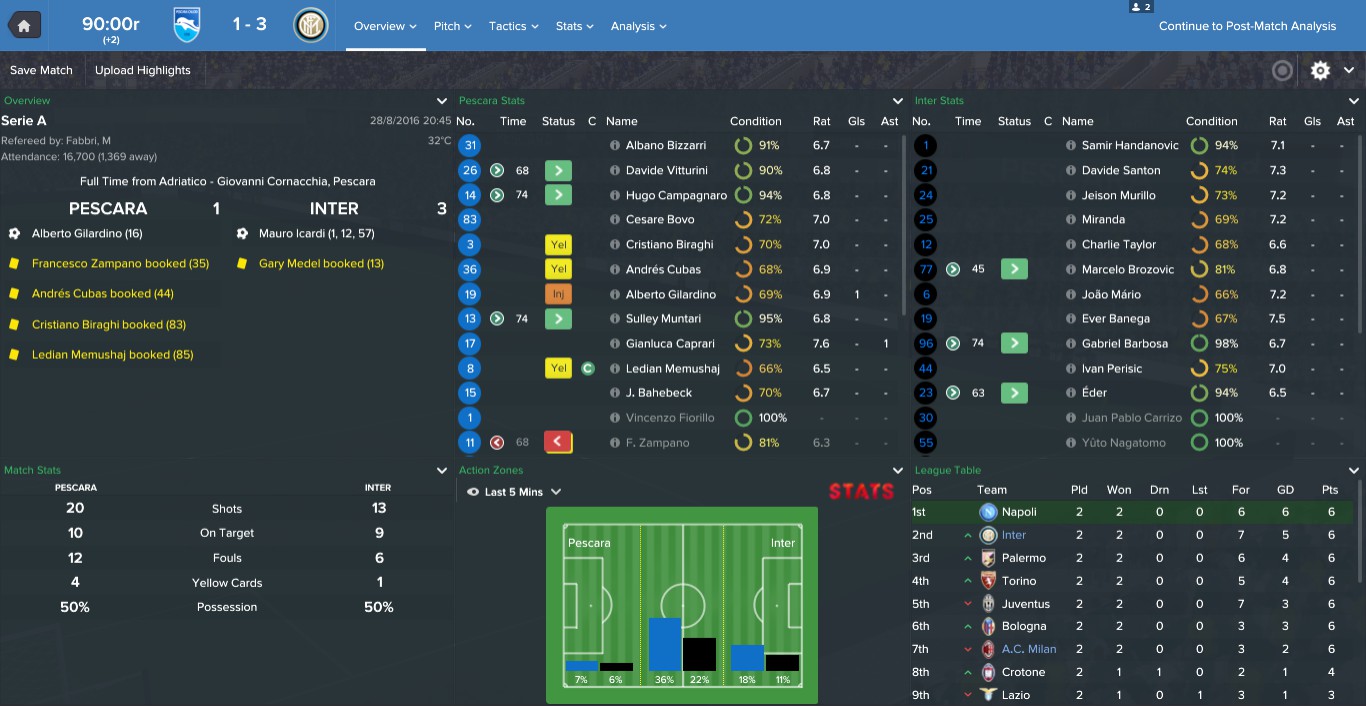 MIKE: There's the small matter of the end of the transfer window to address. I don't think Inter are looking for anybody but I've had offers for Luca Antonelli, who readers of Episode 1 will remember as somebody I transfer listed on my arrival. Lyon want him on loan with a £3.8 million fee arranged if he hits 15 appearances, while Watford offer £2.5 million in hard transfer cash. The player rejects Lyon's contract and heads for Vicarage Road. Meanwhile there is news of a slightly inconvenient nature from the other side of the city…
CHARLIE: So I wasn't really expecting to sign anyone but the defence is troubling me. Two games, two goals conceded. Gary Medel is far more comfortable in defensive midfield, leaving me with Miranda and Jason Murillo because I'm yet to see anything of note from Marco Andreolli following his injury. I thrash out a deal with Wolves for Kortney Hause and welcome him to the Nerazzurri, there's plenty of add-ons in case we actually win something. Sampdoria put in a cheeky bid for a season-long loan as soon as he signs but I want him for the first team. I did seriously consider a loan offer from Preston North End, being a local chap myself. The fee is part-financed by the sale of Biabiany, who attracts offers from both Southampton and West Brom (not Stoke City). He departs for a cool £5 million and later that week he'd score in his debut for Southampton U23's. We end the window as the biggest spenders but we also received the biggest fee for Danilo D'Ambrosio.
MIKE: Just as the transfer window closes, I receive a message from Mazzoni calling me down to the medical bay in the middle of the night. Say goodbye to Dennis Aogo for 7-9 months due to damaged cruciate ligaments. As I attempt to process that information Carlos Bacca (apparently also here at midnight) tries to make eye contact and give me a cheery wave but I blank him. I leave him balancing a ball on his ankle in an attempt to prove he still has his skills for a walk somewhere far away from civilisation so I can scream.
CHARLIE: Sunday 11th September marks the first time we play on the same day, which is exciting. What I've noticed more than anything about playing this save is that we both to win, but neither of want to lose more. Playing a 'public' game is so much different than playing one for yourself. I played in the FM17 BetBright Cup in Leeds and when I won my opening round game, the overriding emotion wasn't joy or happiness… it was relief. I was then tanked in the quarters by the eventual winner of the heat but I didn't mind, I had my win. I had proven I was in the top 32 players across that whole competition. It's much the same here, we've both chalked up two wins. Mine have been done with panache and guile, our goal difference is much more healthy but still, I really don't want to be the first to lose a competitive game.
In the FM17 BetBright Cup, hosted by the dapper and in many ways wonderful Iain Macintosh, I used this Skewer formation. I'm keeping faith in it now, even though Sassuolo scored against it because the other thing occupying my mind is that we haven't yet kept a clean sheet and AC Milan have. That's the reason for the recruitment of Kortney Hause, for a paltry sum of £4.7 million (which could rise to £10 million).
The big news is that Hause starts alongside Miranda, who is now coincidentally his new tutor. That makes our backline 50% English and on St. George's Day as I pen this, it feels proper and apt. Injury wise we're not in bad shape, I had to bite my fist to stop chortling at the injury AC Milan have suffered with Aogo. I can't tell you how proud he was of Aogo as his poster boy for experienced internationals vs. my return on investment strategy. Hope I don't get punished for that.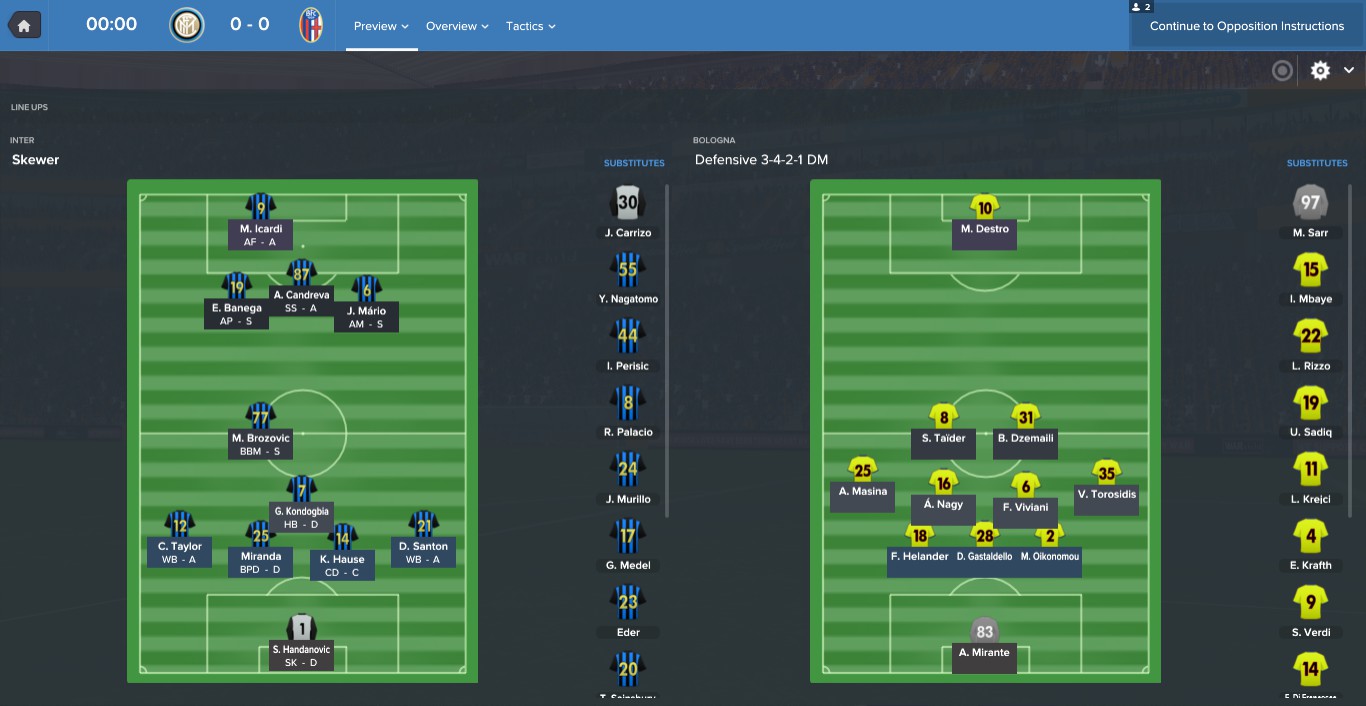 Having kept the same three behind Icardi… I'll be honest, I missed the first goal. I was distracted momentarily by Sergio Aguero opening the scoring for Manchester City against Arsenal and by the time I turned back around, we were 1 – 0 to the good. On second viewing, we're won a free-kick just outside the area (no idea what for) and Candreva shows his sheer brilliance to find the very top corner, out of the goalkeeper's reach
Late in the first half we win a penalty, just as I'm yelling for Icardi to take it and searching desperately for the tactics screen, Candreva takes it and it's saved. I won't attach any blame to him, that was my doing with negative thoughts. Things are made all the safe in the second half as Icardi picks up his customary goal, getting onto the end of a Trent Sainsbury cross to volley his sixth of the season already.
Sainsbury is a bit of story in himself, Bologna manager Donaldoni had a bit of a pop at him much as I saw somebody have one at Storari of AC Milan unfairly so when Stanton got a yellow card, I turned to Trent and he achieved the assist. Kortney Hause proves to be a good luck charm as we keep our clean sheet. I'm completely superstitious about that sort of thing and after all, what else did we get into Football Manager for if not clean sheets?
MIKE: Leonel Vangioni comes in to replace Dennis Aogo at left-back, as he did last time out and that went pretty well. Mario Pašalić, on loan from Chelsea, also starts in central midfield. Dids continues up front and I don't care whether he gets middling-sixes for ratings as long as he holds up the ball and does the things that I want him to.
I'm starting to have regrets. I regret selling Luca Antonelli to Watford. Elton John won't even take my call now he's stolen my left-back. I'll give him a Candle in the Wind when I smack it around his head. I even regret opting to sign Drogba and not pursuing Huntelaar but then Didier catches my eye and it's like he knows what I'm thinking. I've seen that video of him in the Champion's League game going berserk, I don't think I'd fare well in that sort of confrontation. I quickly move my attention to José Sosa and tell him he's starting against Bologna to throw Didier off the scent. Now somebody else has to miss out. Suso is the unfortunate one.
I knew Palermo were going to be niggly and a difficult to team to break down, I just knew it. They're like Fiorentina, Sampdoria and Lazio… one of those horrible sides that are like Stoke or West Brom in the Premier League. You know and more to the point they know they can kick you off the pitch so they behave appallingly. My lads are not choir boys but come on.
AC Milan go ahead, Drogba with more excellent hold up work on the edge of the box brings Sosa into play and he finds Calabria, who cuts back for Keisuke Honda to come to the party in a big way. Him and Drogba were effectively sharing the same piece of grass, I swear I saw Drogba start to celebrate as if it was his goal when it crashes into the net. Not yet 60 seconds after half time from a throw in high up the pitch Drogba's shot ricochets into Honda's path and he scores his second, ours too, with a simple side foot. Lovely stuff. That'll ding dang do for me.
There's a small matter of conceding from a corner with only seconds remaining deep into injury time but I'll gloss over that for now. That's three wins out of three for both Inter and AC Milan. The only negative is that both Juventus and Napoli have chalked up three wins. Credit to the media prediction, they had us all in the top five. Only Roma down in fourteenth are letting them down.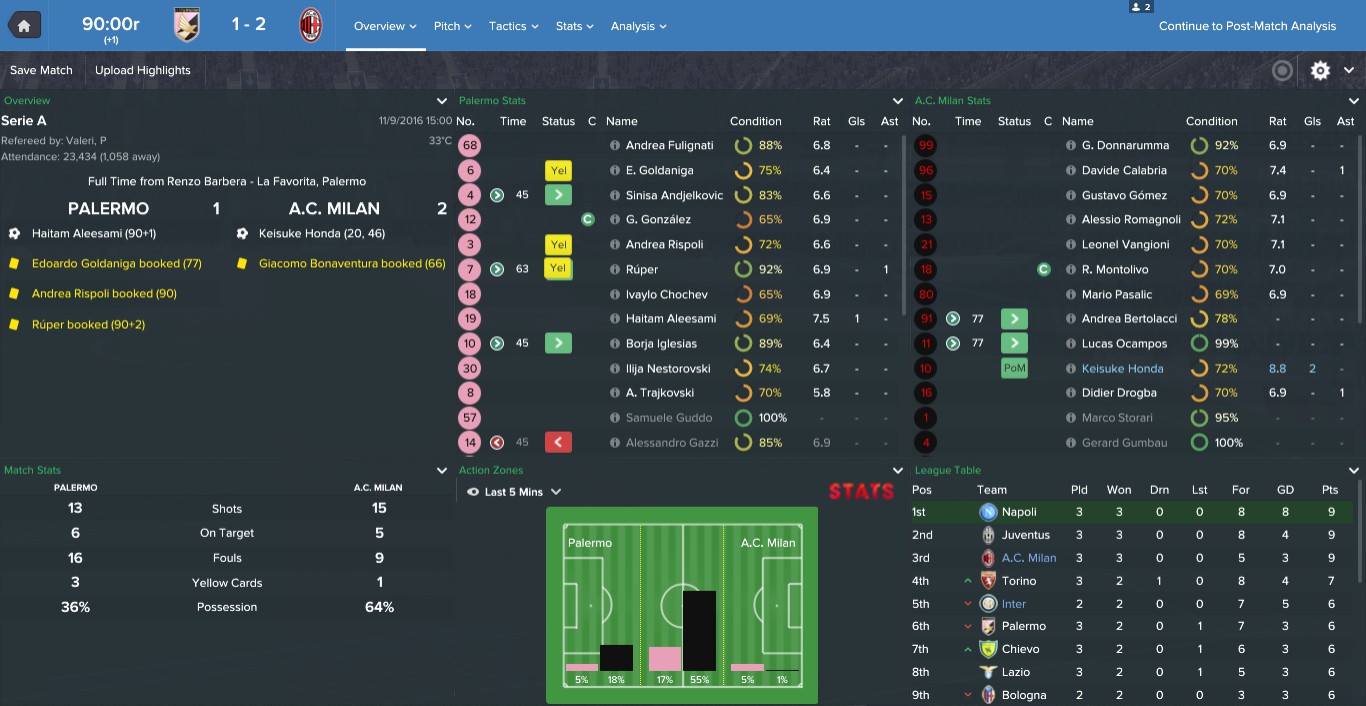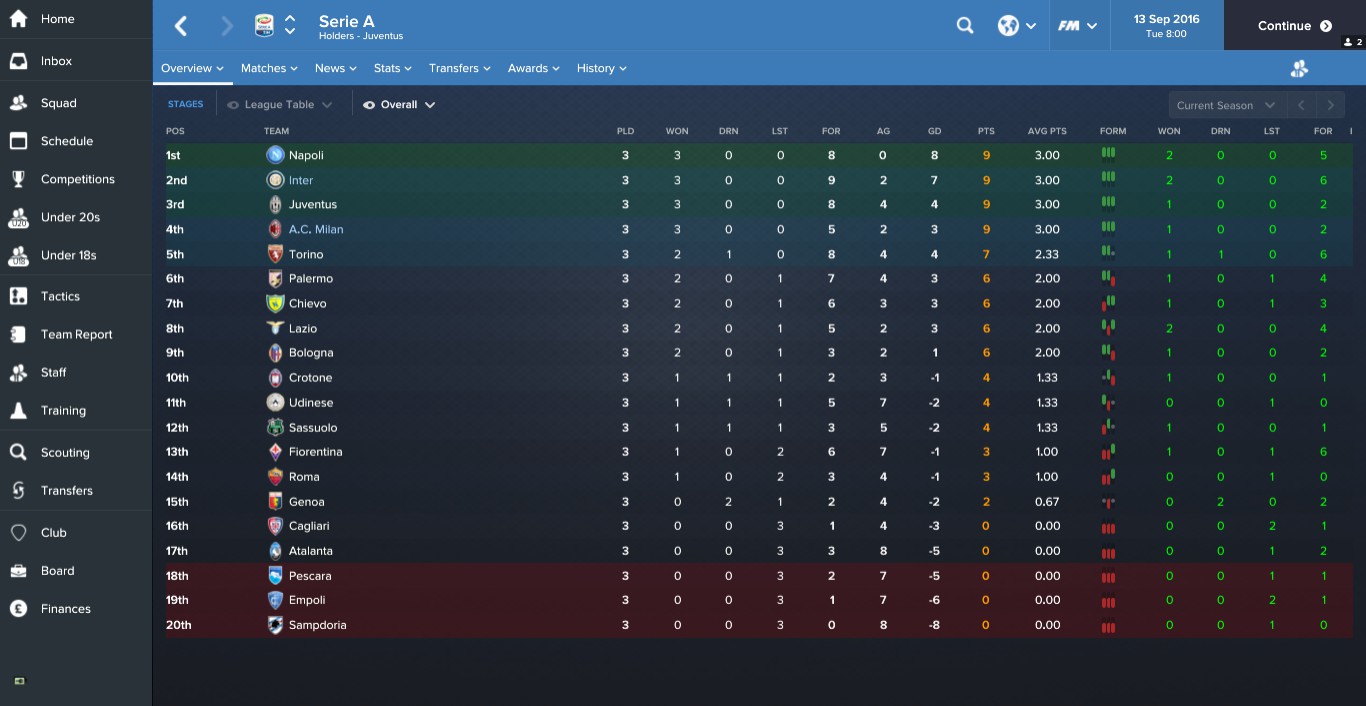 Thank you for reading, join us on twitter at @FM17Challenge, @CharlieTangoFM & @MikeTangoFM for excusive comments, developments prior to episodes and reaction afterwards. Continued thanks to Chris and everyone at Tempo for the opportunity to share this with the readers.