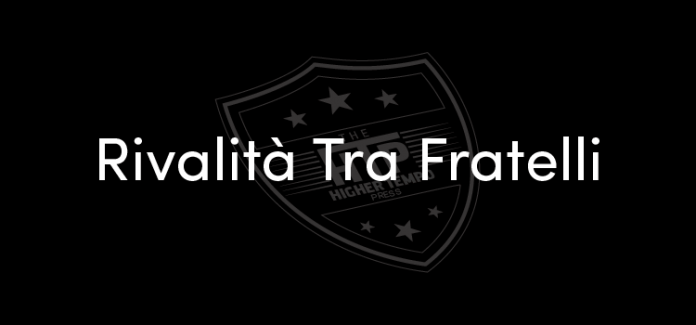 This is the story of two brothers, a modern-day Cain versus Abel if you will, based in the northern powerhouse Italian city of Milan. If you'd like to replicate this challenge, we're using the updated medium database with the following leagues: England (Premier League, Championship, League One & League Two), Italy (Serie A & Serie B), Spain (La Liga & Segunda División), France (Ligue 1 & Ligue 2) and Germany (Bundesliga & 2. Bundesliga).
Rivalità Tra Fratelli – #WeAreTheRivals, Episode 1
CHARLIE: This challenge is born out of frustration, I won't lie to you. I have played Football/Championship Manager for many years as we all have, harking back to the days of Championship Manager 97/98 when Stockport County were absolute beasts. I revelled in the brilliance of the 00/01 and 01/02 games, even followed loyally onto the Xbox console. I persevered during the early FM days, fell in love with the 2007 version and remained with it until being brought into the modern era through Football Manager 2015.
Much like my childhood spent every Sunday in the local Methodist church, I have put my time in. I have earned the right to call myself a Football Manager. I find struggling teams, often in League One or the Championship. I turn their fortunes around and bring players they have never dreamed of to their towns. In the last two versions of the game I gave Derby County that promotion back to the Premier League they crave, I brought the Checkatrade Trophy to Oxford United, I turned a profit at Bolton Wanderers and stabilised Portsmouth.
I am Charlie Tango, the more level headed sibling. The proper Football Manager. The one who agonises over tactics, whose mind drifts at the most inopportune moments to potential transfers and who is kept awake at night wondering whether his team will ever score from a corner.
I don't turn on my laptop, purchase FM, start as Barcelona, Manchester United or Bayern Munich and win everything inside two seasons before shutting down, proclaiming myself as having 'beat the game'. I scout, I formulate tactical plans, I record my selections by hand on a spreadsheet. And he does nothing. This is why I have to beat him.
MIKE: Like most things he says, it's more interesting what he hasn't said. He may have spent an accumulation of months or years on Championship and Football Manager, but his first love of football management sims comes from Ultimate Soccer Manager. Kind of changes things, wouldn't you say?
I've accepted this challenge on the basis that it shouldn't be too difficult. We've tried this sort of thing once before in Sky Bet League One and my Blades dominated, so this should be a walk in the park. As is said far too often on television these days, how hard can it be? I'm Mike Tango, proud to know you I'm sure. I'm here to win. Second is first of losers as far as I'm concerned. None of this school sports day nonsense where everybody wins a prize. Trophies count and I want them. I want them all. I'm like a magpie… except silver isn't good enough. Gold is the premium. Coming second to Juventus and Inter Milan back in third isn't acceptable.
AC Milan have some fantastic players, the likes of which Charlie has never contemplated managing, even though as I write this they are 2 – 0 down in the Milan Derby and somebody close by is being very obnoxious about it. I'm not naïve enough to match the real world to this pseudo-reality. I've heard enough about saves where Arsenal and Liverpool win the Premier League to know that FM is its own animal. Playing FM is like the raptors in Jurassic World. One minute they're all fine following orders and being pets, the next moment something changes and they do what they want, when they want.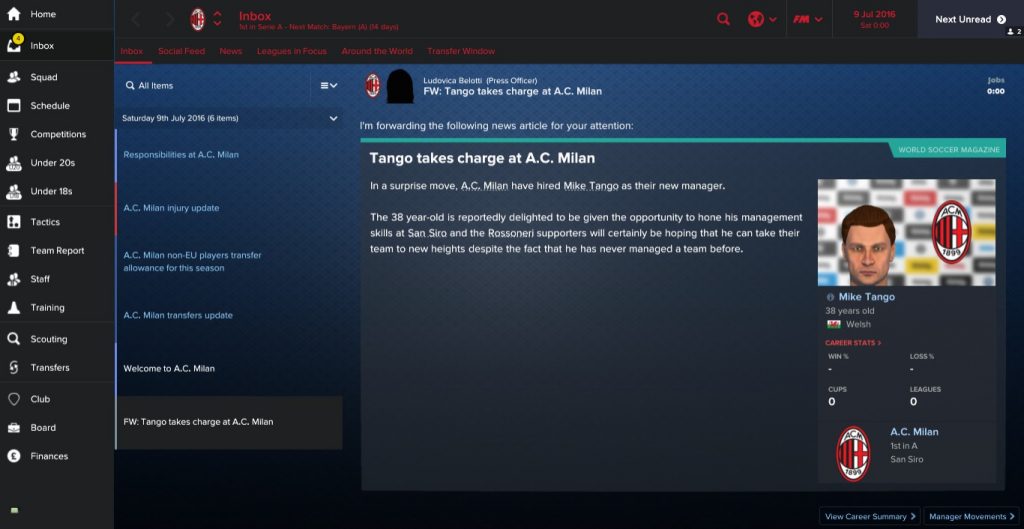 The Managers
Charlie Tango is a former professional footballer at a local level, most likely spent his career around Lancashire and Greater Manchester, appearing for Bolton Wanderers, Preston North End, Stockport County and Blackpool. A central midfielder, bit of a utility man. Didn't make lots of appearances, often found himself on the bench, meaning he had plenty of time to pick up on managerial nuances from the likes of Nigel Worthington and Dave Jones. His favourite club is Stockport County, with whom he played in a League Cup Semi-Final against the likes of Juninho and Ravanelli at the Riverside. As a manager he has a Continental A License and is designated as a 'tactician'. His strengths are tactics, mental, motivation and player knowledge.
Mike Tango is a former international footballer, appearing for Wales via somewhat strained qualification through a grandparent despite being born as his older brother was, in Lancashire's market town of Chorley. His career was spent in England's top division but unlike his sibling, he experienced the bright continental lights of Celtic, Marseille, Sampdoria and Porto. In fact, he ended his playing career as a substitute in José Mourinho's 2004 Champion's League final victory. A Manchester United supporter, his Continental A License was practically donated by instructors following talk of his international caps as a central defender, albeit with a flair for Sol Campbell-esque surges from the back. The tutors from the FA will bend over backwards for an ex-player, just not for Joe Public. He is a motivator, the master of the avuncular arm-around-the-shoulder approach. His strengths are defending (as you'd expect), mental, determination, man-management and above all else… discipline.
Transfers
CHARLIE: There's not a lot for me to do in all honesty. Listening to the Deep Lying Pod (highly recommended), I've noted down some good British youngsters so I've mopped them up – Bright Osayi-Samuel, Jack Taylor and Ollie Watkins all sign only to be loaned back to their original clubs for 6 months. I've also sent scouts to watch Wolves defender Kortney Hause and Daniel Bentley at Brentford. I personally saw Hause last season play against Bolton and he was immense even as a late substitute. I've never been so intimidated by an individual and I've stood within feet of Gary Madine.
We do have some £17 million to spend, which is a sizeable sum but nobody is really standing out to me. Ashley Young is on the transfer list but I already have Gerard Deulofeu on loan from Everton. I consider myself a thinking manager, having met Alex Stewart and Iain Macintosh this past week, I'm well aware of Moneyball strategies and my mantra is 'Return On Investment'. The absolute key rule is to strengthen the weakest area of the team but until we play a few games, I don't know what that is.
Valencia come in with an offer for full-back Danilo D'Ambrosio and it exceeds his value, so I had to take it. I did have Charlie Taylor at Leeds on my shortlist as a potential target later on so I've sent an offer over to Gary Monk. Considering what a basket case Leeds United is, he's glad to be out of there and will compete with the likes of Davide Stanton and Cristian Ansaldi for a starting berth.
I've padded the staff out with a dedicated English scout (Ian Broomfield), a sports scientist and a data analyst because that's probably what a good manager would do.
MIKE: Because AC Milan aren't in Europe (thank you Siniša Mihajlović & Cristian Brocchi), there's only £5 million in the transfer kitty. I've noticed him filling his staffing rota so I'll have a bit of that.  I'm in need of a sports scientist and several physios. For some reason AC Milan, who it should be noted have won Serie A no less than 18 times, have the worst medical team in the league.
I've kicked assistant manager Danielle Russo to the kerb, he was Montella's man. I've managed to sign somebody with experience of Italy as his replacement, the one and only Ray Wilkins. We're bound to make a Clough-Taylor partnership. At this stage I'd take a Neil Warnock-Mick Jones tandem.
Having completed a thorough examination of the playing staff, there are two I've transfer listed. I don't trust De Sciglio or Antonelli at left-back, so they are both on the scrap heap. De Sciglio is flogged to Monaco, who must just collect attacking full-backs. We have new Argentinian signing Leonel Vangioni and I've added Dennis Aogo from Schalke in that position. He's symptomatic of the type of player I like, none of this Moneyball guff. He's plug-and-play, an experienced international footballer who knows what he's doing. I've also signed a young player, Gerard Gumbau from Barcelona B, but he's just cover for Montolivo.
Formations
CHARLIE: As a tactician and an experienced FM kingpin, this is where I should excel over my 'rival'. I've put together three formations for different situations we'll face over the coming season. When we're favourites to dominate and most likely at home, we'll CONTROL play or go ATTACKING with an asymmetrical 'Skewer'. A high line and narrow width constricts space for the oppo, but with creative emphasis and wing-backs overlapping.
When we're away from the San Siro and needing to COUNTER, it's 'Classic José'. 4-3-3 with counter-attacking at pace, defending as a team and pressing the players out wide (having forced them there with a congested midfield).
Maintaining a lead requires more in-game management than ever before so our third formation slot is filled by a rather unusual 5-1-2-2 for DEFENDING. In a Cheltenham save I played with a Catenaccio system, I'll employ a sight element of that but the emphasis really is on tightening up and closing out games.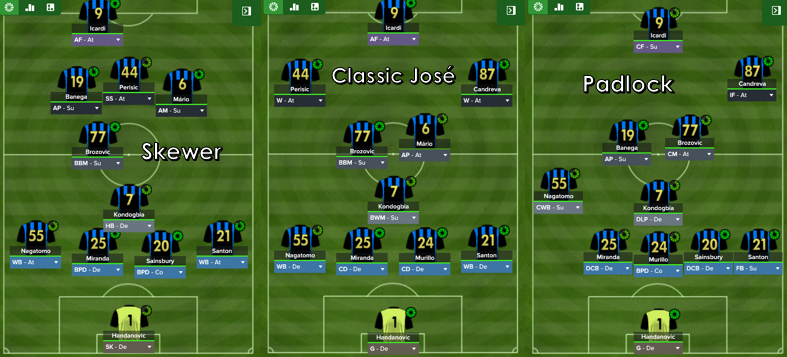 MIKE: I'm only setting up two formations. A classic AC Milan variant from days gone by with Montolivo acting as a modern-day Pirlo in a Regista role shielded by two watercarriers. That's why Gumbau has been recruited, to provide the cover in case of injury because nobody else is a natural there. He's actually a cracking buy and can play any of the defensive midfield roles. A real plethora of central attacking players should give us time and space on the ball, allowing our two full backs to bomb on forward and provide width. That one can be toggled between counter and control, to give the players more familiarity. The second formation I've worked on is basically a thumb to the eye of my competitor. Has he mentioned Iain Macintosh yet? He worships the ground that man walks on so in honour of him, my formation for battening down the hatches in homage to Macintosh is a simple and uncreative 4-1-4-1. Take that, superfan.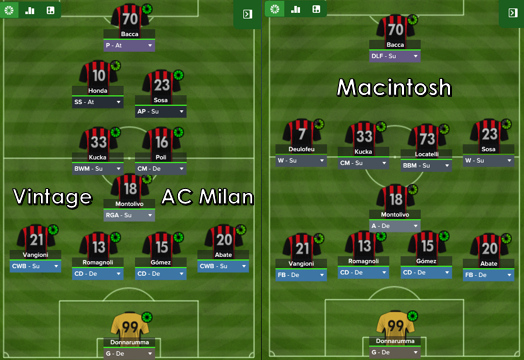 The Players
CHARLIE: I've already upset Jonathan Biabiany by demoting him to the Under 20's (hereby known as the 'Stiffs'). What he fails to remember is that my predecessor left him on the transfer list, all I've done is get rid of him as far as senior training is concerned. Stoke are interested so hopefully Mark Hughes sees value at a cut-price £5 million. What first strikes me is the difference in attitude towards loan players in Italy. Chelsea get a bad reputation for stockpiling 30-odd on their books at different clubs but Inter Milan have 66 out on loan! There's also a different attitude towards loans between the top clubs, it seems to be completely normal in Serie A. Feedback from the player meeting is simple, Champion's League qualification is accepted to a man as our aim.
MIKE: I do not like Gianluca Lapadula. Not only is he a brand new signing in the summer (£6.5 million) but he is injured for between 5 and 8 weeks so he'll miss all of pre-season. Oh, and he thinks that getting in next season's Champion's League should be our priority when I deliberately low-balled to the Europa League. Gigio Donnarumma, however, I do like. He gets a new contract to reflect first team status. I'm being told that Bacca is about to come to me complaining about competition for his place, which is something I just can't get my head around. Surely he would prefer to start every week? It doesn't really make much difference to me primarily because Lapadula is his competition!
Pre-Season
CHARLIE: As you can probably tell already, we have very different approaches to pre-season. To me, pre-season is the proving ground. Not only do players gain fitness and minutes on the pitch but the tactics, formation and player instructions bed in.
I've really put some thought into this, as I do all my FM work. I'm planning to play a total of twelve friendlies with each of our three formations getting four games – home and away against a big team, home and away against a smaller team. Due to some European commitments we had to cancel a couple (Celtic & Ajax), but apart from that everything went to plan.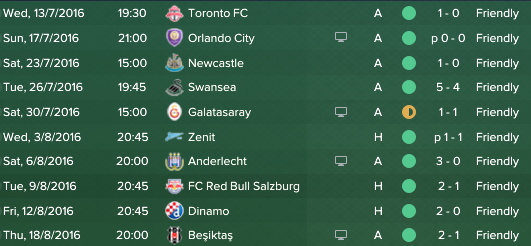 MIKE: I hate pre-season. If you beat your Under 20's 3 – 0 then questions are raised as to why you didn't beat them by 5 or 6. If you lose 3 – 0 to your Under 20's, it's a disaster. I'm almost inclined to let Wilkins take them all himself but I don't want him getting ideas above his station and giving the directors a thumbs up. Twelve is far too many, six is about right. All competitive games up against similar level clubs starting with Bayern Munich. I happen to know they will be missing Robben and Neuer but still, they've got plenty to give us the shake down we need. All we need to do is avoid injuries.
Injuries
CHARLIE: We began with injuries to two defenders similar to our cross-city rivals; Marco Andreolli and Cristian Ansaldi. Both were going to miss pre-season and they're still out as we head to our first league fixture against Sassuolo. Aside from a slight twisted knee from Mauro Icardi which kept him on the sidelines for 10 days, we're in pretty good order. I mean, can you imagine entering the season without your number one striker?
MIKE: Yeah, yeah, funny. Turncoat Lapadula remains out but there's more chance of me playing Silvio Berlusconi in goal then him making the first team. Zapata and Bertolacci are still injured as they were when I parachuted in but the big news is that Carlos Bacca has picked up a broken ankle. Best striker at the club and high up on the list of potential top scorers for the league, that Carlos Bacca. He'll be out for three months (!!) apparently but the less trust I put in the shoddy AC Milan medical team, the better.
I need a replacement, urgently. Somebody who can just slot in, experienced and an international. Same as Aogo was. Somebody who has played for the big teams and scored for the big teams, preferably against the big teams. Ray Wilkins is trying to push Gabby Agbonlahor on me but I've told him to get back to the training field with some Factor 50 on his head.
I'm looking at the transfer list but we've only got a few million to spend. I can't afford to mount a bid for a big player, especially when we'll only really need them for three months. A couple of names are jumping out at me who might fit in. Darren Bent is a cheap option and can score goals. Yes, I know he's not a very inspirational choice and he's spent the last few years in the Championship but I just need a placeholder while Bacca recovers. Don't judge me on my poor choice of strikers. Klaas-Jan Huntelaar is available from Schalke and he's always done well in the past, we put a bid in for both.
The outcome? Both want extortionate wages and it's like they know that they'll only play fifteen games so insist on clauses inserted saying they get another year at no less than ten. Then it comes to me – the free transfer list. There's bound to be internationals floating around there who'd love to play for me for a few months. I'll pass over Emile Heskey, although it took some effort, and move to the name beside him… Didier Drogba. He's even retiring in December, it's like it was meant to be! This is perfect! Wages? Ten grand a week! Welcome to the Rossoneri, Didier. Just pick a hotel, on us. No, don't buy a house. Car not required, just get a lift in off one of the other lads. You won't be staying long.
Thank you for reading, join us on twitter at @FM17Challenge, @CharlieTangoFM & @MikeTangoFM for excusive comments, developments prior to episodes and reaction afterwards. Thank you to Chris and everyone at Tempo for the opportunity to share this save with an audience.