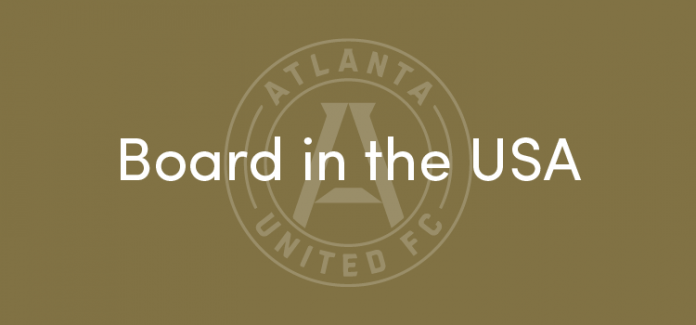 Board in the USA 8: Ups and Downs
I'm not going to lie – with Atlanta United's season so far, there's been a lot to be proud of as a new team in MLS. But there's also been a lot to be upset about. Let's get straight into it.
First 5 games
The first 5 games of the MLS season have been nothing short of spectacular. We won 4 games and drew 1, sitting comfortably at the top of the Western Conference. Theiler has really outdone himself.

All this success happened despite injuries to crucial players – namely, Captain Old Man Larentowicz (for 3 months) and Scott Caldwell (for a month).
Almost the whole team has been playing well, but standout is my stud DP Almiron. He had 4 goals and an assist in 4 games. Ulises, my clutch signing who had already been attracting attention from other MLS teams without even having set foot on an MLS pitch, has a goal and 2 assists. Based on his stats, it seemed to me he was paying a Deep Lying Forward (Support) role, which allows Almiron to make them surging runs into the box. Keegan Rosenberry, My Expansion Draft first pick, was no slouch either.
On the other hand, London Woodberry has decided he isn't getting enough minutes after 5 games. It seems I have inherited a diva. I promised him a few games, so I told Theiler to play London in centre-back in a few of the upcoming games, just to keep him quiet.
Of course he makes a mistakes leading to a goal conceded the next game. Git.
Second 5 Games
Atlanta United has suddenly taken a massive dip in form. While we have suffered a number of injuries, the remaining players should be more than enough to cover the positions. As Director of Football, there wasn't much I could do. Let's hope it's just a temporary patch.
Around this time, I noticed a lot of players were getting waived from their MLS rosters. A lot of them were late draft picks in the 2017 Superdraft. This gave me some indication that late draft picks are not necessarily a great asset, seeing as how most of them are not going to make the cut for the MLS.
Third 5 Games
Jacob Peterson got injured TWICE in a two month period when he had only been subbed on twice. And he's now he's out for 3 months! This Peterson is starting to become an injury liability. I'm probably going to offload this old fart come December.

I had a big game against the other new MLS team on the block, Minnesota. While it is just another season game, I personally view it as a bit of a rivalry.

Taking a look at their roster, I found it to be fairly deep. While it wasn't as young as Atlanta, and did not have as many individually talented players (they only had one DP), they had a lot of reasonable players. I guess their manager went for a different direction, preferring the stability of experienced players to guide them through.
"Go on Theiler, go show them how it's done. Prove we're the only good team on this side of the Expansion Draft."
And prove it he did. We won 1-0! Ulises Tavares had scored a late 72 minute winner. Keegan Rosenberry had another standout day as well.
We ended up performing much better in this set of games.


More Intrigue in the Mix..
Meanwhile, there was interest from Diskerud's agent again. Stubborn yet persistent, not the best combination for an agent. But fine, I guess I want you on the team.

After many rounds of negotiation, we settled on 4k a week. The opportunity to sign such a good American player for free is unlikely to come by ever again, so I took it.
Of course, he proceeded to score on his debut, which was an amazing feeling.
The downside of this Mix Diskerud saga is that because of my salary cap, my squad is more or less fixed for the rest of the season. These boys are all I've got now.
…
That will be all for this update! I'm pleased with how this save has gone thus far. If you have any queries/thoughts about the MLS, please let me know at @avery1822 on Twitter, or @avery on FMSlack. Stay tuned!