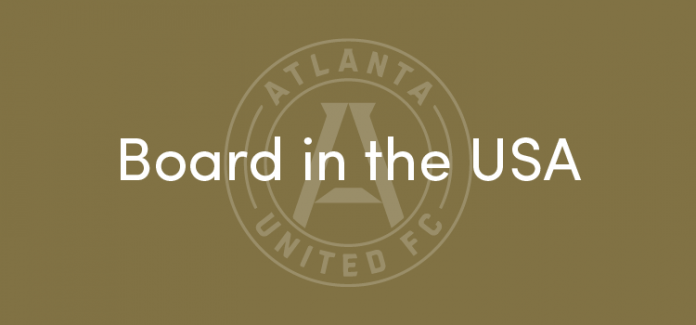 Board in the USA: Planning for the Expansion Draft
The time has come. It's time for my first real test as the Director of Football. The 2016 Expansion Draft. Because I take my position very serious as the DoF of Atlanta United (rather than treating it like just a video game), I put in a lot of research and planning into how my picks were going to go.
Spoiler alert: things did not go fully as planned. But we'll get to that.
For the uninitiated, the Expansion Draft is a one-off event on 14 December 2016, where the two new teams in the MLS joining the MLS in the 2017 Season (Minnesota and Atlanta) will get to pick from all of the players on the rosters of existing MLS teams. They will have 5 picks each, with Atlanta started first, round-robin style.
Of course, teams aren't helpless in letting their best players be taken. Each team can protect up to 11 of their players on their roster from being taken, with Homegrown (read: trained at the club for 3 years or more) players receiving automatic protection, though they will form part of the protected 11.
After they are picked, their existing contract will be carried over to the team that picked them.
As the Director of Football for Atlanta United, I decided that the Expansion Draft was a very important means for me to get MLS-ready players to fill out my roster. I looked at my squad needs, and my aims for the team, and came up with the following criteria for me to decide how to use my picks.
First. The players have to be American. I have 8 International players I'm planning to bring into 2017 season as is, so I cannot risk having to cut my players before the roster deadline. I also don't want to, as a young team, spend on buying an International player slot from other teams. They are notoriously difficult to obtain, and often only last a year. Don't haemorrhage the future!
Second. The players are preferably young, between 20 and 27. I want a squad that can develop over the next 3-4 seasons into a championship contender. I don't particularly want to pick players at their peak now.
Third. I want MLS-ready players. After I traded away my old folks home on the team, I have 6 picks in the upcoming January 2017 Superdraft, with 6 players 18 and below already on the books. While I cannot guarantee they will all turn into winners/ valuable assets for the team, I don't think I can manage to secure that many loans out of the team. I don't want to make the problem worse, except for a really transcendant talent.
Fourth. The salary cap is definitely a consideration when picking these players, as the contracts they are on will transfer over. I can't pick any Designated Players as I already have the Middlesbrough keeper Brad Guzan arranged to enter the squad in July. I preferably should also pick players on longer contracts so they don't just abandon me for free agency after one season.
It is also important to note that because of the 11 player protection rule, most of the team's Designated Players and top Senior players will be protected. As such, I can probably only get the best of the rest – these picks will not make my team a superstar team. They're meant to have a solid base at the club going into the first season to ensure I don't get fired to ensure I have a good core to work off over the coming years.
To that end, I sent my scouts to give me team reports of every team in the MLS. I filtered through all the non-Americans and players who are likely to be protected, and looked at those who played and performed reasonably well (above 6.7 with around 10 games) in the MLS. They were added to a shortlist. After that, I looked through them again and scouted the players that interested me individually. All this was in the works about one month prior to the actual draft on the 14 December. It was a LOT of work. (who says DOFs don't do anything?)
All this work amounted to a fairly solid list, which I then made some judgment calls on.
The picks
I prioritised finding offensive players, as that was the hole in my team that needed the most filling. The league is also chock full of young American centre-backs, so I can take them very late if need be. The following players are the ones I hope to pick up: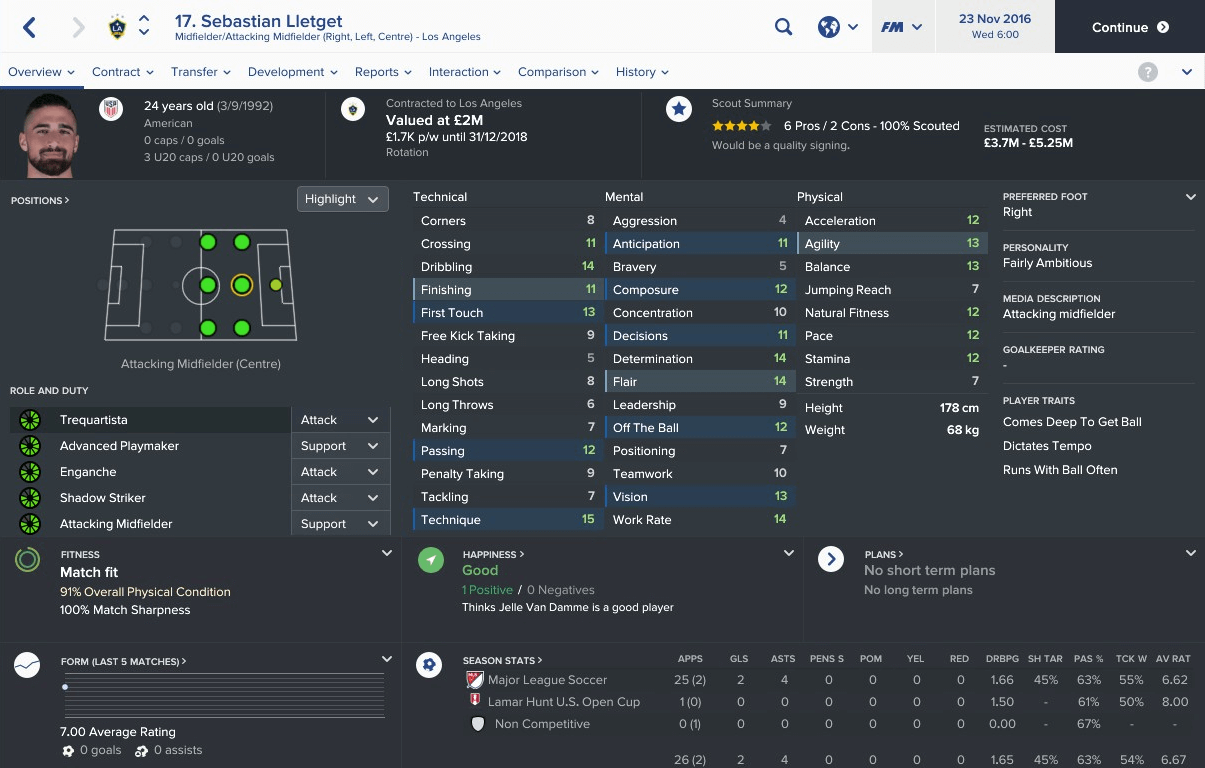 Sebastian Lletget is versatile as hell, with decent physicals and mentals, and on a great contract. If LA Galaxy will risk him by not protecting him, he will definitely be my first pick.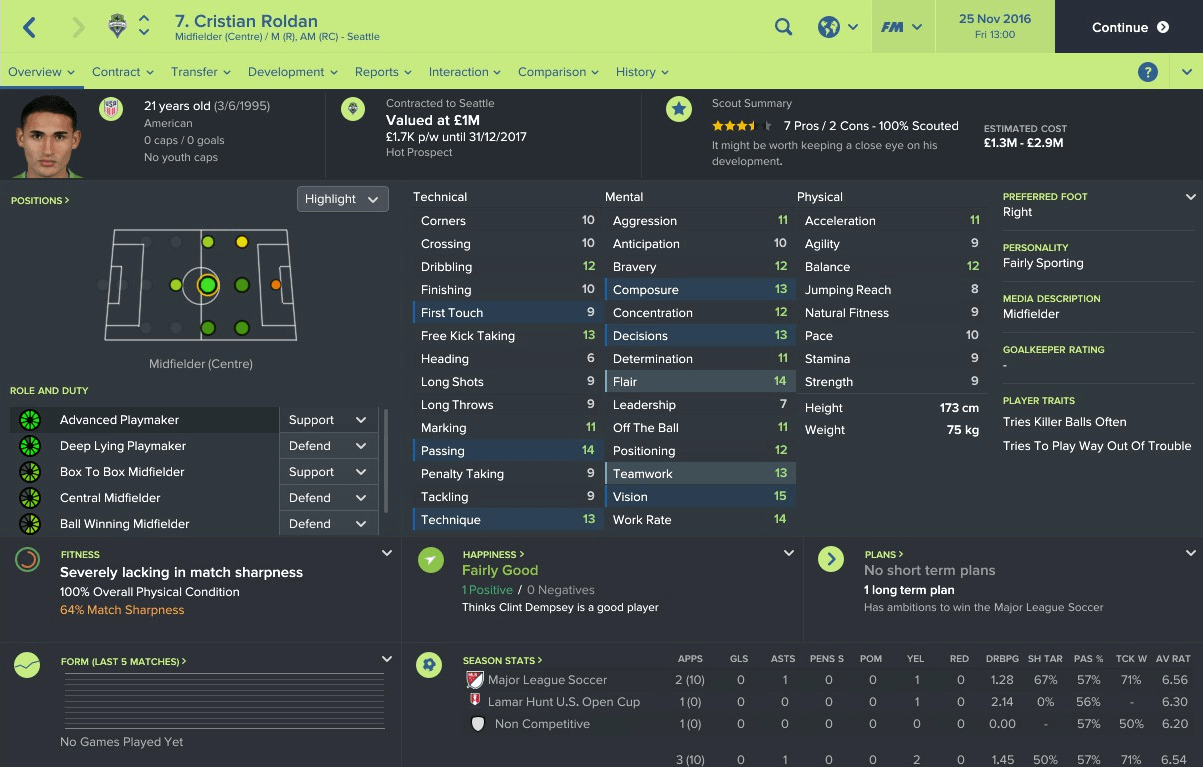 While Christian Roldan is not physically great, he has good stats for an Advanced Playmaker role. However, that would put him in direct competition for a spot with my Designated Player Almiron, so he will probably be my 2nd or 3rd pick.
Scott Caldwell is a solid holding midfielder,with solid stamina to run all over the place. However, he's a first team player for the Galaxy, so it's unlikely I can get him. A boy can dream, right?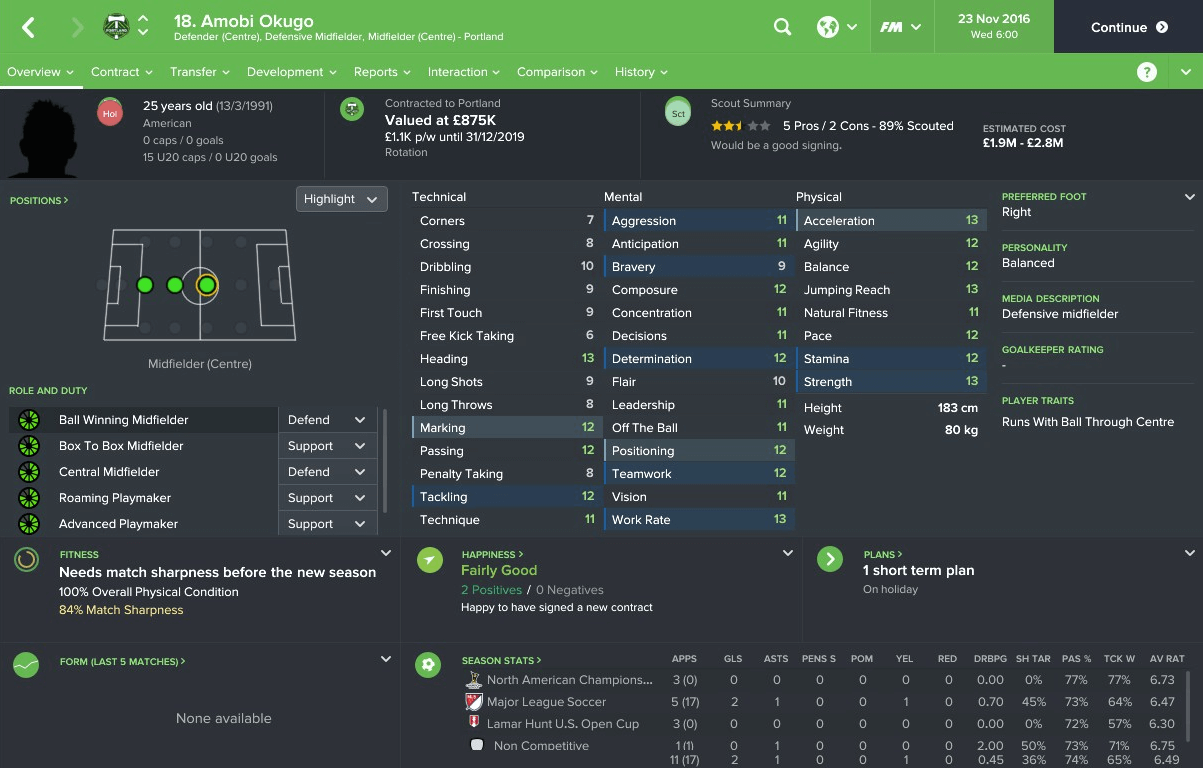 Although Okugo has not been playing well at all for Portland, they are a losing team, so I'm going to discount that somewhat. He has good flexibility and would be a solid backup option to my first team.
Honestly, this guy is just so-so. But I needed cover for my fullback positions, and he is a natural in both, so I'm considering picking him up if available.
There are plenty of decent centre-backs in the league, and there definitely will be some who are available for pickups. But because centre-backs are very boring to look at attributes-wise, I shall not go through them today.
That's it for this update, thanks for sticking with it even though it's longer than usual. In the next update, I'll actually be taking the Expansion Draft head-on, and I couldn't be more excited. if you want to discuss this MLS save, you can hit me up on FMSlack at @avery. Stay tuned!