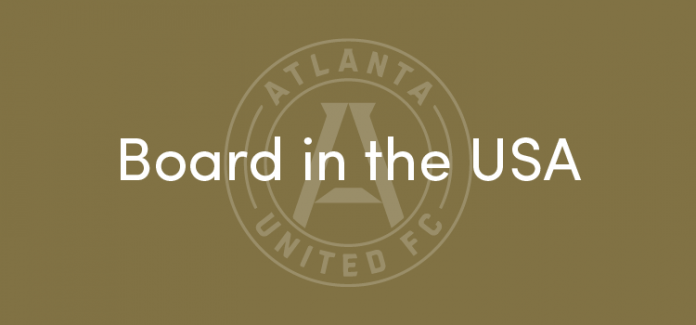 Board in the USA 2019: Rash Decisions
Where we last left off, we were getting ready to head into the 2019 season fresh off winning the double. Success was not expected – not just by the board, but also me. I had put together a team of champions: now my job was to maintain it.
We start off with a big move: selling Carlos Carmona.

While he served me well over 2 seasons, 62 games and a 7.02 rating, I decided it was time for him to leave. He was approaching 32, where his physical attributes would diminish very quickly. That is especially detrimental given his position as Defensive Midfielder. Furthermore, he was taking away game time from the younger Scott Caldwell and Amobi Okugo, who weren't slouches when they took to the field either. Since players get so hard to sell when they older, it was time to sell him while I could. While the deal wasn't the best, it was the only (non-negotiable) offer, so I took it.
Aside: It is important to note that paying extra salary for players not at the club does not hurt teams much in MLS, since they will not affect the salary cap. Most MLS teams are rich, so they can take on that additional wage expense.
Over the December break, I had also released my captain, Jeff Larentowicz. His contract had expired and he was pretty much a spectator all of the 2018 season, playing only 5 games. He had no interest in staying either. While his leadership would be missed, his wage bill would not.
This left me in a particularly tricky problem – having to appoint a new captain and vice-captain. None of the senior players who had been with me since Day 1 had particularly high leadership, and the ones who could lead are new arrivals. I bit the bullet and appointed Hector Villalba and Scott Caldwell as my Captain and Vice-Captain respectively. While they would not contribute much to leadership on the field, I did not want to anger Hector by appointing somebody else as Captain. It was my job to appease the young Designated Player, and appease him I did.
After a good pre-season, I was happy with my team. While I could not find a new DP, all of the pieces who had won the Double the year prior were still with me. What could go wrong?
Well, this could go wrong.

My main playmaker in the middle of field, out for the first half of the season! While Diskerud would be around to play backup, I pretty much had no more long-term viable options to replace that key role Almiron played in the team. Diskerud was also a slow player, who could not keep up with the pace of Villalba when he was attacking the flank. I know, I said I would use the young lad Kyle Dombrowski, but this is too many games to expose him to. I don't think Theiler would be willing to put such a young kid out as a first-choice central midfielder either.
I knew it was my job to bring in a high-quality DP who could take over Almiron, yet have the flexibility to fill the other midfield position when Almiron comes back.
Enter Ramon Azeez.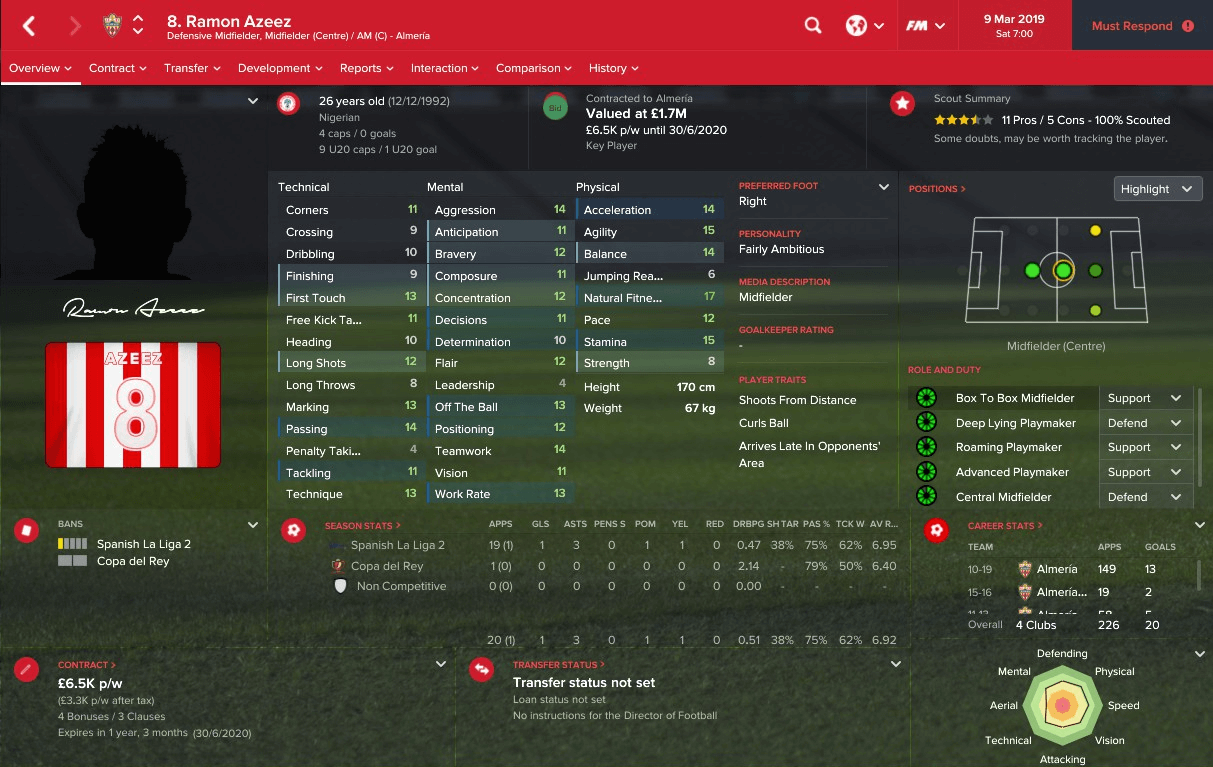 This guy fit all of my needs. He could have the pace to play the box-to-box role when Almiron wasn't around, yet could play in the playmaker position when needed. I signed him for a 1.8m transfer fee as a Designated Player. While in hindsight it seemed like a rather rash and short-sighted deal, he played well for most of the season, performing in a variety of roles in midfield.
It was also perfect timing that I managed to get Azeez, because this happened shortly after:

Just to jump the gun on the story a little bit, this happened 3 months after I signed Azeez.
At that point, I was happy I signed Azeez. I could not afford to go into the playoffs with only one of my Designated Players! Having a key cog in the team like Almiron be out for the entire season was no joke. It became a worry that performances would fall as a result of losing our midfield engine.
Thankfully, performances did not drop. We did better than ever before! We finished the season 1st in the Supporter's Shield (the combined records of both Eastern and Western Conferences, which secures qualification into the North American Champions League), and by extension, first in the Eastern Conference. We breezed through the group stages of the NACL against significantly weaker opposition. We even walked our way into the MLS Cup yet again!
Again, we profited from having almost of the games held at home; for reasons I am somewhat uncertain. Then again, this season away games did not prove to be a big problem, as Theiler somehow managed to figure out our away form, with us winning far more games than the season prior. We only lost 5 games in total the whole season, with 4 of them being away from home.
This tremendous away-game form boded well for our chances in the Playoffs.
However, what happened in the Playoffs is not for this update. We're just going to talk about a few more things that happened in the regular season.
The Right-Back Conundrum
I decided to interfere with the team selections of Theiler as little as possible this season. He had won us the Double last year; he deserved to run the show as the reigning Coach of the Year. Inexplicably however, he decided to replace our starting right-back superstar Manuel Robledo with Keegan Rosenberry. While Keegan was a good player, this clearly upset Robledo, who had earned a spot on the US National Team due to his great performance in 2018. He started making suggestions that he wanted to leave.
I was having none of it, however. Robledo was my draft pick that flourished last year, and he was going to stay. I insisted on him taking back his place in the starting lineup, and his concerns went away. In hindsight, I may have given in too easily; however, I took the mentality as a Director of Football – you want to appease your potential superstars! This guy should stay in the club for years to come. There's no reason why he should be forced out of the lineup.
Draft Bust?
My first-round pick, Martin Williams, turned into a bust. He was getting no game time with Theiler, with Greg Coyne, Ulises Tavares, and even reserve player Luis Solignac ahead of him in the starting lineup. He started getting restless, so I loaned him out for some game time. Initially, he played well for Sacramento, scoring a goal every other game. However, the spectre of injury reared its ugly face yet again.

For such a promising young player, this type of injury is a major setback. Hopefully he would be able to bounce back and continue to improve – otherwise, he would turn into one of my biggest mistakes as Director of Football. While he is not the first draft bust (and certainly won't be the last) in the history of American sports, I gave up a lot to acquire him. Please turn out well, Martin.
That's it for the 19th update of my Atlanta United save! As always, if you have any comments or feedback, leave them below, or find me on Twitter at @avery1822. Alternatively you can join in the conversation on #fmmls on the FMSlack. The next update, we tackle the 2019 playoffs. Stay tuned!