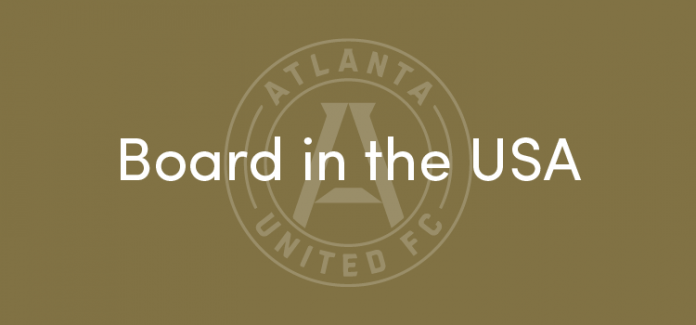 Board in the USA 17:Back up, we have a new sheriff in town
By the end of 2018, Atlanta United has already won the US Open Cup and the MLS Cup. Our next stop: maintaining that legacy. This update brings us from the beginning of the 2019 transfer window up to the Superdraft in January 2019. Buckle up!
Do I really need replacements?
In prior updates, I often complained about the lack of squad depth. I completed the 2018 season with an undersized squad, which was definitely not ideal as it would increase the risk of injuries. I began the transfer window by taking a good hard look at the squad and determining where I needed replacements. This was when I noticed a difficulty.
The difference between MLS and other leagues is the difficulty in finding good, yet attainable signings. Because of the International player restriction, as well as the salary cap, the only source of backup players are American talent on small contracts. However, as we learned from the London Woodberry saga, most middle-aged players don't like to sit on their butts and wait for their turn to play. Further, most teams hold on to their compliant low-wage quality backups really tightly – this explains the insane number of trade requests I've received for Amobi Okugo (who is a compliant, low-wage, versatile, quality backup.)
There is, however, another source. The youth. Or as Stormzy would call them, the yutes.
I mentioned previously that I had several young players out on loan who insisted on playing time. Looking at them again, I decided it was time to play backup to my first team.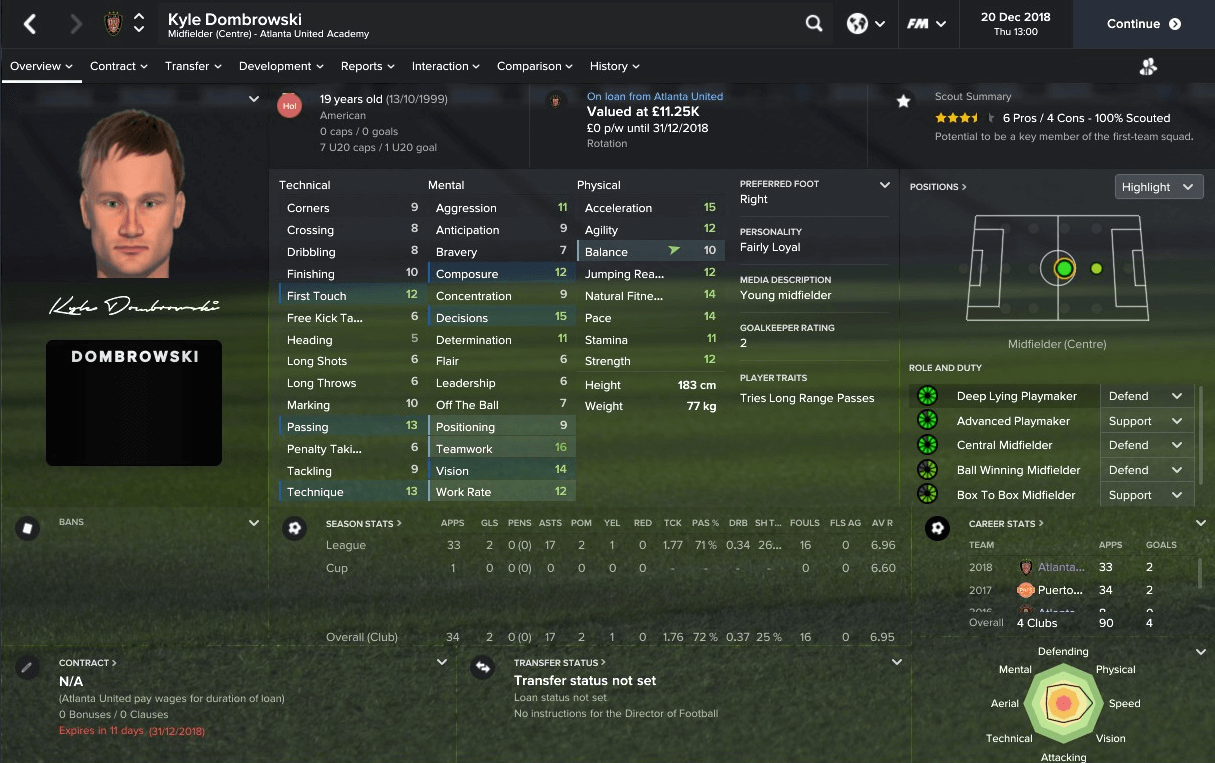 I've been complaining for weeks about a lack of a backup playmaker (like Lebron, for basketball fans out there). Maybe this was the guy. While his game still required maturity, his raw passing ability and physical presence made me decide that I would be using this man as my backup from here for the coming season.
The centre-back position has always been a soft one on my roster. Although obtaining Ike Opara created the first-team pairing that led me to have one of the best defences in the league, backup centre-backs have walked in and out of my roster. Some backup minutes for Frank Bendik could do him a world of good.
While neither of them are ideal players to have out on the pitch when I need a win, sometimes compromises have to be made. It's time for them to hold down a place on the roster. I made a mental note to reject any requests they had about leaving for first-team football. They've had their fun; now it's time to serve Atlanta.
The quest for a backup forward
I have Greg Coyne, the American wunderkind Rookie of the Year. I have Ulises Tavares, a solid backup option. But I wanted a third forward on the team.
Cue the 2018 Re-Entry Draft, one of the (many) MLS drafts for players who got waived at the end of the season. Most of them tend to be subpar/on too large contracts for their value, but this man caught my eye.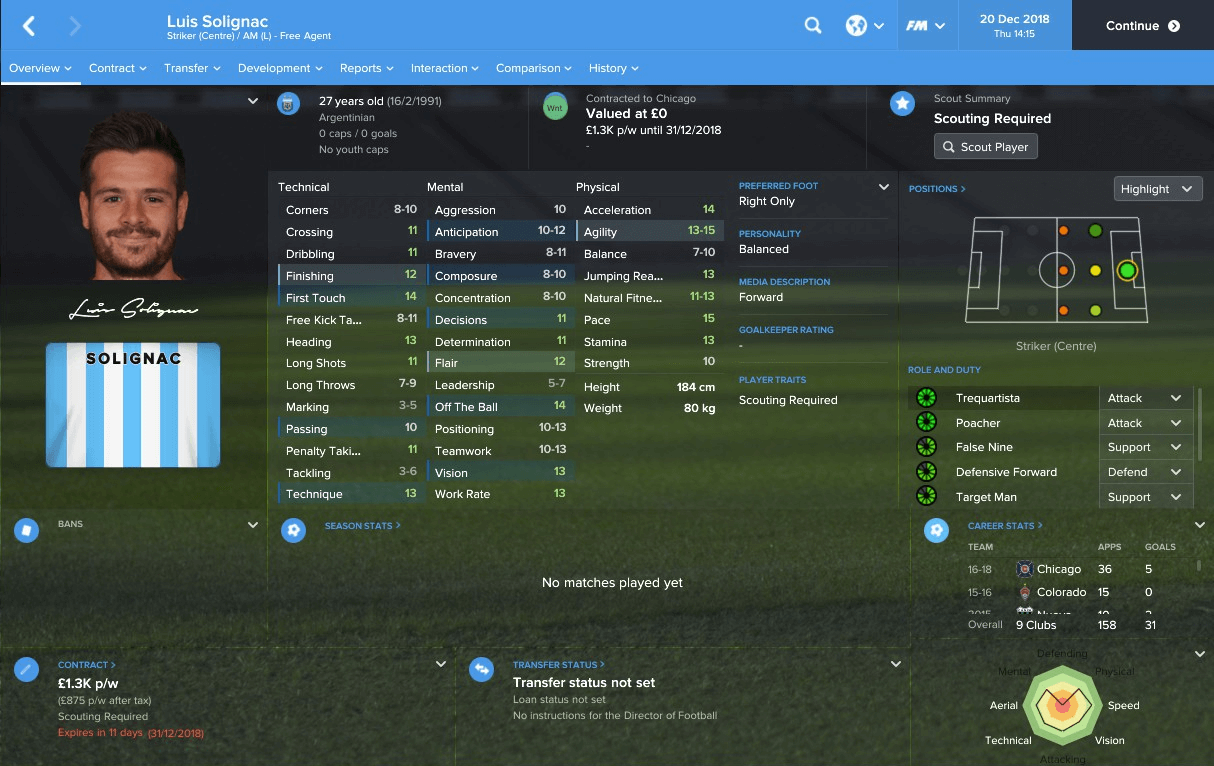 He obviously isn't world-class (or even MLS-class), and is an International. But he's a solid backup option on a cheap contract, and I intend to have the spare International slot for him after I trade either Saborit or Mavinga, my two International left-backs. I decided he was mine.
However, another problem stood in my way! Because I did so well in 2018, I had the last pick of the Waiver Draft. I had to trade for an earlier Waiver Draft pick.
Cue the feeling of insane frustration of negotiating with Seattle, the holder of the first pick, again and again to no avail, but watch them pass their first pick when the draft came…
The pass was good for me though, because that meant I could still get Solignac. I managed to negotiate for the second pick.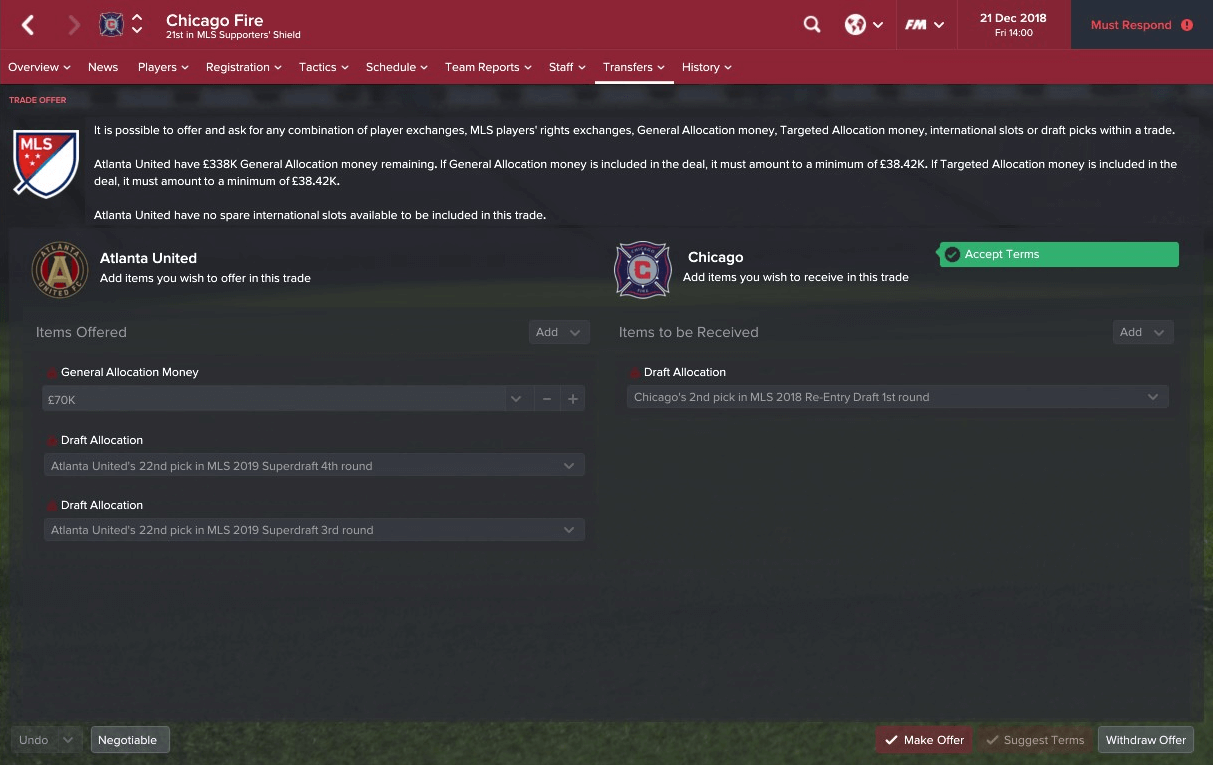 I had to give away two draft picks to get him – however, those 2019 draft picks are worth almost nothing since they are the dead-last pick of each round. I would be entirely unlikely to get any serviceable talent in the Superdraft, so I just gave them away.
And there you have it. I got my man! There was the inconvenience of negotiating a new contract with Luis, but thankfully his demands weren't too onerous.

It occurred to me then that my Waiver Draft gambit was a large risk to run, given I knew that I had to renegotiate a contract with Solignac. What if his team let him go because his contract demands were too high? That was a risk I took that fortunately paid off. However, more consideration had to be put into these type of decisions in the future. As the Director of Football of a championship-level team I could ill afford such sloppy mistakes.
And on that dour note, we conclude the 17th update of this fun series. Join me in the next update as I navigate the latest young American talent in the 2019 Superdraft. Without giving too much away, I make some massive moves…but you need to read tomorrow to find out. As always, you can find me at @avery1822 on Twitter, or @avery on FMSLack. #fmmls is a channel that is open to more participation, so if you would like to discuss MLS with us, do join in! Sit tight and stay tuned.