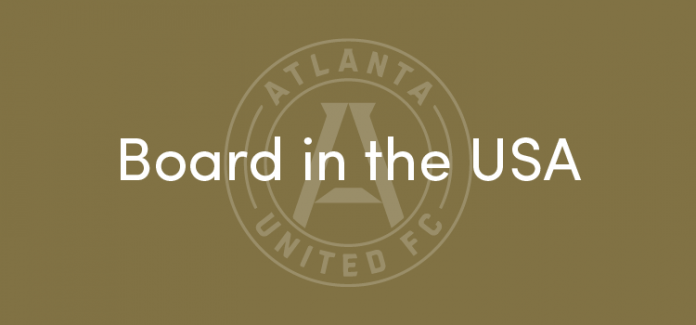 Board in the USA 16: The Job in Review
As you readers know, Atlanta United managed to achieve its goal of winning the coveted MLS Cup in two seasons. For a new team on the block, that is definitely a remarkable achievement that I am very proud of as the Director of Football.
That being said, we have a young squad. I certainly do not want this to be a one-off. I want to take advantage of our strength in youth and build a legacy. So let's put our successes behind us, and focus on what is important: going forward. To that end, in order to continue making great decisions as the Director of Football, I have to dissect what turned out well and what did not. It's time for the season review.
The Superdraft Coup
After our successes in 2018, it definitely can be said that the moves made for Greg Coyne and Robledo were very good decisions. They were over-performing every rookie in the 2018 class by a country mile, and even out-performing most of the 2017 class as well. Don't just take it from me: Theiler moved them into the first team during the regular season, and in most of the post-season games. I have transcendence on this team.
The downside to all this is that they graduated from their Generation Adidas status due to being first-team regulars.
This means that I will be subject to their 2k+/week contracts for the seasons to come, which is an extra hit on my salary cap for the following years.
The Designated Players
Both Hector Villalba and Almiron have played extraordinarily well in the season, with average ratings of 7.51 and 7.21 respectively. Villalba has been particularly key to the team's success, raking in 15 goals in the MLS regular season. Honestly it was a travesty he did not win League MVP. Both are also young players. At 24 years old, they will continue to bring me great success for many years to come.
This success is a double-edged sword, however – both are ambitious players who aim to advance their careers. To that end, I've had to tie them down to massive contracts just to hold on to them. (69k/week for Almiron, and 45k/week for Villalba). While I can afford them now, I may not be able to afford them in a couple years' time.
The DP I'm uncertain of is Brad Guzan. While he has been playing well with an average rating of 6.95, I think I would be better served making Zack Steffen the first-choice keeper to aid his development. During the season he made noise about not getting enough chances in the first team – and I do not want to lose him. I have my eye on moving Guzan off to another team in the coming months.
International Player Management
This has been a move that has really paid off. Because of my strict management of the International player count on the team, I have not had to trade for International player slots, which can be expensive. More importantly, the fact that I had two free spots allowed me to sign Saborit easily to fill the left-back role, and also bring in Mavinga immediately when Saborit had a season-ending injury. I need to maintain having a couple of spots free to facilitate the making of signings where needed in the middle of the season.
That being said, I now have two first-team calibre left-backs who both want game time. In the interest of squad happiness, young player development, and salary cap management, I probably should send one of them off.
They're both good players and there's not terribly much to choose between them. Let's just see which player I get offers for, and that guy will be traded away.
Squad Depth
Lastly, squad depth became an issue that manifested in different ways throughout the course of the season. On one hand, I had too few playmakers in the roster. Only Almiron and Mix Diskerud were capable of playing that role. When Diskerud got injured for several weeks, Almiron played so many games he got tired and had to take a break from training and matches just before the playoffs.
This problem is exacerbated by Theiler preferring Almiron/Diskerud as his midfield pairing, which meant that Diskerud was not exactly the rotation playmaker I had hoped for. I will definitely need to take a look at having a backup playmaker, although one youth prospect from my Academy might already be ready for the spotlight of the first team:
Of course, its early days yet – but I'll keep my eye out on the situation to see if it needs addressing.
The other squad depth problem, as mentioned in prior updates, is the fact that I have 3 defensive midfielders in the team: Caldwell, Okugo, and Carlos Carmona. Theiler favoured Carmona as the first-choice defensive midfielder, which led to Caldwell complaining about his minutes. Although Okugo has been keeping quiet, that is likely to change in the coming season.
The problem boils back to Carmona – although he's a good player, his presence sapped up a lot of the playing time from the other two. Since he's 31 and slowing down, I made the decision that I will let him, and his aggressive red-card ways, go.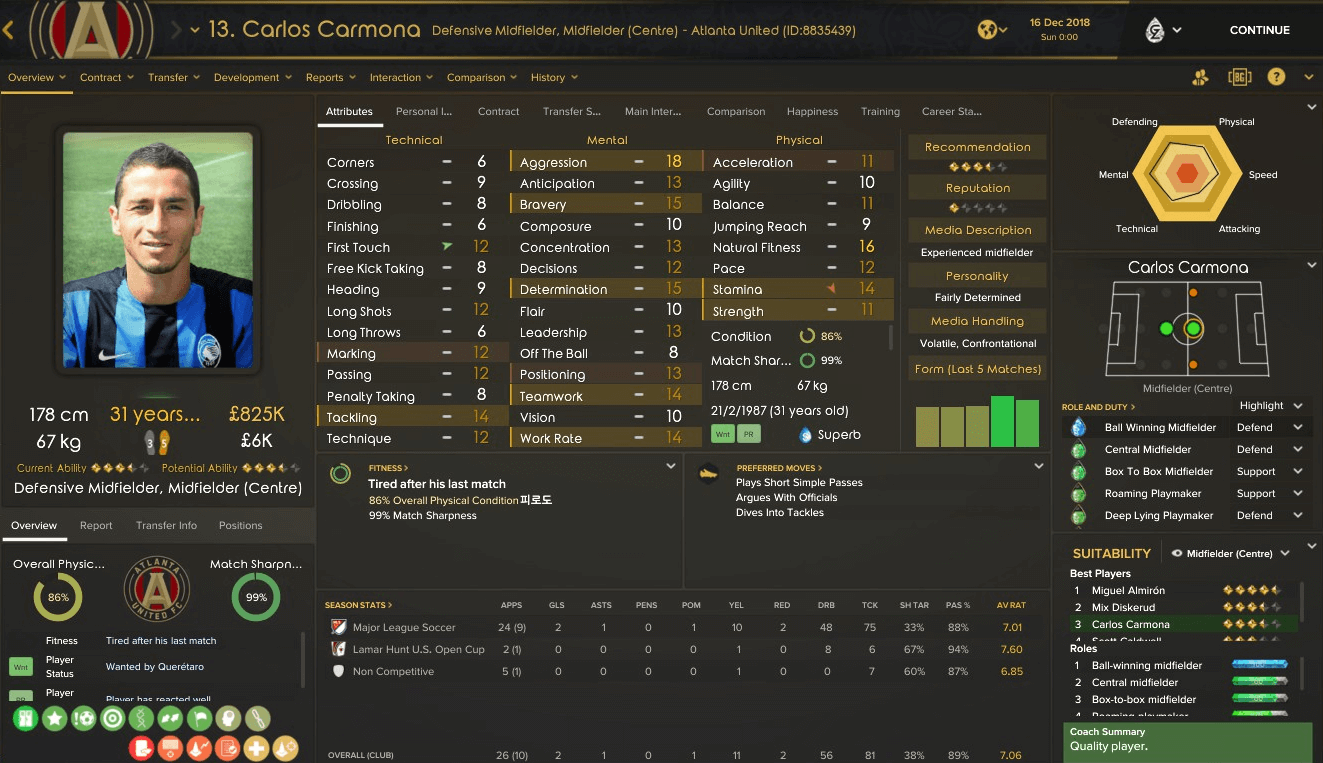 Sorry buddy, but it's time.
I also need another real forward in the team. Coyne is at times unreliable and one-dimensional given his poor technical attributes. Tavares was good for a team starting out, but for a champion team, he should only be on rotation. I decided to continue to monitor the situation. If Coyne stagnates in his improvements as a player, I would keep an eye on bringing in a proven goal-scorer.
Lastly, I ran into the problem that all managers with a young backup squad run into – they are simply too ambitious. Because many of them wanted to leave on loan for first team football, I ended up having a 22-23 man roster for most of the second half of the season. That is simply too few players to maintain adequate rotation, especially given I have the North America Champions League the following season. I'll have to take a closer look at player's personalities and manage them so as to retain enough backup players in the coming seasons.
Salary Cap Management
It goes without saying that this season has been a success in salary cap management. This is how it looked by the end of the season:

Yup, I had THAT much extra, and still won the title. It pretty much smells like good going.
However, because I'm managing such a young squad, the contracts have been relatively cheap. However, certain players like Marc Pelosi have been sniffing around a large contract renewal.  Moving forward, it is going to get a lot harder, especially if I intend to keep the core of my team together. Who knows, eventually I may have to let some of these guys go.
That's it for the 16th update of this wonderful save. Join me in the next update, as I wade through the dangerous waters of the 2019 Superdraft. As always, you can find me at @avery1822 on Twitter, or @avery on FMSlack. Stay tuned!