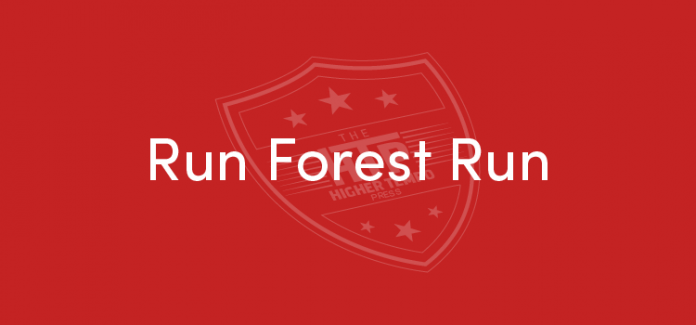 Ever since I saw the movie The Damned United some eight years ago, I have been fascinated by Brian Clough. Although he is (rightly so) a legend in the UK, he receives little to no attention in The Netherlands. But since then I have read most books about him and consider myself a bit of a Clough connoiseur. When trying to bring that fandom to FM, you have a choice between Hartlepool Utd, Derby County, Brighton & Hove Albion, Leeds United and of course Nottingham Forest.
After a short period of doubt, I picked Nottingham Forest. The club where he spend most of his career and enjoyed his greatest successes. I'm not saying I want to emulate that succes (I'm not that good at FM) but I do want to discover how far I can take this club, that has recently been thrown into disarray by a dodgy owner and a high manager turnover. Hopefully I can steady the ship and return it to the Premier League. And who knows what's possible after that.
As a homage to the great man himself, I named my FM avatar Thomas (my first name) Clough and gave him Old Big 'Eads face via the face generator. Afterwards I realised this might be a bit weird, but by then it was too late and decided to stick with it.
The Squad
Nottm Forest is a mid table Championship side with a decent squad. The only qualm I have is that the squad is a bit thin. There is not a lot of depth in case of injuries or fatigue, which is a bit of an issue during the long season that is a Championship campaign.
Vladimir Stojkovic will be my first choice 'keeper with Stephen Henderson as reliable back-up. To keep the Irishman happy, he will get the chance to impress me during cup games.
I'm pretty satisfied with my defenders. Jack Hobbs (injured for 5-8 weeks), Michael Mancienne and Matt Mills all have proven records at this level and (hopefully) won't give me too much headaches. The lesser of the four is Polish 32-year old defender Damien Perquis. At right back Eric Lichaj will do a solid job with Thomas Lam as his understudy. At the other side the injured Dani Pinillos will have to hope Danny Fox won't do a decent enough job to keep him benched after his recovery in about 3-4 months' time. Armand Traoré will be Fox' back-up, but may be my first choice when playing against weaker teams because of his attacking attributes.
Although my midfielders are decent enough players, there aren't a lot of them. And since you play a match in the Championship every 4.6 seconds, we might have some problems when injuries occur or fatigue sets in. Especially considering some of them are entering the last stages of their career. Chris Cohen is my captain and an exemplary professional. Together with veteran David Vaughan, he will provide some defensive stability. The necessary bite comes from Olympiakos loanee Pajtim Kasami, who is a decent hard tackling bastard. Henri Lansbury adds some goalscoring ability to my midfield. That leaves Ben Osborn. I like him, but don't have a role for him in my tactical setup that fits him perfectly. That's why I decide to retrain him as a deep-lying playmaker in the DM strata, since he already has decent attributes for this role and can become a long term replacement for Cohen (29 yrs) and Vaughan (34 yrs).
My strikers are a mixed bag. Britt Assombalonga is pure class and I expect him to score 15+ goals. I'm less enthousiastic about Apostolos Vellios and Lord Bendtner, two traditional target men who won't offer much in the way of mobility. I'll have to tactically engineer something to get the best out of them since my third striker, Matty Fryatt, won't be back in 6-8 months. On the wings I have Licá and Mustapha Carayol, with Benfica loanee Hildeberto Pereira providing speed and not much else. Rarely have I seen such a one sided player. As a backup on the inside forward spot I have Napoli loanee Nicolao Dumitru.
Apart from the first team, I have some potential gems hidden in my youth setup. One of the most promising players is 18-year old midfielder Matty Cash, who I promote to the first team to bolster my sparsely populated midfield. Other players who might have a future at the City Ground are young Swedish central defender Anel Ahmedhozic, striker Ben Brereton and right back Jordan Gabriel. Other good prospects currently not at the club are Italo-Scottish left back Alex Iacovetti (on loan at Mansfield), striker Tyler Walker (on loan at Stevenage) and Bulgarian 'keeper Dimitar Evtimov (on loan at Olhanense in Portugal).
The Backroom Staff
My immediate predecessor Philippe Montanier has left two of his French cronies behind in the guise of Serge Romano (assistant-manager) and Fabien Bossuet (fitness coach). They're not up to my standards and will have to go. As my new assistant I'm looking for a Peter Tayloresque right hand man who'll someday write a biography about me and end our relationship on a sour note. After an extensive vetting process I eventually settle for David Byrne. Furthermore, I strengthen the coaching team by employing Dave Sykes (fitness coach) and club icon Steve Stone (general coach).
My scouting department consists of just one person: the very likeable Martin Wilkinson. He's a good chief scout, but can't do everything on his own. That's why I bring in Torben Aakjær, Derek Langley, Bobby Dickson, Bernd Schneider, Jimmy Hampson, and Klaus Augenthaler to help him scour the globe in search of fresh new talent. I can't imagine Clough working with a director of football, so I won't be appointing one of those. They cost money and all they ever do is operate a fax machine. I'll be doing that myself, thank you very much.
And finally, the medical department. Since every team plays around 1,280 games in a regular Championship season and my squad isn't the largest in the world, I want to keep injuries to a minimum. To help head physio Steve Devine with this important task, I expand the medical team with Luke Anthony and Gary Hazley.
With the backroom staff sorted and the players carefully looked at, it's now up to me to devise a fitting tactic and hopefully bring in some players to reinforce the team.