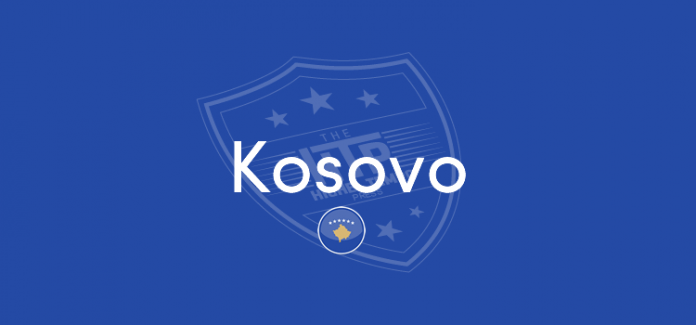 They don't come much bigger than this. Spain lost 2-1 to Italy in their last match so it's all to play for here. A single point would be enough to see Kosovo qualify from their group – what an incredible thought.
It's not that simple though. This is Spain. A country littered with footballing stars from 34 year old Real Madrid Legend Sergio Ramos to 21 year old Newgen Wonderkid Teodoro Blanco.
We pick the same side that pulled off that fantastic win over Slovenia. It's all on the line. Here we go…
On 22 minutes Spain have a throw in an attacking position. Mata receives the ball and crosses for Marco Asensio who climbs above the Kosovo defence to head toward the net…GOAL! Spain take the lead as the ball flies in at the far post.
The lead is maintained until the break as Spain lead 1-0 at half time. Calm heads required from Kosovo in this second period.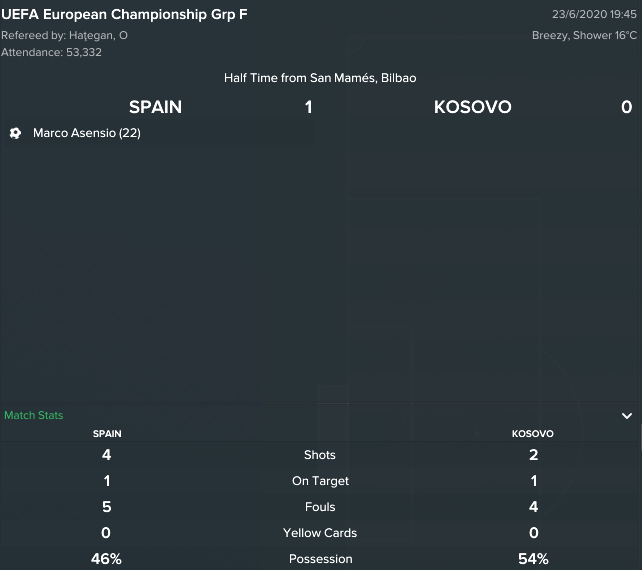 Zejnullahu replaces Ferati on 57 minutes in a bid to press forward more from midfield.
Spain have a freekick on 58 minutes that they progress through the Kosovo half unchallenged. Inaki Williams cuts it back but the ball canons off Pnishi…GOAL! A devastating own goal and the Kosovan dream is in ruins.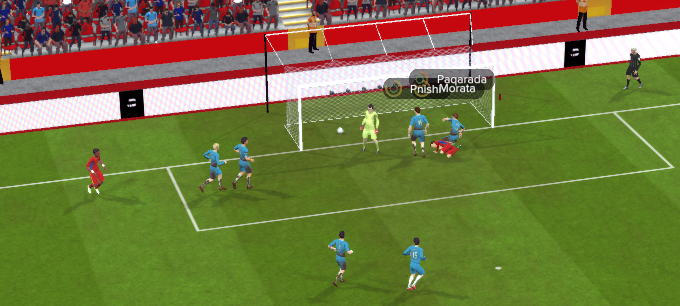 On 59 minutes Vedat Muriqi replaces the ineffective Fezjullahu.
Muriqi impacts the game immediately as he loses possession that leads to a Spain counter attack, Ujkani saves well from Ander Herrera's long shot.
The Spanish attacks keep coming and Morata goes into the box on 66 minutes and shoots…GOAL! It's a third for Spain. Heartbreak for Kosovo.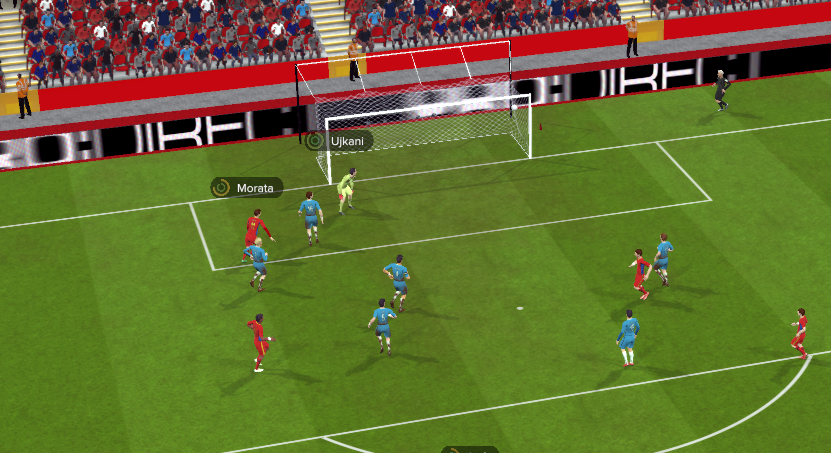 A 71st minute break sees Berisha in an attacking position but his shot is poor and easily held by De Gea.
The final whistle sounds and Spain qualify from the group after a 3-0 victory.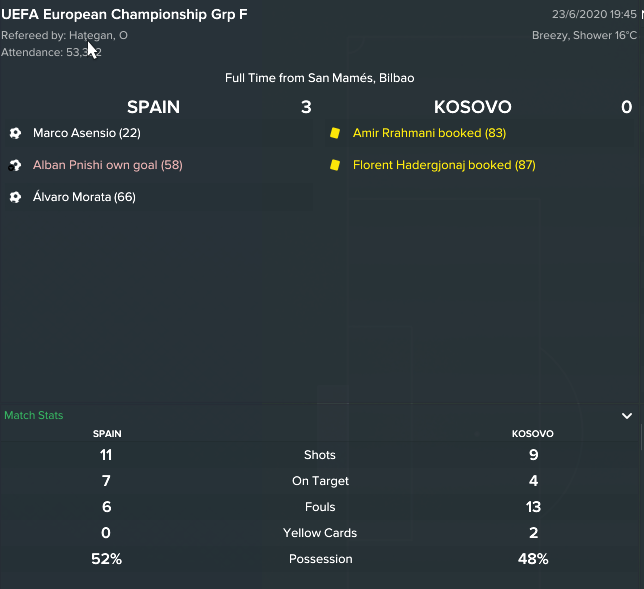 We are slightly disappointing having had the chance to qualify in the last game but finishing 3rd in our group is better than we expected when we secured our qualification. It's another step in the road for The Kosovo Journey.

The tournament was won by Denmark beating our group winners Italy 1-0 in the final at Wembley. Spain were also eliminated by Denmark in the Quarter Final.
The World Rankings released immediately after the tournament shows a 14 place climb for us to a record high of 75th!

—————————————–
For now Kosovo will take a bit of a break as I assess how best to progress this challenge to the next level! It's definitely been a journey of discovery on the International Management trail and we've done better than I could have expected over the first few campaigns. When The Kosovo Journey returns we hope to be in a position to retains our Nations League Division C status and further from that we'll take aim at qualifying for a second successive Tournament Finals as we look toward the 2022 World Cup.