Welcome back to the best story to come out of the whole Brexit ordeal since that "May v Sturgeon: Who's got the best legs?" thing the other day…
We finished off last time with the winter transfer window about to open. We had just been drawn against Milan in the Europa League, and we were top of the league, having just overtaken the impressive Partick Thistle in the week between Christmas and New Year – and still unbeaten.
As predicted, the transfer window was quiet. The only incoming transfer was Kevin Stewart, a 23 year old versatile midfielder for £5m. There were no sales either – only a few loan deals for young players with reasonable potential. We did agree a deal for Liam Cooper, a defender from Leeds, on a Bosman at the end of the season, but there were no other deals in January.
We started the year with a 1-0 win at home to Rangers, before draws with Kilmarnock and Hearts. We followed that up with a 2-0 win against Albion Rovers in the Scottish Cup, before three straight wins in the league, coupled with a massive drop in form from Partick Thistle, left us 14 points clear at the top of the league.
Up next, we travelled to Tynecastle to take on Hearts in the 5th round of the Scottish Cup. With one eye on the first leg of the Europa League game with Milan just a few days later, we made significant changes to the side. That proved to be a mistake, as we fell to a disappointing 2-0 defeat. The board were not happy, as we were expected to win the Cup, and I wasn't too happy with it, either. The side we put out was good enough to win, but so be it – we moved on to European competition…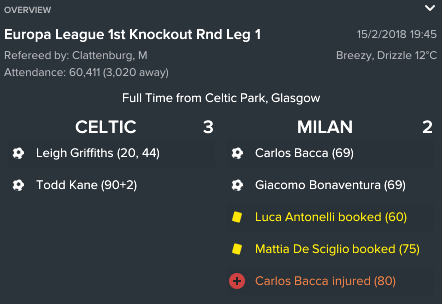 In what was an incredible team performance, we picked up an improbable win against the Italian giants. Two goals in the first half from Leigh Griffiths were thoroughly deserved, before Milan got back into the game with two quick goals midway through the second period. The game looked set to end 2-2, until Todd Kane blasted the ball home from 20 yards out to send the home fans delighted!
A draw away to Aberdeen and a home win against Inverness kept our unbeaten streak going in the league before the trip to Milan.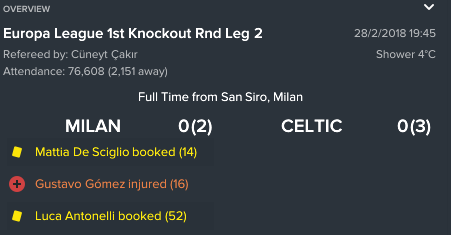 Milan were the dominant side throughout, but a stellar defensive display – from Baily Cargill in particular – helped us advance to the 2nd Knockout Round of the Europa League, where we would face SC Braga.
We dispatched of them easily – a 4-1 win at home and 3-1 win away were separated by a 1-0 win at home to Hamilton, and we were in the draw for the Europa League quarter final! FC Koln would stand in our way – a winnable game, in our eyes.
Meanwhile, our unbeaten run in the league continued. Comfortable away wins at Ibrox (3-0) and Dens Park (3-1) and a 0-0 home draw against 2nd placed Partick Thistle completed the first part of the season unbeaten – 23 wins and 10 draws from 33 games – and with it came the Scottish Premiership title and a new, 4-year contract for me…
In truth, the league was never in doubt after Christmas – 9 wins and 4 draws in the 13 games since Santa emptied his sack, along with Partick Thistle capitulating, made it an easy walk to the title – but nevertheless, it was a timely boost ahead of the first leg in Germany.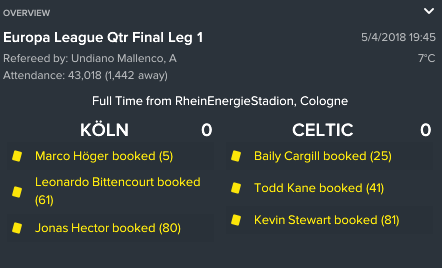 1,442 Glaswegians (at least, I assume they were all Glaswegians. I can't imagine anyone from Aberdeen being a Celtic fan…) travelled to the home of men's aftershave to witness a spirited away draw from their heroes. In truth, we deserved much more – 55% possession and 19 shots to Koln's 9 suggested that Celtic deserved more, but it wasn't to be, and the failure to score an away goal left us vulnerable for the return leg at Parkhead.
Before that, we picked up a 2-0 win at Tynecastle to continue our unbeaten run and put us 4 games away from invincibility, but with the title already won and a very winnable game in Europe ahead, Celtic Park was buzzing at the thought of a dream European night. But we had to get beyond Cologne (see – men's aftershave; get it?) first…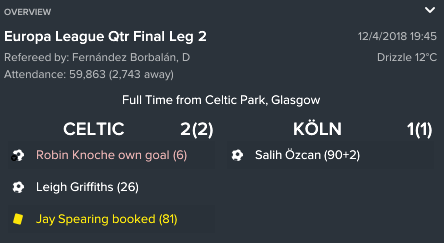 The game was similar to the first leg, except for the score. We dominated possession and chances again and this time, it paid off. Robin Knoche scored an own goal, however, the ball was on it's way to Leigh Griffiths' head before he buried it past his own 'keeper. When Griffiths made it 2-0 on 26 minutes, the game was as good as over. Even when Ozcan pulled one back, there was never any nerves from the home fans, and we deservedly booked our place in the Semi Final…
… against Inter Milan. The European dream was continuing, but suddenly, it didn't seem like it would last much longer.
Two home wins against Dundee and Aberdeen continued our fine form domestically, before the visit of the 2nd Milanese giants to Celtic Park this season. 60,411 people filled the stadium to capacity for the biggest game in Celtic's history since 2003, when they lost in the final of the same competition…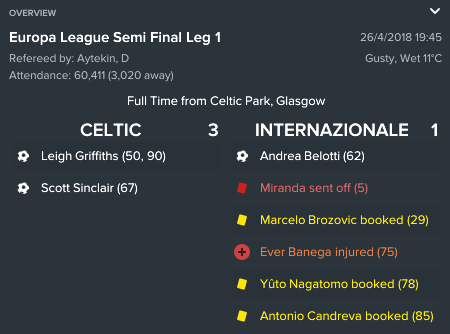 … And we gave them something to celebrate!
Miranda's red card in the 5th minute for a horrendous two-footed lunge on Leigh Griffiths was the catalyst to a dominating performance for The Bhoys against an Internazionale side that was under-performing domestically. 30 shots to Inter's 8 resulted in a deserved 3-1 victory for the Scottish side, and it was party time at Celtic Park once again – only one game stood between us and a date at Parc Olympique Lyonnais!
And after a 1-0 win against Motherwell in our final home league game of the season, only the visit of Partick Thistle to Parkhead stood between us and an unbeaten league campaign. With only that game and the visit to Inter for the 2nd leg left in the season – with a potential 3rd game if we got past Inter – we knew that every game from now until the end of the season was effectively a cup final.
***CLICHÉ ALERT***
Ahem. Sorry about that. Where were we? Ah yes – the San Siro…
Make no mistake about it – Inter DOMINATED this game. Only an incredible defensive effort limited them to two goals, and before Sinclair's penalty, I was convinced they would score their 3rd goal of the game to send this one into extra time. As it was, however, another brilliant performance from Baily Cargill helped us contain Inter as much as we possibly could, and in the most unlikely of circumstances – after beating both Milan sides, FC Koln and SC Braga – we had booked our place in the Europa League final. When we realised that Sporting CP had beaten Schalke in the other Semi Final, we felt for the first time that winning the competition was within reach…
Having decided to give a number of youth players a chance in the league games following clinching the title, we headed into the final league game of the season with a decision to make: Keep faith in the young players we had brought in, or revert to the regular first team to give ourselves a better chance of completing the season unbeaten. As it was, we decided to stick with the youth: Alan Archibald (ST), Ross McLaughlin (MC), Joe Thomson (DMC), Daniel Church (DL) and Anthony Ralston (DR) all started, and Archibald could not have picked a better time to score his first senior goal for the club – his 12th minute strike clinching a 1-0 victory and with it, completing the unbeaten season for Celtic!
28 wins and 10 draws left us 27 points clear of Partick Thistle at the end of the season. They won 5 and lost 7 games after Christmas, resulting in their title challenge completely collapsing, although their first half performance kept them well clear of Aberdeen in 3rd place. Rangers finished in a disappointing 8th place, although their victory in the Scottish Cup Final gave them European football next season. Which moves us on nicely to our final game of the season…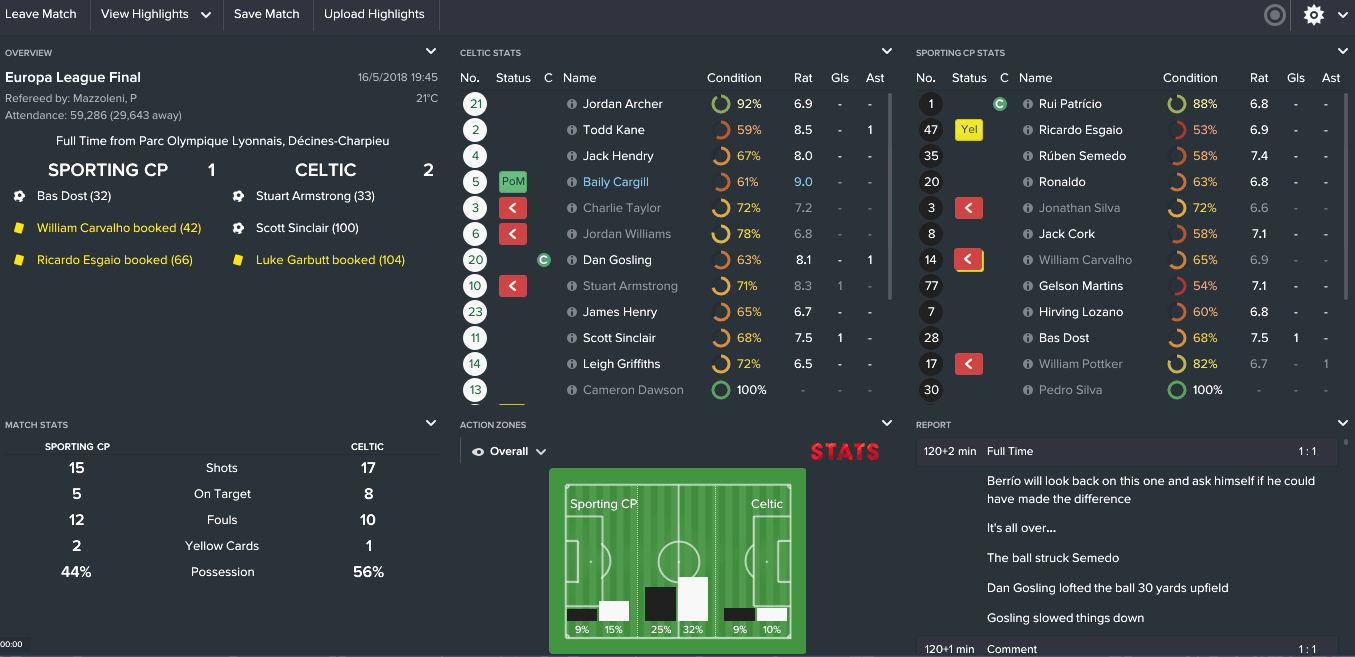 CELTIC ARE THE EUROPA LEAGUE CHAMPIONS!!!
We were the better side throughout and were unlucky not to have finished the game off inside 90 minutes. Jack Cork played well for Sporting, but in the end Scott Sinclair's poacher's effort on 100 minutes was enough to secure victory for Celtic and send our fans into raptures!
Having set ourselves the objective of creating an all-British team before Brexit, then moving on to building a side that could compete with Europe's greatest sides, we were delighted to have completed the journey before Mrs. May had even triggered Article 50!
The victory seemed to immediately make us a more attractive prospect for potential new signings, and we acted quickly to secure Todd Kane on a permanent basis for £7.75m from Chelsea.
Once all the celebrations had started to die down – and the hangovers started to ease – it was time for the obligatory end of season awards. Both the Players' and Football Writers' Manager of the Year awards deservedly came to Parkhead after our magnificent season, while Leigh Griffiths cleaned up elsewhere – Players' Player and Football Writers' Player of the Year came his way, as well as the Top Goalscorer award, following his 18 league goals in 28 league appearances.
It was Scott Sinclair whom took home the Fans' Player of the Year Award, however, following his impressive 17 league goals in 24 appearances. Baily Cargill and Jack Hendry took 2nd and 3rd in the fans' poll; highlighting their immense contribution in the heart of defence.
For me, there was great difficulty in choosing my Player of the Year, with a number of worthy contenders. Jordan Archer – having ousted Craig Gordon as #1 – picked up 17 clean sheets in 28 league games and was instrumental in our European success. In front of him, Jack Hendry was a rock in the heart of defence, flanked by Charlie Taylor and Todd Kane on each flank; both contributing 10 assists each in the league. In midfield, Jordan Williams had a good season which would usually have been worthy of contention, but given the incredible performances around him, his contribution was overlooked.
Equally, Scott Armstrong's performances would not be in consideration, despite another impressive season. Scott Sinclair and Leigh Griffiths were also strong contenders, given their impressive scoring records, but once again, my player of the season falls to the beast in central defence…
Damn near unbeatable at the back, coupled with his undeniable ability to step up in big games, Baily Cargill once again takes the crown for Manager's Player of the Season. We signed him for £3m and he has paid that back tenfold since arriving. I'm not too keen on those orange arrows, but his development has been great since he arrived and, after 2 seasons, he is not only my favourite player on this team, he's also a firm fan favourite.
In essence, we have now completed the challenge we set out to achieve – winning in Europe with an all-British team – but the success against some of Europe's biggest sides has given me confidence that this squad could, with a little luck, make the final few rounds of the Champions League. So we will continue on – looking to achieve the impossible…
… Until then, WE STAYED IN EUROPE, MOTHER HUBBARDS!