So, Brighton Hove Albion were the first team in the Championship this season to get promoted. This got me thinking, will Chris Hughton and his men be able to survive in the Premier League? Using the power of Football Manager, we swapped Sunderland with Brighton.
Transfers
We'd expect that as Brighton are in the Premier League and do have the Premier League money now they would likely want to spend it to exert them to stay in the league but no that wasn't the case as they had minimal involvement in the transfer window as they made no transfers in and there were a few on the out. There were three players loaned out to clubs in League Two. There was one player who left for Mainz for 1.7 million.
Premier League
To my surprise was a little different to what we have become accustomed to. Our main focus was on Brighton and they had a great season. They finished 13th in the Premier League getting 42 points. Scoring 51 goals, in this run they were able to beat Manchester City and Chelsea at home. They also got draws against Liverpool, Spurs and Manchester United. Looking at the other teams, Wenger was able to bring Arsenal the title as his team finished 9 points clear of second place Manchester United. On the other end of the table with the absence of Sunderland in the league, Everton finished rock bottom which for me was great as a Liverpool fan.
FA Cup
Brighton did have a good run in the FA Cup as they got past West Brom at home in the 3rd round with a comfortable 2-0 victory. Next up they did have Derby from the championship who did give them a good game though Brighton were able to grab a 2-1 victory away from home. Next up they faced the test of Bournemouth in the 5th round this time it was much more comfortable as they ran away 3-1 victors. This put them in the quarter final, some could say that they didn't have the toughest of games to get here but the quarter-final at White Hart Lane was edgy against Spurs and they did loose even though it was 1-0.
EFL Cup
The EFL Cup ended rather quickly for Brighton as they faced Swindon at home in the 2nd round though moving into round 3 they were up against Liverpool who did batter them 3-1 with their second side.
The Team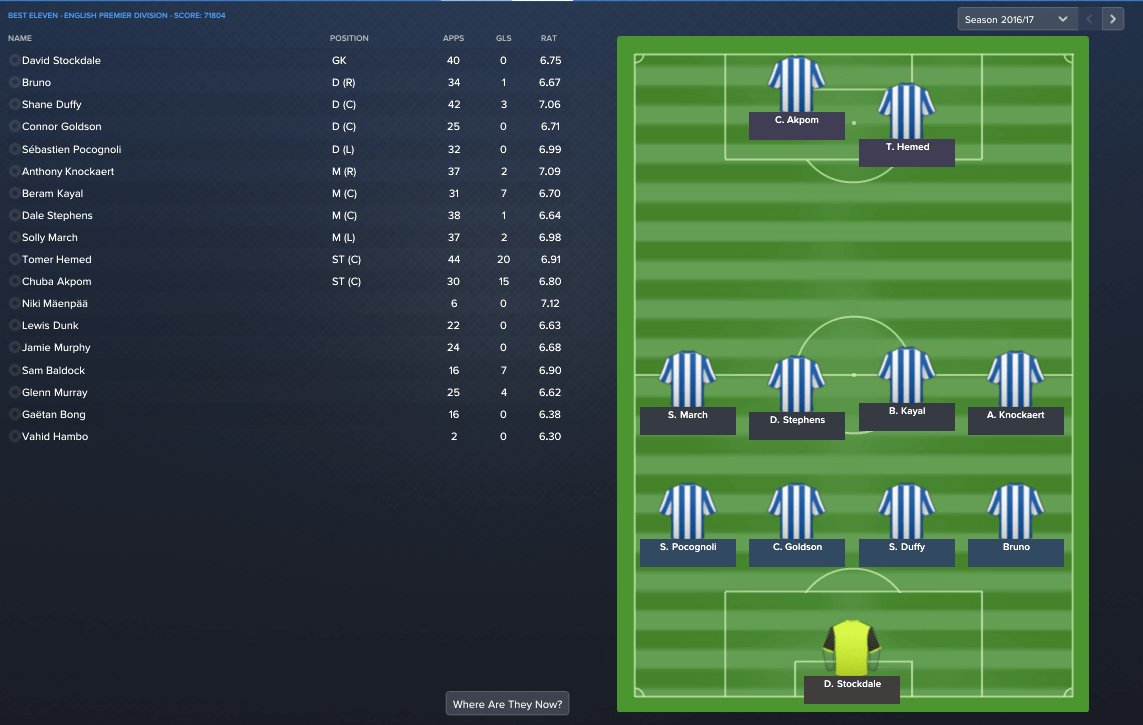 As mentioned that they were able to finish 13th in the league which was great and it was partly down to the team which did get them promoted in the first place. Some of the top performers were defender Shane Duffy who was an ever present figure in the Brighton defence as he made 42 appearances scoring 3 goals and averaging 7.06. Next on the list was the Championship player of the year Anthony Knockaert who played 37 times for them averaging 7.09.The did play a standard 442 and we can see that it did work for them.
Follow Me
If this experiment interested you and you want to see more of me follow me on Twitter or Slack and keep up to my series The Ultimate Journey.