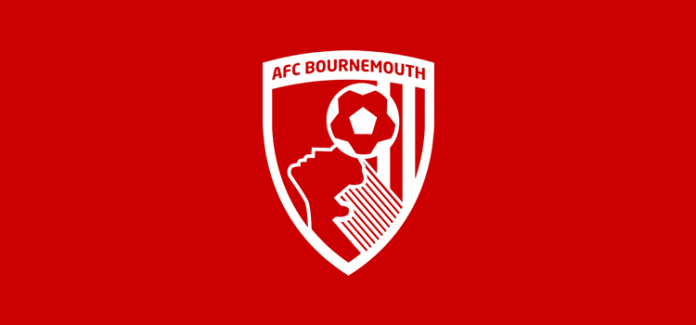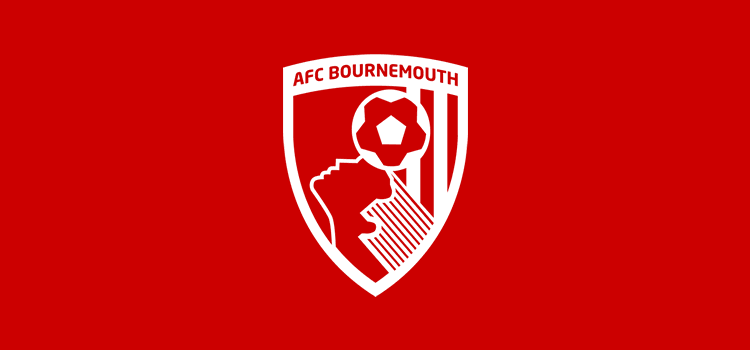 I hope I never have to lay eyes on Harry Kane again. In two games against us last season he scored four times and the haunted root vegetable nearly equals that in one game here, bagging a hat trick in a 3-0 win. That seems to be our favourite scoreline against the big boys. Time to go back to the drawing board to revisit our bus parking techniques.
Redemption arrives sooner than it did last time, as we get back on track at the first time of asking in a sound 3-1 victory over Everton at "home".
Then we play against Watford which is slightly strange given our current living arrangements. It's a peculiar sensation. It feels a bit like when you're waiting at your girlfriend's house while she's out doing something and one of her flatmates comes home: you know that it's fine for you to be there but you can't help feel like you're intruding and feel a bit awkward about because, you know, they actually live there and it's their actual home.
Anyway, we slip to a disappointing 2-1 loss after Jack Stephens, rooted to the spot like he's wearing concrete boots, watches a ball sail over his head and Amrabat runs through on goal and smashes home. I have a bit of a scream and shout at Jack and drop him for the next game.
We take our collective anger out on Reading in the second round of the EFL Cup. I've decided to have a real go at the cup this year so the changes are minimal, but I still give Gosling, Morrison and Chalobah their first starts. They reward my faith by blowing the Championship side out of the water.
Another game against Leicester, another stupid equaliser from a corner headed in by the inexplicably aerially dominant Jamie Vardy follows. I shouldn't scoff at points but it feels like a missed opportunity. That defensive sloppiness leaves me feeling anxious about the next game, a trip to Stamford Bridge; Chelsea were dire last season but have turned the corner and started the season in rampant fashion. We could be on the end of a bit of a demolition job.
That doesn't end up being the case, but neither do we get any points. Ravel Morrison scored a wonderful solo goal for us inside the first ten minutes, dribbling past three, dinking the ball over Courtois and generally showing the world what they've been missing. I then shut up shop. Wing Backs to defensive roles, team mentality to Counter and I drop the whole team deeper. It works brilliantly. For 70 minutes or so. At that point,  Eden Hazard took matters into his own hands and drilled one in from miles out and then provided an assist for Diego Costa with just 5 minutes left on the clock.
Frustration turned to exasperation in the first South Coast derby of the season and tensions were high in the build up even though we sort of don't really live there anymore. There were basically no highlights in this game. Literally one in the first half – a Harry Arter shot from 20 yards that trickled out for a throw-in. It was the same again until the 65th minute when Jordan Rossiter lost his head and chopped Shane Long in half inside the box. They scored the pen and even after shifting up to Attacking then Overload, there were no highlights of us trying to get back in the game. Aargh.
Sheffield Wednesday in the next round of the cup is a bit of a reprieve and our second string puts them in their place with relative ease. It's a handy boost to morale before we play United away. Once again we start well, taking a one goal lead into the break thanks to Benik Afobe. I tell the lads not to get complacent, which they don't, in fairness. The only problem is that José brings Mauro Icardi on at half time. They signed the Argentine striker for £45 million from Inter in the summer and the bastard scored a hat trick against me in 45 minutes.
That latest result means that I've lost three in a row and has left me with a measly four points from six games. It's been another awful start to the season. Anyone else getting a bit of déjà vu?
Although there's been no murmurings of discontent in the press, I can't help but feel pressure to arrest this slide before things get out of hand. And I have a golden opportunity to do just that against fellow strugglers Hull City.
When they race into a 2-0 lead early on, I get that familiar sinking feeling. I'm going to get sacked, aren't I? Immediately after Abel Hernández makes a mockery of my back 3, Nat Chalobah lashes a thunderous half-volley into the top bin. It's the sort of shot that you can only achieve when you're trying to take your frustration out on the ball and is usually the last resort of desperate men. We're at that stage after just half an hour.
At half time, I make drastic changes, sacrificing Lewis Cook for Callum Wilson to go with three upfront to try and wrestle the game back. If this is the hill I'm going to die on, I'm going to bathe it in blood before I go.
A nervy twenty mins ensues but the tide has definitely turned in our favour. Up steps Benik Afobe, swiftly hitting a brace to turn the game on its head. Berahino is hauled off and I try to close out the game. Bizarrely my excessively defensive approach yields another two goals, including a hatty for Afobe and we've come from two down to win 5-2.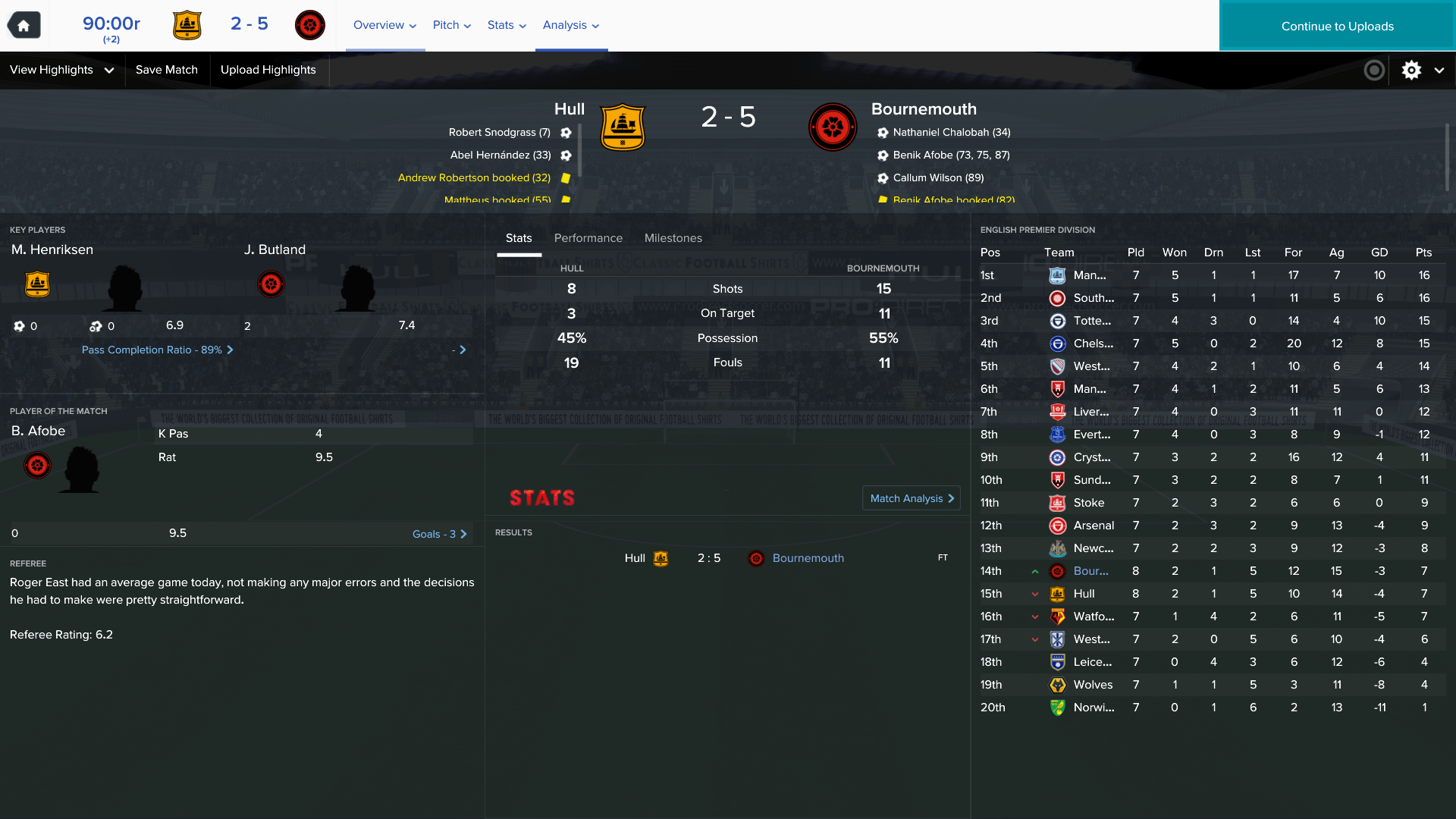 As ever, we fail to capitalise on a good result, instead throwing away a win against Sunderland by allowing them to equalise in the last 5 minutes. While the new formation has made us a more potent force, it seems to have come at the expense of our previously solid defence.
Or perhaps not? Overnight, my flimsy invertebrate Bournemouth side seem to have developed a spine: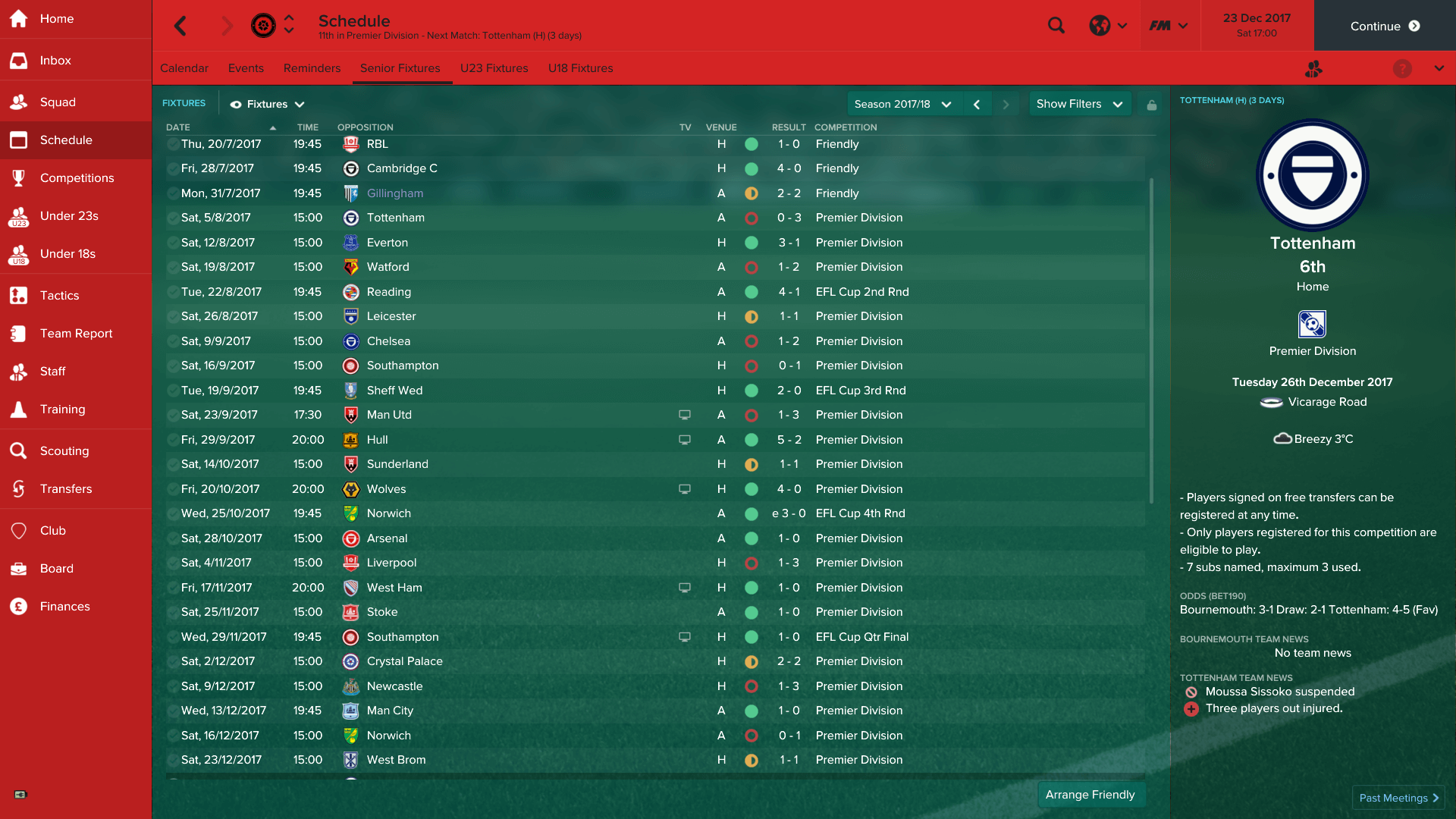 Look at that glorious run of three 1-0s in a row. If you ignore the game against Liverpool, where we inevitably succumbed to a hefty defeat, we kept four clean sheets in a row in the league, six in all competitions.
Butland is a commanding presence in net and has made a huge difference, while Keane, Francis and Cook are resolute and steadfast in the face of everything thrown at them.
There are some impressive performances in the mix during this run. We embarrass a shocking Wolves side (Afobe and Berahino both net a pair of goals each; they're ticking along nicely in the goalscoring stakes) and then blitz Norwich away in the first period of extra time after they restricted us in the first 90 minutes.
The Arsenal result is a real watershed moment for the team as we execute a counter attacking game plan to perfection. That result shifts us into the top half for the first time this season and I'm starting to get a touch of vertigo.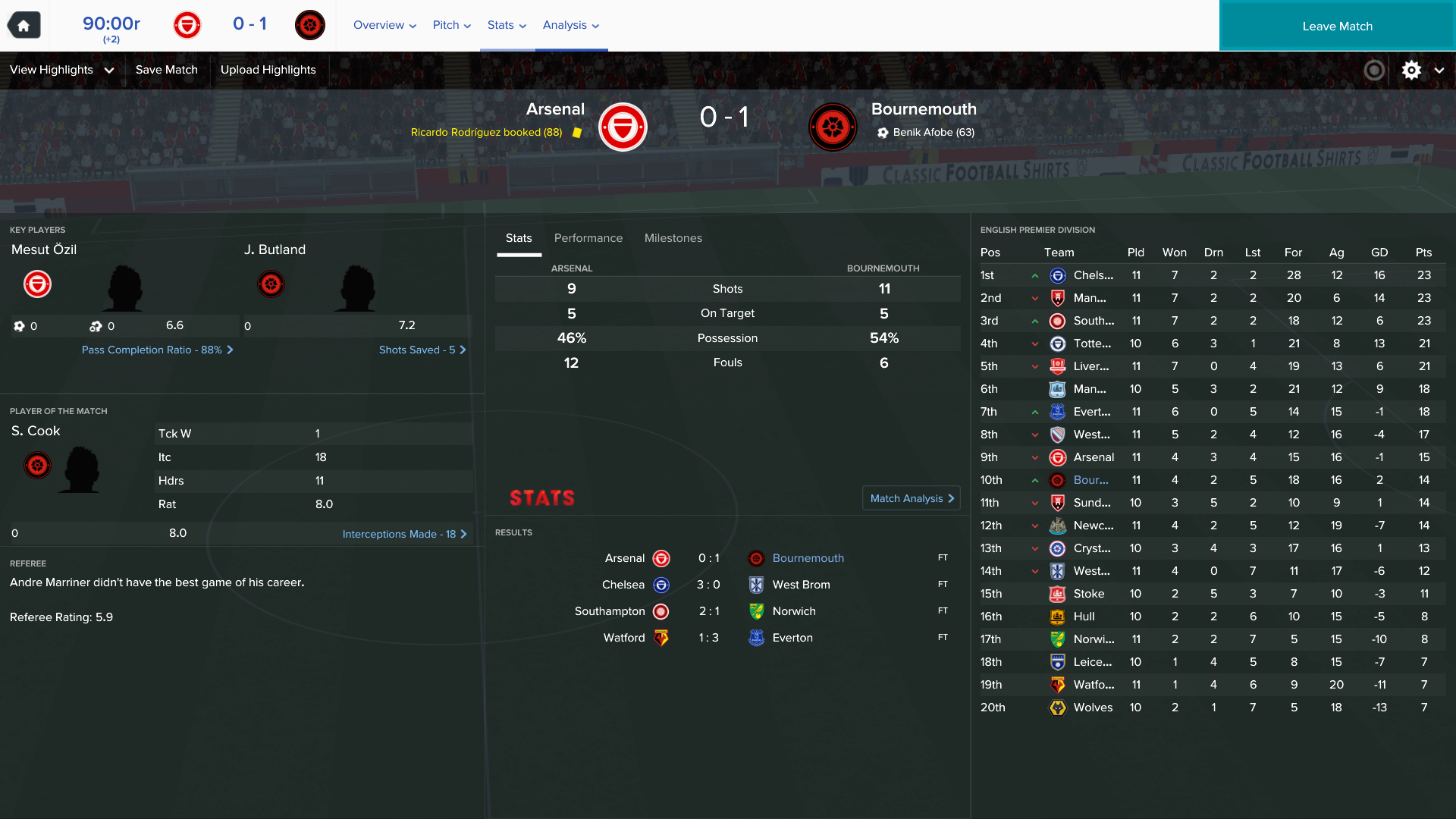 We're confident and assured against West Ham and Stoke, chalking up huge amounts of possession and coupling that with an adamantine chain of a backline. This rich vein of form helps us quietly sneak into the semi-finals of the EFL Cup.
We beat an admittedly under-strength Southampton side – who are somehow still 2nd in the league approaching the halfway stage, despite regularly fielding a front 3 of Long-Deeney-Rodriguez. I mix things up by reverting to a 4-1-2-3, giving Ibe and Stanislas a runout on the wings and it works like a charm. Ravel Morrison, who has been a total angel for me thus far, runs the show from the centre of the park and threads the ball into Wilson for a confidently slotted finish. Just when Saints start to turn the screw and threaten a come back, Zambrano recklessly trips Mings and gets his second yellow card, ensuring my stress levels and my blood pressure are kept low for the remainder of the game.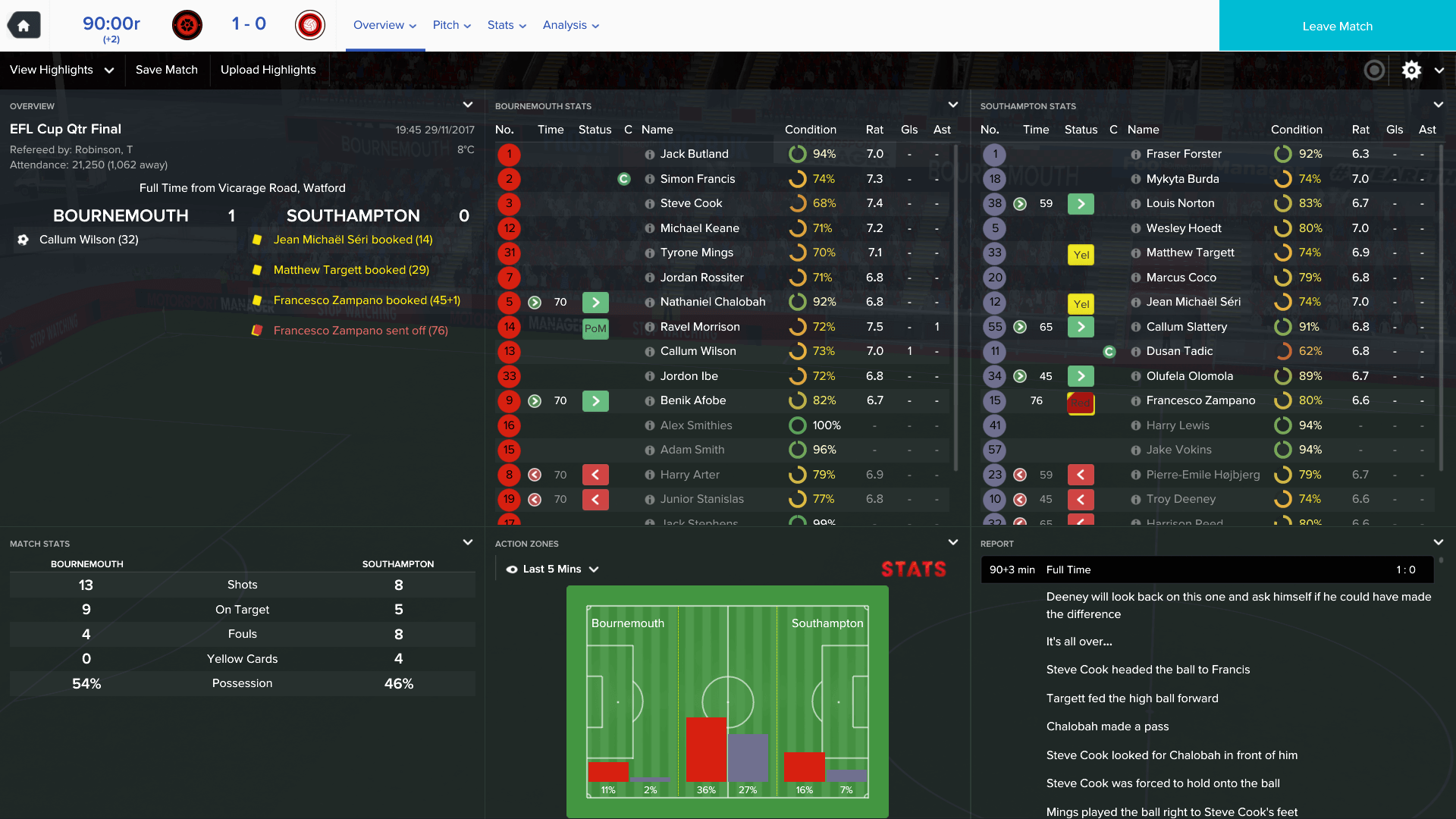 Bournemouth are soaring, steadily climbing the league table and playing great football. My defenders are solid, my midfield incisive and my strikers prolific. So, of course, when faced by Pardew, it all goes tits up.
Our impenetrable defence looks decidedly more, er, penetrable by the time Benteke is done with us. We're 2-0 down and I'm fuming. We've chucked away all that hard work against a nothing team. Afobe and Chalobah (who's developing a knack for scoring important goals) bail us out and allow us to escape with an undeserved point.
As if that wasn't bad enough, we lose 3-1 to Newcastle, another team who aren't much better than us and I'm pulling my hair out once again. What's happened lads? How have you forgotten how to defend in the space of a week? Why are you so mentally fragile?!
The enigma of this Bournemouth team is compounded when we pull off a terrifically disciplined and regimented performance at the Etihad, stealing away from Manchester with 3 points like an avaricious Victorian cutpurse. Take that, Pep. Wipe those tears on your immaculately ironed Stone Island jumper.
My joy is short-lived however as we proceed to lose the next game against bottom of the table Norwich. This game. This fucking game.
The last match before Christmas is West Brom and I gleefully take a point from Pulis in another game almost entirely bereft of highlights. You should know by now to be thankful to receive any points bestowed on you by Tony.
That's the halfway point then. We're comfortably midtable and we were looking upwardly mobile before that wonderful run of clean sheets came grinding to a halt and we went off the rails slightly. The switch to 3-5-2 has been an unequivocal success (after that early blip), with Daniels and Smith impressive in both the attacking and defensive phases, while Lewis Cook is settling into first team football admirably. My signings have bedded in well, too. Butland is a reliably safe pair of hands and his distribution is improving all the time. Morrison and Chalobah have been consistently great when called upon and Berahino has formed a solid partnership with Afobe.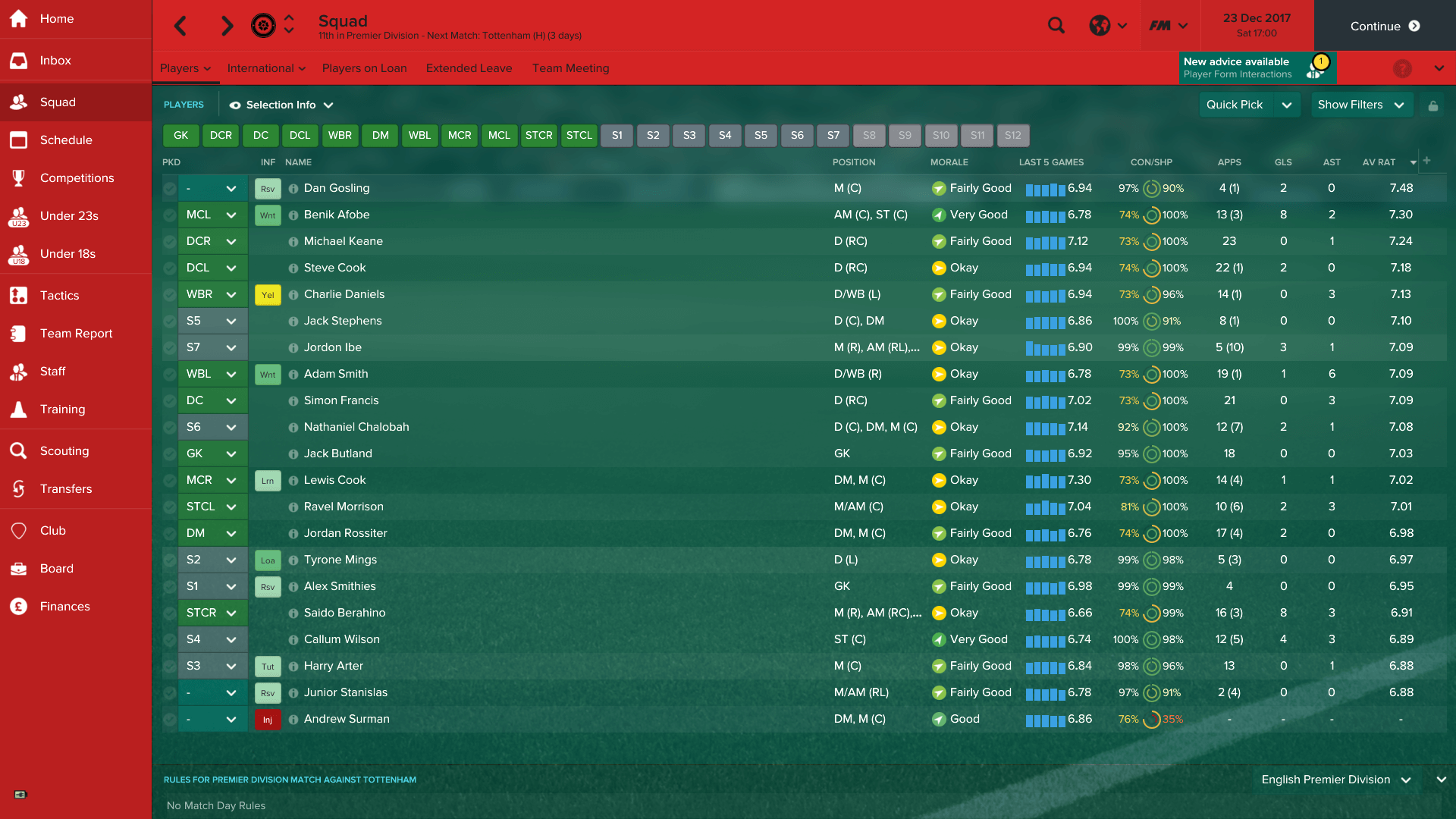 In the midst of this, Butland, Jordon Ibe and Keane were called up to the England squad, with Ibe and BecKeanebauer winning their first caps. Can you hear that sound? That faint whisper, just beyond the point of comprehension?  If you close your eyes and listen closely, really closely, you can hear the sound of Rule Britannia being blared out of every speaker in Hertfordshire. ENG.UR.LAND.