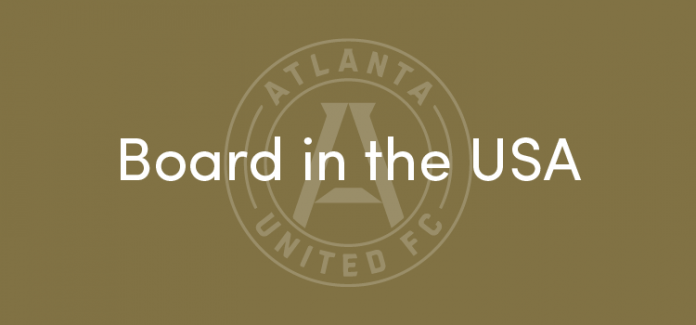 Board in the USA 13: Will the real manager please stand up?
Where we last left our heroes, things were shaping up great. We had a strong, young squad with exciting young talent. We were looking to build on our Eastern Conference Semifinals last season and mount a strong showing over the coming years.
However, expectations were beginning to mount from the Board as well. It seemed that our successes in the maiden season of our fine club's history inspired them to raise the bar. They expected me to reach the Eastern Conference finals this year.
It was supposed to be my rebuilding year! I had just picked up two rookies and let go of some of my experienced players. While the rookies Robledo and Coyne were good, I did not think they would integrate into the team immediately. I honestly did not think I could meet that aim this year with the squad I had.
Then this happened.

The guy I had just signed to take over left-back, really? I had no other first-team calibre left-backs to step in and fill his shoes. Emergency measures had to be taken.  Thankfully, the right one fell into our lap.
He was a good left-back, transfer listed by Toronto. His contract was somewhat large, but with my excellent management of the salary cap I had more than enough space to accommodate him. Lesson to be learnt here: If you plan to manage in MLS, you need to have extra cap space as a contingency for nonsense that can happen in the course of a season.
As we learned in the previous update, transfer listed players in MLS go for very little.
Problem solved.
The next issue I had was the remaining oldies I had on the squad. Larentowicz, Kenwyne, and Peterson were still massive salary cap sinkholes that were entirely unlikely to start. I decided to retain Larentowicz for another year since he was our captain, but it was unlikely Theiler would ever start him in a game – he would act as cover.
My dislike for Kenwyne Jones is well known around these parts. As for injury-ridden Peterson, you can see for yourself.
This guy basically can't even play football anymore. When it came time for roster submission, I happily cut Peterson and Kenwyne from the roster. For those interested, both of them retired fairly soon after. Kenwyne Jones became a Manager that, to my knowledge, did not get a job. In the most hilarious of ironies, Jacob Peterson became a physio. He probably convinced himself he had the technical knowhow just from spending lots of time on the operating table in his last season. Also, he had a strong affinity for children.
Stay away from those kids, Jacob.
2018 Mid-Season Review
We had a very good first half to the season.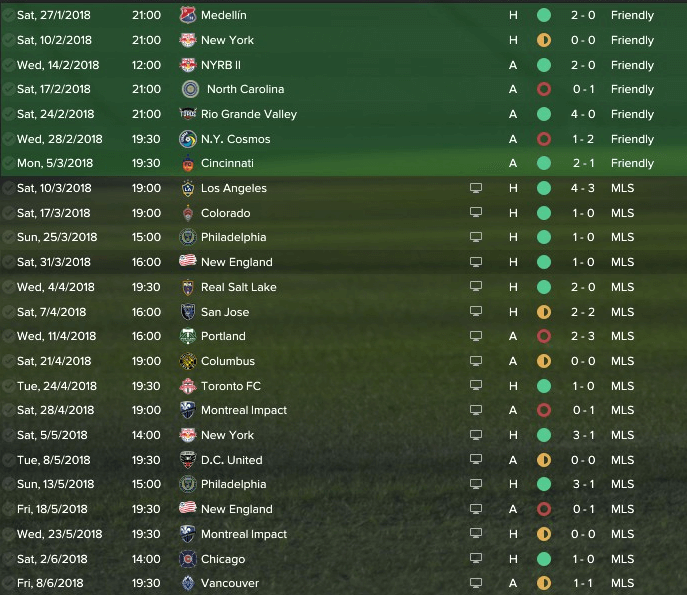 In particular, the performances of my rookies Coyne and Robledo were particularly impressive. Robledo had pretty much displaced Keegan Rosenberry at right-back, and Coyne had taken over as the main forward of the team, banging in the most goals in the entire roster. That being said, they were still somewhat inconsistent, with many poor performance scattered amidst many spectacular ones. Their youth was showing, but the signs were looking good.
Also, Chicago Fire, last year's MLS champions, were languishing at the bottom of the MLS for some reason. They had a really terrible start, and it seemed they never got out of first gear. I suppose that speaks to the competitive balance in MLS – once certain pieces move around slightly, the whole league gets turned on its head.
Jockeying for Position
In the first half of the season, I basically picked fights with Theiler. The team simply was not performing well enough away from home. Despite this, Theiler insisted on playing his nice, passing football. For certain games, I forced him to use the tactics I implemented. However, the team did not perform any better. That was cue for me to hand the reins back to Theiler. He was the coach and manager of the team, after all.
I did, however, continue insist that certain players start for certain games just to keep all the guys in the squad happy. I'm particularly proud of this, because my heavy-handed ways were what gave Coyne the start he needed to displace Ulises from the team. You can thank me later when you become an MLS superstar, Greg.
In other news, a bunch of the backups to the backups (AKA my late picks in the drafts) were complaining they were not getting enough first team football. I decided to let them go. They were not showing any potential whatsoever, and I probably was never going to start them.
Too rich for my blood
It was in this first half that many players started looking to me for improved contracts. In particular, Hector Villaba and Brad Guzan wanted massive raises to the tune of 400% of their existing contract's value.
Hector was playing very well, and he continued to be one of the key pieces of my squad. While I was peering around at other DP options, I decided to tie him down to a large 5-year contract. With Brad Guzan, however, I was hesitant. Yes, he's a good keeper. But I intend to give Zack Steffen a chance to shine with the rest of this young squad, and Brad Guzan was in the way of that. In other words, he was not part of my long term plans for the squad.
I decided not to sign a new deal with him. His contract expires at the end of 2019. When it ends, that will be that.
That wraps up the 13th update of my DoF career with Atlanta United so far. If you want to hit me up on anything FM or MLS-related, you can find me at @avery1822 on Twitter, or @avery on FMSlack. Stay tuned!