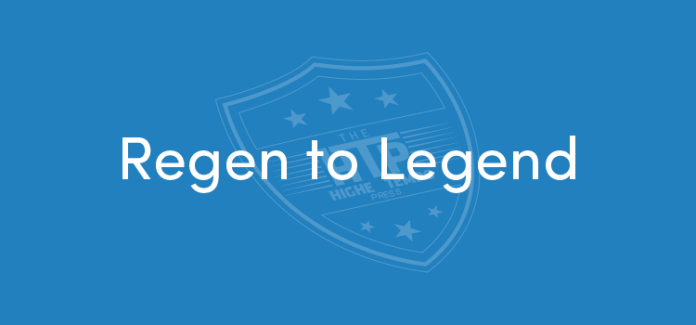 Unbeaten start to the league sees Blackpool top / September 2019
Following their promotion last season many people outside of the club may have assumed Blackpool would struggle in the division above. Instead it is them who are the early pace setters and top the league after eight games played. Following a fine preseason in which the side took two 1-1 draws against Premier League opposition, they have begun the League One campaign with six wins from eight.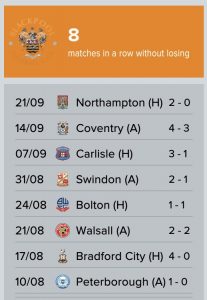 Over that run was a nervy win against promotion chasing Coventry City, who themselves had enjoyed a good start to the league. After taking an early 2-0 lead, Blackpool let the hosts back into the game on a number of occasions. Although limiting Coventry to only three shots on target, they found the net with each chance. The most recent win was a dominant performance at home against Northampton Town. The visiting side came with little ambition, choosing to field no strikers and two defensive midfielders.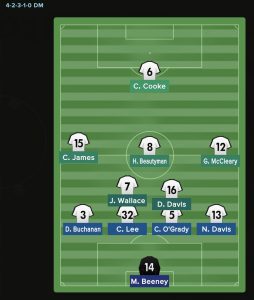 Given Blackpool's regular narrow tactic they could have struggled to break through, but an early switch saw the usually defensive fullbacks attack and the team become more adventurous. They scored after just eight minutes to make the game a little easier. The lead was doubled in the 20th minute thanks to a well worked corner converted by Danny Philiskirk.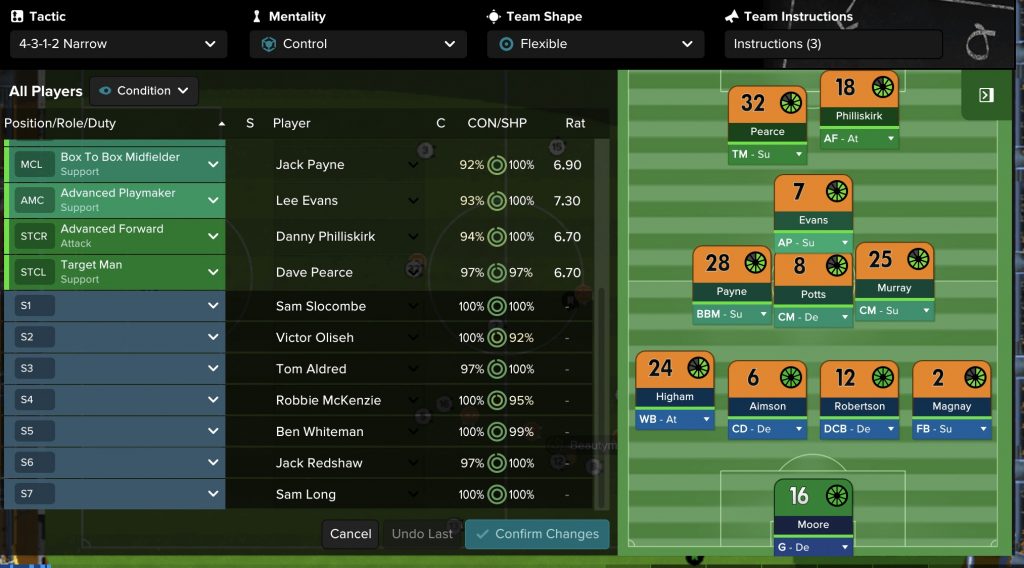 After the game their manager said "Corners are something which frustrated us last year. We have a lot of long shots and due to the saves a high number of corners. We scored just once last season and worked on a new tactic in training. I read some expert advice from [Reading FC manager] Keysi Rensie but for it to work right away was great!"
The core of the first team is the same as the one which took the League Two crown last season. Credit to boss Bruce Parker for keeping the side together amidst rumours of key players moving away from the seaside club. The main players to leave were loanees returning to their parent clubs, but after some free agents joined to fill the gaps the Tangerines will be hoping to kick on. Players are also coming back from injury. Hot prospect Dave Pearce has featured in the last two games as he returns from a broken leg suffered last season. The club had high hopes for him this time last year but injuries have halted his progress somewhat.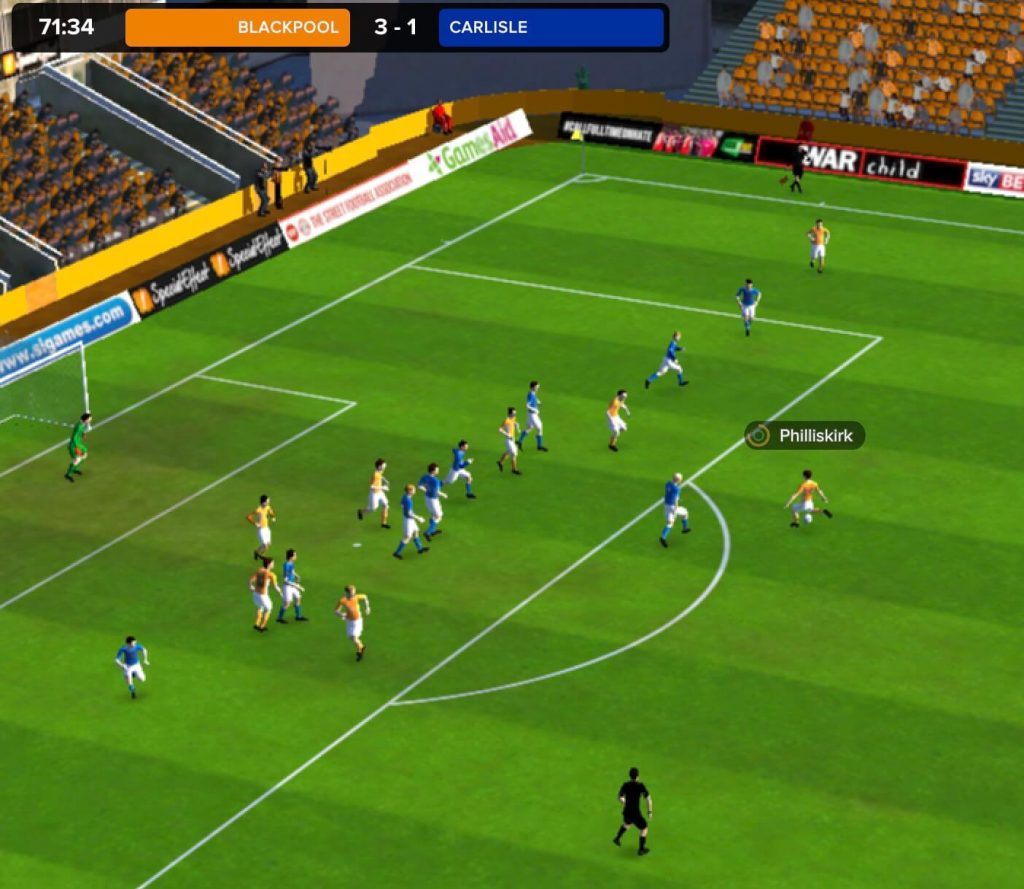 Only once in the league have Blackpool fallen behind, a 92nd minute screamer from Sean Murray saved their blushes at home to troubled Bolton to draw 1-1. Even in the 2-2 draw away to Walsall they went two goals ahead early on, only to be pegged back late in the game. Their latest 2-0 win over Northampton sees Blackpool sit on top of the league, clear by two points and they are now the only unbeaten side in the football league.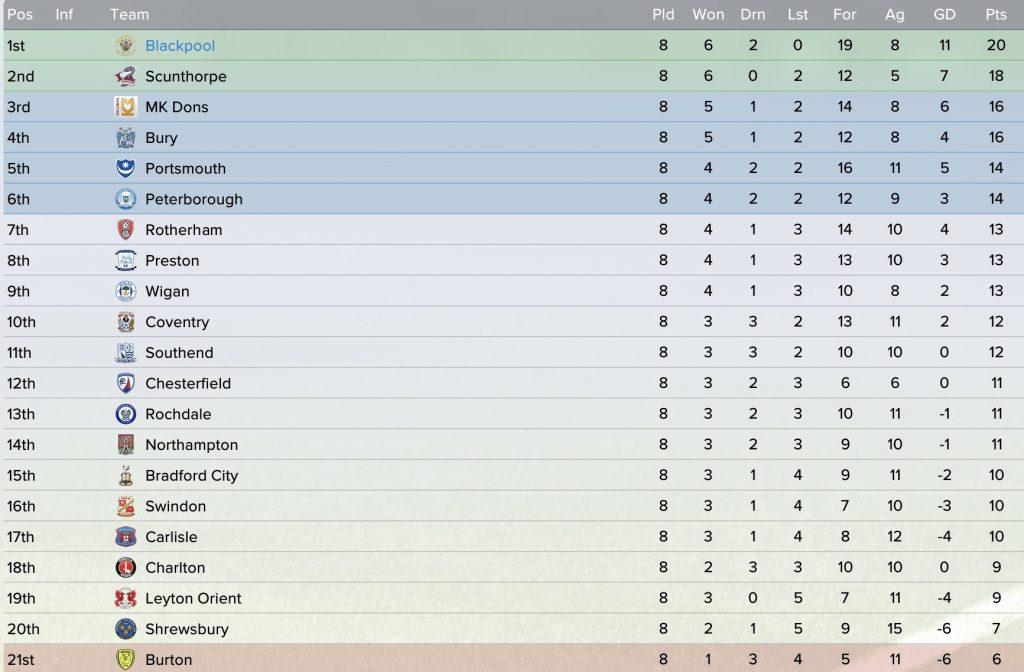 The season so far is not without some concerns though. Last season's top scorer Jack Redshaw has started slowly this year scoring just once so far. It is his strike partner, Danny Philliskirk who has been the leading man at the moment, scoring seven in seven league games so far, including four against Bradford. That run awarded him the August player of the month, with his manager also wining an award.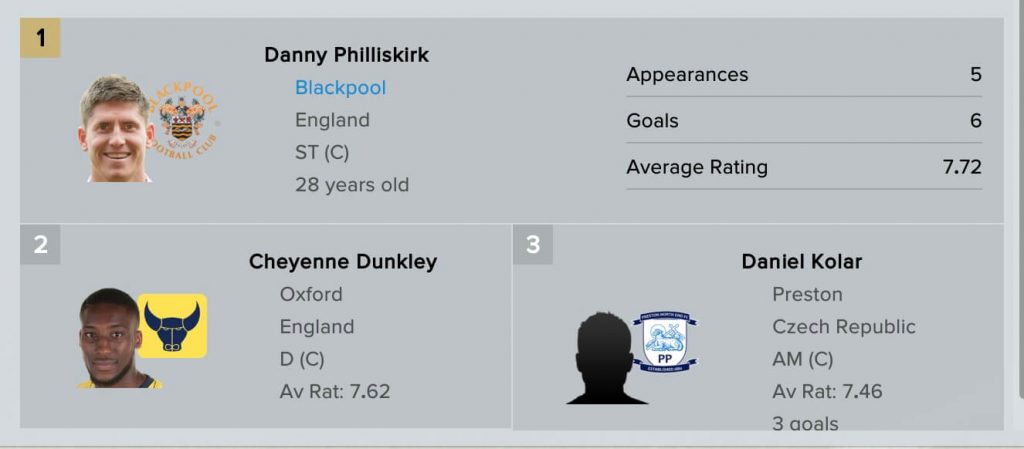 Another worry is that cup competitions have also caused problems for the side. A noble exit on penalties from the EFL Cup to former Premier League side Burnley was a result they could take pride in. On the other side though was a disappointing 1-0 defeat in the Checkatrade trophy to Accrington Stanley. As with last season, it may be good for Blackpool to focus on the league and concentrate on their climb back to the top level.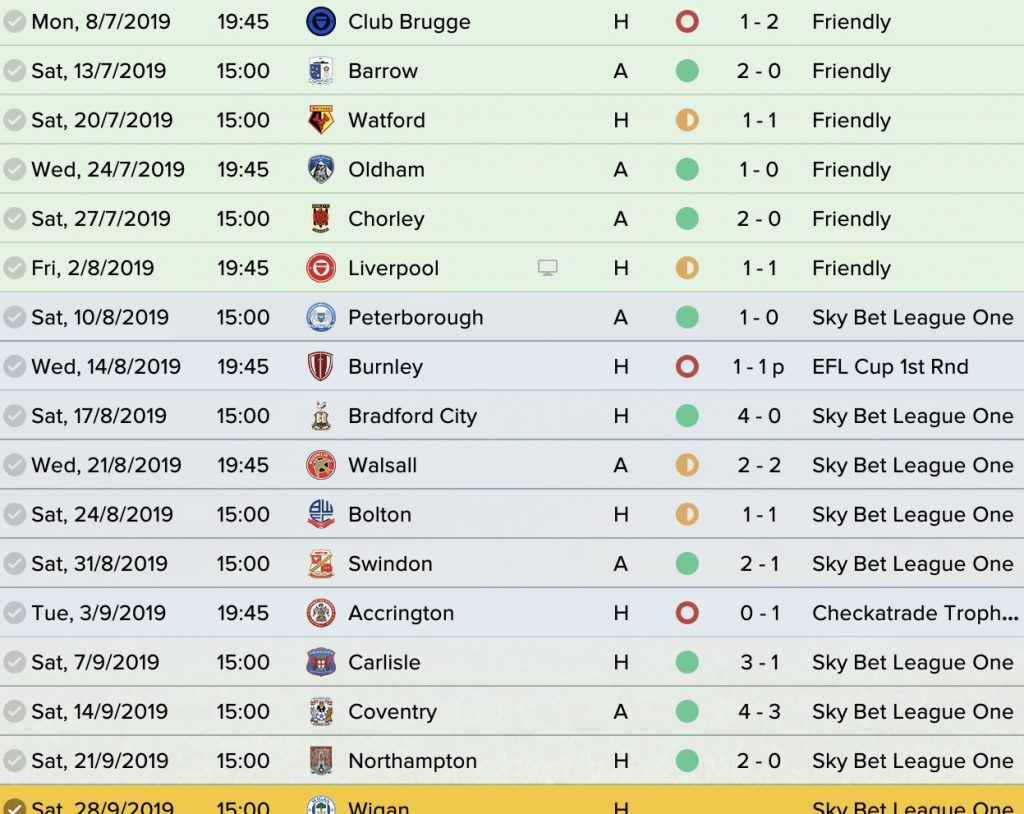 It was a fairly young side which took to the field against Accrington and in truth it was a good performance. The way in which the opposition set up helped to snuff out any attacks before they could close on goal, limiting the forwards to long shorts. Alongside 18 year-old striker Pearce was some new faces which joined over the summer. Midfielders Robbie McKenzie (20) and Victor Oliseh (19) made their first competitive starts and young Bulgarian Alex Petkov (19) was on the bench. These will all surely feature for the club as the season progresses.
There is still a lot of distance to run in this season but after a positive start Blackpool have given themselves a good platform to build from. Injuries over the winter last season caused them to have a poor run of form, but Parker has added depth to the squad in an effort to avoid the same happening again. Up next is a tricky away visit to Southend which could prove to be a tough test, with home games against Wigan and Charlton either side.