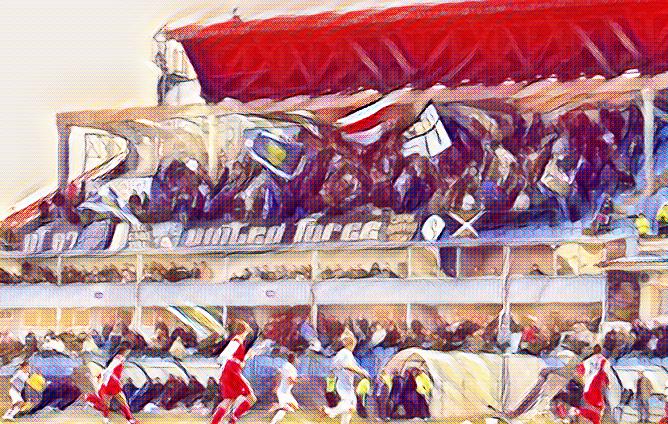 Zdravo, life in Beograd has started off very well indeed, setting what now seems very low expectations, we find ourselves sitting in first position in the Serbian Premier League after a mere ten games, after setting the goal of building on our eight position last season.
The Total Football approach I have brought to the team has worked wonders winning eight of our first ten games, conceding just eight goals and scoring a whoping twenty three, we always retain much more posession and create more chances than any team we have played against.
Lets move on to the following ten games and see how we have done, before I show results and the league table I want to draw your attention to this.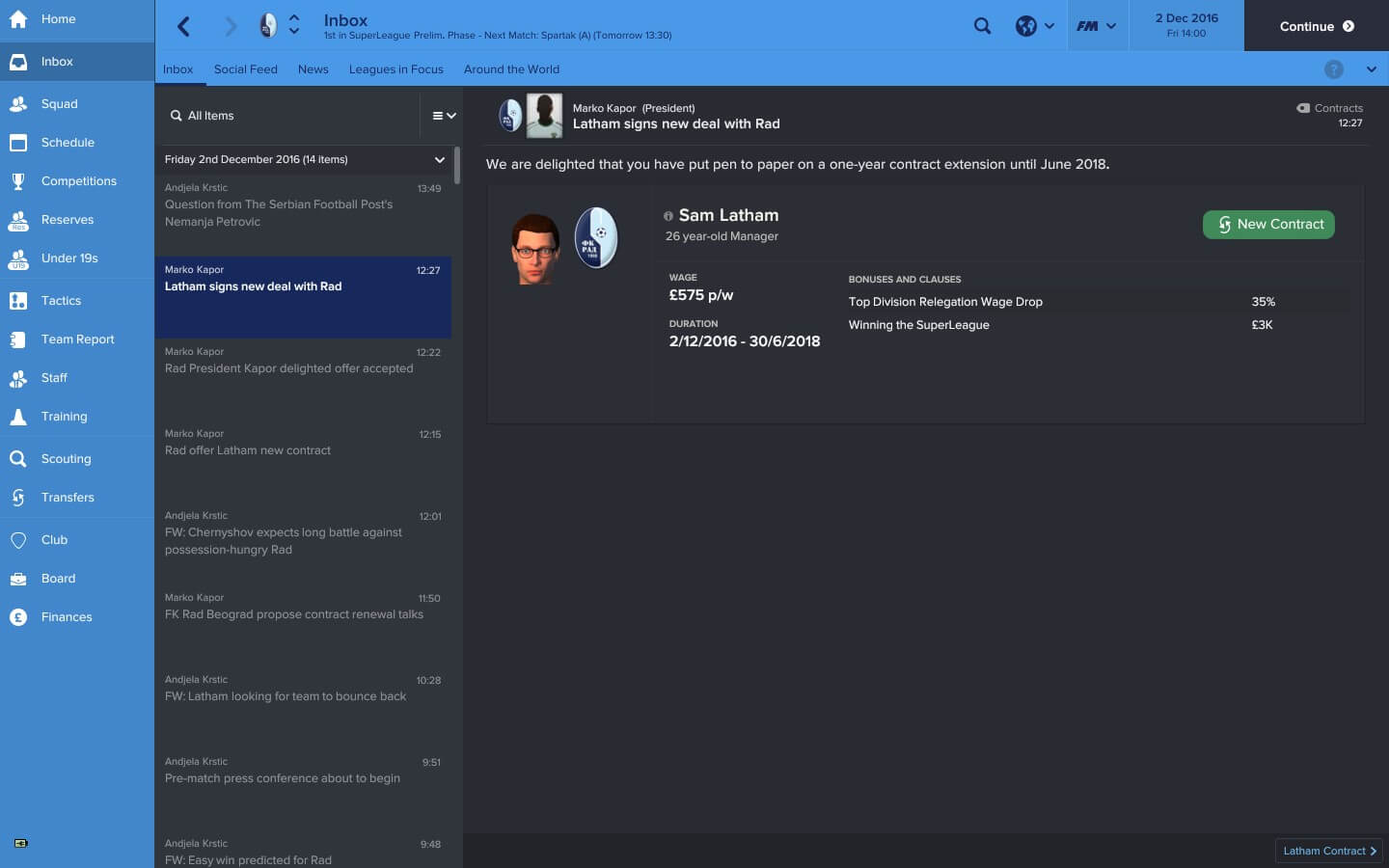 A new two-year contract extension signed with the club after just twenty league games, the board are delighted with how we are performing and punching above our weight in the league, long may it continue.
On to results, it's safe to say they haven't been as good as the first round of fixtures were.

Drawing more games than I would have liked us to, but it was going to be hard to beat that impressive start to the season. The loss to Partizan was a bitter pill to swallow as it was the start of the big two's reinvigoration after their poor start and currently find themselves fifth and seventh in the table, slowly catching us up.
Mix all that with four league wins on the bounce and it's a nice run of results that helped me earn the new contract extension and saw the team break a Rad record of eight games without a defeat.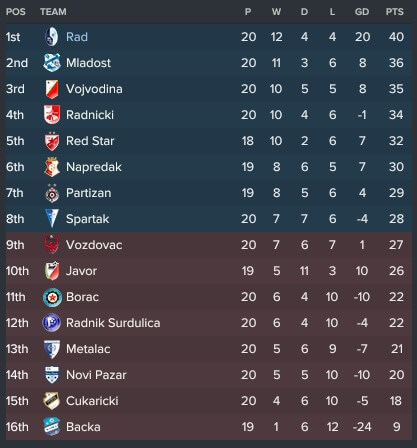 The results still leaves us top of the table by four points, this could drop to two points if Red Star win their two games in hand, thankfully when we were dropping points all the other teams around us weren't gaining any and putting us under any real pressure.
With our results and current league position I feel it's time to change our season goal, winning the league is a very real possibility after this round of fixtures but with the rise of Red Star after their poor start it will take a huge effort from this team to keep them at bay.
So, with all this in mind, I am aiming to qualify for Europe this season, doing this will strengthen our position to bring in bigger name players and provide funds to help develop the youth academy. The league winner earns a spot in the Champions League and the next three earn places in the Europa League (dependent on the winner of the Serbian Cup) so, top three it is.
Speaking of academy prospects, a new graduate has started to make his mark on my starting eleven, his name is Marko Stojanovic.
A cracking looking youngster who has scored five goals in his eleven appearances, all from long range, and cemented his place in the starting line-up.
Players like Stojanovic and Petrovic shows how strong our youth academy already is and with vital funds from European competition we can only help it grow and develop more talent like these two players.
Twenty games in ten games left of the preliminary rounds of the Serbian Premier League, can we hold on to top spot? or will the power of Red Star be too great? Find out in the next episode of 'Totally Rad', Zbogom.