When I play Football Manager I usually have a journeyman save which consists of several seasons at small clubs with even smaller income streams. I find that at these clubs my role doesn't end as just a football manager but in order to see the club (and in turn: my own reputation) grow I need to do my part in managing the finances.
There are many reasons why you might want to control your spending on Football Manager. Maybe you want to concentrate on investing in your facilities; or you want to build up a rainy-day fund for when that special player becomes available who would normally be out of your price range; or maybe you're just a bit of a penny pincher like myself!
As always, these are just my own musings and no intended as any definitive guide to controlling your FM finances, many of these ideas may well be in popular use already. Here are a few of the guidelines I try to stick to:
Setting a Wage Budget
The board will automatically set you a wage budget for the season but I tend to find that they are slightly ambitious with their projections. I like to work out my own budget based on last season's income.
When looking at the income I will try and balance my wage expenditure against the gate receipts using the logic that the fans flock to see the players so more fans can provide more money for the players.

Contract Bonuses & Clauses
Don't underestimate both the pros and cons of bonuses and clauses. The right negotiation can save you a bundle.
I always try to encourage higher appearance, goal and clean sheet bonuses as a makeweight for lowering basic wage. I detest unused substitute fees and omit them wherever possible – why should a player pick up a bonus for doing nothing?
Team Of The Year bonuses and Landmark Goal Bonuses are a plus as they reward sustained high levels of performance.
Optional extension clauses can be a godsend if that star player won't come to terms on a reasonably priced contract extension!
Yearly Wage % Rises are a definite no-go for me. These are a leading cause of wages spiralling out of control in my opinion.
Agent fees and Loyalty fees are, for the most part, unavoidable. The only real solution here is the obvious one: negotiate as low as possible – potentially using bonuses and clauses as that bargaining chip.
Money Spinning Friendlies
This one is an obvious choice. During pre-season I do like to focus on working up tactically familiary coupled with boosting morale by playing lesser sides, I do always try and make time for a glamour friendly against a larger reputation side. For smaller sides foreign tours are not usually an option, nor would they be financially productive without the reputation to command big crowds and merchandising income.
The easiest option is to invite a big team along to your ground for a fee while you rake in the gate receipts (and don't forget the Match Day Income, helpfully noted within FM as proceeds from sales of food and drink on match days!). Don't forget to always investigate the option of an away fixture as playing at the bigger ground could be more lucrative with the fee you'll be given for appearing.
In our example here: the home friendly will provide an estimated income of £45,000 minus Celtic's appearance fee of £30,000 = a net income for us of £15,000. Not bad but modest.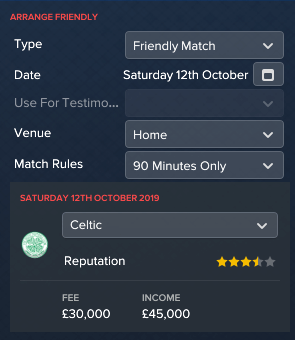 However, if we seek to agree an away friendly with Celtic you'll see our income is estimated at £110,000 as this is the fee Celtic will agree to pay us for appearing.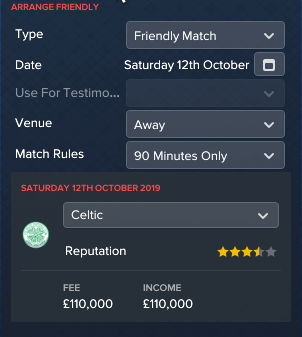 Affiliates, Affiliates, Affiliates
Another obvious and simple answer for boosting club finances. The benefits can be three-fold, depending on the type of affiliation that is agreed:
annual affiliate fee paid to you for being their feeder club;
annual friendly during which you keep all gate receipts and no appearance fee is due to the senior affiliate;
loans from the senior club with the wages paid in full by the senior club.
Transfers
You can, of course, look at transfers as another potentially lucrative income stream but it's not something I rely on when trying to manipulate finances.
However, when looking at transfers, there is one clause I always seek to agree with the buying club: Percentage of Next Sale. Why not set yourself up for a bit of double bubble by not only raking in the transfer fee at transaction stage but also ensuring yourself a slice of the pie should the player progress further and seal a big money move!
Summary
These are just a few ideas I look to implement when I feel I need to be more proactive when dealing with club finances. They may all seem obvious but it's incredible how quickly financial matters at the club can spiral out of control when you take your eye off the ball!