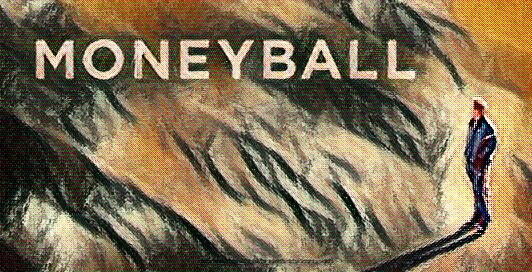 Adapting Aspects of 'Moneyball' into Football Manager
Follow @DistanceCovered on Twitter.
The Real-World Concept
After gaging initial opinions on the concept of 'Moneyball', it was evident that it's a very sensitive issue and people have varying perceptions on the definition of the theory and what it involves. For those wanting a historical background; Moneyball was an approach pioneered in Baseball by Billy Beane, and it involved taking an analytical and statistical approach to signing players and building a successful team. This strategy was largely based on numeric information about performances, and signing players that were undervalued based on their potential or current ability. When implemented productively, the idea resulted in a player being bought for a lot less than his true value, and over time, realising his true potential and thus representing a much higher market value, with the option of then being sold for profit.
However, it's naive to think that because Moneyball was a success in Baseball, it will then be a success in football. Arguably, a key reason behind the concept being such a success in Baseball is because the whole sport is based on set-pieces, so player performance statistics are respectably accurate. In football, the game involves excessive fluidity, luck, decision-making and officiating in comparison to Baseball; the variable differences between the two sports are substantial. There is a huge element of risk involved for football clubs in the real world when signing a player based on statistical data alone, largely due to the manipulation of those statistics and the outside influences on them. Granted, N'Golo Kante is a renowned success story of using Moneyball in football, and these triumphs will pop up from time to time; but for me, Moneyball is a concept that isn't as suitable to football as it is other sports, such as cricket.
The FM Concept
My suggestion is that general aspects of Moneyball can be adapted and implemented a lot more prosperously in Football Manager 2017, than in the real footballing world. This is because it's obviously a lot easier to identify a top, undervalued player within the FM database than it is in real-life; due to the attributes presented, the scouting reports provided and the general reliability of these compared to the irregular variables existent in the real world. In my view, the statistical numbers that scouts use in real-life, would be interpreted as player attributes within Football Manager, and these attributes should then be assessed as to whether you think this player is undervalued and will one day be worth a lot more within the game.
Tor-Kristian Karlsen, former Bayer Leverkusen scout, was quoted saying:
"the philosophy is to be self-sufficient and to buy up-and-coming young exciting players, often from Brazil, which Leverkusen could develop and then sell on".
Karlsen's quote defines the basic model that I've applied within Football Manager during my time in charge of RB Leipzig, as Moneyball in simple terms, is the basic application of economics to transfers. Of course with such an approach, there are natural concerns about the club's performances on the pitch, rather than in the bank. Many real-world clubs have employed a Moneyball-style strategy and have since struggled to achieve results on the pitch; in Football Manager, this isn't the case, as demonstrated below. My club is represented by the blue line, and Bayern Munich; a club that largely focus on signing world-class players, are the yellow. As you can see, my club has progressed steadily and eventually knocked Bayern off their throne as regular Bundesliga champions.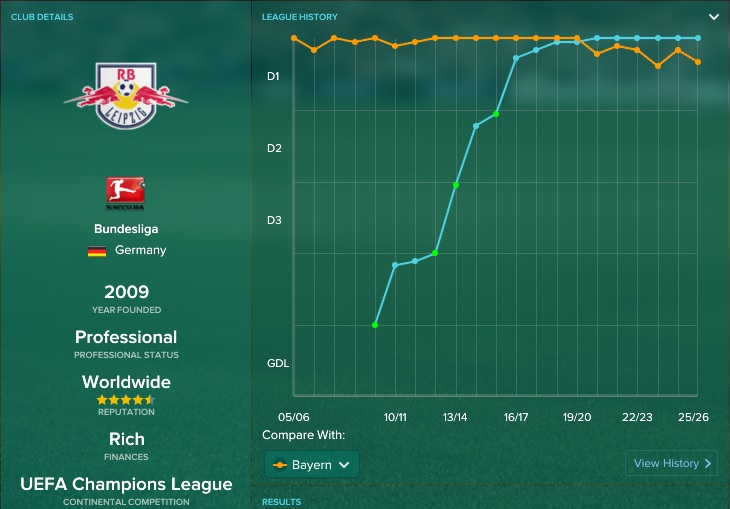 The cost-effective approach has contributed to my club winning the league in six consecutive seasons, as well as the Champions League; whilst jumping from 50th to the 4th richest in the world. Consequently, RB Leipzig are currently the only non-English club to breach the top 7, as pictured below.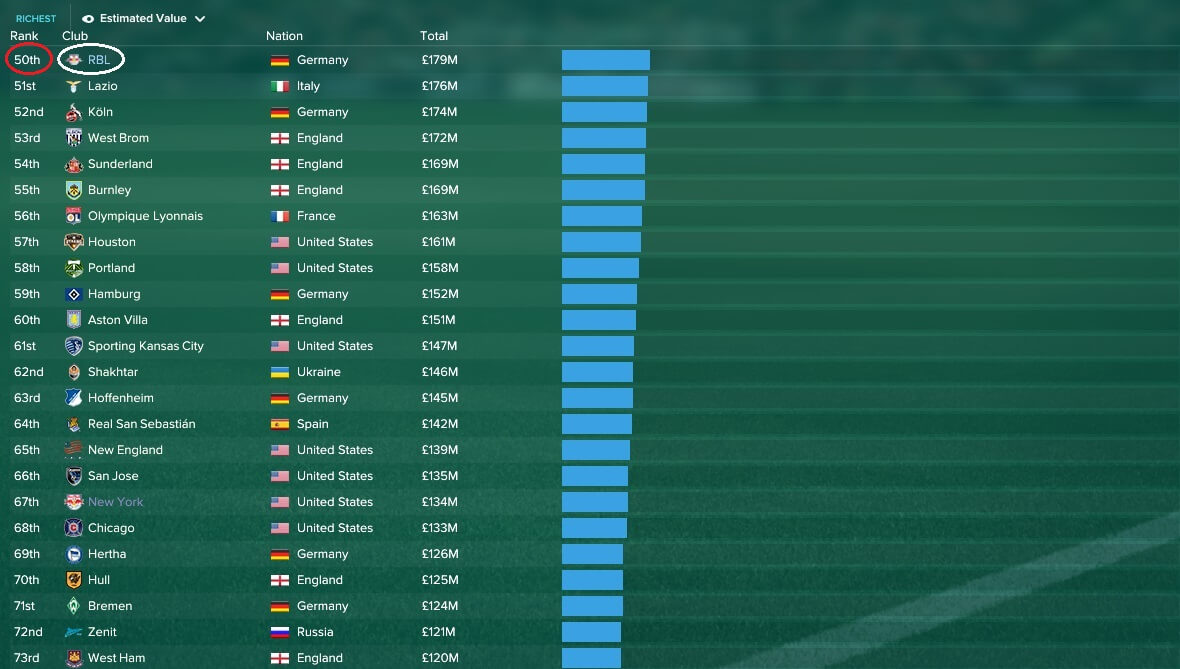 The Transfer Strategy
To achieve this, I've made a point throughout my save to aim to never make a loss on any transfer, so almost every player that I sign will at some point be re-sold for a higher fee before his value starts to depreciate. A real-world example of a player being purchased at a loss is Robin van-Persie moving to Manchester United for £24m at the age of 29, as United signed him on a four-year deal knowing that he'd probably leave the club on a free, but were willing to take the financial hit because of his quality.
As I began my save in control of the relatively small RB Leipzig, I obviously didn't have the luxury of being able to endure such financial loses; especially since my overall aim was to build the club up into a bastion of invincibility (couldn't resist a Bill Shankly quote).
So with the basic economic approach of Moneyball considered and adapted to FM, my transfer approach to buying players and eventually making a profit on them can be roughly split into three methods.
1 – Signing underappreciated players who are transfer-listed.
This is perhaps the biggest economic opportunity to exploit within FM, as quality young players in terms of attributes are often available at ridiculously low prices, as I'm sure you're all aware. The idea is that these players are then signed with the view of ultimately selling them on for an inflated fee once they've reached their potential, as demonstrated below. Leandro Paredes and Mario Lemina were both overlooked and underused at their clubs, and although they had solid attributes, their clubs didn't recognise this and they were listed for transfer at significantly lower than their true value, both at around £7m. I signed both, moulded them into key players and then sold them for an inflated price at the stage whereby I had a prospect ready to replace them in their position.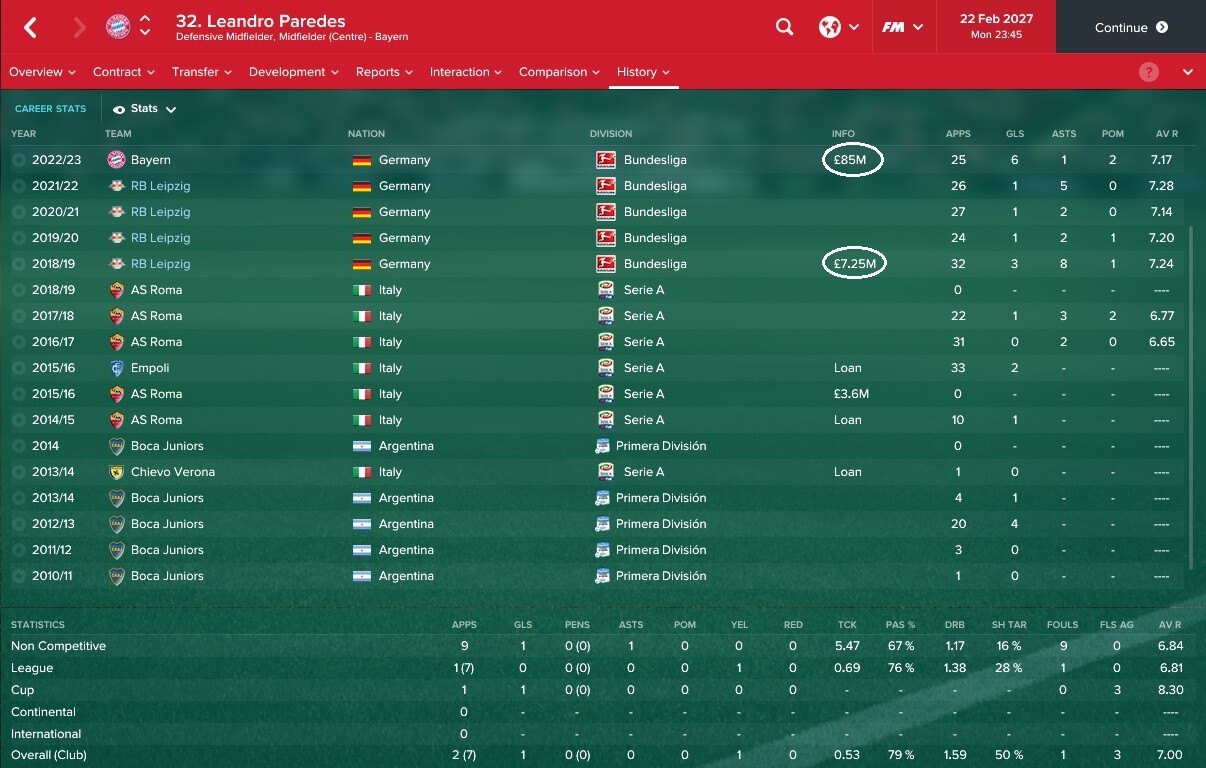 2 – Signing undervalued players from poor leagues.
One of the key determinants of a player's value in FM is the league he's playing in; players competing in leagues such as La Liga and the Premier League are often the highest valued. This is because the star rating, reputation and coefficient of those leagues is higher in comparison to the likes of Croatia, Brazil and Turkey for example, as demonstrated below. Soner Omur was signed by my club based on his quality potential and relative low value due to the club he was playing for, Beşiktaş. He left for PSG less than two seasons later, after raking in a £57m profit for my club, and after barely establishing himself within my XI.
3 – Signing prospects & developing them without maximising their game time.
Strangely in FM, a player doesn't necessarily have to be a first-team regular to be sold on for a huge profit; the player just has to develop. Below, are two players that I signed based on their potential, personality and determination, but neither regularly made it into my XI. However, due to the fact they both developed significantly whilst at RB Leipzig, other clubs were willing to pay significantly higher than what I originally paid. As highlighted in red, Ter Avest played less than 30 games in three seasons, and Angel played just 24 times in two seasons with the majority of appearances coming from the substitutes' bench; which seems to suffice on FM in my experience in terms of development and adding value.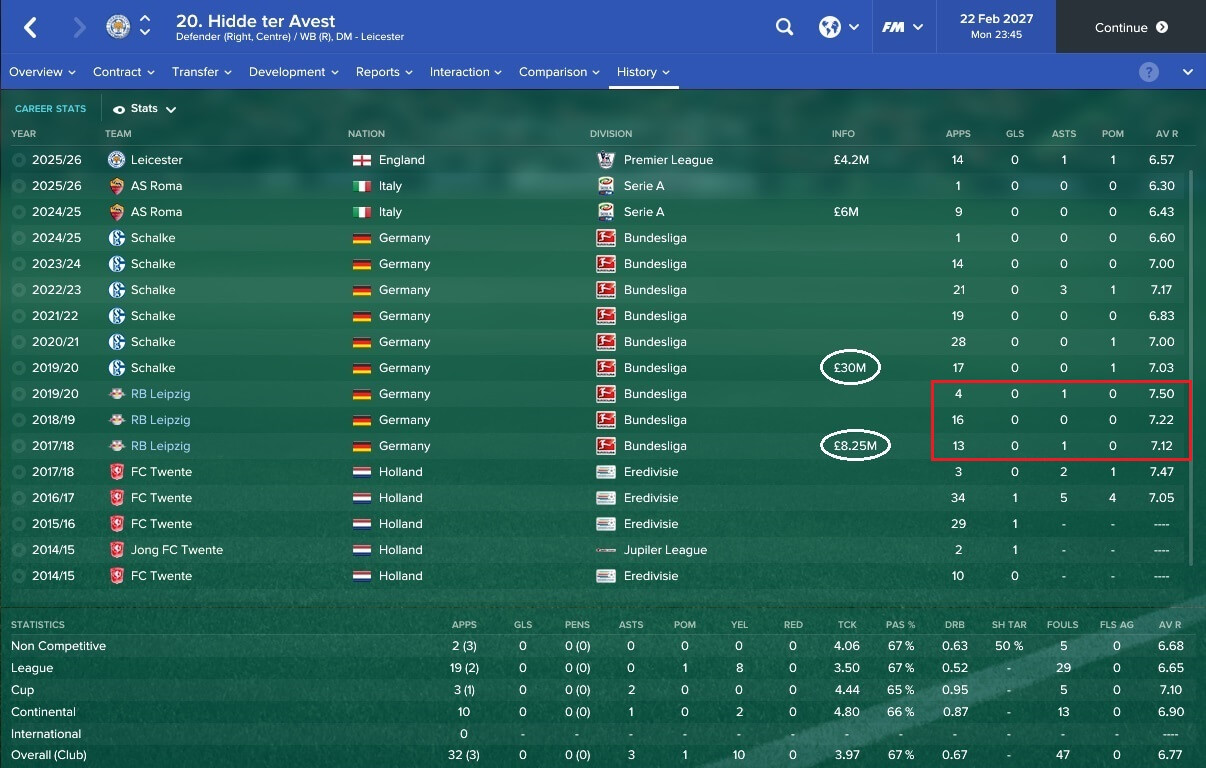 However, I consider method 3 to be difficult to accomplish early in the game. This is because the quality of your club's training facilities is vitally important when developing a youth prospect; the higher the quality, the more the prospect's attributes will improve. As pictured below, my club currently has a state-of-the-art training facility due to numerous board proposals being agreed, and this allows players to progress significantly at my club in comparison to a club with facilities at a poor standard. I'd encourage any player to upgrade their facilities as it benefits in the long-term, but I'm aware that's just common sense in some player's minds.
The Conclusion
To conclude, I appreciate that a lot of FM regulars will already implement these principles and some may say that it's basic common sense to do so; some players may not even recognise that they're employing such a strategy. The general idea of incorporating an economic recruitment strategy is largely aimed at the FM players who want to build up their smaller club into a self-sufficient financial force, and build their squad into a sustainable one. Some FM players playing long-term saves may purchase any player just to fill a slot, or because his attributes are good and he can add to your squad; which is fine, but if you're in control of a club as small as RB Leipzig, the financial hit can be damaging on your growth.
Overall, whether it's labelled as Moneyball, Soccernomics or sabermetrics; the concept of finding value in misjudged players using statistical data and detailed analysis is clearly a success in Baseball.
In real-world footballing terms, the theory is much more controversial and its success will always be dependent on perception, and how each person welcomes the use of statistics to determine an undervalued player.
In Football Manager, for me, the Moneyball concept can be adapted so that the numbers and statistics of the real-world translate to player attributes within the game. By constantly signing undervalued, underused and immature footballers with talent, and then selling them on once they've reached their potential, a small club like RB Leipzig can become self-sufficient and grow into a financial powerhouse.
For lots more FM17 and football related info, follow @DistanceCovered on Twitter.