… Ahem.
Last time, we covered pre-season, our quest to qualify for the Champions League Group Stage, and our activity in the transfer market. A lot has happened since then, and this time I want to update you on how we have fared domestically and in Europe, and how the young British talent drafted into the first team squad are progressing.
As I write this, it's Christmas Day, and we are half way through the season. The transfer window is about to open, and I have a lot of targets in mind, so now seems like a perfect time to stop, take stock, and update the three people that are likely to read this. Those three people being me (because I like to see my own work online, obviously), the publisher (because he hasn't got a choice) and my wife (because she humours me and my idiotic ramblings). If you're not one of those three people, then welcome – take a seat, get comfortable, and prepare yourself for storytelling at a standard you've never seen before!*
*Just to be clear, I never said it was a good standard…
We pick things up just after the transfer window has slammed shut. After a minor scare in the qualifying rounds, Celtic have qualified for the Champions League, and rewarded with a seemingly-impossible group: Juventus, Tottenham and FC Porto stand between us and an unlikely advancement to the knockout stages.
In the league, we have made an average start; winning one game and drawing two. Our next match was against Rangers, and an opportunity to make a statement. And what a statement it was: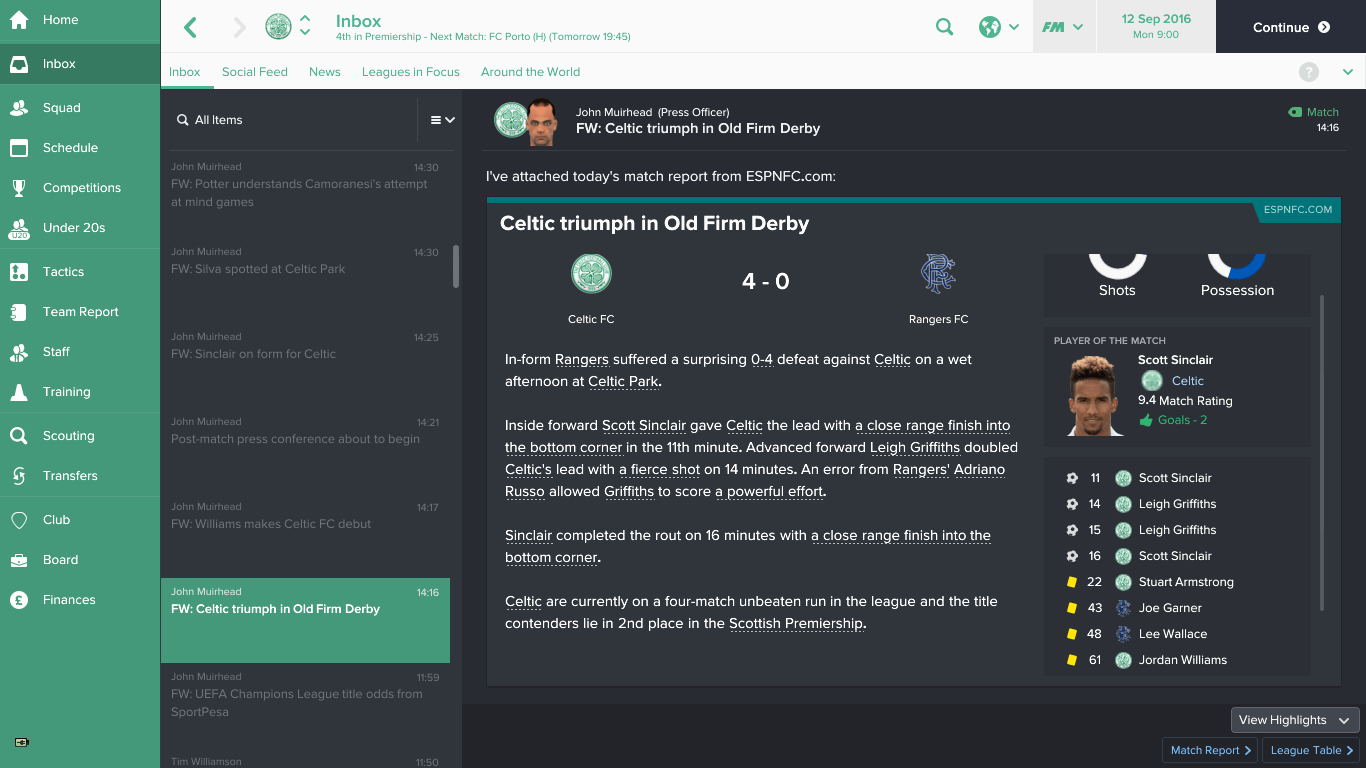 It's not a bad way to make your Old Firm debut, really, is it?! This was the one that I really wanted to win to kick-start the season, and I was not disappointed. It was made all the sweeter for the fact that we were playing an all-British starting XI for the first time, proving that our philosophy can work. Four goals in the opening 16 minutes was enough to put this game to bed and send the fans home happy, and give us some confidence before hosting FC Porto at Celtic Park.
That one didn't go so well. We played well – 20 shots to Porto's 12, relatively even possession (48% – 52%), but the one stat that mattered went in their favour. Andre Silva made it 1-0 to the visitors after 5 minutes and Ruben Neves – a player I would love to sign, if I could find a way to trick the authorities into thinking he was British – made it 2-0 on 25 minutes, and that's how it stayed.
It wasn't the greatest start to the Champions League, and pretty much ended any hopes I had of even making the Europa League. I wasn't expecting to get anything against Spurs, and I'd bet my house on losing both games to Juventus! Porto were the team we needed to beat if we were going to hold on to any hope of continuing our European adventure, and it hadn't gone to plan. There's a certain irony to the fact that Brexit was looming, and we seemed to be doing our very best to get out of Europe as quick as possible!
Disappointed but not defeated (well… technically we were, but… just go with it), we returned to domestic football and had a good run of 3 wins on the trot – including beating Rangers 3-0 in the League Cup Quarter Final. We took that momentum, and 2,013 travelling fans, to Wembley, where Tottenham Hostpur welcomed us with an absolute stuffing. Somehow, we made it out of England with just a 2-0 defeat, but we were ripped apart from start to finish. Spurs had 29 shots to our 7 – they pulled our pants down, spanked us, and sent us on our way.
That seemed to unsettle the side, and two disappointing draws away to Dundee and at home to Motherwell preceded another 2-0 defeat in the Champions League, this time to Juventus. We put up a far more respectable challenge this time, similar to when we hosted Porto, but after 3 games, we were pretty much dead and buried.
Turning our attention back to domestic football, we looked to rebuild momentum with a 3-1 victory against Ross County at Hampden Park in the League Cup Semi Final, before beating them 2-1 just three days later at the Global Energy Stadium. Which, quite frankly, is the worst stadium name since Newcastle's attempt at renaming St. James' Park a few years ago. Despite the victory, this game was disappointing for Ryan Bennett. He broke his foot, which would keep him sidelined for the rest of the calendar year.
A late goal at Aberdeen to give us a 2-1 victory kept the momentum going before our visit to Turin to get destroyed by take on Juventus. Paulo Dybala and Mario Mandzukic made it 2-0 inside twenty minutes and it seemed like we were on for another hiding. Kwadwo Asamoah made it 3-0 just after the break, but then something incredible happened – we scored! Baily Cargill scored our first goal of the group stage, before Dembélé and Sinclair decided to get in on the act…
Unfortunately, Juventus scored another 2 before that and we lost 5-3. We followed a similar pattern of being successful domestically in-between Champions League games when we travelled to Portugal. This time, we lost 3-0 to Porto, leaving us with a record of played 5, lost 5, scored 3 and conceded 14 – we had everyone right where we wanted them!
After the Porto game, we turned our attention to our first cup final of the season. In front of 45,904 fans at Hampden Park, Leigh Griffiths and Scott Armstrong scored to give us a 2-0 victory over Partick Thistle. That result was enough for the board to offer me a new contract, which I signed to extend my stay for another two years.
Buoyed by lifting the cup, we welcomed Tottenham to Parkhead and returned the favour from the first game – it was only a 1-0 victory, but the result was never in doubt, and this time it was Spurs that went home with a sore backside. Unfortunately, we had left our European charge just a tiny bit too late, and finished the group in 4th, but at least we finally had something to cheer about…
After the Spurs game, the team's form dipped dramatically. We only won 1 of the five remaining games before Christmas, and lost in the league for the first time – a 0-2 defeat at home to Dundee. Picking up only 6 points out of 15 available, we finished the first half of the season a point behind league leaders Aberdeen: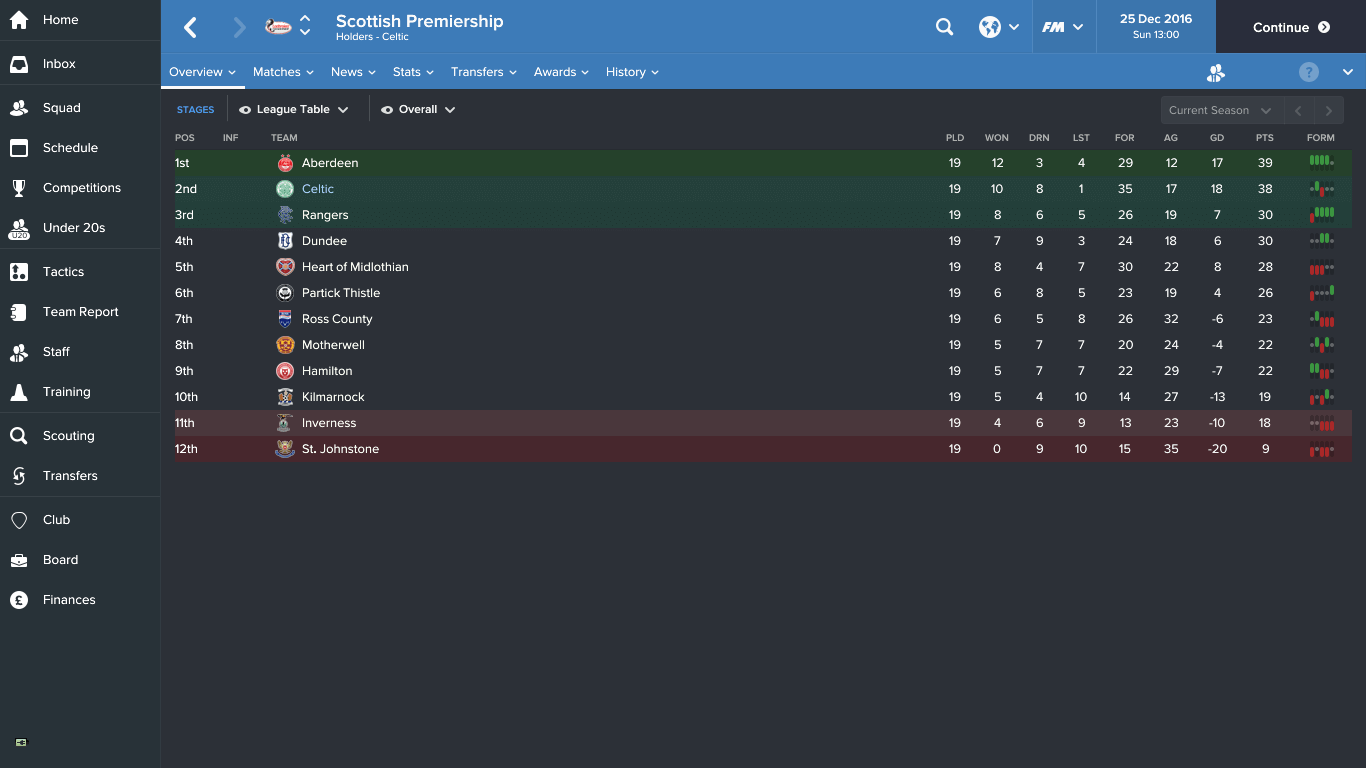 Too many drawn games has left us disappointingly in 2nd place, with a home game against Ross County to come, before rounding out the year with a massive trip to Ibrox on New Year's Eve.
In truth, it wasn't a massive surprise that our form dipped. With Bennett injured, we were lacking in defensive options, and our failure to address the lack of depth in midfield during the summer window came back to bite us as young Liam Henderson struggled to cope with the number of games he was being asked to play.
With the winter transfer window closing in, it was time to look for reinforcements. With only £2.2m available, it was optimistic to match Manchester United's £7.25m valuation of Wayne Rooney, but assistant manager Chris Davies felt it was a realistic transfer, so we put in our bid. Unsurprisingly, the global superstar didn't fancy moving to Glasgow, so that was the end of that, but if you don't ask, you don't get, right?
More realistically, we were looking at potential Bosman signings that would join for next season. Charlie Taylor, the Leeds left back, had already announced his decision to leave the club at the end of his contract, so he immediately went on the list. We also scouted 25 year-old MK Dons midfielder Ben Reeves, and I'm weighing up making him an offer on January 1st. With Craig Gordon only getting older, and on-loan Christian Walton not impressing in his few appearances, we also scouted Norwich 'keeper John Ruddy and Sheffield Wednesday's 21 year-old starlet, Cameron Dawson. Both of them could find their way to Celtic Park next season, because it's an area which we are lacking in depth.
In centre midfield, everyone we wanted was way out of our price range. Fulham's Tom Cairney was listed, but at £8m, there is no way we can afford him, which is a shame. So we are going to have to look at the loan market, and there is one obvious player available that would add quality to the squad – Sporting midfielder Ryan Gauld. Fulham's George Williams is also on the loan list, so I may try to bring both of them in to bolster the squad.
We've also looked at the potential in the youth system, ahead of the forthcoming yearly intake of kids. Two players stand out in particular – 16 year old left back Daniel Church and striker Jack Aitchison, also 16. Both of them are lacking in determination and work rate, so I'm not 100% sold on them making the grade, but both have been assigned a tutor to try and give them the best chance of succeeding at Celtic.
Hopefully, we can pick up a couple of players early in January to halt our poor form. If we do that, I can't imagine anyone stopping us from winning the league. We definitely need to improve – 8 drawn games out of 19 simply isn't good enough for a team of Celtic's stature, in such a weak league. I don't think we will have too much trouble, though and hopefully my next update will end with us lifting the title in front of our delighted fans!
On the Brexit front, there hasn't been a peep from the laughing hyena occupying Downing Street, which is quite good for us, really. With so many of our foreign players out on loan at the beginning of the season, I need as much time as I can get to bin them all off. I've got a couple of keepers I want to try to flog in January, but I doubt we'll have many more outgoings until the summer window, which is when I hope to update you next.
Until then… don't eat yellow snow.