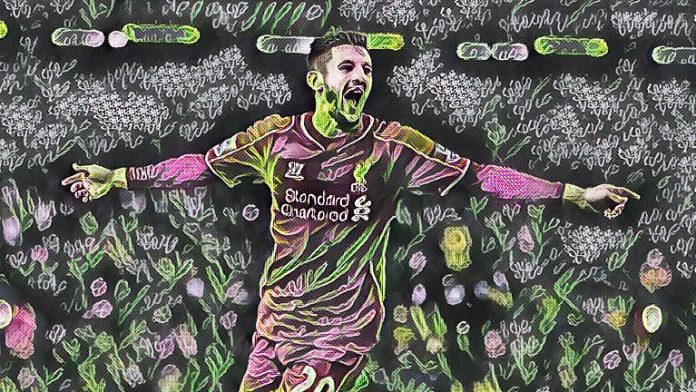 Adam Lallana was voted England's player of 2016 and since Jürgen Klopp's arrival at Liverpool, his overall game has come on leaps and bounds as he is forming a vital piece in the Klopp system alongside the likes of Sadio Mané, Roberto Firmino and Philippe Coutinho. Always a silky player with a great first touch, the ability to play and receive in tight areas, creativity and work rate. He's taken his game to another level under Klopp. Lallana is a big part of the counter-pressing system Klopp likes his sides to use. His productivity has also improved, and at the time of writing, Lallana currently sits on 7 goals and 7 assists this season. He also scored his first 3 England goals in the year of 2016.
If you scope the Football Manager community, you'll probably find most people's systems are based on attacking football, pressing, a combination of both and certainly people who will try and recreate the "Gegenpressing" style as well as they can. So how can you try and get the best out of Lallana's qualities in Football Manager 2017?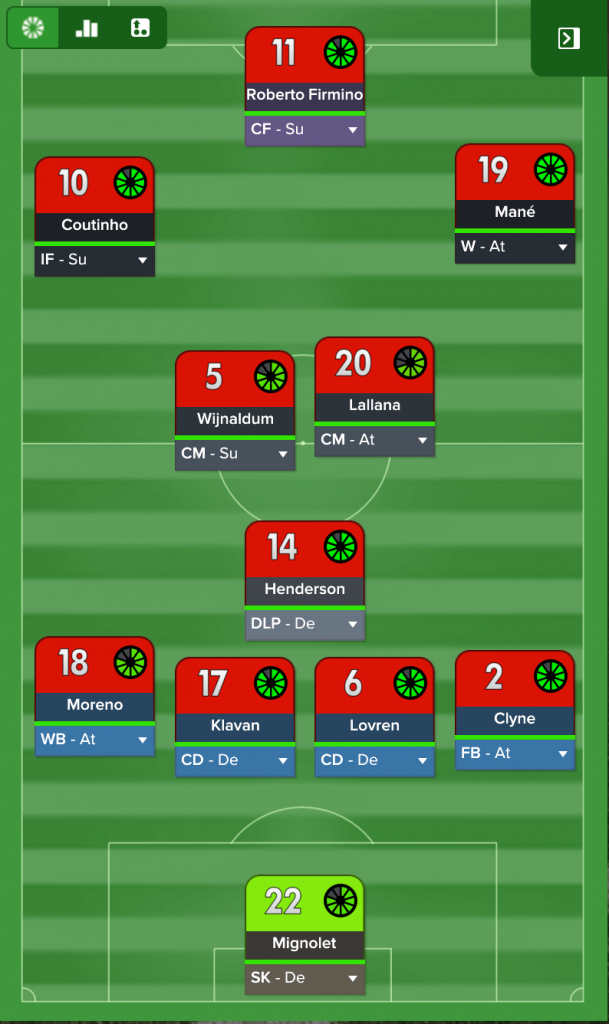 Let's look at him in a 3-man midfield. What are the possible beneficiaries of Lallana playing here?
Able to press opposition CM's and DM's from in front.
Attacking the box late from deep.
Can help out defensively if the team is defending deep
Can act as a playmaker in the middle for managers who like a playmaker in that position!
At the weekend, Lallana played in a midfield three next to Gini Wijnaldum with Emre Can behind in the holding role. In this clip, he already moves to press Kevin De Bruyne before John Stones passes it to him. If you lined up Manchester City's formation on a Football Manager-style tactics screen, De Bruyne would probably be left or right-side centre in a "4-1-4-1" or "4-4-1-1". Of course, there are plenty of little variables that shape the way a system works so it depends on the manager, or the opposition, in terms of the finer details of a team's setup. Personally, I'm not a massive fan of the "opposition instructions", but I do really like occasionally using man-marking on the individual player instructions to get players to take up positions the roles won't naturally allow them to and it can be useful for setting pressing traps in certain areas.
In this clip, Lallana tracks back from a more advanced position to dispossess Dele Alli, playing positionally in a similar position to the example given above.
And here is how that scenario may play out in a game of Football Manager, with Lallana playing right-side centre of midfield tracking back as the ball is played in to Andre Gray the centre forward…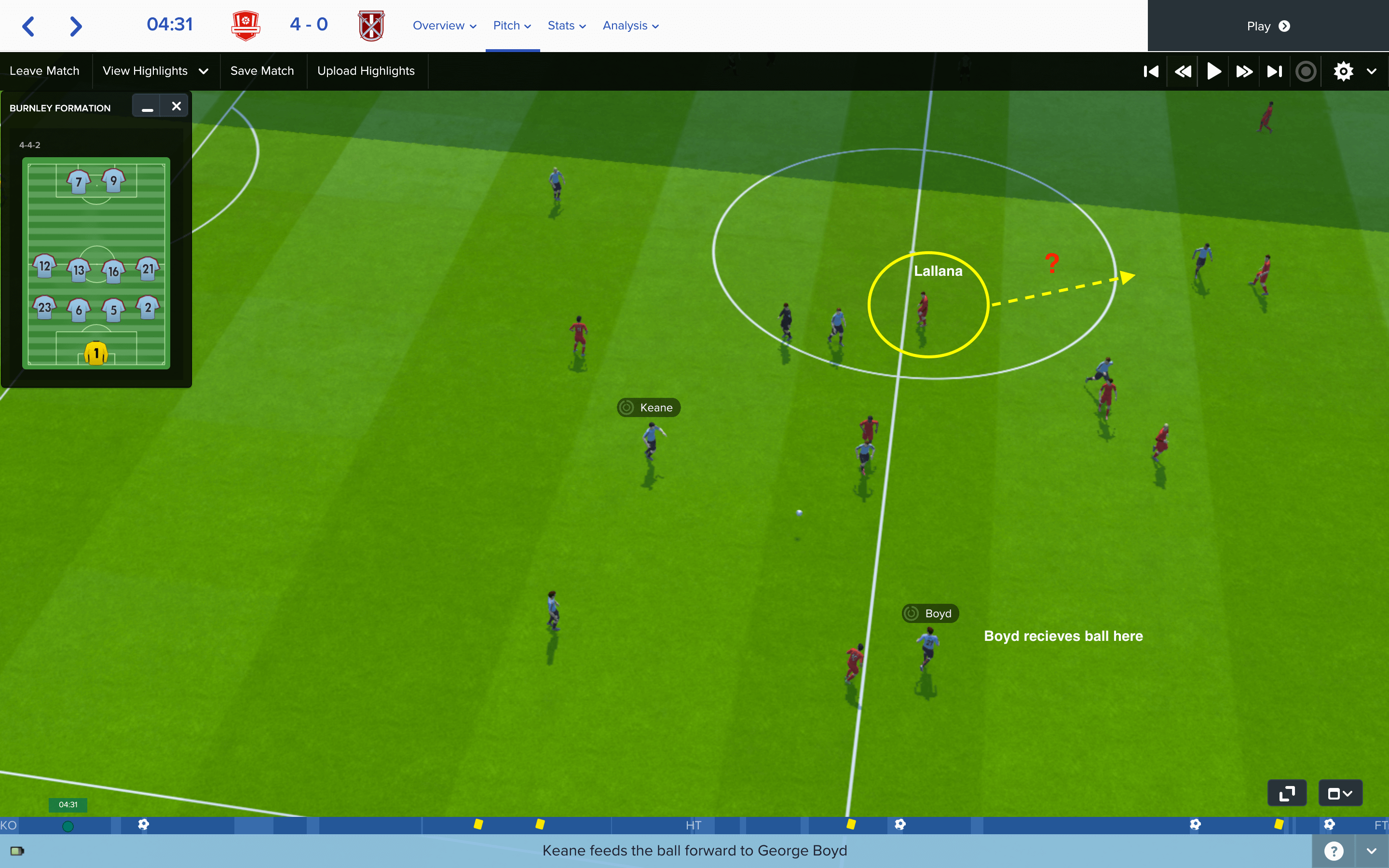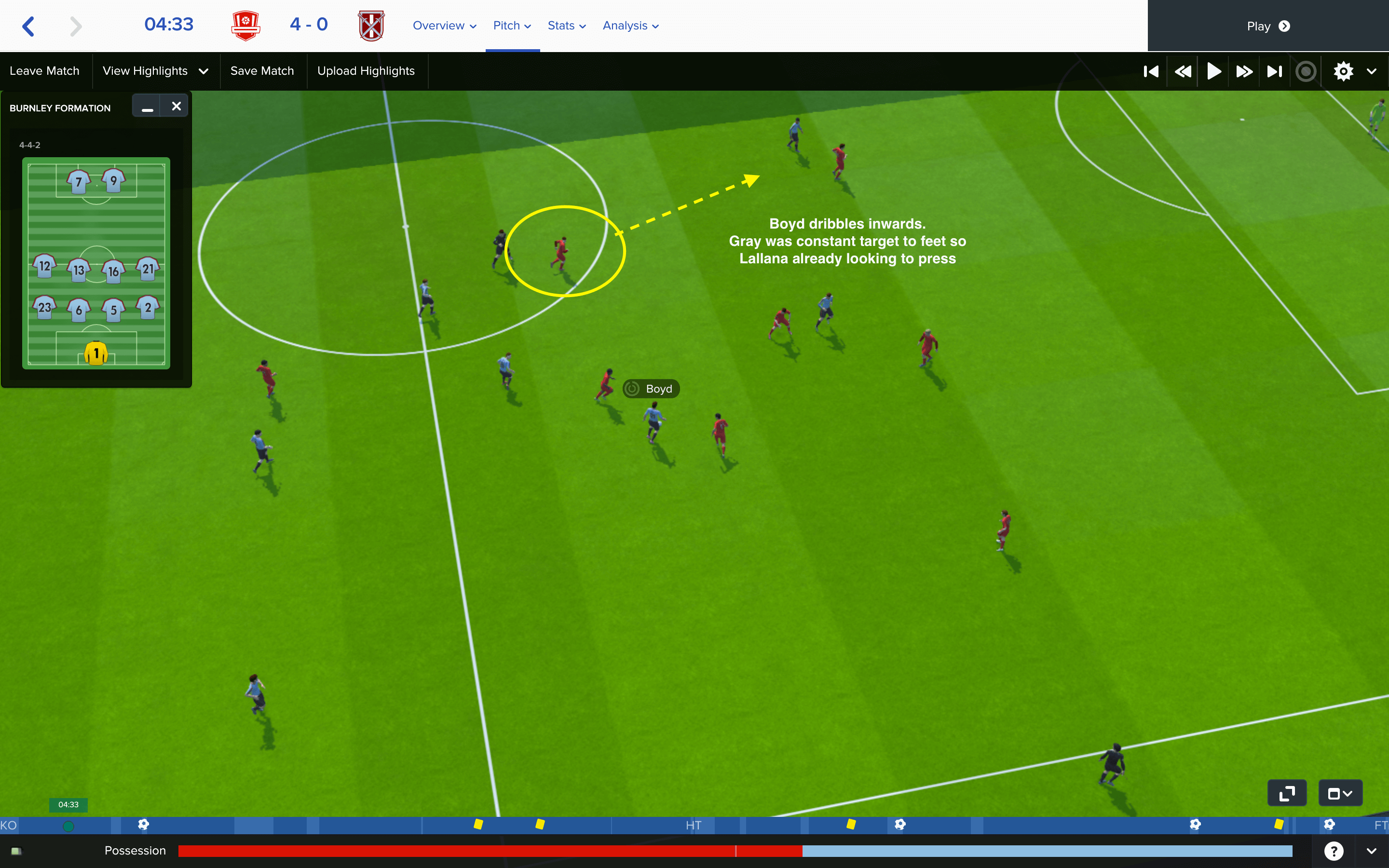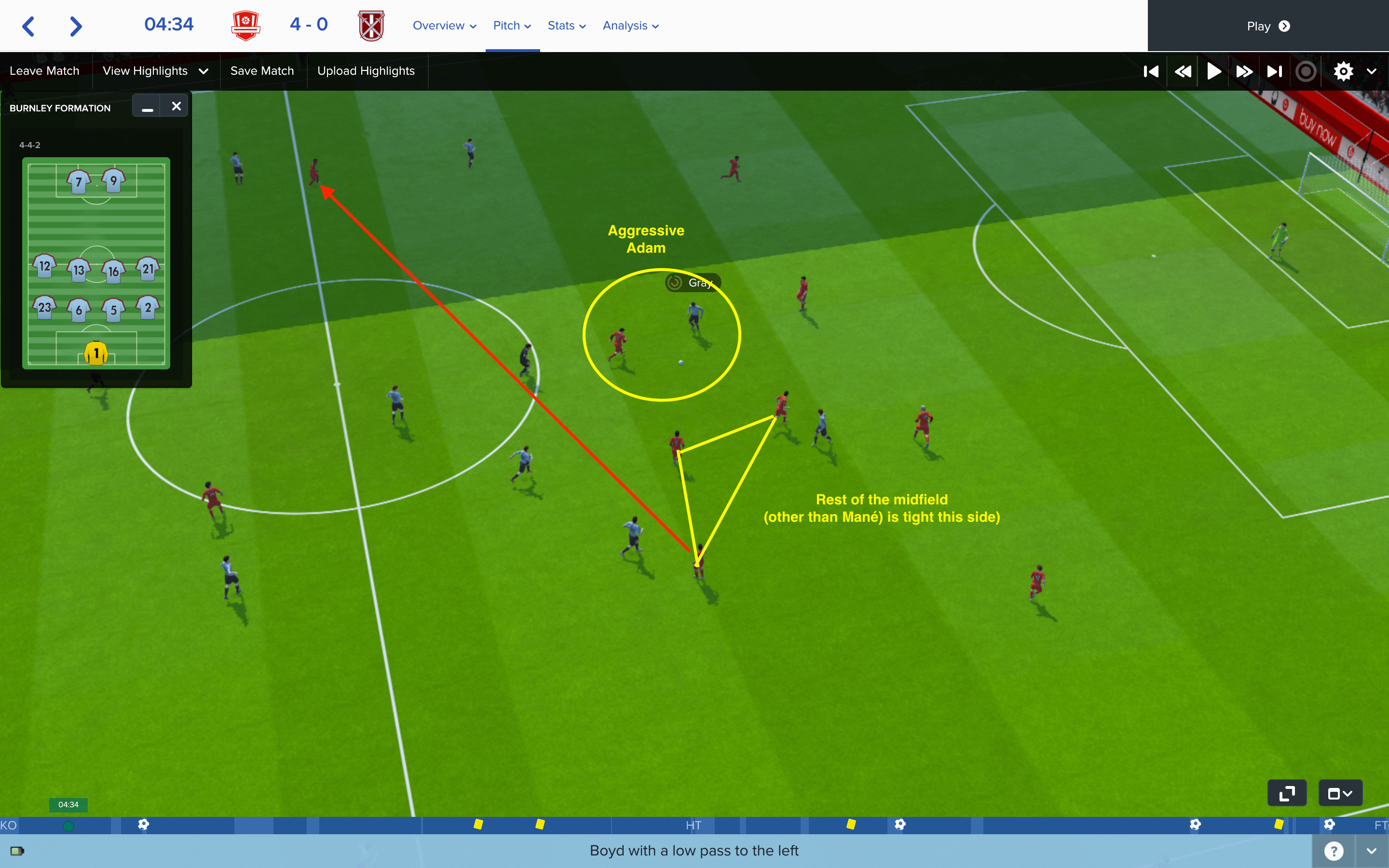 So how can Lallana be as effective in an attacking sense?
Quite a few of Lallana's best goals have come arriving late in the area, either from a deeper midfield position or from the channels. Let's look at how he performs in a Liverpool shirt and how he performs on our favourite football management simulation…
In this goal against West Ham, Lallana makes a bursting run in to the box from deep, as Firmino comes deeper to be involved in the build up. His positioning and anticipation of Mané's ball in is sublime. Again in this game, he started in a midfield three. So what might this look like simulated?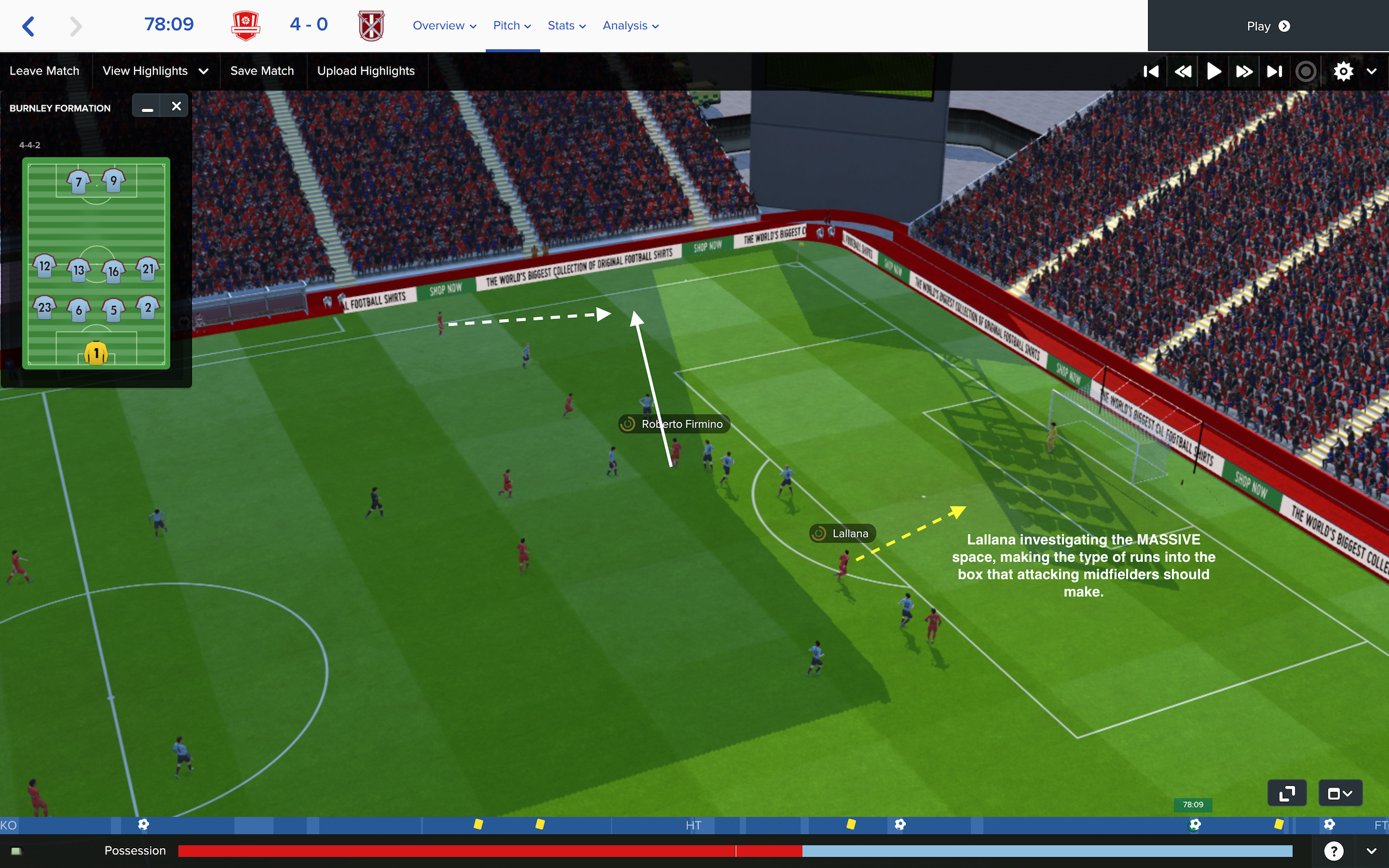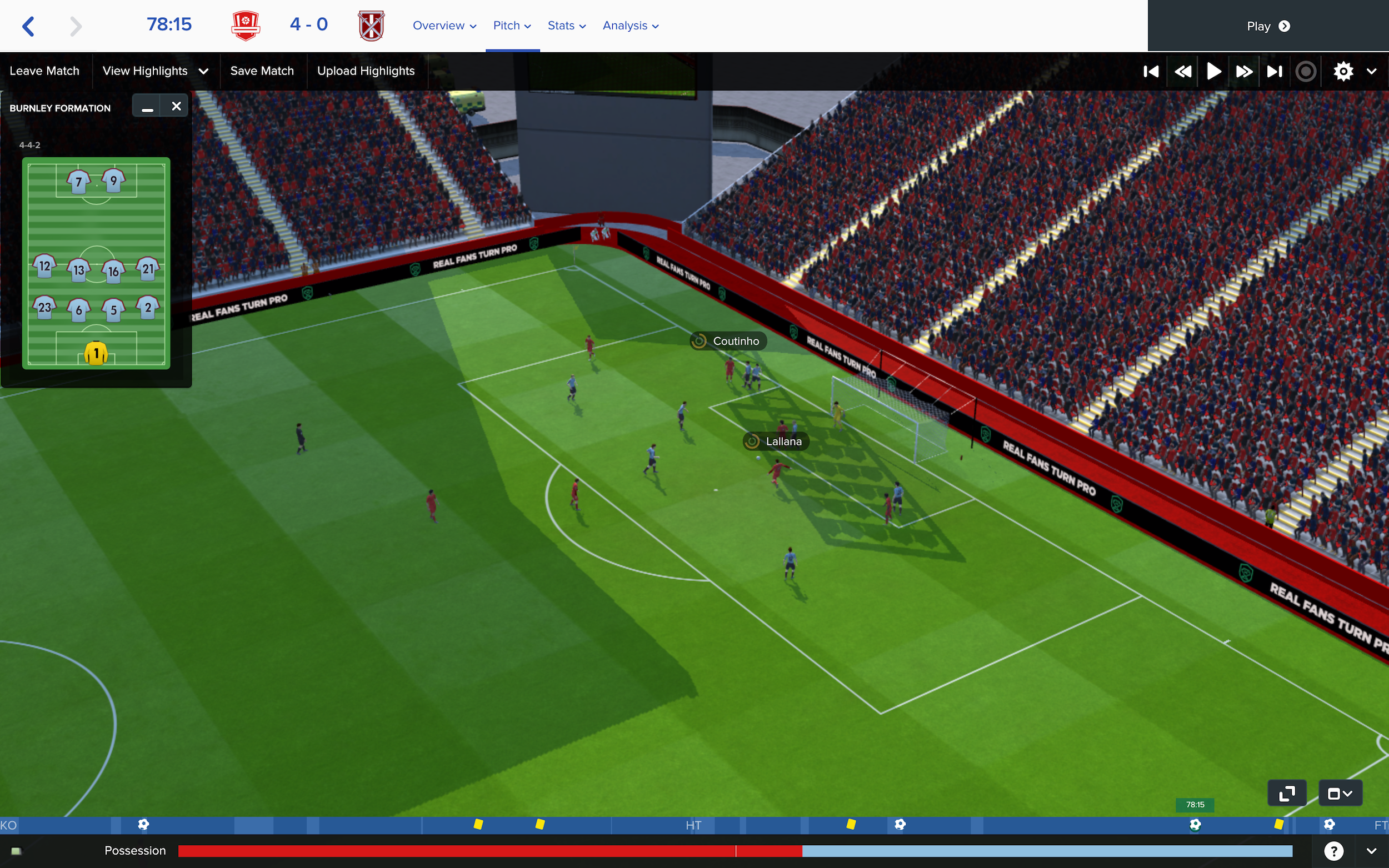 Again, Lallana runs from deep as the play builds up in a wide position. Most of the opposition here appear to be drawn to the movement of the striker, meaning Lallana has space to arrive in. When the ball comes in, he is still occupying that space and is available for the cut-back before wrapping up the game with a goal.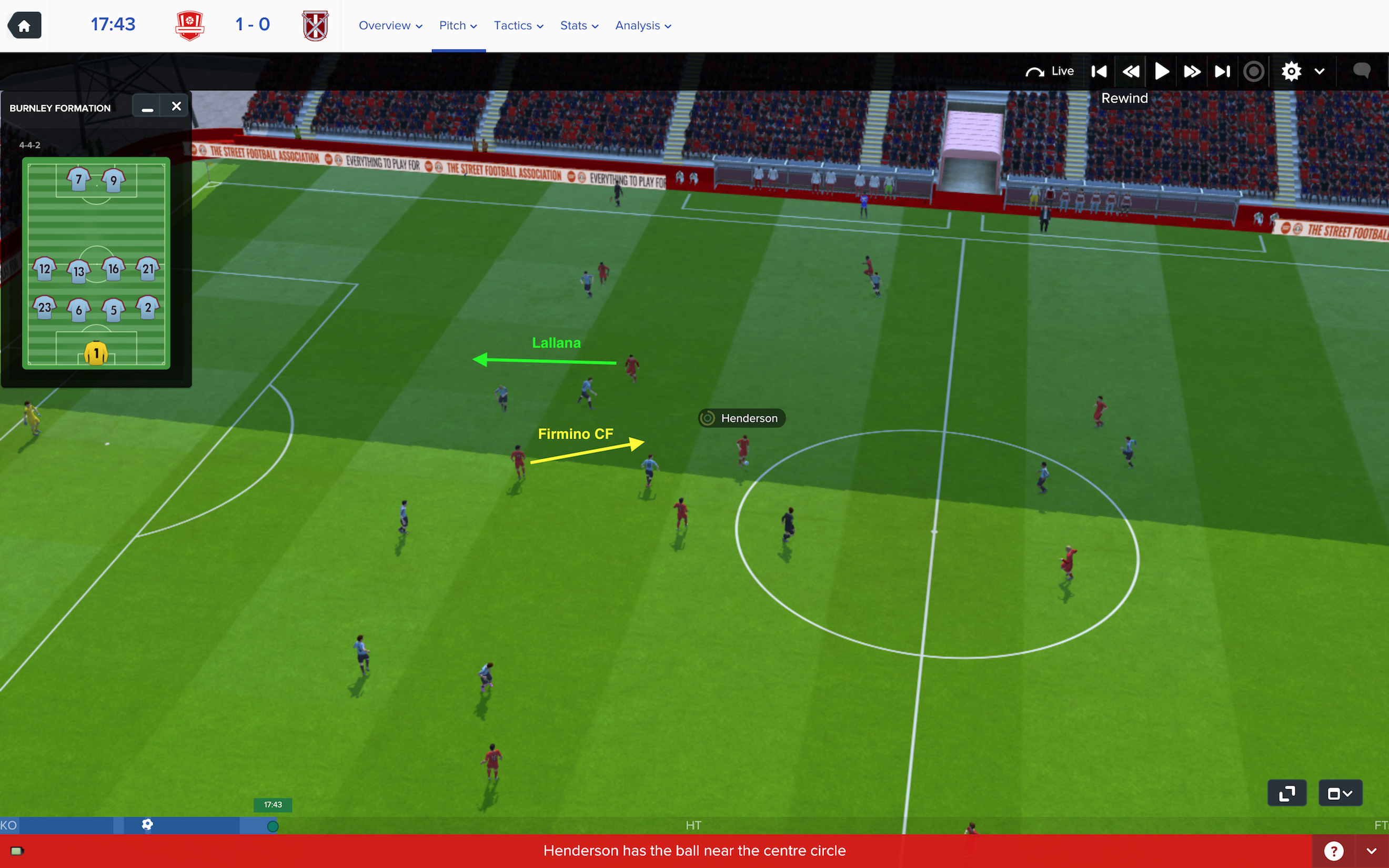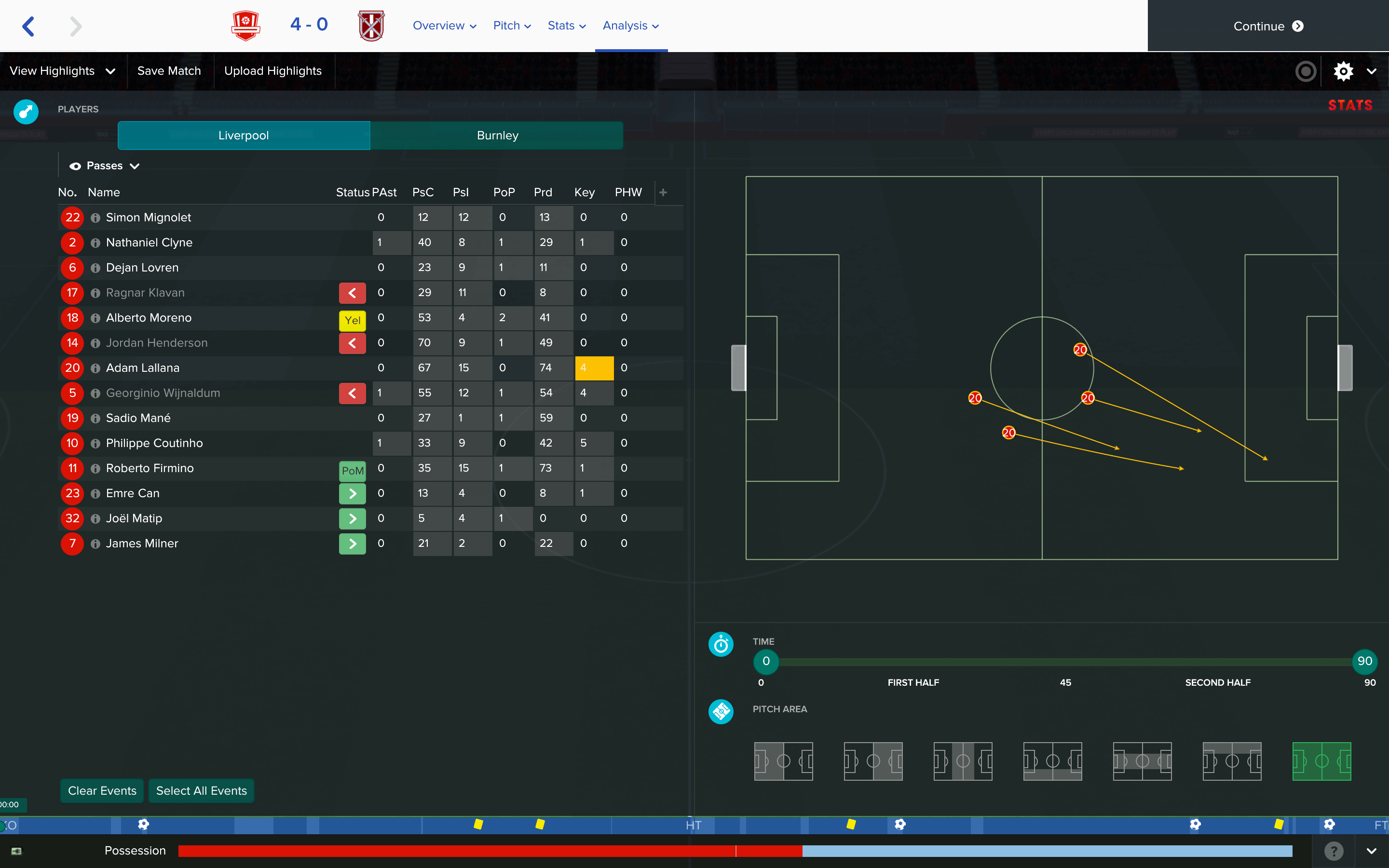 Lallana is also a wonderful transition player. Of course with Liverpool being a very transition-orientated team, as Klopp's teams tend to be, having a player who can move the ball directly but accurately is crucial. In 4 key passes in the game, Lallana was able to find Mané, the main attacking threat on the break, with transition passes in to the right-side channel.
So here's a few key attributes I've highlighted in relation to points I've spoken about in this piece…
"Gets Into Opposition Area" PPM –  Going back to the point about the late runs into the box from deep. If you're going to play a central midfielder and you want them to be a threat in and around the box like an attacking midfielder, this PPM must be pretty useful, right?
Vision – It's not Mesut Özil vision, but at 15 the "flamboyant attacking midfielder" should be making enough of those key passes highlighted above in games, especially with great attacking movement around him.
Work rate – If you want any player in an intense pressing system, then needless to say, work rate is pretty important if he's going to keep up. Another important attribute.
Both footed – This wasn't necessarily 'important', I just love two-footed players, and Lallana happens to be one of them.
This was my first Tactical Analysis piece on The Higher Tempo Press! For similar content like this, check out my profile!