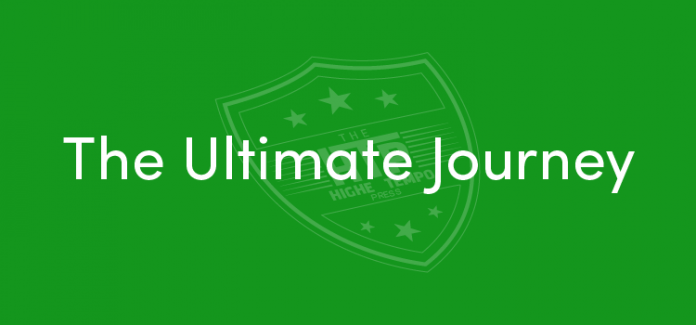 Last blog post we had completed the task there was in Africa of securing a league title in Kaizer Chiefs. So what was next? Umm, if you would have read the introductory post or the post about last season I mentioned that after securing a league title in Africa I will have to move to the A-League in Australia.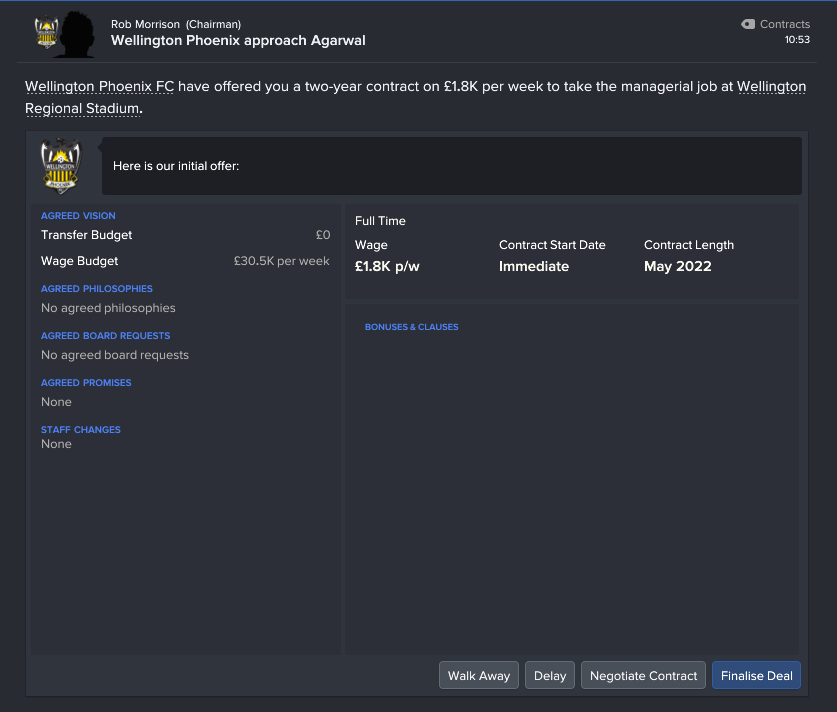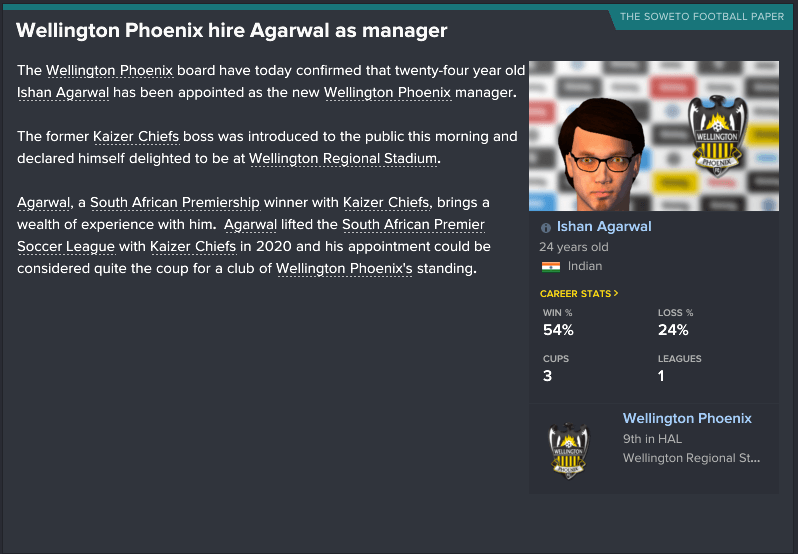 Wellington Phoenix
You might be thinking that Wellington Phoenix are a club from New Zealand, then why am I moving there! Wellington Phoenix are located in Wellington, New Zealand though like Swansea in the Premier League. Why did I move here? That's because they were the only club in Australia that came in for me. I did accept it, with this Journey Man save I will be winning something in another continent and then moving to another where probably my reputation might not be as high as the previous so it is a building process.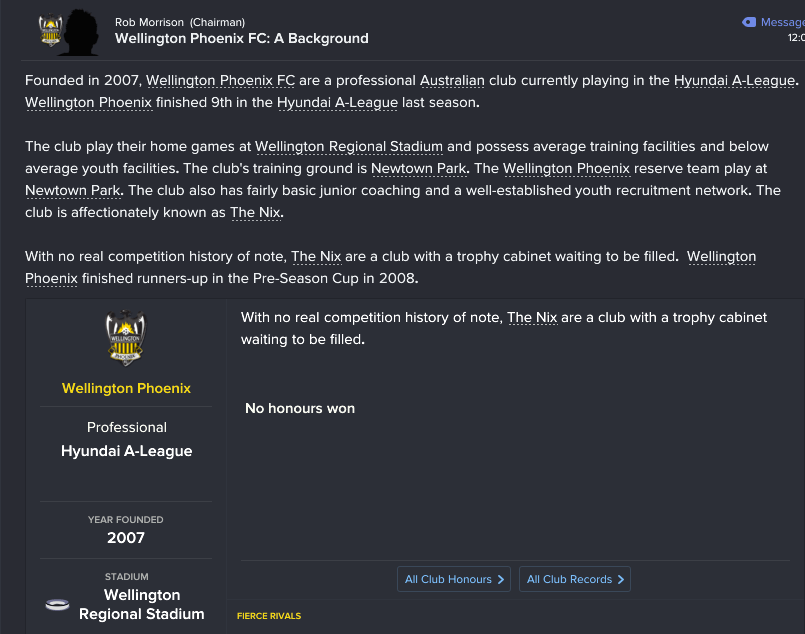 About the Club
Wellington Phoenix are located as the name states in Wellington. It is the only professional club in New Zealand but they have a license to play in the A-League. They were founded quite recently in 2007, playing in the Westpac Stadium, which holds a capacity of 34,500.
As you can see that the club is very new to the game and hasn't won any trophies whatsoever. There biggest achievement was coming 2nd in a Preseason Cup-so yah it is quite harsh.
On the training and youth side of things these facilities aren't the greatest and that does mean that we should be expecting any real gems coming out of the academy in the forcible future.
Squad
We are the worst team playing in the A-League and the squad reflects that. In Australia it is something like the MLS where we have something as a Designated Players and Marque Players these players are the better players in your squad and are earning the more money.
Few of the good players in my Assistant's eyes-
Roly Bonevacia- (Center Midfielder)-Designated Player
Kosta Barbarouses-(Right Winger)-Designated Player
As you can see that these two are my Designated Players and I wouldn't say I'm disappointed by it because yes we are the worst team in the A-League but we won't be expecting a Wayne Rooney as Adelaide United have in their squad which is absolutely mental.

Team Report
Strengths-
Depth in Defense, which is good with the kind of football, I will be playing.
Weaknesses-
Depth other than in defence
Transfer Budget=0 and the Club is a million in Dept.
Aggression is bad
Poor workrate and strength
There is a leadership void
Objectives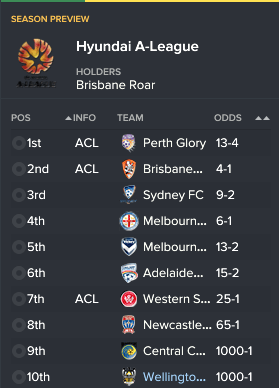 The media predict that we will be rock bottom of the league and I won't say that I would be able to achieve anything better than that to be honest and not being cocky or anything this is the general state of the squad we won't be able to match with the quality of the Melbourne Victory and Perth Glory, etc. My aim is to not finish last but at least 7th or 8th and probably apply if there are any other bigger jobs in Australia that come available.
Follow My Blog
Thanks for reading this introductory post to our new club in New Zealand if you want to know more then Follow me on Twitter or on Slack. Till then Bye..