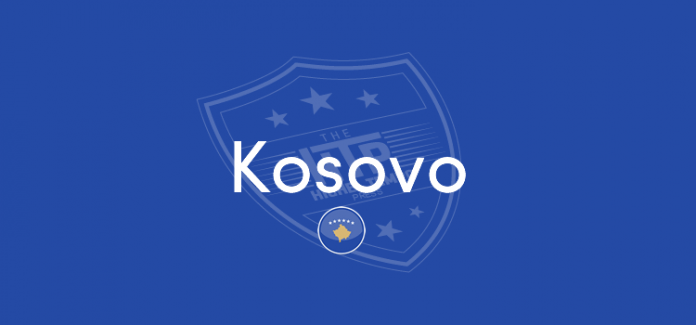 July
The usual July custom began of requesting a national report of every player eligible for Kosovo so that I could sift out the good newgens. 550 eligible players this time around.
The latest World Rankings have us dropping back outside the Top 100 to 106th.

The draw has been made for the European Qualifying stages of the 2022 World Cup. Again, I feel the draw has been fairly kind to us. We were seeded 5th for the draw.

August
A further drop in the rankings sees us go to 108th place.

The squad was named for the upcoming qualifiers against Northern Ireland and Wales. It hasn't taken long for the media to start questioning some inclusions again. Lum Rexhepi comes in to replace Jashanica who picked up an ankle injury.

September
The draw was made for the UEFA U19 Championship First Qualifying Round. Kosovo should be aiming for at least 3rd place out of the four teams.

U19 Friendly: Latvia 1-1 Kosovo, UEFA U21 Quals: Kosovo 0-4 Italy
We have switched up our strategy for the trip to Windsor Park and gone 4-4-2 in the hope it can give us stability to maintain the leads we so often take!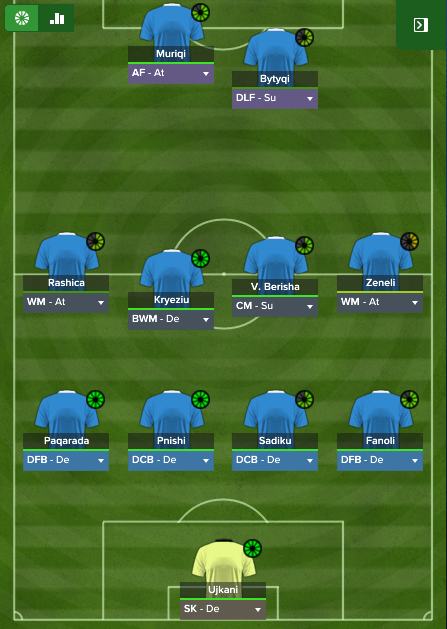 A cross from the right is headed in by NI in the 4th minute, 1-0 to the hosts. A recycled corner from Northern Ireland is crossed and converted to give them a two goal lead. At half time it's clear the 4-4-2 hasn't worked so we revert to our usual 4-1-2-2-1DM. It didn't make much of a difference and Northern Ireland rounded off their victory with a third in final few minutes.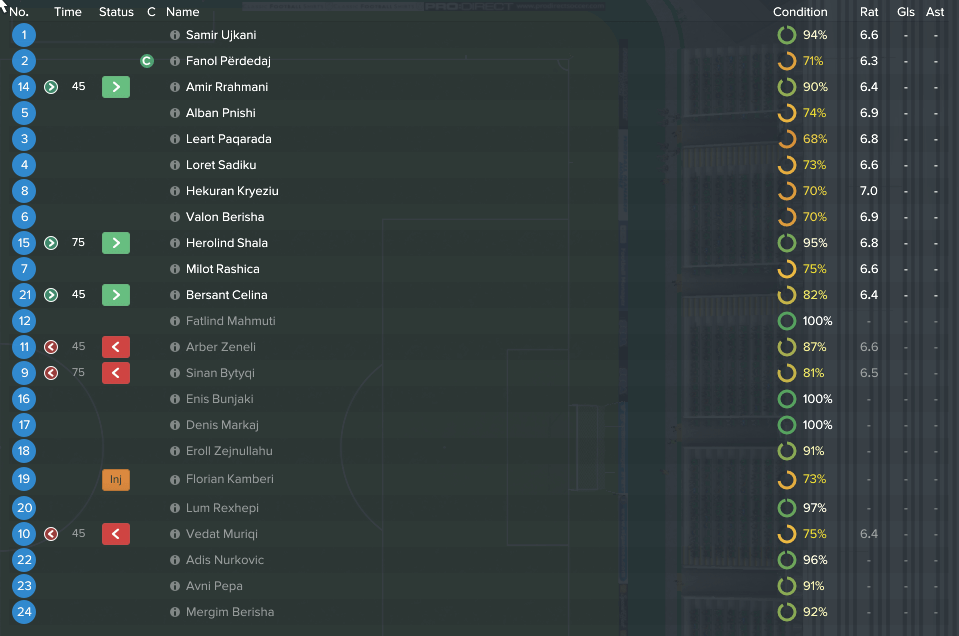 U19 Friendly: Gibraltar 0-3 Kosovo, UEFA U21 Quals: Faroe Islands 1-1 Kosovo
It's back to basics against Wales with our usual XI where possible in our favoured formation. Big response required.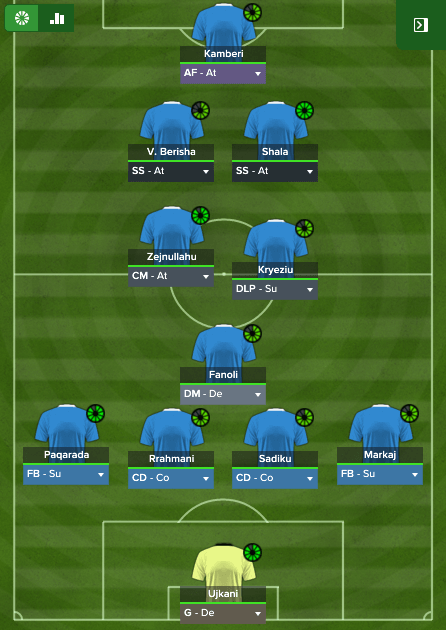 On 27th minutes Wales made the breakthrough with some neat play through the middle, 1-0. Nine minutes later Valon Berisha struck back with a long shot to equalise. Some slack marking on 52 minutes gave Wales an opportunity they took with aplomb to restore their lead. A mistake from goalkeeper Samir Ujkani gifted Wales a third goal, 3-1.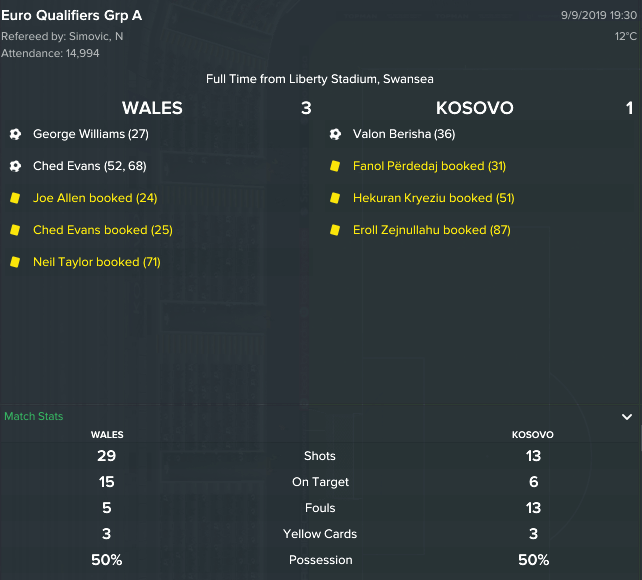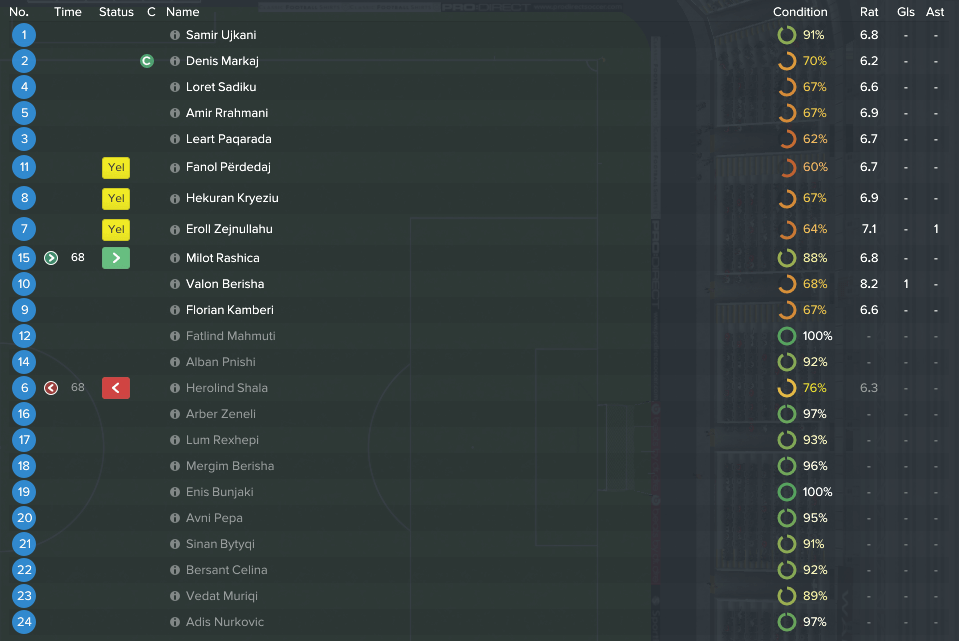 There is more bad news as our freefall through the rankings continues.

October
Belgium and Liechtenstein up next and we make some changes in our call ups.
UEFA U19 Quals: Luxembourg 0-1 Kosovo, UEFA U21 Quals: Belgium 2-1 Kosovo
UEFA U19 Quals: Kosovo 0-2 Turkey
Perdedaj misses out through suspension and Mahmuti returns to goal for Ujkani.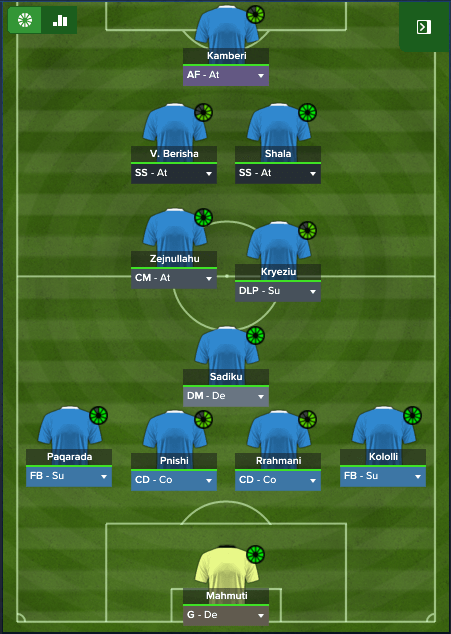 It only takes 13 minutes for Belgium to take the lead through a chance from a corner. Five minutes into the second half Belgium double their lead from a quick break away. Only 9 minutes later they find a third after a cross from the right is swept home.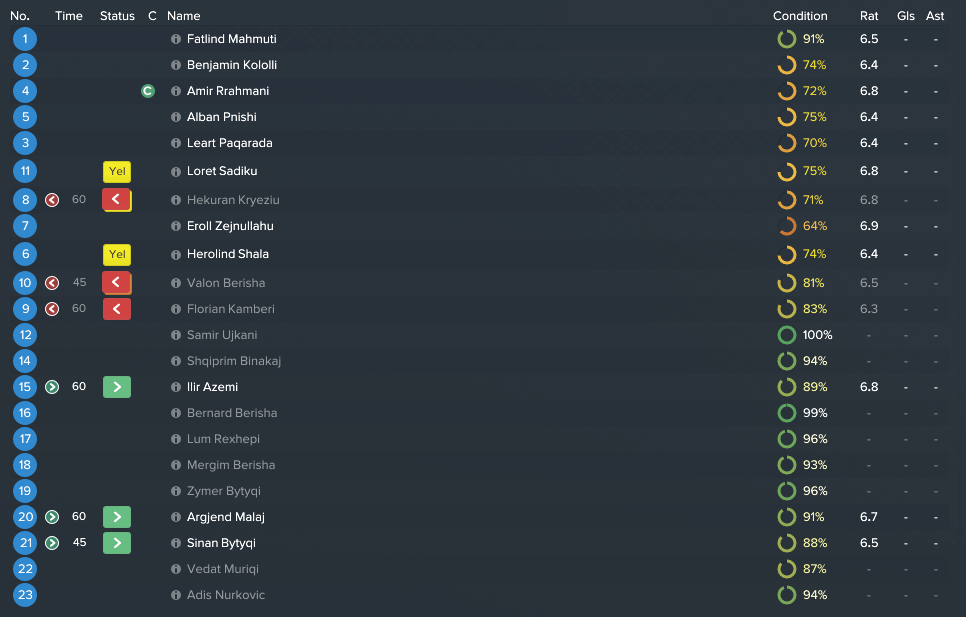 UEFA U19 Quals: Albania 4-2 Kosovo, UEFA U21 Quals: Kosovo 1-0 Finland
A return to 4-4-2 for the trip to Liechtenstein. Last chance saloon for a few players!
Less than a minute gone and debutant Zymer Bytyqi scores as the ball drops in the box from a corner. Just before the half Bytyqi is involved again as he crosses for Bernard Berisha to volley home! The second half is a drab affair but we record a long overdue win.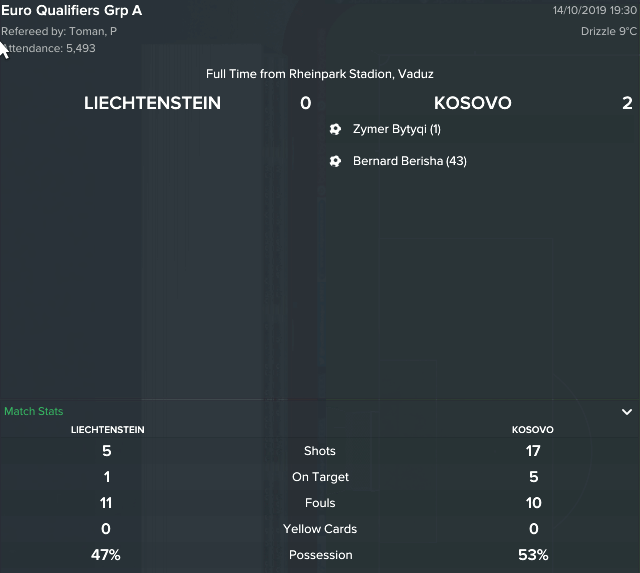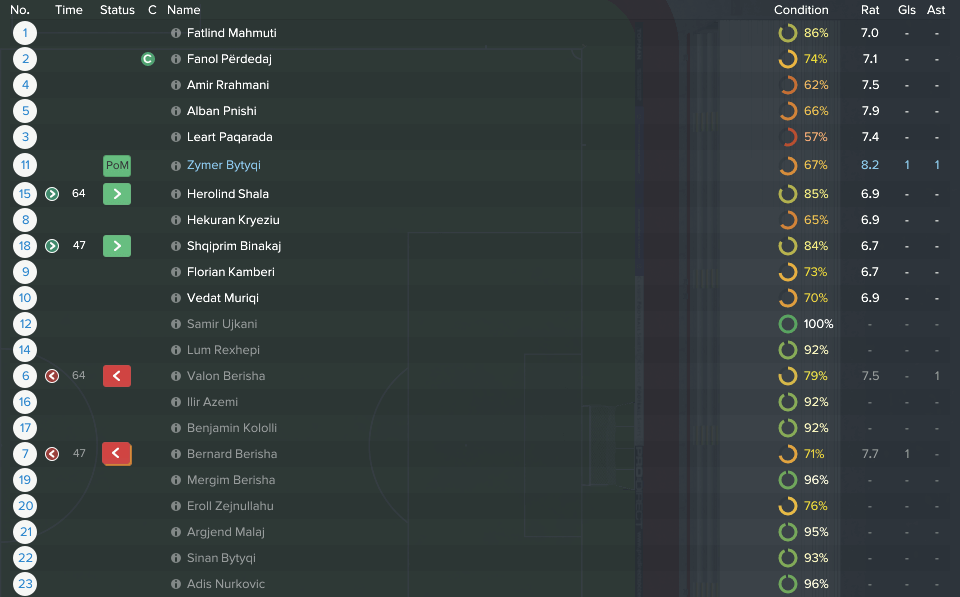 The World Rankings revival begins as we move back up to 107th!

November
The squad is named for our final two group games and pride is at stake! Injuries to Bernard Berisha and Alban Pnishi see call ups for Rexhepi and Rashica.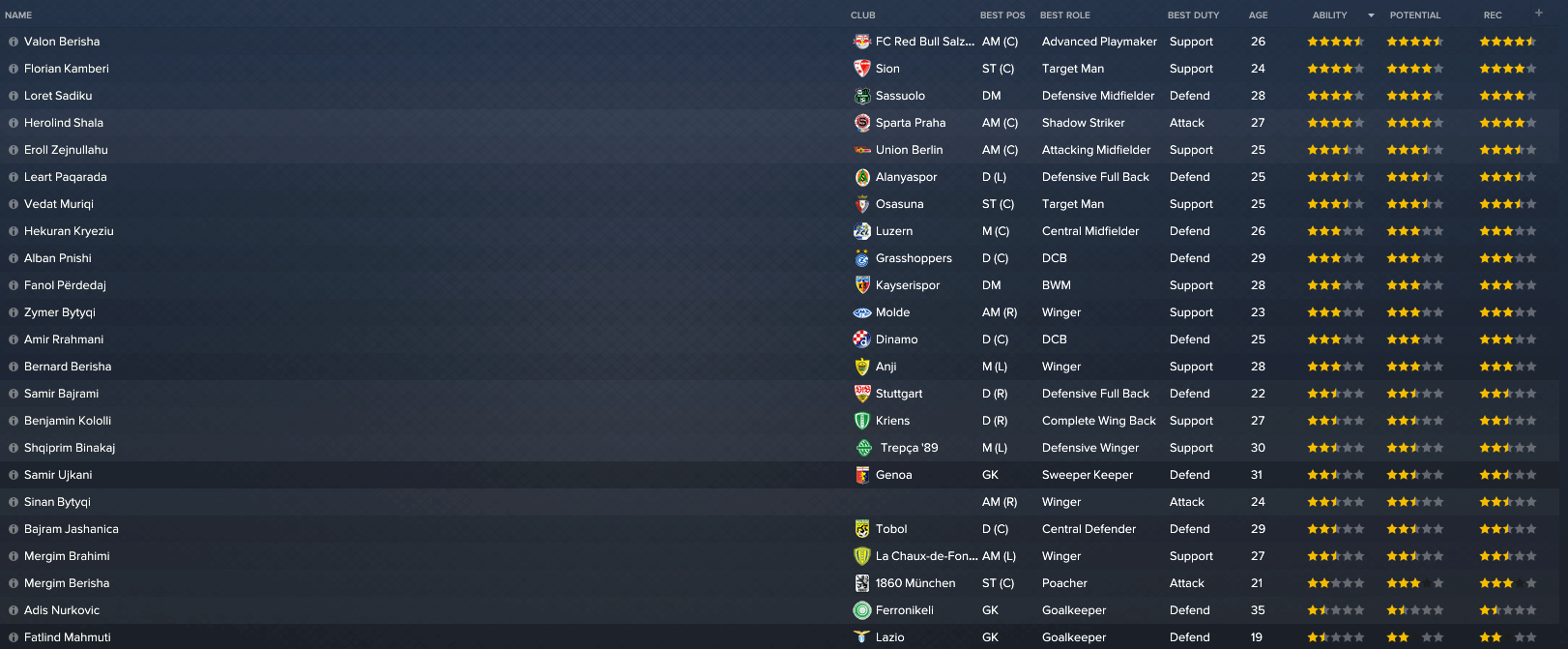 We're on the climb again in the World Rankings and up to 103rd.

U19 Friendly: Armenia 1-1 Kosovo, UEFA U21 Quals: Denmark 4-0 Kosovo
We stick with the 4-4-2 for the Wales match.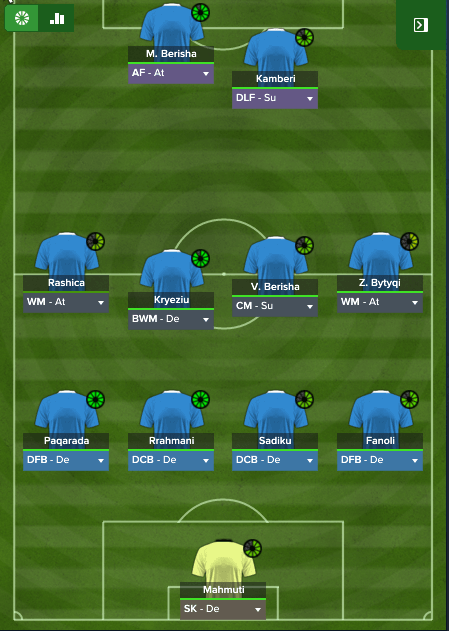 17 minutes in and Zymer Bytyqi slots home from the edge of the area for his second goal in his second game. Five minutes before the half Wales equalise, taking advantage of us on a quick counter attack. Five minutes on the other side of the break Wales take the lead from a shot from distance. It's a goal that gives them the victory.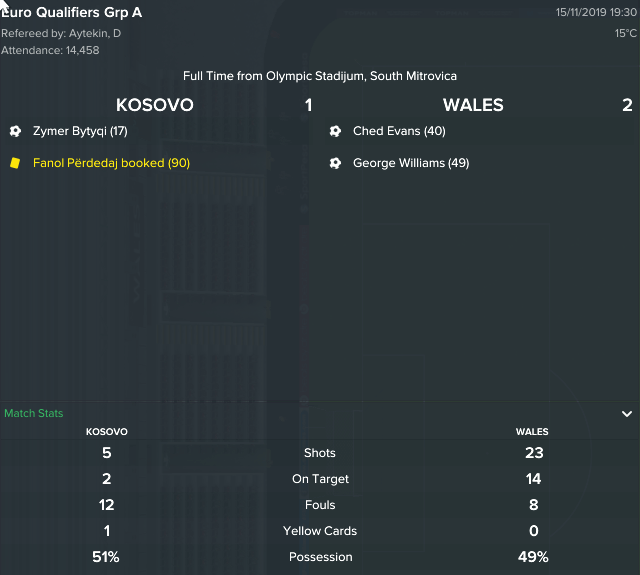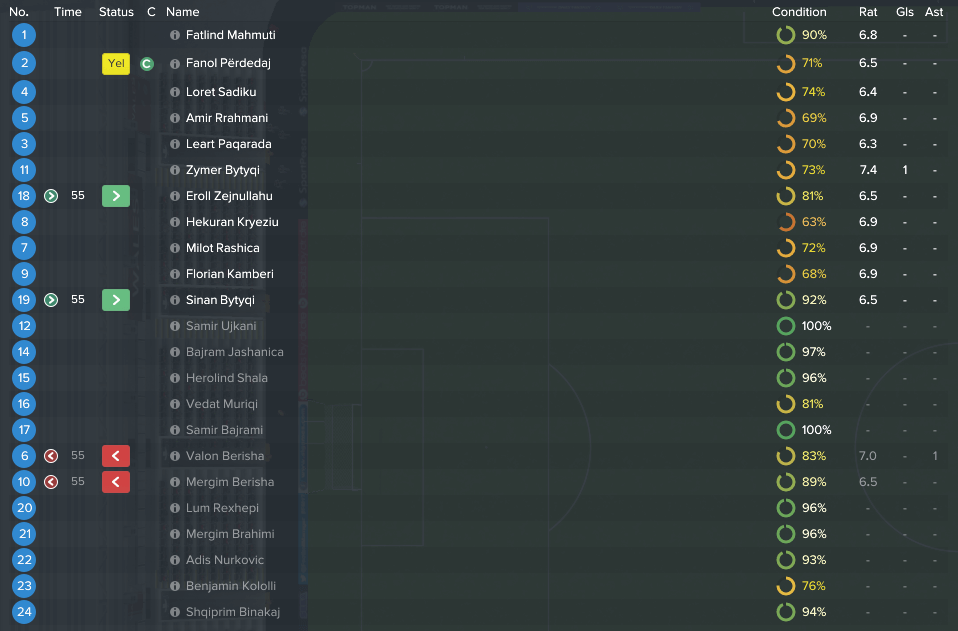 U19 Friendly: Moldova 1-2 Kosovo, UEFA U21 Quals: Italy 4-1 Kosovo
Faith is kept in the 4-4-2 system, a few changes are made to account for match condition. Let's see this group off on a high!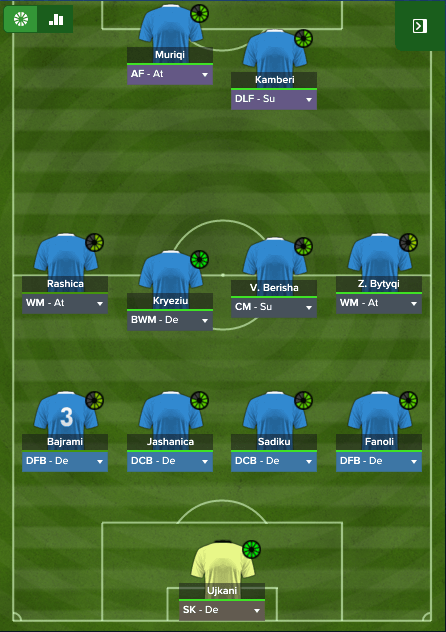 An uneventful first half and we went in evens at the half. The deadlock was broken on 61 minutes by Romania with a shot from close range – it's the only real moment of note in a match that finishes 1-0 to the visitor.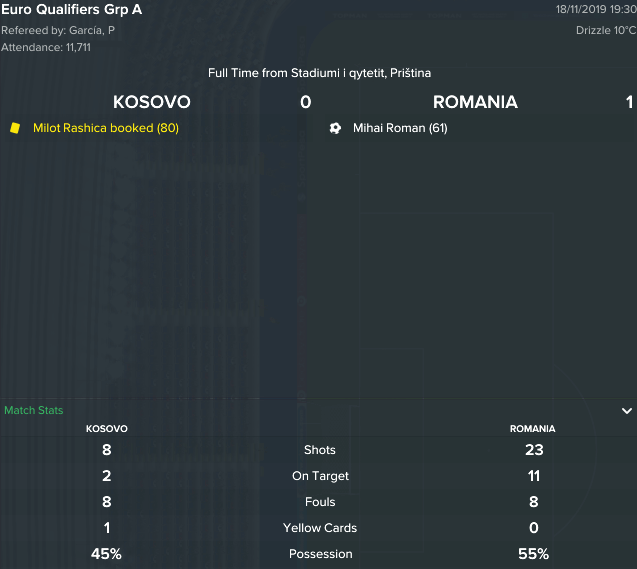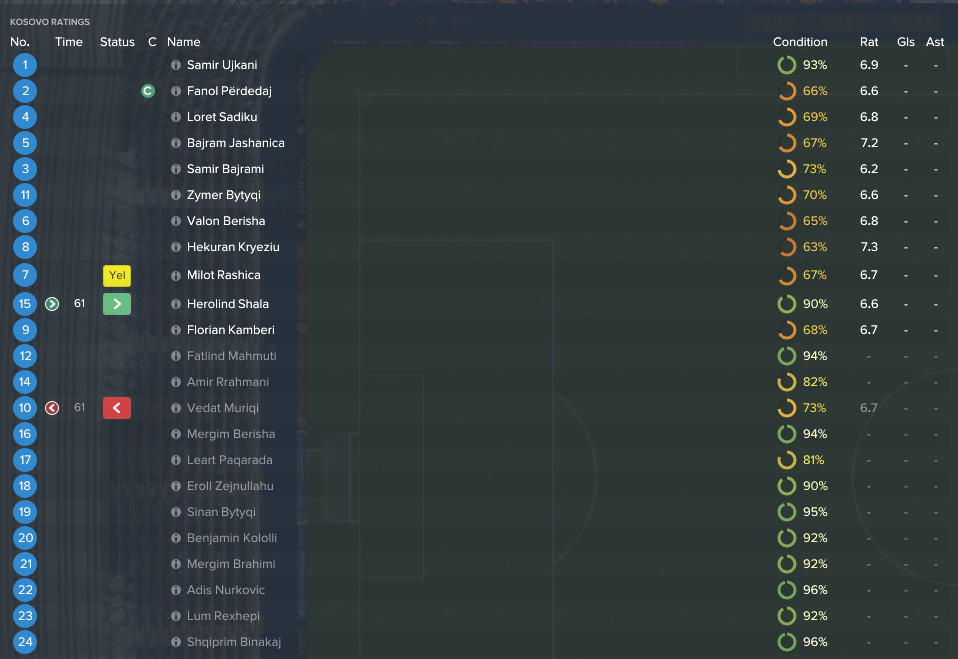 It was an ultimately disappointing campaign as we only managed 7 points from a possible 30.

The FA sent out a stark warning about future campaigns
December
Thanks to the expanded format of Euro 2020 we have qualified for the European Championship Playoffs and have been drawn against Georgia in the Semi Final of this competition. The Winner progresses to the final with a chance of winning qualification for Euro 2020. The one legged play off takes place on 27th March 2020.
A big crash in the World Rankings as we drop 14 places.
2018 Review
It was an ultimately disappointing year in my eyes. Whilst we do have to remember where we stand in relation to the rest of Europe I still feel we should be capable of a lot more than two wins in 12 months. Although we will have an opportunity to redeem ourselves in the playoff against Georgia!

The fans selected their Best XI for 2019 with most of the goals being scored by players on the bench, oddly. Florian Kamberi and Fatlind Mahmuti were added to the substitutes bench of the fans' Overall Best XI.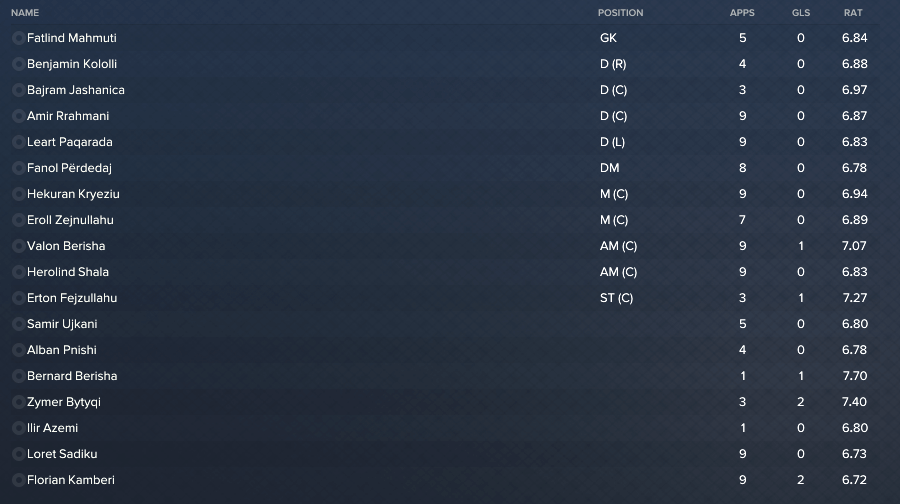 The next post will be a focus on our Play Off Semi-Final against Georgia. It's a bit of a make or break moment for us in terms of how far we are progressing with this squad! I look forward to bringing that to you – please join me for it!
Milestones Update
First goal: Ilir Azemi v Azerbaijan (Friendly 31/08/16)
First competitive goal: Enis Alushi v Finland (WCQ 08/10/16)
First clean sheet: Samir Ujkani v Azerbaijan (Friendly 31/08/16)
First competitive clean sheet: Samir Ujkani v Cyprus (UEFA Nations League Division D 16/10/2018)
First win: 1-0 v Azerbaijan (Friendly)
First competitive win: 3-1 v Cyprus (UEFA Nations League Division D 07/09/2018)
Avoid finishing bottom of qualifying group: UEFA Nations League Division D 2018 (1st Place),
Qualify for tournament finals:
Win a trophy:
Reach Top 100/50/20 in World Rankings: 100 – March 2019
Number 1 in World Rankings:
First player to reach 50/100 caps:
First player to score 10/20/50 goals: