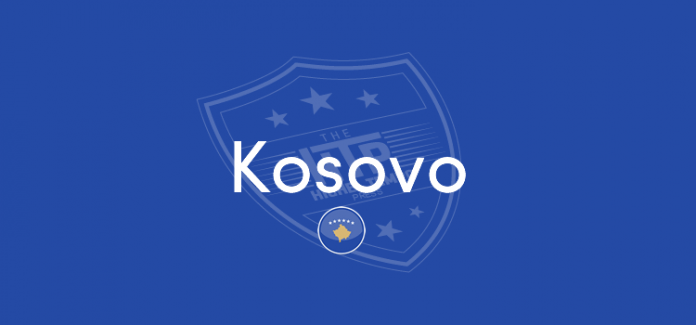 January
The UEFA U21 Championship Qualifier Groups were drawn. We'll expect to finish above Faroe Islands and possibly also push Finland for what we expect will be 4th place.

The latest World Rankings have landed and we've dropped another place.

February
The latest World Rankings give no change for our position.

March
The latest Rankings have come in and we've done it! We've made the Top 100!

The squad for our opening Euro 2020 qualifiers is announced with no real surprises to the selection.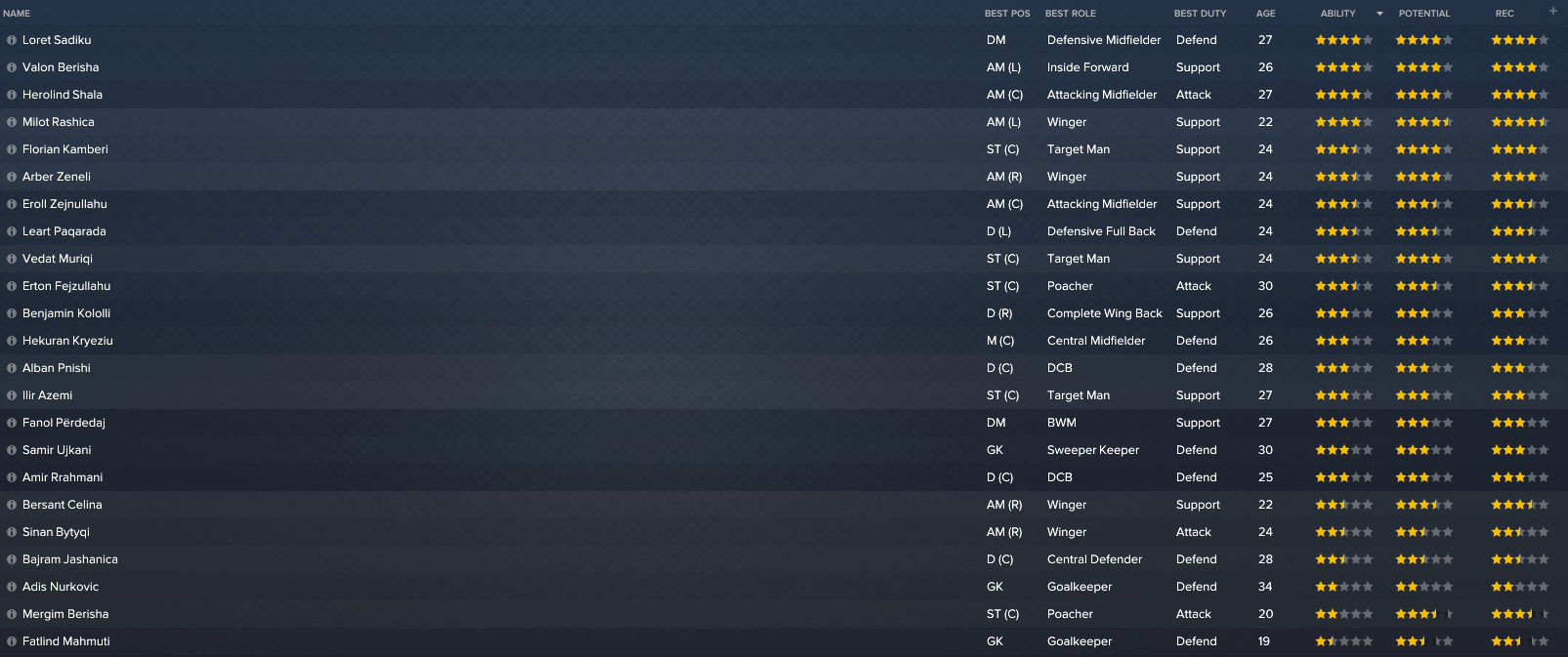 U19 Friendly: Estonia 2-2 Kosovo, U21 Friendly: Malta 1-1 Kosovo
First up it's Northern Ireland at home in the Gradski Stadion. Perdedaj and Kololli miss out through suspension. A bit of shifting within the side enables us to cover their absences.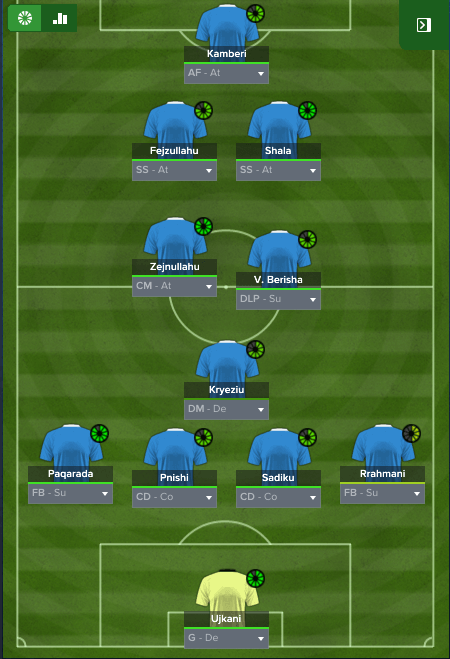 6 minutes played and a corner to the edge of the box for Kosovo finds it's way to Kamberi who has a shot that deflects into the net to give Kosovo the lead! The lead lasts only 3 minutes before Northern Ireland find an equaliser. The match is a total non event from that point until on 77 minutes Pnishi gives away a penalty – Northern Ireland convert to give themselves a 2-1 lead that they see out until the end.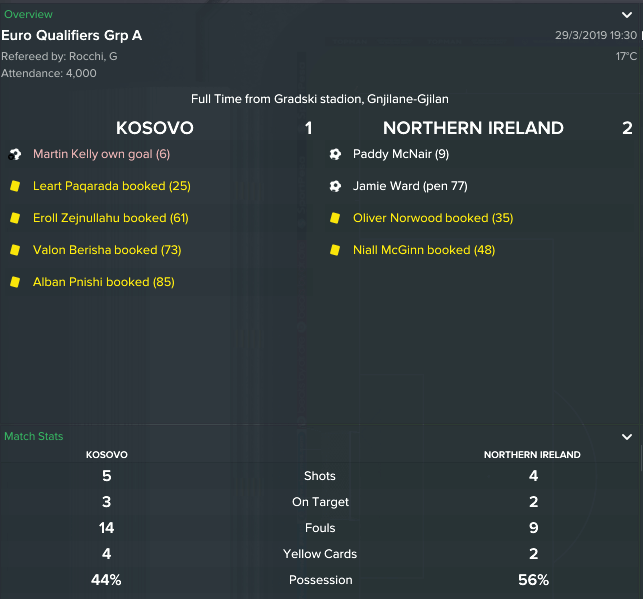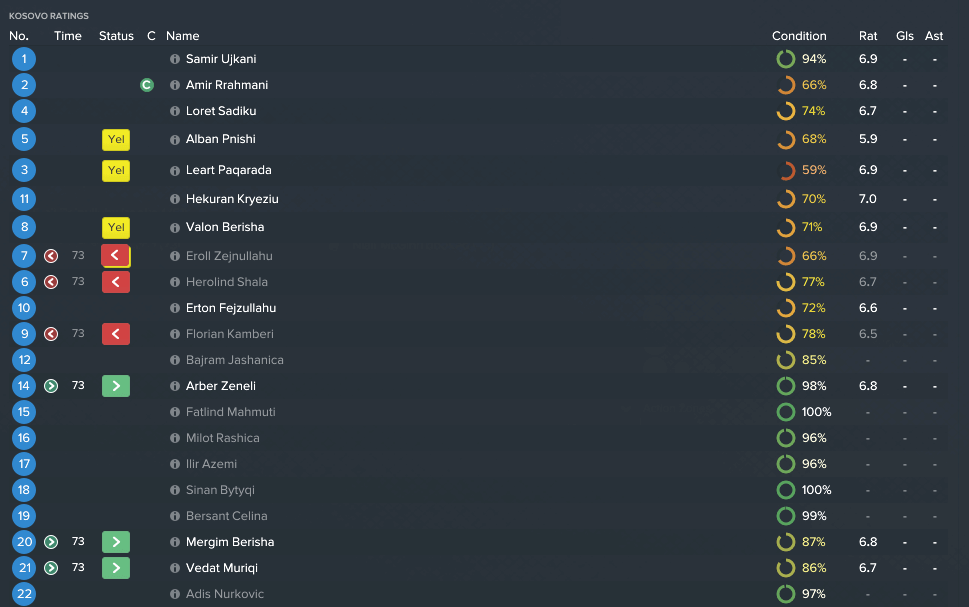 It's a disappointing result but we can take heart in knowing that we fought hard. It's not a welcome sight to see that our next opponents Belgium have just put 10 goals past Liechtenstein!
April
It may be totally naïve but I see no sense in changing our game plan for this one. We want to make them adapt to us. Perdedaj and Kololli return from suspension.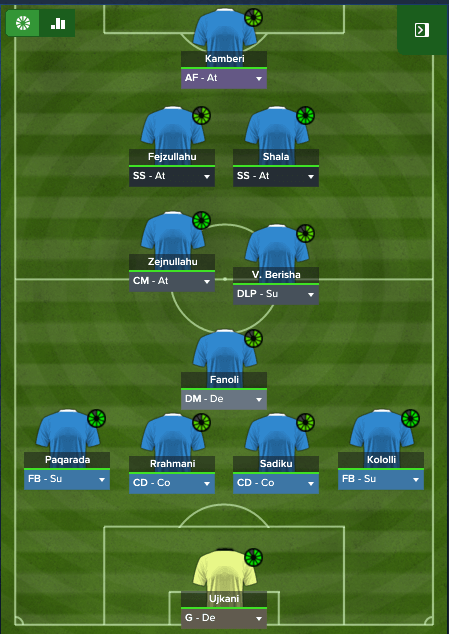 The deadlock is broken after just 3 minutes and unbelievably it is ourselves that do it! Back to basics as Fejzullahu plays a through ball to Kamberi who takes it on to sidefoot home for his first Kosovo goal. After 13 minutes Belgium find an equaliser thanks to a mistake from Ujkani. In the 20th minute the ball finds its way to Fejzullahu on the edge of the area and he smashes it into the top corner, 2-1 Kosovo. The ball drops kindly in the box from a corner for Belgium and they snatch another equaliser on 82 minutes.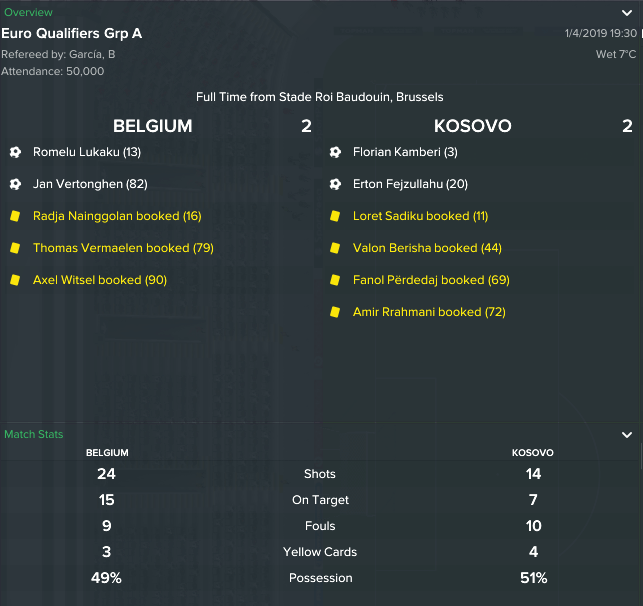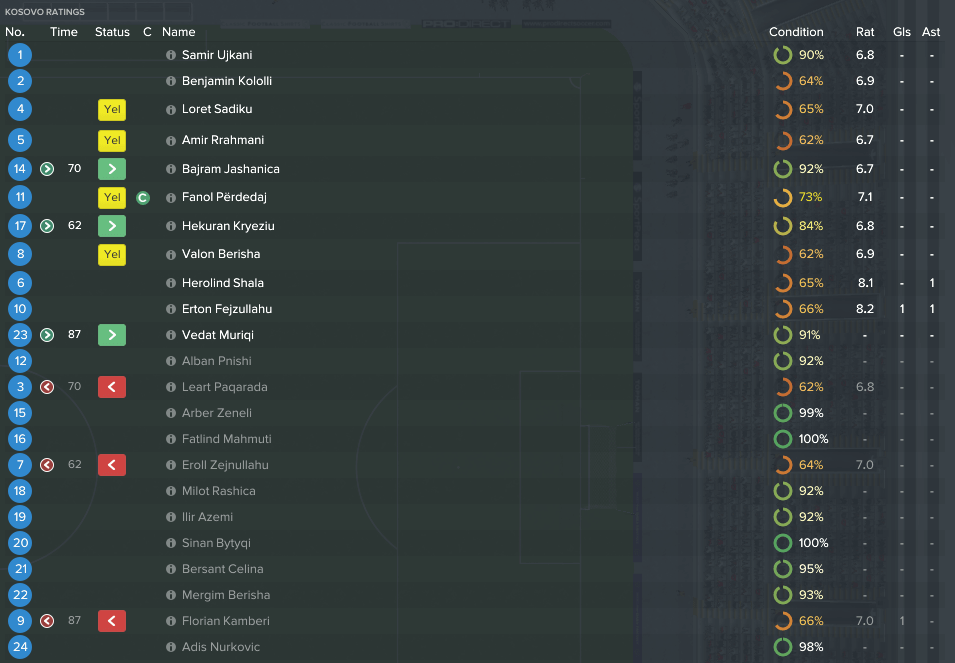 In the grand scheme of things we can't really be too disappointed with that result, Belgium are a top quality side. It was the age old problem of not holding on to a lead though!
U19 Friendly: Montenegro 5-1 Kosovo, U21 Friendly: Wales 5-0 Kosovo
The World Rankings in April keep us in 100th place.
May
The May World Rankings give us an improvement of one place – 99th.

June
The squad is named for Liechtenstein and Romania. Ilir Azemi misses out after damaging his achilles tendon – he'll be out for 5-6 months.

The Kosovan domestic league came to an end, the Raiffeisen Superliga was won by Trepca '89 for the second year running. Gjilani, Ferizaj, Llapi and Liria were relegated to Liga e Pare.
Liga e Pare was won by Vushtrria while Fushe Kosova, Decani and Vllaznia joined them in being promoted.
Trepca '89 were unable to complete a second consecutive league and cup double as they lost the Kupa e Kosoves final to Prishtina.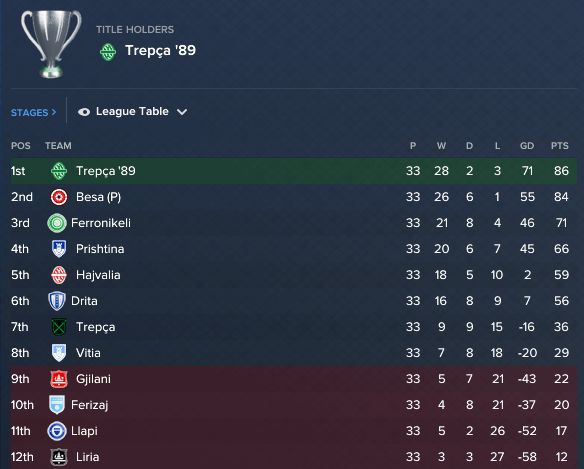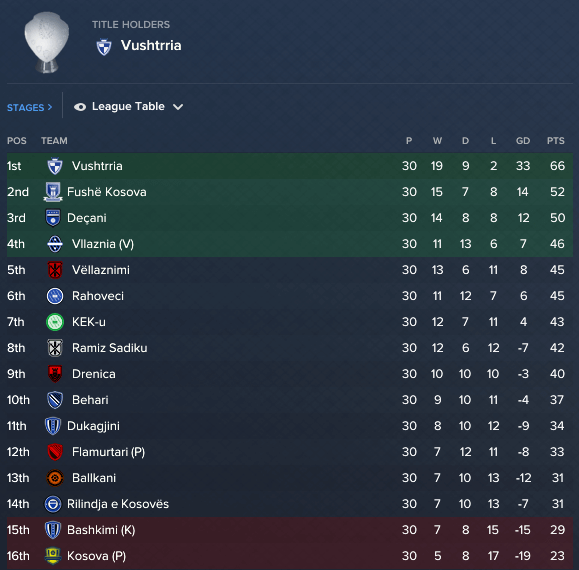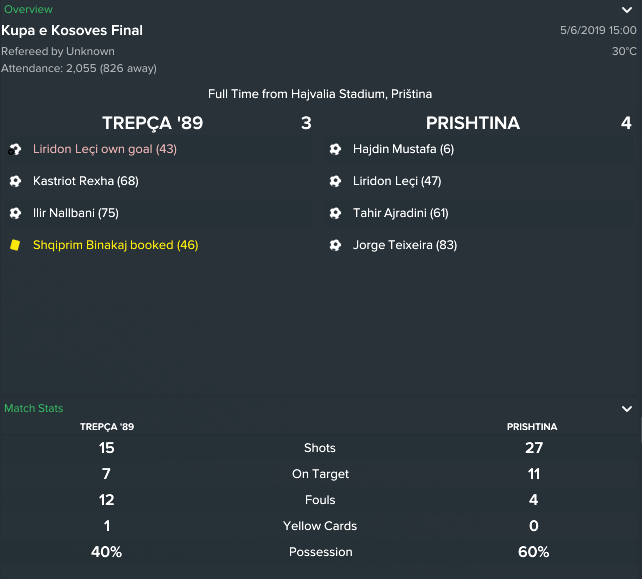 U19 Friendly: Turkey 2-2 Kosovo, U21 Friendly: Belarus 1-1 Kosovo
Liechtenstein at home. We expect three points. We expect domination. Youngster Fatlind Mahmuti is given a start in goal.
An uneventful first half ends 0-0. On 52 minutes the deadlock is broken. Fejzullahu with another neat through ball to Kamberi who slots it into the bottom corner to give Kosovo the lead. A tactical switch as we look to try something new with a 4-3-1-2 narrow. It pays off immediately as on 59 minutes a cross from Paqarada is converted by substitute Rashica.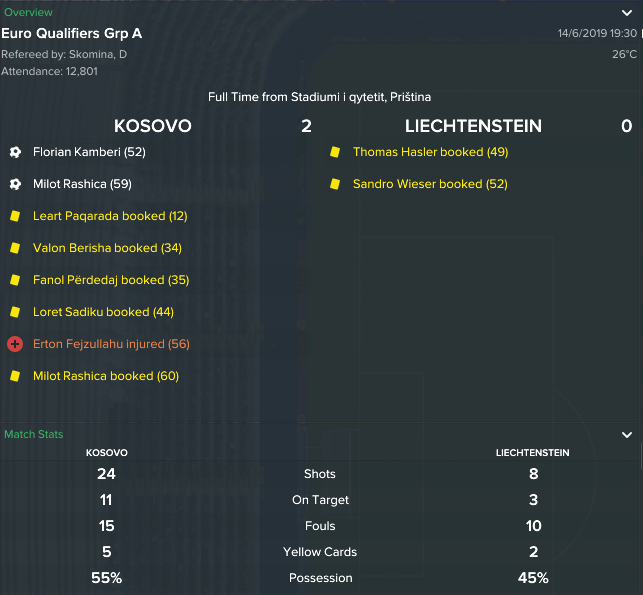 A superb result and more importantly a confident performance by young Mahmuti.
U19 Friendly: Israel 3-1 Kosovo, U21 Friendly: Moldova 4-2 Kosovo
A few injuries and a suspension for Valon Berisha means we've had to rejig the squad a bit. Mahmuti remains in nets, Celina makes it into the starting XI along with Kryeziu who was a star during the UEFA Nations League last year.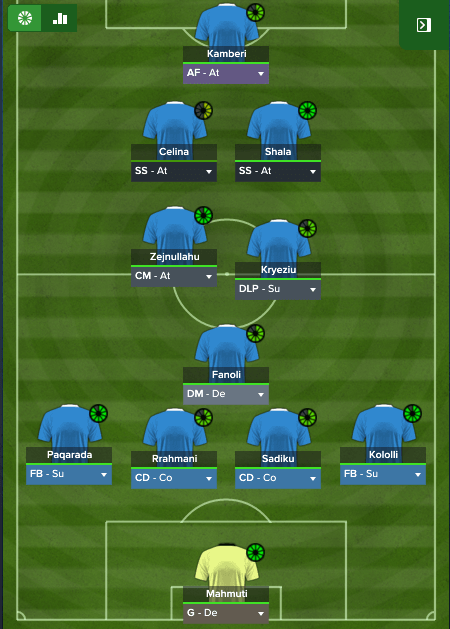 On 4 minutes Romania take the lead with a shot from the edge of the box. The remaining 86 minutes passed without any incident of note. Romania win 1-0.
A disappointing result but we knew it would be tough with the suspension for Berisha and a few injuries for key impact players.
As the table stands we aren't doing so bad as we're almost at the half way mark. We took a point from Belgium who top the league and possibly should have taken at least a point from Northern Ireland who sit second. On another day we may well have beaten Romania.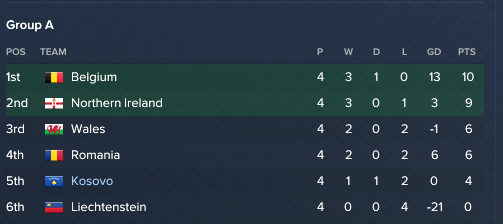 Player Watch
Milestones Update
First goal: Ilir Azemi v Azerbaijan (Friendly 31/08/16)
First competitive goal: Enis Alushi v Finland (WCQ 08/10/16)
First clean sheet: Samir Ujkani v Azerbaijan (Friendly 31/08/16)
First competitive clean sheet: Samir Ujkani v Cyprus (UEFA Nations League Division D 16/10/2018)
First win: 1-0 v Azerbaijan (Friendly)
First competitive win: 3-1 v Cyprus (UEFA Nations League Division D 07/09/2018)
Avoid finishing bottom of qualifying group: UEFA Nations League Division D 2018 (1st Place)
Qualify for tournament finals:
Win a trophy:
Reach Top 100/50/20 in World Rankings: 100 – March 2019
Number 1 in World Rankings:
First player to reach 50/100 caps:
First player to score 10/20/50 goals: