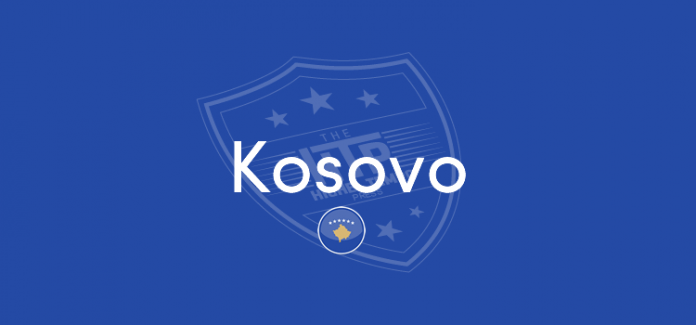 January
With the retirement of Tord Grip we were left searching for a replacement. Unfortunately we can't really attract anyone with the same ability as Mr Grip. We agree on the hiring of Muhamet Grabovci who is simultaneously employed as Assistant Manager to Kosovan side Dukagjjni.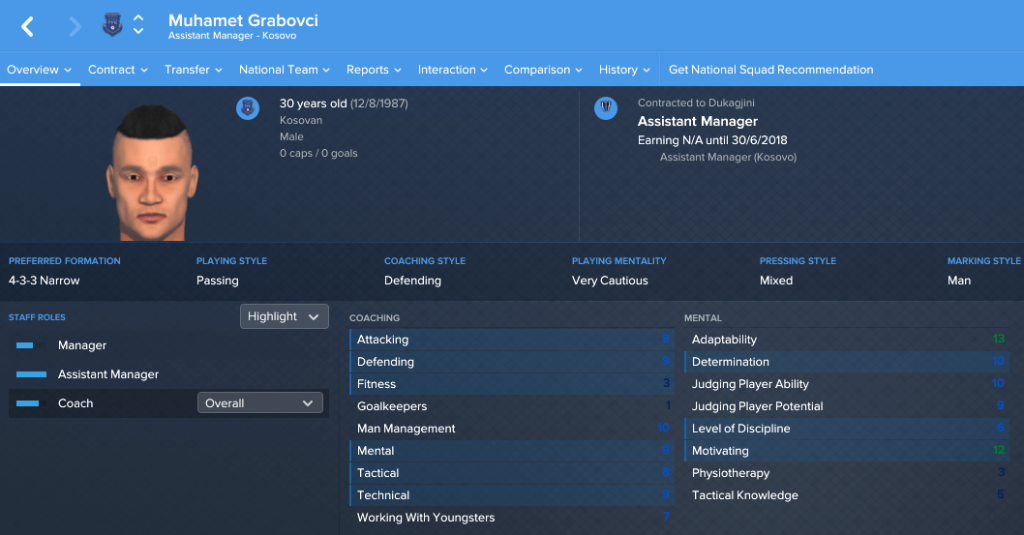 The latest World Rankings have us dropping two places.

February
A boring month with only the news that the latest World Rankings confirm no change. Super.

March
The latest World Rankings have us gaining 8 places despite not having kicked a ball for a few months. Glorious.

Now a return to some matches and we announce our squad for the upcoming friendly against 93rd placed Lithuania.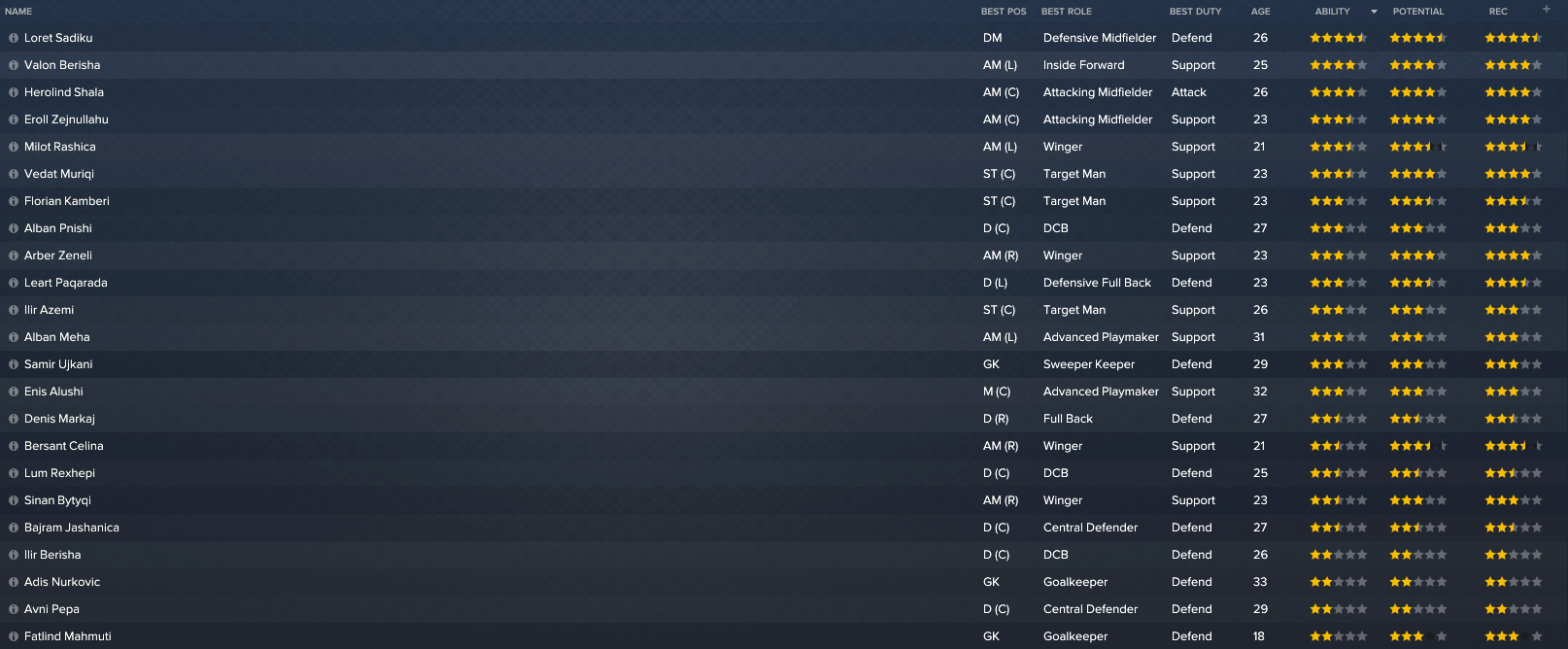 U19 friendly: Romania 7-1 Kosovo, U21 friendly: Lithuania 1-0 Kosovo
We name our team for the match against Lithuania. Mahmuti starts in goal as I see him as our long term Number 1 so it's time to give the 18 year old a real opportunity.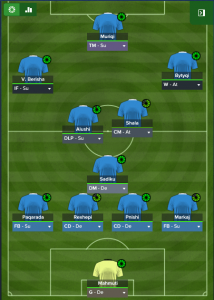 It didn't take long for the deadlock to be broken and it was Lithuania who took the lead on 9 minutes. On the 28 minute mark Kosovo fight back and Vedat Muriqi grabs his first international goal, 1-1. Just a minute later Lithuania strike again to regain the lead then on the stroke of half time Lithuania scored again to give them a 3-1 lead at half time. On the hour mark Lithuania sneaked another one in which meant the match ended a disappointing 4-1.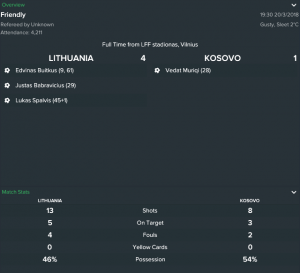 April
The news in April is that we slide down the rankings again, 9 places gone.

May
The World Rankings were unchanged for us in May.

The Kosovan domestic season came to an end. Trepca '89 finished the season unbeaten and secured their first ever league title. Flamurtari, Drenica and Vushtrria were relegated.
Ferizaj secured a closely run Liga e Pare league title to gain promotion to the top flight, Trepca and Vitia are also promoted. 2 Korriku and Istogu are relegated from the playable leagues.
Trepca '89 defeated Ferronikeli 3-0 in the Kupa e Kosoves Final to secure a league and cup double.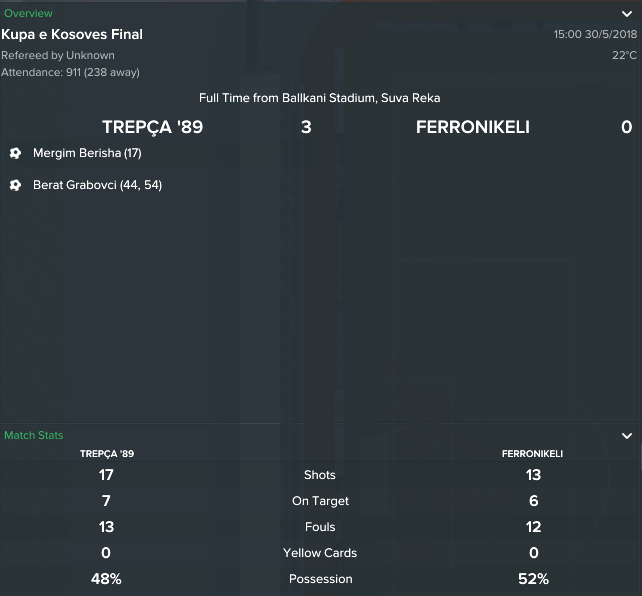 June
The UEFA Nations League groups were drawn. In accordance with the pooling system we will compete in Divison D. The draw placed us in Group 3 along with Cyprus, Faroe Islands and Luxembourg – a draw I was very pleased with. The matches will begin in September.

Player Watch
A bit of a short update today with only one match for Kosovo. The UEFA Nations League draw has been done so we look forward to that kicking off in the next update.
Milestones Update
First goal: Ilir Azemi v Azerbaijan (Friendly 31/08/16)
First competitive goal: Enis Alushi v Finland (WCQ 08/10/16)
First clean sheet: Samir Ujkani v Azerbaijan (Friendly 31/08/16)
First competitive clean sheet:
First win: 1-0 v Azerbaijan (Friendly)
First competitive win:
Avoid finishing bottom of qualifying group:
Qualify for tournament finals:
Win a trophy:
Reach Top 100/50/20 in World Rankings:
Number 1 in World Rankings:
First player to reach 50/100 caps:
First player to score 10/20/50 goals: