What if N'Golo Kante played for all Premier League teams in the top six?
Heralded as the lynchpin in the heart of Chelsea's midfield, N'Golo Kante has been at the forefront of the club's resurgence. After a dismal campaign in 2015/16 that saw the Blues finish 10th in the Premier League, the Frenchman has proven to be perfect foil to allow Chelsea's forwards to thrive. In the vein in which Jamie Vardy and Riyad Mahrez excelled in front of the diminutive Kante during Leicester's title-winning campaign, Diego Costa and Eden Hazard have rekindled the potency they showed when Chelsea had their last taste of silverware in 2014/15.
Frank Lampard even went as far as labelling Kante 'the best central midfielder in the world' following his winning goal against Manchester United in the FA Cup on Monday. Given his meteoric rise in the last two seasons, how would he fair in the rest of the Premier League sides in the top six sides?
Eden Hazard said Kante covers that much ground that it appears he has a twin, well, for the sake of this experiment on Football Manager 2017, there are six of him! Arsenal, Liverpool, Manchester City, Manchester United and Tottenham were all given a Kante clone during a simulated 2016/17 season. Transfer budgets in the first transfer window were disabled so each team had to use their playing personnel from the 17.3.0 update.
As Arsenal attempted to sign the 25-year-old last season, it was fitting that they would end up eventual title winners. Although he was limited to 10 starts in the Premier League, he averaged 4.96 tackles per game which was significantly better than his 3.6 average for Chelsea so far this season. It is worth noting though that 16 other players far exceeded Idrissia Gueye's real-life league best of 4.4 (according to WhoScored). Aaron Ramsey and Santi Cazorla were often preferred in the central midfield positions. Arsenal finished the season as treble winners as they won the EFL Cup and the Champions League. Kante gave an impressive 8.0 performance in the EFL Cup final but remained on the bench for their Champions League final win.
Liverpool followed in second with Kante mostly rotated with Emre Can in partnering Jordan Henderson in midfield. He finished the season with 8 assists in 17 starts whereas his average rating was below-par due to numerous substitute appearances. His tackles averaged per game were again high at 5.05.
Where Kante struggled for game time at Arsenal and Liverpool, he continued the trend at Manchester City. The Citizens finished third in late drama that saw Liverpool leapfrog them on the closing day of the season. Playing a predominantly defensive midfield role, Kante again showed his effectiveness at breaking up play with 5.12 tackles averaged per game. His distance covered per 90 mins was also second in the overall leader board.

Fourth placed Tottenham Hotspur were also unwilling to give Kante a key role. Combined with two lengthy injuries that disrupted his season, he had to settle for 12 starts in the league, from an attacking standpoint he contributed well in the final third as he made 5 assists. His defensive qualities were again high with 4.92 tackles won per game.
In a disappointing season for Manchester United that saw them finish in fifth, Kante was a star performer with a 7.25 average rating. That score was at least 0.3 higher than any other Kante in the experiment. He started 36 games in the Premier League and had a league best of 6.56 tackles won per game. His attacking contributions were limited as he played in defensive midfield but his distance covered in total and per game were in the top five in the league.
What was an improvement from the previous season but far mirroring the form showed in real life, Chelsea found themselves finishing in sixth. In contrast, Kante provided 13 assists for his teammates with 4.97 tackles won per game. His distance covered per game was a league best and he finished second to only Gylfi Sigurdsson in total distance covered.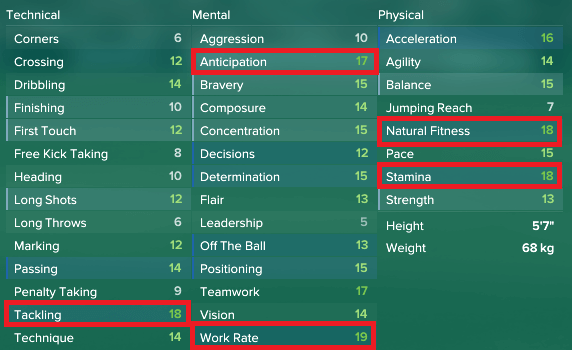 Lauded for his defensive capability, his highlighted attributes reflect his strengths that contributed to his consistency in scoring highly in average tackles made and distance covered per game.
The findings show that Kante managed to contribute in some way, shape or form to propelling Chelsea's top six rivals ahead of them. With more manipulated variables, it would have been interesting to see the league finishes had he played a larger majority of each side's league campaign.