The Singapore Cup might be a strange competition for an Indonesian team to be in, but if we're in it we might as well win it. The quarter final against Tampines, champions of Singapore, proved emphatically that Sriwijaya are better than teams from Singapore. A 5-1 aggregate win and that's the semi-final place booked.
This season, Sriwijaya have entered in a total of six competitions. Of these, five can be won (we entered the Asian Confederations Cup by dint of being knocked out of the Asian Champions League, so that was one or the other). The Indonesian Cup started with an easy enough looking fixture, but lower league Persenga were stubborn opponents, going down 4-1 on aggregate. The second round was against recently promoted Cilegon, a tougher proposition and another slow start for Sriwijaya – but a losing first leg was balanced by a 4-0 second leg win.
July's league form continued to be stuttering, a loss in a difficult away game at Persipura Jayapura balanced with a mediocre draw at Gresik and decent win against Cilegon.
The overload of competitions allowed a decent backlog to build in the league – our mixed start made to look worse by the comparative lack of fixtures played. Of 8 games played in August, only half were league fixtures – 3 wins and a loss to high flying Bhayangakara was not a bad return, all in all.
That hallowed competition, the Singapore Cup, reached the semi-final stage at the end of August, and threw up an altogether more challenging tie – naturally, of course, against a non-Singaporean side. DPMM of Malaysia gave us a challenge we'd yet to face in this competition, but the Sriwijayans proved their credentials with an aggregate 4-1 win. Rizky Dwi "The Tree" Ramadhana by this point had been established as the second choice striker in a one striker formation, but pushed for more involvement with three goals over two legs.
The Indonesian Cup continued to offer decent fixtures, and we continued to do our damndest to mess up. Another lower league team challenged in the third round. Martapura FC were to push us right to edge, an 89th minute Ramadhana goal in the second leg sealing an aggregate 5-4 win.
1st September, and Sriwijaya have a tilt at winning their first trophy of the season. The 55,000 capacity Gelora Bung Tomo was the venue, Borneo the opponents in the Indonesian Super Cup, a fixture which it must be admitted, this manager had managed to kind of not noticed beforehand was taking place. Lack of preparation never failed me yet though – Franklin "The Tanklin" Rumbiak continued his fine vein of form, coming in off the right win to net the only goal of the game, and the first of five possible trophies.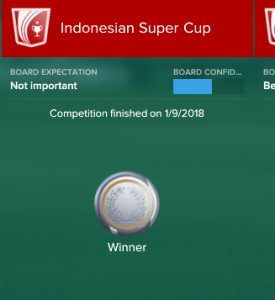 In what was ultimately an excellent month for form, September did little to help our league standings, containing as it did a miserly two league fixtures. In admirably Pulisian fashion, these were both won in unconvincing fashion, 1-0 – truly the most noble scoreline.
September also saw the return of the Asian Confederations Cup. I had, you may remember, been more than a little trepidacious approaching the quarter finals, due to a paper thin registered squad that no longer had a striker. Thankfully, the authorities were kind enough to give us a registration window, so we were able to approach South China, a team we had enjoyed a winning record over in the group stage, with a reasonable strong team. Just about strong enough it was too, a 1-0 away win and 1-1 home draw clinching a semi-final berth against our compatriots Borneo.
Thus did we approach the final three months of the season. And what a final three months they promised to be! Winners of the Super Cup, we still had the Confederations Cup, Singapore Cup and Indonesian Cup in our sights, and in spite of playing roughly 300 games fewer than the rest of the teams in the league, we were very much in contention to retain the title. Stay tuned, pals.
But that wasn't all. See, September was a difficult month for your humble manager, as he flew all over this great nation juggling club and country commitments. The Asian Games were taking place, and it was a home tournament for my Indonesian Under 23 team. Next time, I'll give you the full tale of that adventure. And it surely is some tale.