Brexit Means Brexit: Pre-Season & Champions League Qualifiers
After an idealistic manager took charge of the best team in Scotland and vowed to adhere strictly to the rules of a hard Brexit, what happened next? In my last post, I introduced myself and gave you a brief overview of what I wanted to achieve. This time, I'm going to focus on pre-season and transfer activity. I'll also include the first few games of the season, up to transfer deadline day.
Pre-Season
After firing every foreign staff member, we turned our attention to the playing staff. 9 players from the first team squad were all transfer-listed, although initially only Britton attracted any interest. Eventually, offers finally came in for the talented Mikael Lustig, valued at £2.5m. Bournemouth offered a deal totalling £3.8m which was accepted, while West Brom also offered an acceptable deal worth £3.1m.
Meanwhile, Emilio Izaguirre became a British citizen, which sparked an interesting conversation – should he be allowed to stay at Celtic, under the Brexit rules?
Ultimately, the goal is to create an all-British team, so the short answer is no. As he is now officially a British citizen, however, I decided that he would be exempt from the initial rule of selling all non-British players by the time Brexit kicked in. Instead, any non-British-born players with citizenship would be allowed an additional 1 year at the club, post-Brexit, before being moved on. In Emilio's case, however, I was hoping to move him on much sooner than that…
Pre-season got off to a disappointing start. We lost our first three games to Lokomotiv Moscow, Hajduk Split and MFK Ruzomberok, so a decision was made to cancel the next friendly against Tranmere, so that we could concentrate on our first competitive game of the season – a Champions League second qualifier round match against Valletta FC, the Maltese league champions.
At this point, we had also made some changes to the playing staff. Out went Nir Britton to Red Bull Salzburg for £2.5m, Mikael Lustig to West Brom for an initial £2.7m, potentially rising to £3.1m, and Emilio Izaguirre to Barnsley for £230k. With the extra transfer funds and some creative payment plans, we managed to bring in Jack Hendry, a promising young centre back from Wigan for £3.1m, Ryan Bennett from Norwich for £4.5m, and Baily Cargill from Bournemouth for £2m, rising to £3m after 50 league appearances. We also made a bid for the versatile Kieran Richardson, but he opted for Nottingham Forest… Screw him – I didn't want him, anyway!
Those signings gave us options in defence, and heading into the game with Valletta, only two players from the starting eleven – the right back Cristian Gamboa and striker Moussa Dembélé – were not British born. Here's the line-up for our first game: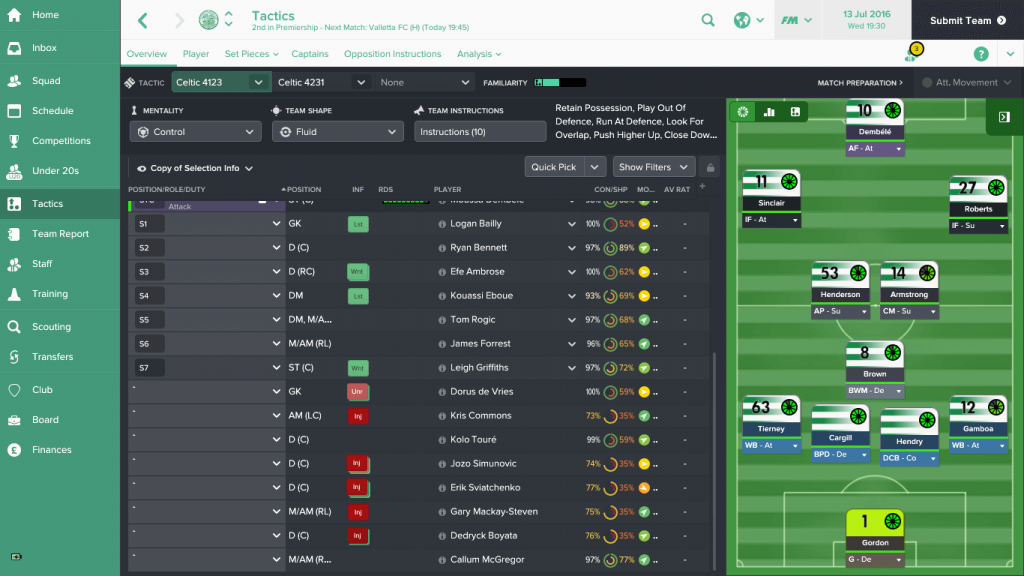 Defensively, I was quite happy with what we had. We lacked depth at right back, but there was still time in the window to bring someone in. Cargill and Hendry are both young, but they have great potential, and with Craig Gordon behind them and Scott Brown in front, there is plenty of experience there to hopefully make up for any naivete.
In the centre of the park, 20 year-old Liam Henderson was promoted from the Under-20's and went straight into the team, alongside the recently-capped Scottish international, Stuart Armstrong. It's an exciting midfield and I can see both of them locking down those positions for a few years. I'd love to add some depth to this area, but at the moment it's not a top priority. Moving to the forwards, Scott Sinclair and the on-loan Patrick Roberts provided support for Dembélé. They were asked to sit narrower, so that the full-backs could bomb forward and provide crosses. It does mean that things could get a little bit congested around the edge of the box, but a well-timed cross would still offer some good chances to score. This is likely to be the most-used tactic this season, but we do have an alternative ready to go, and I also have an idea for a 5-3-2 for drastic times, although the team isn't currently training on it.
So the first important game of the season was upon us – at home to Valletta FC in a Champions League qualifier. We have a far better squad, so I was expecting good things…
Celtic 5 – 0 Valletta: Champions League Second Qualifying Stage, First Leg
An even first half ended 1-0 after Liam Henderson gave Celtic the lead with a great strike from 20 yards out. It was the first real opportunity of the game, and gave us a nice boost heading into the break. Moussa Dembélé doubled the lead just one minute into the 2nd half, running on to a great ball over the top from Stuart Armstrong, and we dominated from then on. James Forrest made it 3-0 in the 68th minute, just 10 minutes after replacing Scott Sinclair, whom went down injured, and another substitute, Ryan Bennett, scored on his debut in the 78th minute to make it 4-0 and effectively kill off the tie. Jack Hendry, another debutant, made it 5-0 in the 90th minute and effectively ended this tie, with 90 minutes still to play.
After the match, we brought in Phil Bardsley for £800k, which would solve our lack of depth at full back, as well as Brighton 'keeper Christian Walton on a loan deal, which included a £2m future fee clause. Before the 2nd leg, the draw was made for the third qualifying round for the Champions League, and with a healthy lead following the first leg, we were excited to see what team we would draw, and we were not disappointed to find that we would meet Jelen SuperLiga Champions Crvena Zvezda or Albanian side Partizani Tirana, whom had drawn their first leg 0-0.
Valletta 0 – 3 Celtic: Champions League Second Qualifying Stage, Second Leg
We kept the same starting eleven for the second leg, and produced a similar display, taking a 2-0 lead into the break after Kieran Tierney and Liam Henderson both played a through ball for Moussa Dembélé to slot home. Baily Cargill added a 3rd in the second half to complete a comfortable 8-0 aggregate win and set us up for the next round, where we would face Crvena Zvezda…
Crvena Zvezda 0 – 1 Celtic: Champions League Third Qualifying Stage, First Leg
A cagey and frankly boring first half deservedly ended even, but we pushed on in the 2nd half, peppering the Zvezda goal. The deadlock was broken by another great Liam Henderson strike, and that proved to be the only goal of the game. We were unlucky not to put another 2 or 3 past them, however, and we still had work to do in the second leg.
Before that match, we received a bid of £2.5m from Toulouse for Danish defender Erik Svaitchenko, which we happily accepted. With so many new, British defenders in the squad, we could afford to offload him for less than we would have liked.
Celtic 5 – 0 Crvena Zvezda: Champions League Third Qualifying Stage, Second Leg
We started this game well, pressing the opposition and dominating the game. We were rewarded with a free kick from 25 yards out in the 25th minute, which Stuart Armstrong buried into the top right-hand corner. Two minutes later, Moussa Dembélé doubled the lead from an Armstrong pass, giving us a 2-0 lead at the break – 3-0 on aggregate and almost certainly through to the Playoff round. Dembélé took a knock to the head at the end of the first half, so he was replaced by Leigh Griffiths for the second period. We hoped that it was nothing too serious…
Patrick Roberts picked up a knock on 60 minutes and was replaced as a precaution. Ten minutes later, Man of the Match Stuart Armstrong scored a carbon-copy of his first goal to make it 3-0 on the night, securing our spot in the next round. Armstrong turned provider again in the 78th minute as James Forrest made it 4-0, and to add insult to injury, Celtic were awarded a penalty at the death, when Kieran Tierney was pulled down, giving Stuart Armstrong a chance to complete his hat-trick, and complete another comfortable victory for The Bhoys.
With two great rounds behind us, we were confident that we were ready for anything in the Playoff draw – especially when reports came through that the injuries sustained during the game were minor, with both Dembélé and Roberts set to be out for just two days each. Shakhtar came in for Svaitchenko, more or less matching the Toulouse bid, which we were happy to accept. The Champions League Playoff Round draw was kind to us, as we drew Romanian side Astra Giurgiu, so leading up to our first league game of the season, we were confident and in good shape.
A good star to the league campaign, as well as beating Raith Rovers to advance to the League Cup Quarter Final (where we will face Rangers) kept up the momentum as we headed into the next hurdle in our quest to make the Champions League proper…
Celtic 4 – 4 Astra Giurgiu: Champions League Playoff, First Leg
… and when the game started, Astra Giurgiu never looked like ending our good run. Early goals by Sinclair and Roberts gave us a good lead, before Baily Cargill made it 3-0 in the 17th minute. That's how it stayed until the break, although we had chances to add one or two more.
Romario Kortzorg (no relation to the actual Romario, as far as I'm aware) pulled one back for the visitors on 65 minutes, but Stuart Armstrong made it 4-1 with another trademark free kick with a little over 10 minutes to go. Then, with 7 minutes remaining, something incredible happened. With all 3 substitutes used, Kieran Tierney picked up a knock and had to come off, and Astra took full advantage. Ricardo Chipciu made it 4-2, to give Astra hope heading into the second leg, before Romario Kortzorg added another to make it 4-3 in the 87th minute. Vali Botis made it 4-4 in the 88th minute after 'keeper Gordon fumbled a scuffed shot! The onlooking Scotland manager, Gordon Strachan, would not have been impressed.
It was all to play for in the second leg – we would have to go to Romania and not only score, but also score more than the home side, which would be made more difficult when Craig Gordon picked up an injury that would put him out for the 2nd leg…
Astra Giurgiu 0 – 3 Celtic: Champions League Playoff, Second Leg
… and for a long time, it looked like it wouldn't happen. Despite dominating the first half, we went into the break level, and that continued into the second half. It wasn't until a speculative shot from Liam Henderson ricocheted off of Astra defender Fabricio and nestled into the corner in the 60th minute that we took the lead. After that, Astra pressed hard for an equaliser and left themselves open at the back. Liam Henderson was instrumental again, playing a ball over the top for Moussa Dembélé to run onto in the 72nd minute to make it 2-0. James Forrest sent in a wonderful cross from the right wing just two minutes later for Dembélé to head home and kill off the tie. That's how it ended, and we had qualified for the Champions League Group Stage!
And what a group it is…
I'll be honest – we don't stand a chance here. I doubt we even have a chance of finishing 3rd and making the Europa League, but the money will hopefully come in handy as we continue to rebuild. Speaking of which, with 5 days to go until the end of the transfer window and £2.5m available to spend, we dived back into the market and made a bid for versatile Liverpool youngster Jordan Williams. He would be an excellent backup for central defence, defensive midfield or centre midfield, and only a bid from Newcastle could deny us. When Scott Brown then picked up an injury in training that would put him out for 4 weeks, we were desperate for some defensive midfield cover.
Thankfully, Williams made deadline day a straightforward affair by signing at 8.48am, concluding our incoming players for the summer. There was still time to move on a couple more foreign players, and at the end of the window, our summer business looked like this:
It's been a good start to the season. In the market, we have managed to move on 6 foreign players on permanent deals, and brought in 5 British players to replace them, as well as one loan deal with an option to buy. On the pitch, we have qualified for the Champions League proper, which was an important achievement for us. In the league, we currently sit 5th with 1 win and 2 draws, but we also have a game in hand, and we have qualified for the League Cup Quarter Final.
Overall, we're looking strong and I'm feeling positive. Hopefully, we can keep it up. I'll update again soon, hopefully a more condensed update, but in the meantime, follow me on Twitter – @FMcmp1985 – to keep up to date with what's happening at Celtic.
Until next time…