Guess what rhymes with 'counter' yah you heard it here first- 'county'. So this started off in the #tempowriters channel of FM Slack and all the writers there were curious about how Klopp would fare at Notts County just because County sounded something like Counter so grab a coffee and read on. It's amazing how random conversations lead somewhere…
Jürgen Klopp has managed in some of the best atmospheres in world football- Dortmund, Liverpool and Mainz it will be kinda funny to see if he would be as charismatic as he always is.
Using the power of Football Manager, we replaced good old Kevin Nolan with Jurgen Klopp and saw how he would do in the lower leagues in English Football.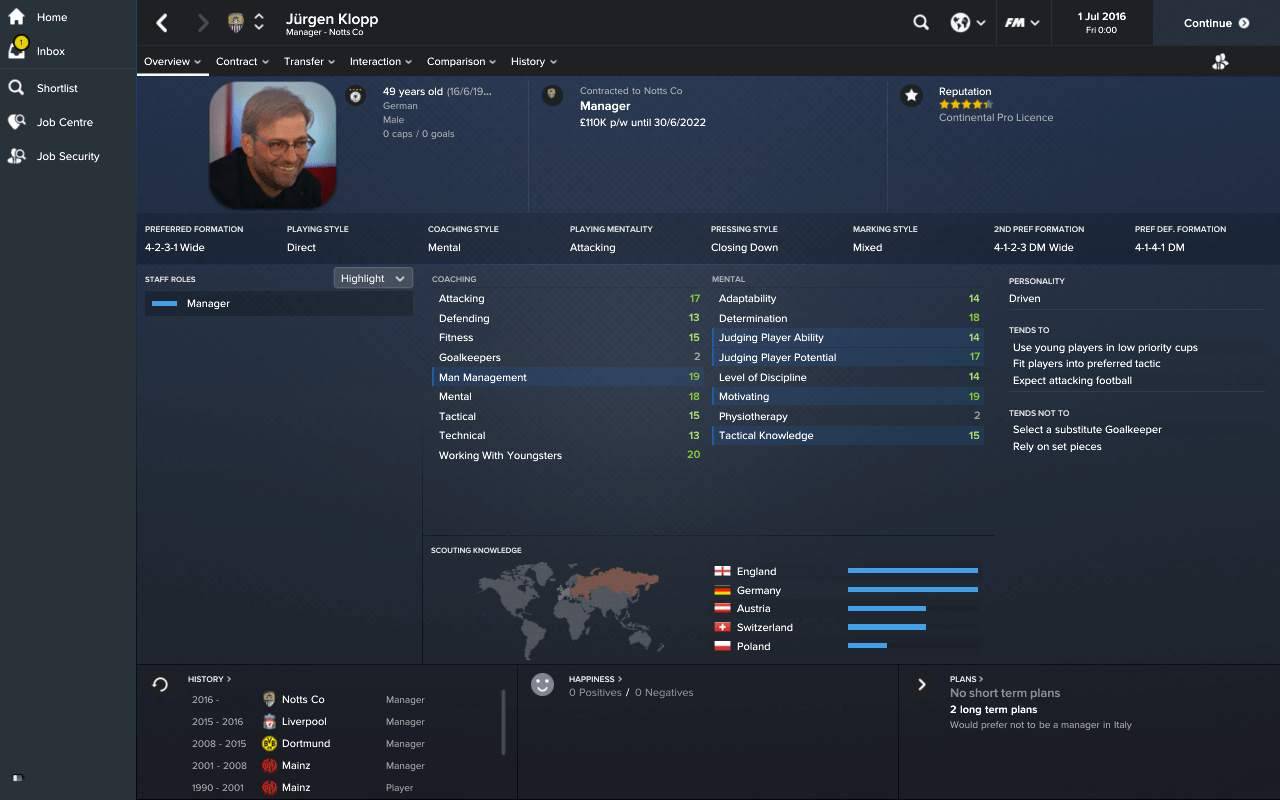 Season 2016/17
Transfers
Klopp has you can make out from the image Klopp made 2 signings which weren't even signings more like 2 loans from Fulham and Newcastle respectively which weren't household names or names which most among us wouldn't recognize but that's what you'd expect from a manager managing in League 2.
Mike Edwards was a player who retired and has become part of coaching team, Haydn Hollis also left for Macclesfield 14.25k.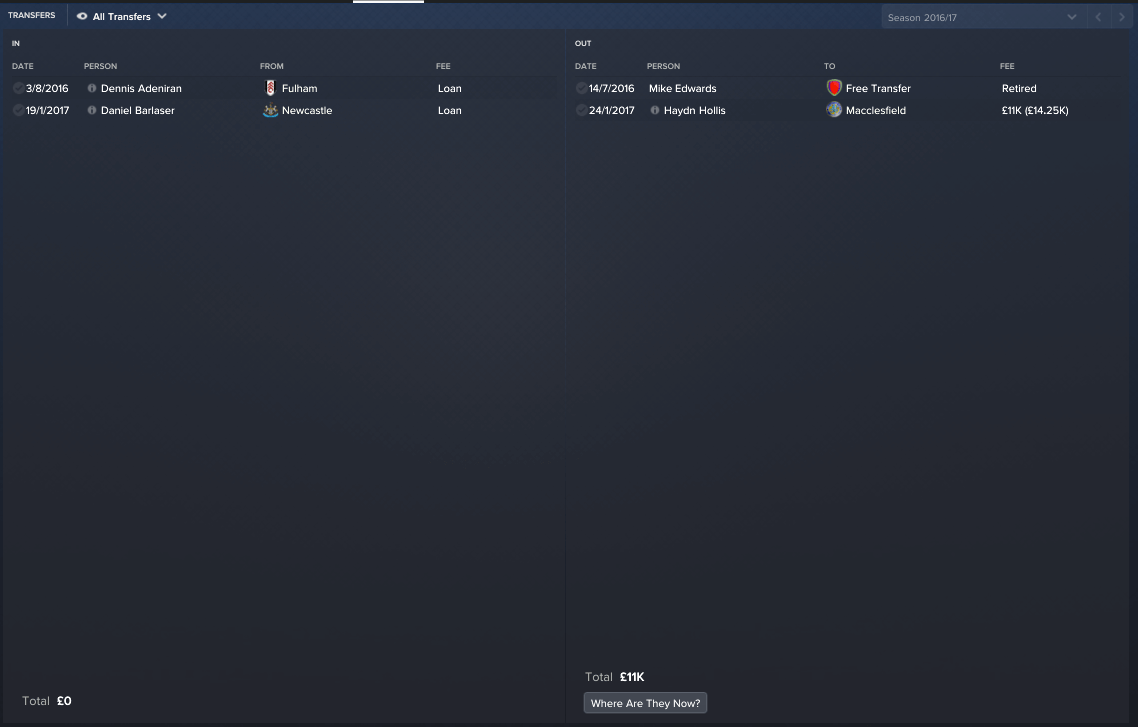 League Two
So this is what it came down to, could Kloppo do it in the lower leagues of England. As you can make out from the screenshot, so yes Klopp came 6th with Notts County that meant he did make the play offs. In the playoffs Notts were up again Portsmouth which ended up with a 3-2 score line which was probably the match of the League 2 season. The other semi final was Newport and Plymouth and Plymouth were out victorious. So it was Plymouth VS Notts County at Wembley. And if anyone follows Klopp has closely as I do he isn't good with finals and especially finals which are held at Wembley. This time though Notts County going up they won 1-0 at the final. What a first season for Kloppo, so the pressing did work at County, Eh!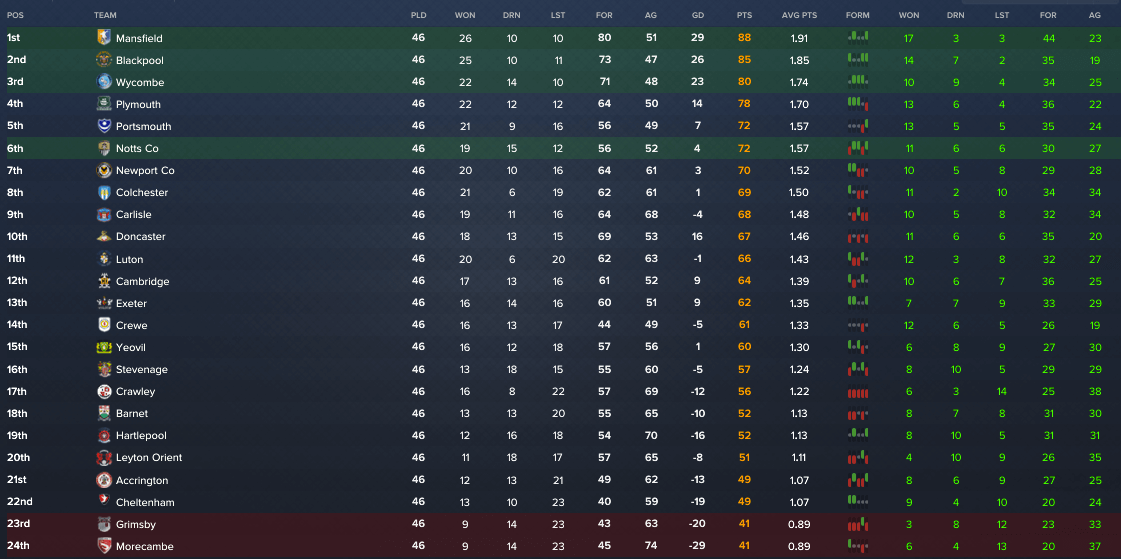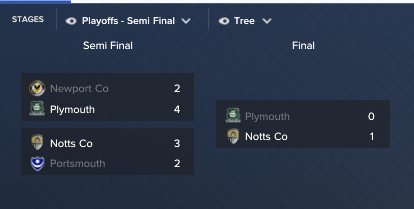 Cup Competitions
I don't to delve too deep into the cups because let's be fair because Klopp didn't do well in them he was knocked out in the first round of the FA Cup, League Cup and out of the group stage of the Checkatrade Trophy.
Tactics and Team Selection
Klopp went with his beloved 4-2-3-1 which we saw him deploy at Borussia Dortmund, Mainz and in Liverpool at times too. As they were in League 2 there will always be much more games which is unlike the Premier League and definitely the Bundesliga. Richard Duffy who was the center half who played 46 games scoring twice averaging 7.02, Carl Dickinson was the other performer who did perform brilliantly playing 44 games averaging 7.16. In midfield Michael O'Connor who played 50 games averaging 7.10
Season 2017/18         
Transfers
This season the Notts County squad did take a much bigger overhaul which is something one could predict because they did go up to League 2. There was one player which was familiar to me which was Luke Waterfall who is the Lincoln goalkeeper who made a fairytale road in the FA Cup. All in all, 12 players who signed for Klopp's Notts County and there 8 players who left. That's a big transition both in and out of the club.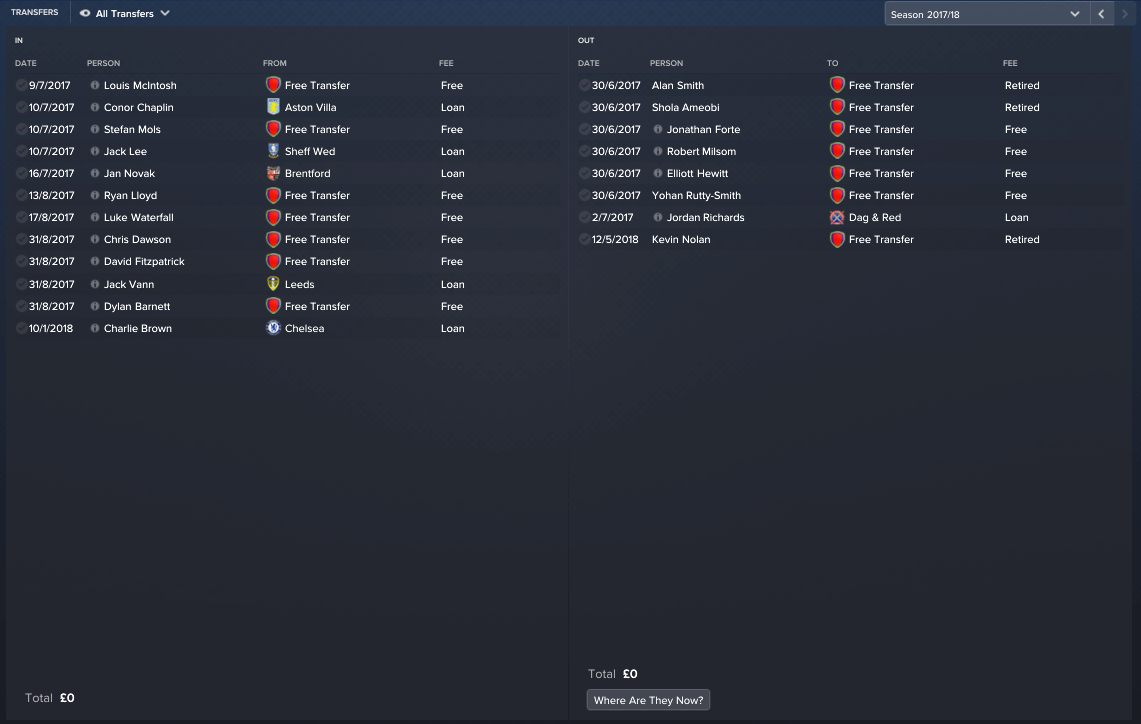 Competitions
It was shambolic to say the least, Notts were absolutely shite in all competitions! They finished bottom of League 1 with only 9 wins on the board with 12 draws and 25 losses and -27 goal difference. They were also knocked out of the English FA Cup and EFL Cup both in the first round. We knocked up by Gillingham in the English FA Cup and in the EFL Cup we were out against Huddersfield who knocked us. Plus, the Checkatrade Trophy we weren't able to make it out of the group stage.
Tactics and Team Selection
Like last season Klopp was loyal to his 4-2-3-1 which was unlike last season wasn't on power to what they did last season getting promoted but this season even after making the numerous number of signing they made in the summer. This season as they were so poor that no player in the squad who averaged over a 6.9 which was absolutely ludicrous. There striker was the worst performing player in the team with only 4 goals with 31 games played averaging 6.38!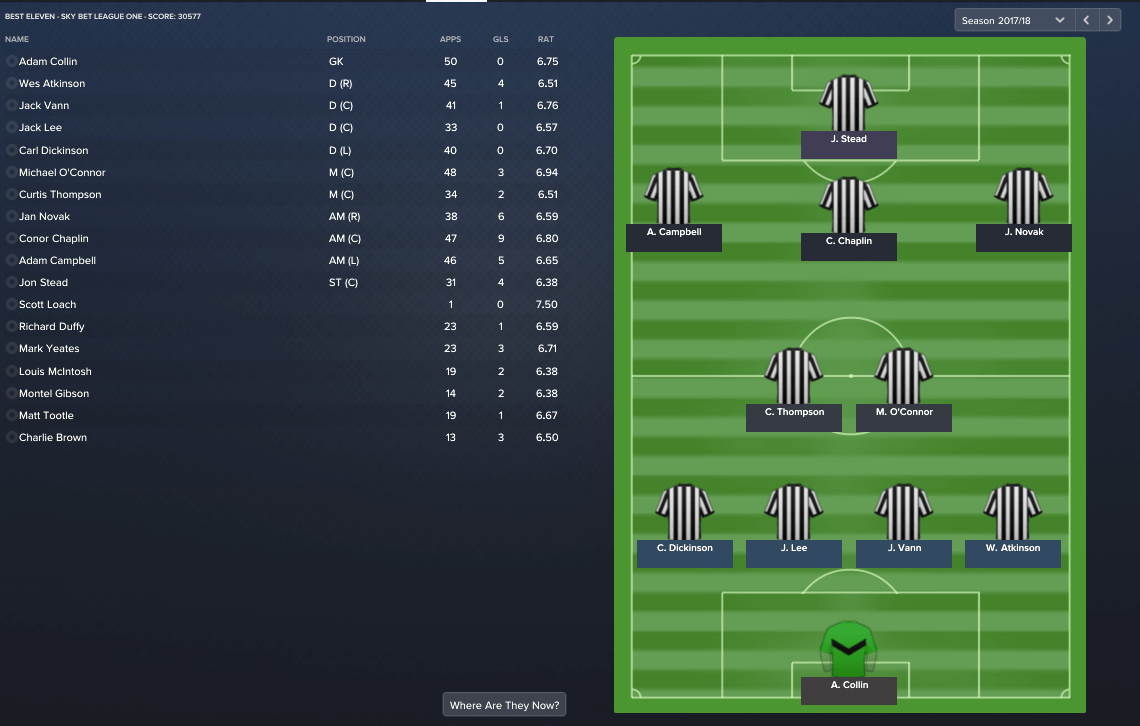 Season 2018/19
Transfers
So finishing bottom of League 1 Klopp was relegated back to League 2. This season though there was still a major influx of players a total of 15 players in and 10 players on the out that did mean that he did have to do a lot of transfer business even if he didn't spend single penny on a player. But you'll be getting to know how the faired out for Klopp.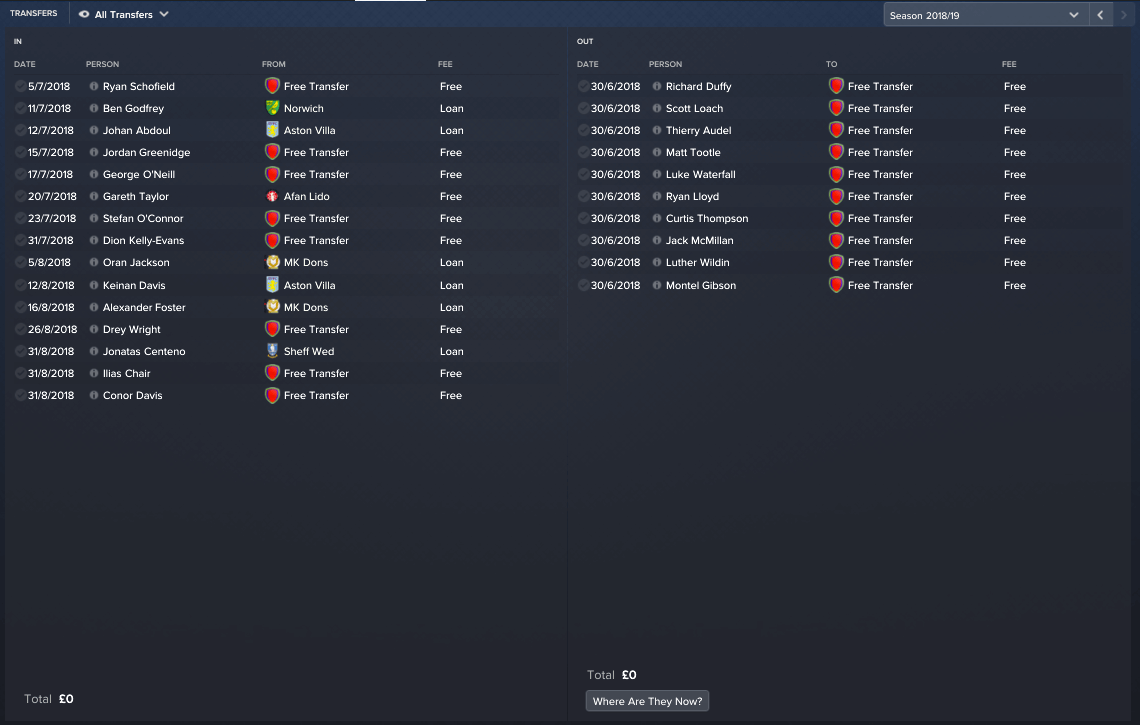 Competitions
Oh this was bad. Klopp sacked before half of the season. They were 21st in the league! 21st how was that possible. Anyway under Klopp in 2018/19 they played 19 games from which they only got is 16 points which is less than the games they have played. Shocking! They only had 2 wins followed with 10 draws and 7 losses. Though the funny fact is that they did do better in the cup competitions then the previous two seasons, they progressed in the second round of the FA Cup and they were drawn against Charlton. They were poor against Sheffield United and were knocked out in the EFL Cup. In the Checkatrade Trophy they faced were up against Newcastle Under 21's in the Northern Section Second Round which is a mouthful.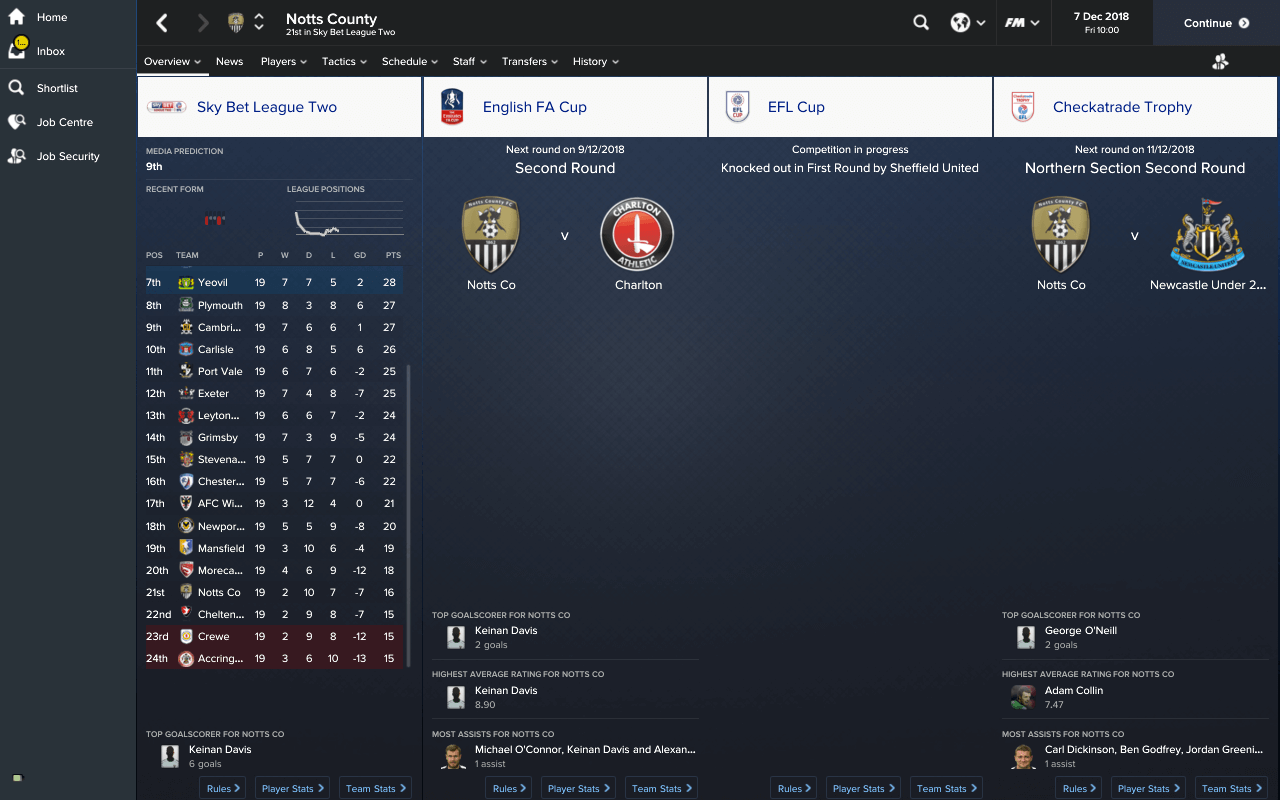 Conclusion
All in all, to conclude we can say that Klopp had a great first season when he got Notts County promoted though with their first season at their first stint in League 1 though they finished last which one could expect from a promoted team but with a manager like Klopp they might have done a tad better. Lastly in the last season at Notts he was sacked just 19 games in. Though it was great to track Klopp in lower leagues of English footy.
Follow My Blog
Hi that was it for this experiment if you want to see more experiments let me know on Twitter or Slack