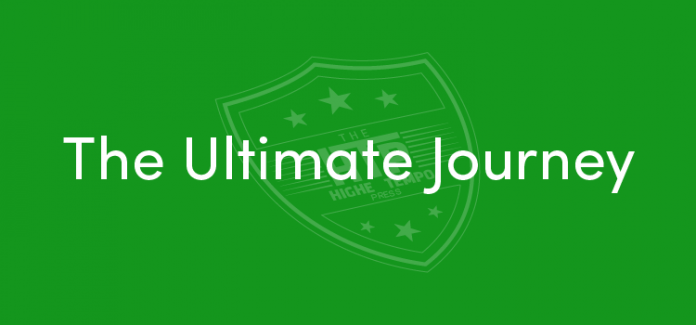 I know that I have been gushing through the seasons here at Wellington but that's how I have been enjoying my football. Last time out I spoke about our good run in the league which did result in us finishing in 7th, this time it's a much bigger achievement.
Transfers
The transfers this season weren't as many as the previous season but I still wanted to sprinkle a little bit of quality around the squad.(By sprinkle I mean 1 first team player)
Firstly talking about one of the whole sale departures was Louis Fenton who was one of the better players when I joined Wellington. So basically with the signing of Vedran Celjak last season and with Vedran coming in Louis Fenton became out of order and I had to ship him out. I accepted a bid of 37.5k from a club called Busan.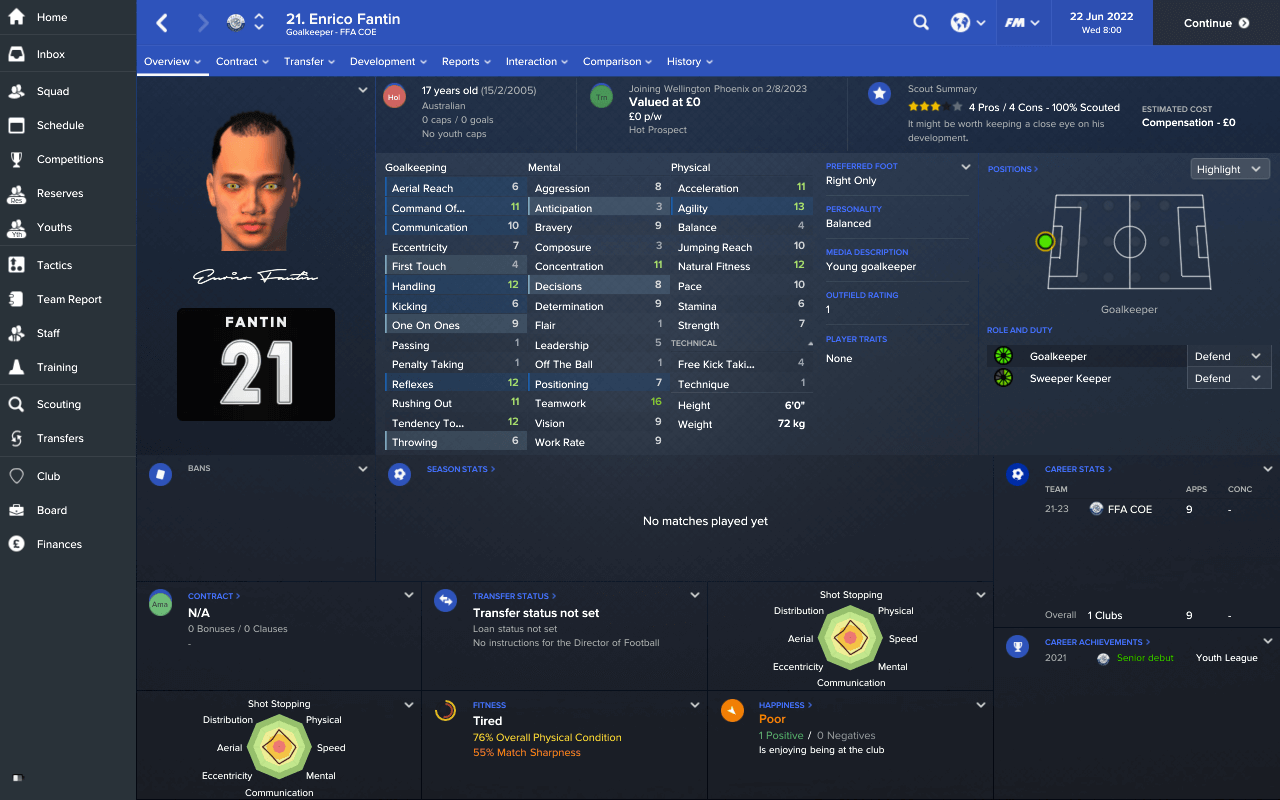 Enrico Fantin was a player who my scouts had recommended though Fantin was one who wouldn't be starting as he will be joining us on a Bosman next season.
Nikitas Glyftis was the only other player I signed and he sure was for the first team squad. I bought him to be my first team left back this season as Marco Rossi was 35 and said that this would be his last season so it was advised to get a better left back. I got him for a measly 3k.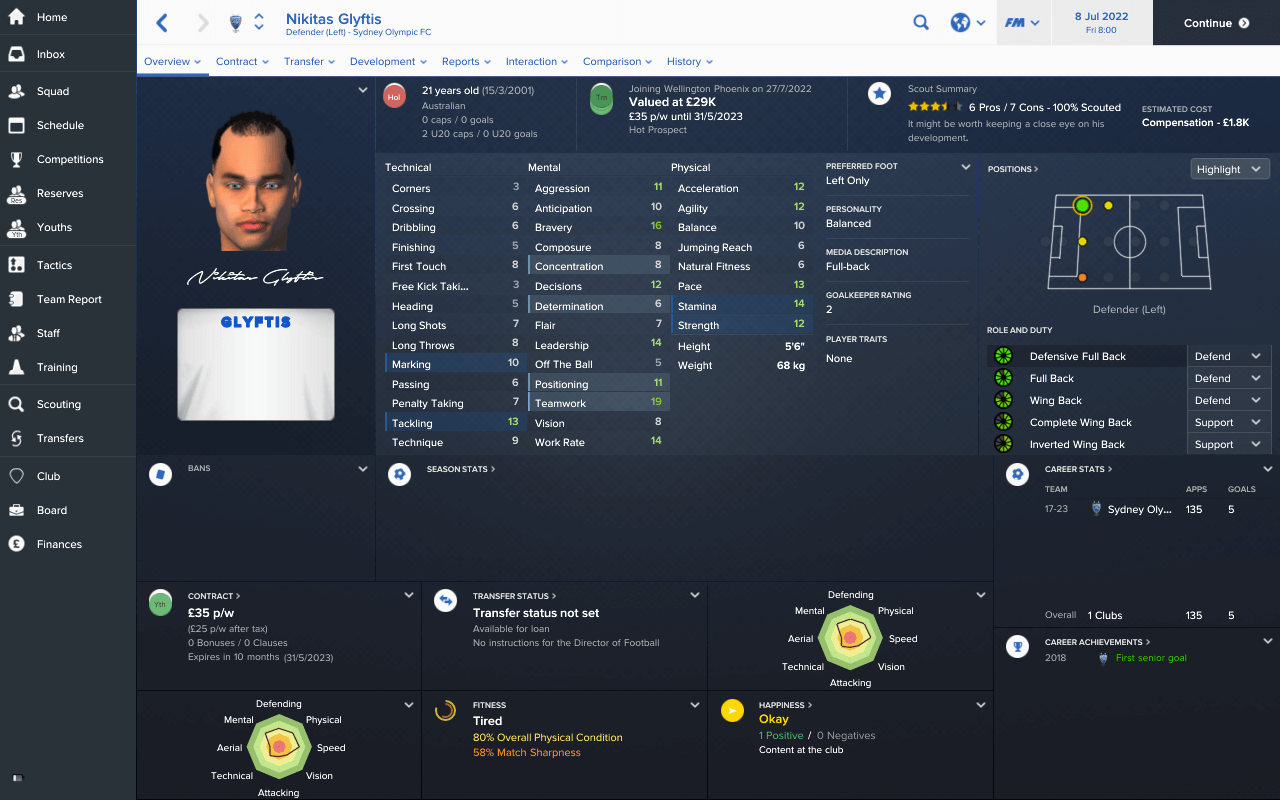 Youth Intake

This season we had a much better intake then the previous years, I really liked the look of two players in this intake-
Timothy van Eem was the first one he does look good for a 16 year old, though the personality is a bit meh because it's only Balanced.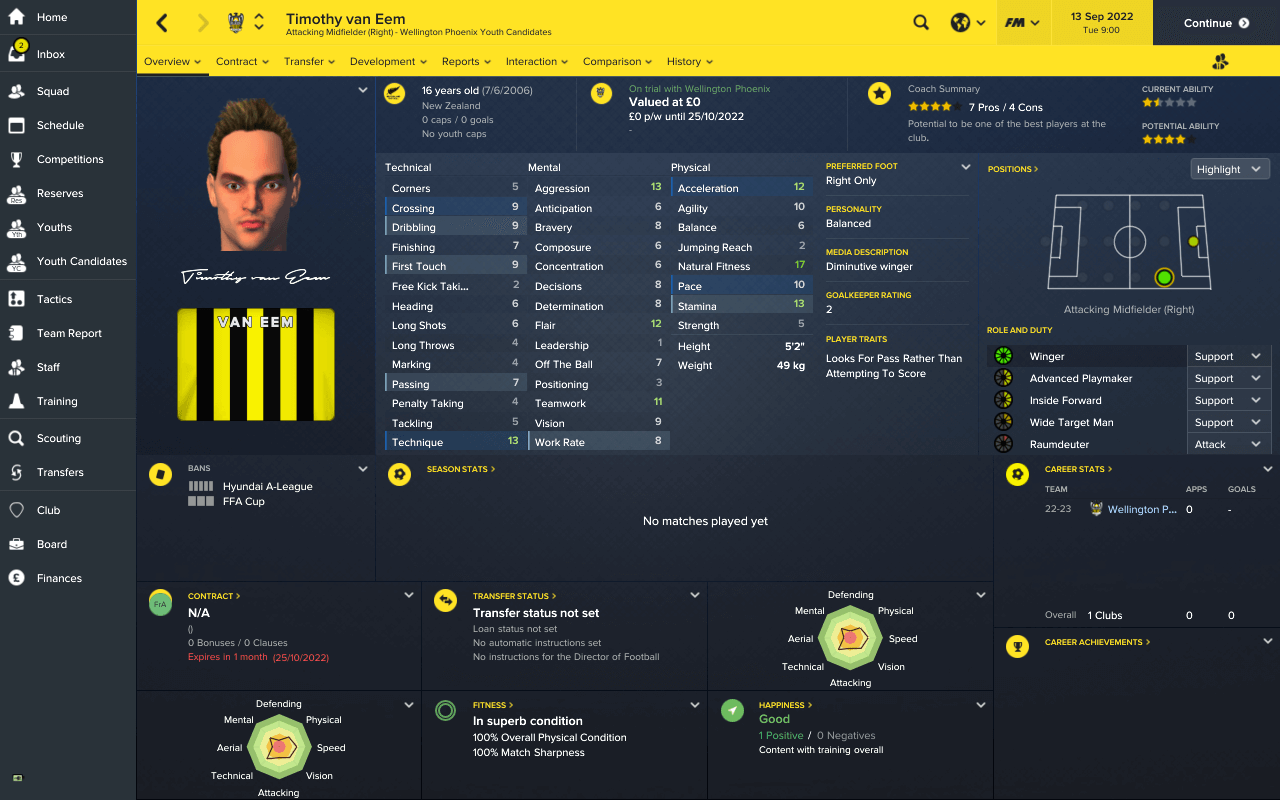 David Payne was the second one whom I promoted and I was really excited about. His personality was a little bit better than Timothy and also 15 finishing wasn't bad for a 16 year old.
FFA Cup
Like last season we had the cup competition last season we didn't have best way in it this year was quite different.
The first round this year was against the Western Sydney Wanderers whom we played away from home and 1-0 it was to us.
We played the big boys Melbourne City away again and I kid you not we run away 1-0 victors again.
Quarters next and we were up against this team which played up against Melbourne Knights who weren't even in the A-League and I was debating playing my kids though it was a quarter final so in the end I did play my first team. Lee Armstrong opened the scoring in the 34th min soon which gave us the lead at half-time. We were cruising at half time and since the second half started we scored 2 in quick succession scoring via Anthony Johnson in the 63rd minute followed by a 65th min goal via Ryan Lowry. Onto the Semis.
In the Semis we were up against another bigger club when we played Adelaide United I was pretty excited going into the match as if we won this match we would be going into the first final with Wellington. We weren't that good on the day as in the 19th minute Roger Schmidt who is Adelaide United's number 10 put Adelaide United up and we weren't able to score with the rest of 71 left minutes.

A-League
The league was probably the best part of the season as we had a blinder of a season. We finished 2nd and there were parts of the season where we could have gone and won the title, which for a club like us would have been a big thing. Media predicted us to finish bottom of the league and we were 200-1 to win the league so if we were to overcome the mighty Melbourne City F.C. someone would have made crazy money. We were brilliant all season and this fairly tale run did link me to several jobs in Australia but there were none leaving the Perth Glory job. Perth Glory were one of the big sides in the A-League and they had been struggling and I was tempted to take the job there though because we had been so high flying in the league and when we could have won the league at some point I put my act together and decided to stick with Wellington. Though it was a great season all in all and one I would definitely want next season.

Hyundai Finals Series
As we finished in the top 6 of the A-League which put us in the competition which has the rules that when teams finish in the top 6 of the A-League would go into the Hyundai Finals Series which would see teams who finish 3rd,4th ,5th and 6th would move into a Elimination Final and the two remaining from the 4 would play the 1st and 2nd team in the league.
So as we finished 2nd in the league we directly got a Semi Final Spot and we faced Sydney F.C. who played in through the Elimination Final. They didn't make it easy for us. We just had 9 shots to their 17 shots. Though we were clinical which was what showed as we scored in the 40th minute through our star striker Lee Armstrong. I was jumping and my dog couldn't understand what I was trying to do. Though our goalkeeper played a 8 winning the man of the match and boy it was deserved.
The first final as Wellington Phoenix and I was all suited for this final. We were up against Melbourne Victory who won the Melbourne derby semifinal and they slotted next to us for the final. It was a big game and we were full strength and so were Melbourne Victory. Lee Armstrong gave us the lead in the 12th minute and a double fist pump from me. This happiness was short lived as Jese scored the equaliser in the 74th minute making it 1-1 and taking the game to extra-time. The extra-time period was uneventful and we went into penalties. I have been very fortunate with penalties in this series as I had a fair few with Kaizer Chiefs and we won all so it was time to repeat the same. The goal scorer Lee Armstrong stepped up and smashed his penalty past the Melbourne Victory It was the other goal scorer up next, but he couldn't convert this time saved by Bouzanis. Mahachi was next and he scored for us. Smith was their second penalty taker and he blazed it over the cross bar. I was absolutely buzzing on stepped our new signing Nikitas he didn't make a mistake and on we went. They got on back from Maricic that put pressure on young Sam Pitts who converted from the spot and we ran home victorious!
Follow My Blog
Hi if you enjoyed this post on The Ultimate Journey stay tuned for more and if you want to know more on the series follow me on Twitter or Slack