The idea of a European Super League has been flirted with for a long time now. It is a concept that would see some of the best teams in Europe compete in one league to crown the best team on the continent. Real Madrid president, Florentino Perez, among others is a known supporter of the idea that would revolutionise the modern game.
Follow me on Twitter – @MarcusBanks7 – Visit my blog The Beautiful Game
Whether we should move to a European Super League is a whole other issue which we will not get into. Let's just say that plans for an ESL have been authorised. Below is the list of teams from Europe's top seven leagues, according to the UEFA coefficients, who I believe could make up the standings.
England: Manchester City, Manchester United, Liverpool, Tottenham, Chelsea, Arsenal
France: PSG, Monaco, Lyon
Germany: Bayern Munich, Dortmund, Monchengladbach, Leverkusen
Spain: Barcelona, Atletico, Real Madrid, Sevilla
Netherlands: Ajax
Italy: Milan, Juventus, Roma, Napoli
Portugal: Benfica, Porto
Using the power of Football Manager 17, we created the European Super League using the team listed above to see who the true European champion would be.
How would the English teams perform given their Champions League troubles? What nation will come out on top? Let's find out…
RELEGATION ZONE
24th – Ajax – 20 points
23rd – Benfica – 30 points
22nd – Porto – 30 points
21st – Lyon – 35 points
Unfortunately for Ajax, the Dutch side finished bottom of our ESL. They simply could not compete with the other European heavyweights winning just five games; although they impressed in wins against Chelsea and Dortmund.
The Portuguese sides, Benfica and Porto also struggled which led to both teams changing their manager, but it was to no avail as they couldn't escape the bottom four.
Completing the bottom four was Lyon. The French side sold their star striker, Alexandre Lacazette, to Napoli in the January transfer window which severely impacted the second half of their season.
BOTTOM HALF
20th – Liverpool – 36 points
19th – Monchengladbach – 38 points
18th – Roma – 39 points
17th – Sevilla – 40 points
16th – Dortmund – 41 points
15th – Milan – 43 points
14th – Leverkusen – 46 points
13th – Napoli – 47 points
Liverpool are the lowest placing English team in the league finishing just above the relegation zone by just one point. Jurgen Klopp's side was extremely disappointing and struggled massively on the road; picking up just one away win all season. Scoring goals became a real issue meaning Klopp's side narrowly avoided the drop.
Monchengladbach, Roma and Sevilla finished in the bottom half of the table, also failing to compete with the top teams in the division. Everyone suffered as a result of crucial players being plucked by other clubs. Roma lost the likes of Radja Nainggolan and Kostas Manolas with Monchengladbach failing to keep hold of influential players such as Mahmoud Dahoud and Andre Hahn.
Moving higher up the table, we find Dortmund and Milan who may have hoped to finish slightly higher in the standings. Again, losing key players was a huge issue for both clubs and hampered their chances in the league. Pierre-Emerick Aubameyang jumped ship in January headed for Manchester City with Julian Weigl and Ousmane Dembele also leaving; Milan lost Alessio Romagnoli and Suso.
German side Bayer Leverkusen and Italian side Napoli complete the bottom half of the table, representing a decent finish for both sides. Leverkusen were predicted to finish in the relegation zone but proved everyone wrong with some fantastic performances. Napoli made some incredibly shrewd signings, including Marcus Rashford on loan and Lacazette, which propelled them up the league.
TOP HALF
12th – Tottenham – 48 points
11th – Monaco – 50 points
10th – Chelsea – 51 points
9th – Juventus – 59 points
8th – Manchester City – 65 points
7th – Bayern Munich – 65 points
6th – Manchester United – 72 points
5th – Real Madrid – 78 points
Into the top half of the table now, Tottenham finished 12th which cost Mauricio Pochettino his job. Spurs had been predicted to finish mid-table, but the board felt that the side was underachieving and Poch was gone. Monaco carried their excellent Ligue 1 form into the ESL finishing in 11th; defying their predicted finish of 18th. Radamel Falcao was their star man, scoring 22 goals.
Perhaps quite surprisingly, Chelsea, who are the dominant side in England, could only finish in 10th. The Blues have blown everyone away this season but could not replicate their performances on the European stage. Despite finishing well below their media prediction, Antonio Conte kept his job for at least another year. The dominant side in Italy, Juventus, also failed to challenge at the top.
Another English side who could not finish higher than 8th was Manchester City. The Citizens invested heavily on new recruits but could not pick up results despite their transfer spending. Pep Guardiola's men had been expected to compete for the league but fell well short of expectations. Similarly, Bayern Munich could only lumber to a 7th placed finish despite their dominance in the German league. Bayern also spent a significant amount of money in the transfer window, but their away form let them down.
Finishing just outside of the top four was Manchester United and Real Madrid. For the Red Devils, a sixth-placed finish is quite respectable given it was Jose Mourinho's first season in charge. United have completed the transfer of Eden Hazard and Diego Costa meaning they should be a real force next season. Considering their recent Champions League success,  Madrid were seen as heavy favourites to end up as champions, but too many signings hurt the team cohesion and allowed other teams to overtake them. Zinedine Zidane is under pressure to deliver results next season and has been promised a transfer war chest to ensure expectations are met.
TOP THREE
4th – Barcelona – 78 points
3rd – Arsenal – 78 points
2nd – PSG – 80 points
Before we find out who was crowned champions, we take a look at the top three teams. Barcelona ended up in fourth, with five out of their six losses coming on the road. Luis Suarez, Neymar and Lionel Messi failed to hit the heights expected of them which contributed to their low finish.
Arsenal were the highest English team in the standings despite their media prediction of eighth. Arsene Wenger proved all of his critics wrong to steer the Gunners to third; even after losing Alexis Sanchez to Bayern Munich. Arsenal proved incredibly hard to beat thanks to the defensive partnership of Laurent Koscielny and Skhdoran Mustafi, and Olivier Giroud was in fine form at the other end of the field.
Falling just short of the mark was PSG. The French champions performed admirably and pushed all the way to lift the title but were one point behind the eventual winners. The media had predicted the Parisians would finish as low as 10th, but Unai Emery almost completed an unlikely title win.
CHAMPIONS
1st – Atletico Madrid – 81 points
Few people would have predicted that the inaugural European Super League champions would be Atletico Madrid. Make no mistake about it, Atletico are a great side but to end the season as winners is a huge achievement. Diego Simeone's side lost key players such as Kevin Gameiro, Saul and Diego Godin but still managed to pull off the improbable title win which is a testament to his managerial ability.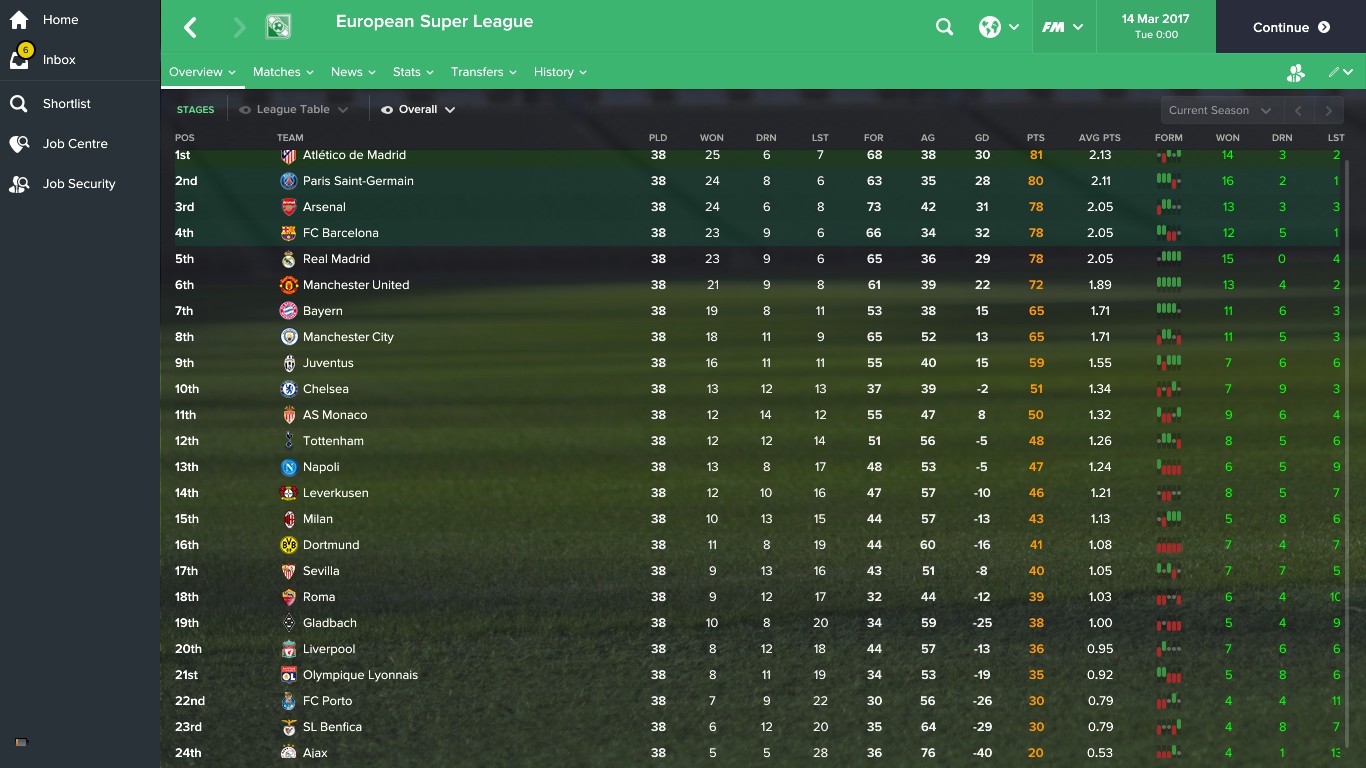 So there you have it. Atletico Madrid are the champions, and there was plenty of surprises in our simulation. How did your team fare? Did you feel the simulation was an accurate reflection? Who do you think would win the European Super League? Comment below!
Do you want to see another season? Tweet me and let me know!
Follow me on Twitter – @MarcusBanks7 – Visit my blog The Beautiful Game